Boardman Bikes: The Perfect Commuter Bikes
Boardman bikes are constantly looking inside and outside the cycle industry to see where they can refine their range of bikes for all sorts of cycling. Not just for the elites, Boardman road bikes include affordable options that are ideal for the daily commute. We round up a selection of the Boardman range below.
Boardman 8 and 9 Series
The range of Boardman bikes can be split into two: The 9 series is aimed at aspiring pro athletes while the 8 series offers performance bikes for everyone else.
9 Series
The award-winning Boardman 9 Series bikes are the same as those used by a number of World-Class athletes. This range is designed following a sophisticated development process to ensure the highest level of performance attributes for every rider.
8 Series
The 8 series is designed for everyone – from the enthusiast through to the everyday leisure cyclist. The Boardman performance series has been specifically designed for purpose to achieve unrivalled all-round performance and affordable value.
Boardman AIR
The latest iterations in a range that has Olympic, World and National Championship pedigree, the AIR models can trace their lineage back to the first Boardman's produced in 2007.
As it was over 10 years ago, the frames have been designed using Computational Fluid Dynamics as well as being tested in wind tunnels. The result? Bikes that are loaded with wind-cheating features. Right across the AIR range, you'll see truncated aerofoil downtubes and seat-tubes, aero seatposts and a new T10 aero fork with a standard, external brake. Models range from the 9.0, with a 105 groupset right up to the 9.8, equipped with SRAM Red eTap and Zipp 404 Firecrest wheels.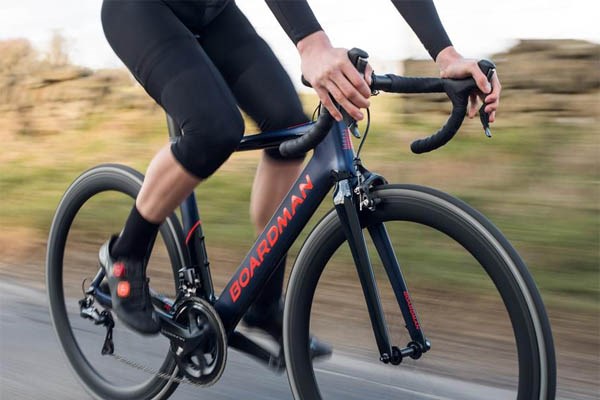 ATT/TTE
As with AIR, the ATT/TTE bikes have some serious pedigree. The first generation of the ATT won the World Ironman Championship whilst the TTE has a National Time Trial Championships on its palmares. For 2018 the TTE has a new down tube and head tube profile. On the road, this is designed to reduced drag in an area that counts.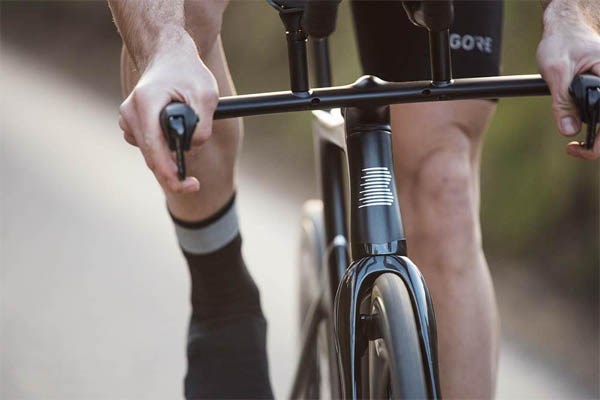 Boardman SLR
SLR stands for Super Light Road. These bikes are designed to balance pedalling efficiency and riding comfort. Our favourite? The SLR 8.9. A replacement for the Road Team Carbon, a bike that packed quite a punch for £1000, the SLR 8.9 is available in two different colourways, a women's specific model and interestingly an alloy version.
The 8.9c comes shod with Shimano Tiagra, Tektro long drop brakes, mounts for mudguards and tubeless-ready wheels. A zippy commuter option for sure. With the aluminium 8.9a, you'll get an upgraded drivetrain (Shimano 105) and a Fizik Antares R7 saddle. Impressively the medium version of this bike comes in at a measly 9.2kg!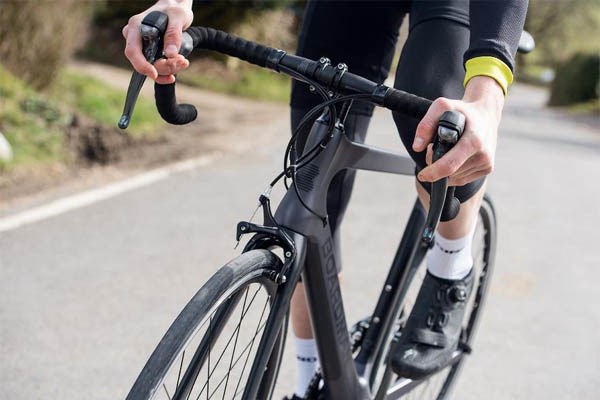 Boardman ADV
Completely new are a series of Boardman gravel and adventure bikes. ADV models keep the same dropped seatstays of their SLR road cousins but the geometry has been altered slightly to enable a more upright riding position. Look closer and you'll see features like hydraulic disc brakes, wider tyre clearances and flared handlebars, perfect for Friday to Sunday bikepacking escapades.
Don't let us stop you riding these to and from work though! We like the look of the ADV 8.9. It has an FSA chainset with practical ratios, flat-mount disc brakes and popular Schwalbe G-one tyres.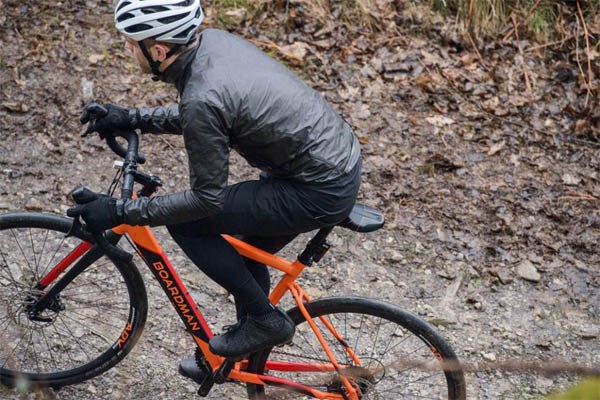 Boardman CXR
The introduction of the ADV line has meant that the CXR bikes can become all-out cyclocross models.
All models come with flat mount disc brakes and from the 9.0 model upwards your wheels will come with both front and rear thru-axles. Our pick? The 9.0 looks stupendous with angular yellow graphics and a contrast fork.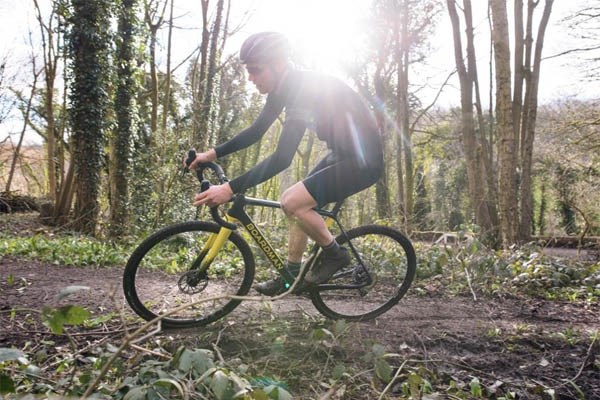 Boardman MHT
Moving onto things with wider tyres. MHT is yes, you guessed it, the new hardtail range.
Every bike from the introductory 8.6 model right up to the 8.9 get simple 1x drivetrains, hydraulic disc brakes as well as tubeless-ready rims. Bang on we'd say!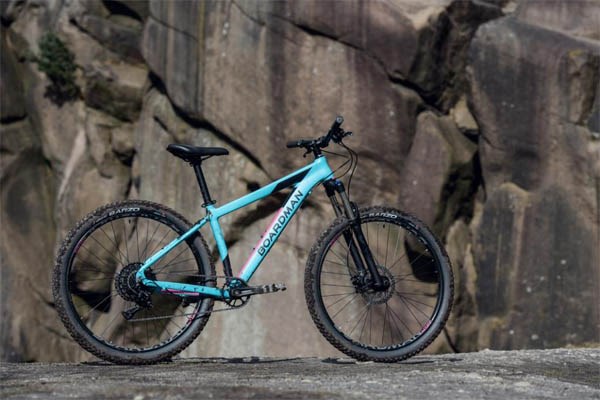 Boardman MTR
Perhaps the most noticeable change for 2018, the MTR full suspension bikes now have a radically different appearance.
Gently curving top tubes, a boxy downtube and bolder frame graphics give the bikes a distinctive look. There are hydraulic disc brakes and tubeless-ready rims on all bikes, plus each model is dropper post compatible.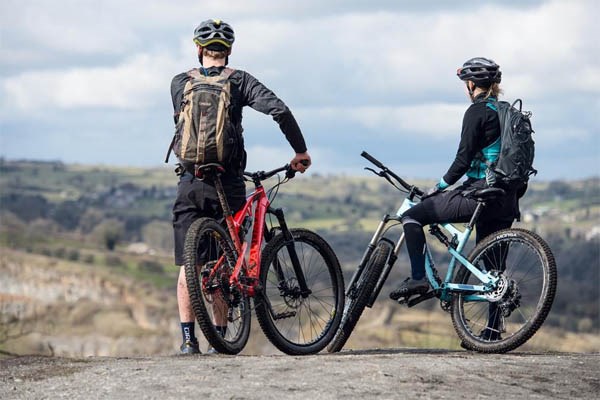 Boardman HYB
Previous Boardman hybrids were some of our best-selling models and that doesn't look like that will change any time soon.
The new HYB bikes are highly suited to commuting thanks to carbon forks for improved handling, mounts for racks and mudguards and tyres that include Kevlar strips for better puncture protection.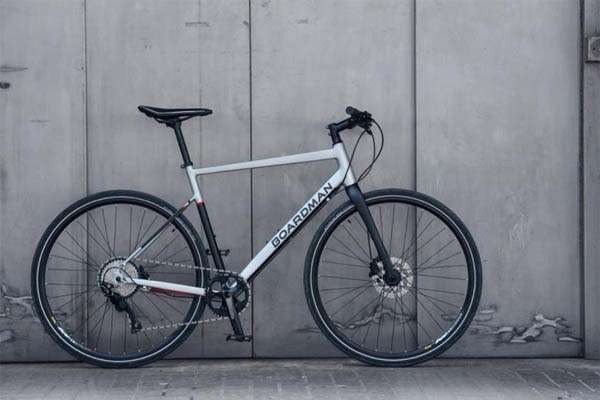 Boardman MTX
Last but not least, MTX. These bikes are set up to take on everything from rough roads, canal paths and light trails thanks to suspension forks and wider tyres.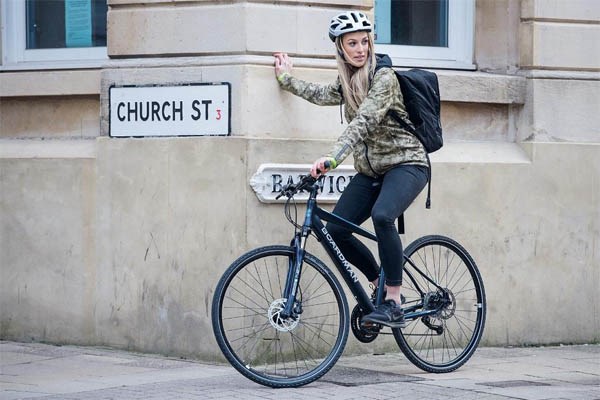 The Boardman ASR: Made for Riding
British roads in winter are a bit of a mess. Bumpy, wet, mucky, and often with those special steep climbs we like to hide all over the place. If you want to ride every day, you'll soon find your rims coated in black muck and a nice black stripe where the road spray has hit you before seeping down into your shorts.
The guys at Boardman are pretty familiar with this too – long winter training rides, daily commutes in the dark, maybe even a cheeky little tour or audax from time to time. If that's the majority of your riding, why not have a bike that's designed for it?
The Boardman ASR (that stands for All Season Road) is the answer.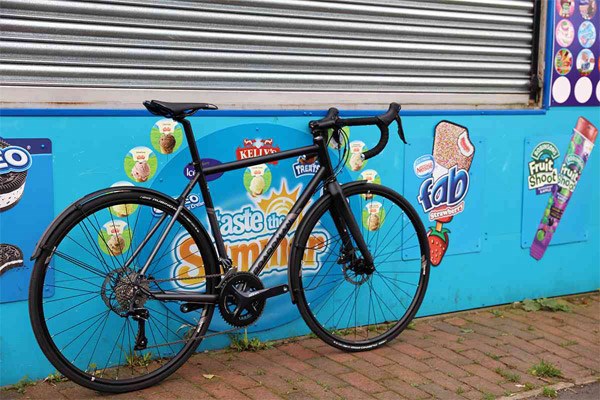 Steel frames for comfort and durability, with full carbon tapered forks for an accurate front end. Disc brakes. Mudguards and 28c tyres fitted as standard, with clearance for 32s. Rack mounts for commuting duty. Reflective decals on the frames and mudguards. Tubeless ready wheelsets so you're less likely to be fixing punctures with frozen fingers.
There are two ASRs available: the 8.8 and the 8.9. Let's start with the 8.8.
The ASR 8.8 has a 4130 Chromoly steel frame with a full carbon tapered fork. A Shimano Sora groupset gives you a compact (50/34) chainset with a wide (11-32) cassette to help you up the hills with your laptop and clothes, or to get you back home on the last big climb of the day.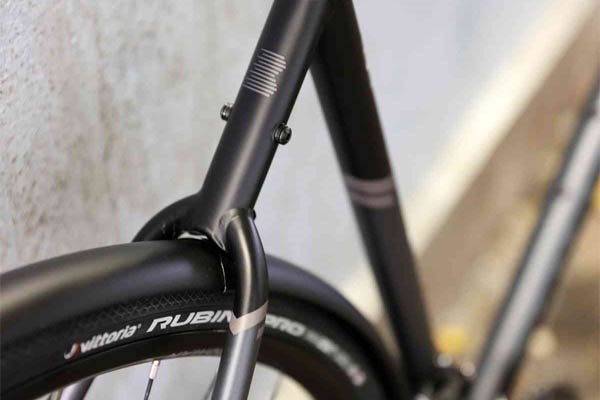 TRP Spyre disc brakes are some of the best mechanical disc brakes you can get hold of, so that's exactly what they chose. The design means that both pads move when you squeeze the brake lever, and gives you reliable stopping in all conditions.
Your 8.8 arrives with mudguards fitted, and reflective details to help you stand out more in the dark. The finishing kit is Boardman's own, with the exception of a Prologo Kappa saddle.
Next up in the range is the 8.9, and this one's my favourite. The frame is upgraded to Reynolds 725 steel, and the tapered carbon fork sits in a tapered head tube. Neat!
The groupset takes a big step up, too – the 8.9 has Shimano 105. You still get the same range of ratios, but with the 11 speed setup, you'll also have a lot more 'in betweeners' and the jumps between gears are much smaller.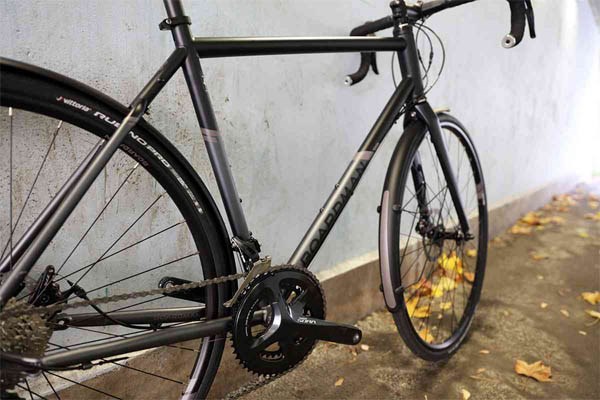 Another big upgrade for the 8.9 is a set of Shimano hydraulic disc brakes. Self-adjusting, low maintenance, and nice and powerful so you can easily modulate your braking, these are excellent in all weathers.
Of course, the 8.9 is also finished with mudguards and reflective details, as well as a fetching blue paint job.
We think these are going to be really popular. They're exactly the kind of bike we find ourselves reaching for more than any other – especially at this time of year.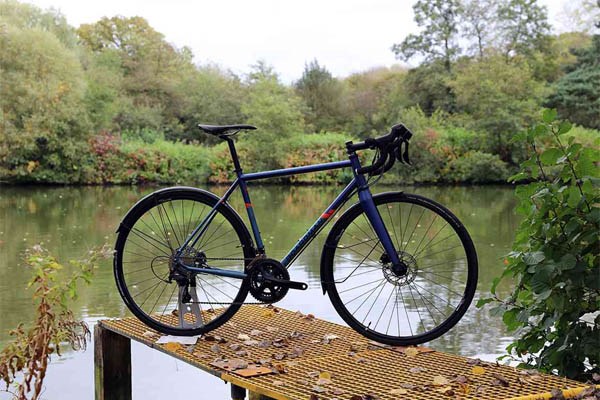 The Boardman URB: Made for the City
The Boardman URB is a fun, practical urban hybrid bike. The whole idea is to keep things simple, low maintenance, and high performance. Add that to some stylish frames with minimal graphics and a bit of fruity tube shaping and you're onto a winner.
All of the bikes include hydroformed alloy frames, single front chainrings, and hydraulic disc brakes. They also come with canvas covered grips and saddles to deal with a bit of bumping and scraping while still looking cool.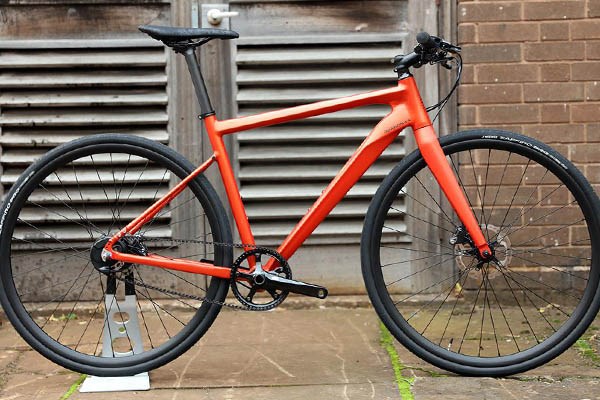 The URB 8.8
The range starts with the 8.8. The SRAM groupset is brilliant for day-to-day riding around town, with a huge range of gears and the simplicity and reliability of SRAM's 1x setup. No front derailleur means all the shifting is taken care of at the rear.
Both the frame and fork here are hydroformed aluminium, giving you a responsive but stable ride that makes this bike a lot of fun.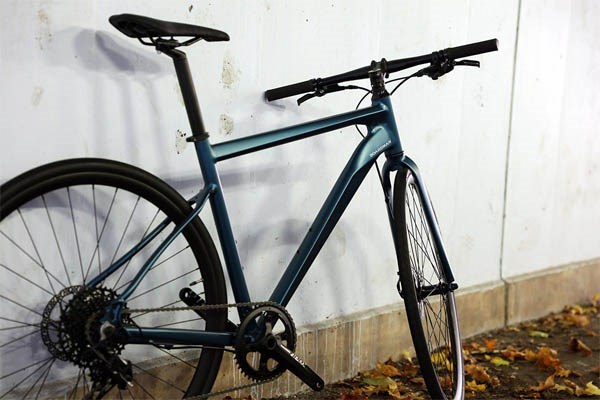 The URB 8.9
Next comes the 8.9, and there are couple of big upgrades. First is the fork – a full carbon fork with a tapered steerer is lighter, stiffer, and even reduces road buzz. It'll also mean a more accurate feeling front end when you're ripping it up in your lunch hour.
Notice anything else? Yeah, the gears are gone! Where to? They're now enclosed in the rear hub. 8 speed Shimano Alfine hub gears give you plenty of ratios and need much less maintenance and adjustment. Less time faffing, more time riding.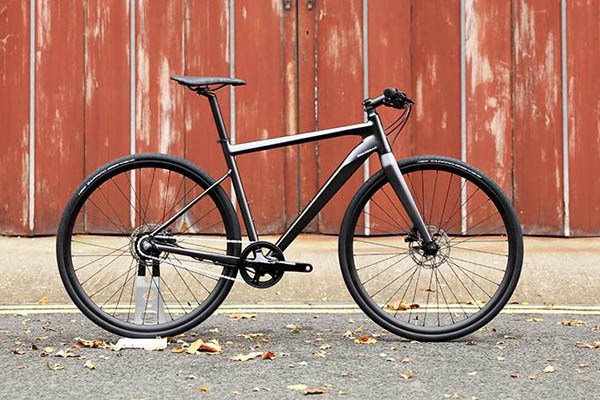 The URB 9.4
I've kept this one for last, because it's the big daddy/big mama of city riding. Once again, alloy frame and carbon fork – this time in a fetching orange. But the 9.4 is dripping with fresh top-end parts that are specifically made for the city streets.
This time the hub gears are Shimano Alfine Di2 11 speed. What does that mean? That means they're electric. No cables to adjust, just press the button to change up, and press the other one to change down. Perfect every time.
What's more, the chain has been replaced by a Gates carbon belt. No more oiling your chain, and no more getting that same oil all over your pastel chinos. Shimano's city-specific Metrea brakes finish the package.