Electric folding bikes buyer's guide
The easy pedaling of an e bike combined with the convenience of a folder– we do like an electric folding bike here at Tredz.
Whether you want to Zip to the train station, nip to a nearby meeting, bundle it into the car for a weekend away or simply pound the pedals and commute to work - electric folding bikes are a great way to integrate cycling with your busy lifestyle.
If you want to take the plunge and buy an electric folding bike, but you're not exactly sure what you're looking for, this buyer's guide should, like a sheepdog, round you up and point you in the right direction.
Why should I buy an electric folding bike?
Before we get stuck into the what, let's look at why electric folding bikes might appeal.
Enjoy helping hand on your daily commute: Having a battery and motor fitted to your bike means you can commute without fear of overdoing it a climb or arriving at the office hot and bothered.
Hop on a train, hail a cab – it's easy with an electric folding bike: Packed commuter trains or the boot of an Uber – not places you're going to fit a full-size electric bike easily. An electric folding bike adapts to your working day, going everywhere you go.
Remove the threat of theft: Unfortunately, bike theft is a blight on UK cities and with safe locking spaces often at a premium it can be a worry leaving your pride and joy out in the open. An electric bike, with all its gizmos and high price tag, is an attractive option for light-fingered ne'er do wells. Folding electric bikes, irrespective of how compact they fold, are far easier to take with you – slot one under the table at the pub, in your friend's hall or just inside the door at your local convenience store.
If you're short of space on the train, at home or at work: There's no getting away from it, electric bicycles can be cumbersome things! When the cupboard under the stairs or even your spare bedroom doesn't have enough room for a bike, an electric folding bike really comes into its own. They're ideal for workspaces too, less likely to bother colleagues if they're stored under your desk than propped against the wall.
What is an electric folding bike?
If you've made it this far, it's more than likely that you've got a good handle on what an electric folding bike is, but if you want to head back to basics, our Electric Bike Buyers Guide breaks down the finer points of an e bike.
All electric folding bikes, through various levers and clamps, are capable of being reduced from a rideable bike to something much more compact.
The 'electric' part of an electric folding bike is a motor and battery that provides assistance as you pedal up to a speed of 15.5mph. Head north of that and the bike's motor and battery won't provide any extra oomph.
Ready to weigh up some options? Here are some folding electric bike attributes you should consider before making a purchase.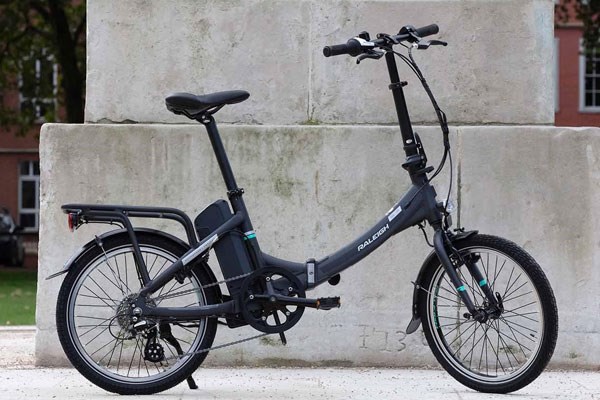 Different levels of fold: Perhaps the most crucial attribute of an electric folding bike is its fold. Make a note of how compact your chosen model folds and how that compares to the space you're going to store it in. Most models will fold at the handlebar and at the mainframe. Some are sold with folding pedals to further reduce their bulk.
Some folding mechanisms are more friendly than others, so we'd recommend seeing one in the flesh to get familiar with the process. At the very least head over to YouTube to see it demoed by someone else. Remember you could be doing this in a hurry as you try and catch the 07:05 to London.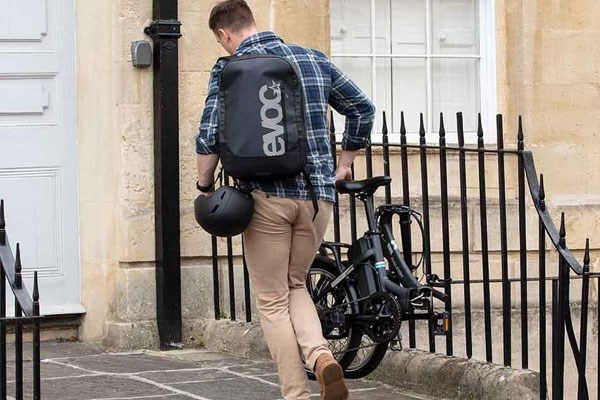 Battery power and range: The most expensive part of an electric folding bike is its motor and battery. Bigger batteries offer a larger riding range but to the detriment of overall bike weight. We'd suggest calculating the distance of your typical bike ride and see whether your chosen e-bike's range matches that. Remember that you can always charge the battery in the office as well as at home.
Do bear in mind that range figures are very much an average, however. Terrain, assistance level and weather conditions are factors that can have an adverse or favourable effect on an e-bike's range.
Weight: An electric folding bike's weight could be a deal-breaker. If you can't lift it onto a train, let alone up your office or apartment stairs, the bike might not be for you. Some models like the Brompton e bike can be wheeled along when folded, whilst other bikes are specced with a removable battery– great if you want a temporary reduction in overall weight.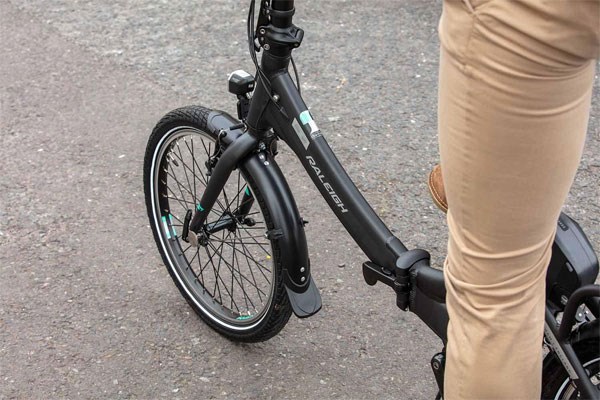 Wheel size: Most folding e-bikes are designed around a 20" wheel. Smaller than full-size wheels, they are lighter and more compact when folded.
Gearing: Just because an e-bike has pedal assistance, doesn't mean you can neglect its gearing. You'll still need your smallest gear as you approach that steep hill through the park. Many folding e-bikes run a 1x8 setup, that's one chainring at the front and eight sprockets at the back. With the electric assistance, that is more than enough to cater for most people's riding demands. If your route to work is across flat terrain, a 3-speed setup will do the job!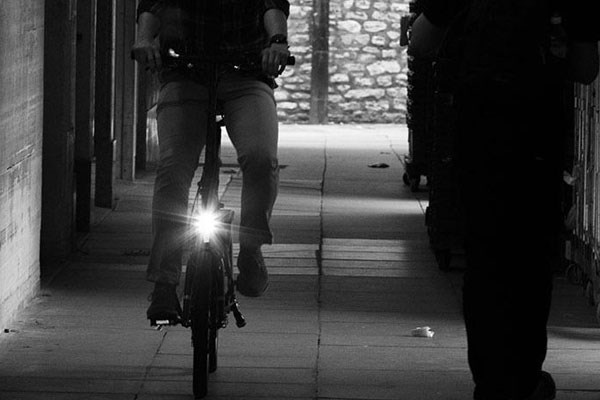 Racks, mudguards, lights and kickstand: Some bikes are sold as a complete package, a rack, mudguards, front and rear lights, kickstand – the lot! If you want to make an electric folding bike part of your everyday life - come day or night, rain or shine - then it's a sensible idea to purchase a fully-equipped model.
Brakes: One last differentiator is an electric folding bikes brakes. Models at the lower end of the price spectrum are more likely to run V-brakes, where the stopping force is applied against the rim of the bike's wheel. More expensive models use disc brakes, which offer greater stopping power. Crucially the power of disc brakes doesn't drop off when they get wet.
A closer look at electric folding bike batteries and motors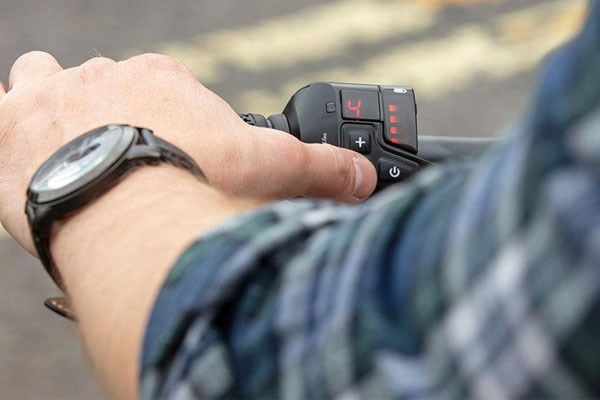 Folding electric bikes are powered by a motor, which in turn takes its energy from a battery. At the cheaper end of the market, the motor is placed in the rear wheel, whereas more expensive bikes use a motor placed at the crank of the bike.
These mid-motor cranks feature a torque sensor which measures how much power you're putting through the pedals and alters the power accordingly – this helps the bike ride naturally as if it was a bike without assistance.
For a more dtailed look at e bike power take a look at our Electric Bike Motor guide
To deal with varying terrain or low battery situations, electric folding bikes feature a control unit that shackle or increase the power of the bike's motor. Some even have a walk mode too, helpful when you're off the bike and wheeling the bike along.
Now that you know what to look kfor in an electric folding bike you can browse our range with confidence.
Popular Electric Folding Bikes