Maxxis are perhaps the most popular MTB tyre brand with tread patterns and tyre technologies that are perfectly suited to each mountain bike discipline. Maxxis also offer similar technologies tailored for road cycling. Maxxis tyre offer a range of different puncture protection technologies alongside rubber compounds and casings that are ideally suited to each cycling discipline.
To help you choose the right tyre for you bike we review all the technologies that go into their cross-country, trail, enduro and downhill mountain bike tyres as well as their road bike offerings. Maxxis tyres are designed for riding in different conditions and our tyre chooser tables make it easy to select the perfect tyre.
Maxxis offer a range of different technologies to guard against punctures through the tread as well as cuts and tears in the side walls.
Double Down
Double Down is a dual ply casing designed specifically for enduro tyres. A butyl insert sits above the bead within the two ply casing. This offers extra strength where the bead meets the tyre for extra stiffness where it's needed most as well as reducing the chances of burping. Double Down tyres are 15% lighter than the equivalent Downhill tyre.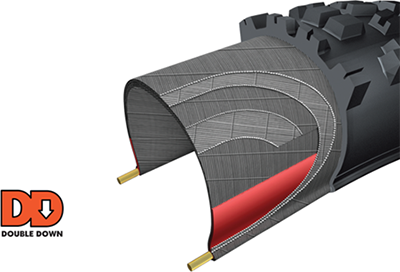 EXO Protection
EXO Protection tyres feature a cut-resistant and abrasion-resistant layer in the sidewalls. This densely woven fabric is also lightweight and highly flexible, ensuring that the performance of the tyre remains unaffected. Choose EXO Protection for exceptionally rocky trails where the chance of sidewall cuts and abrasions is high.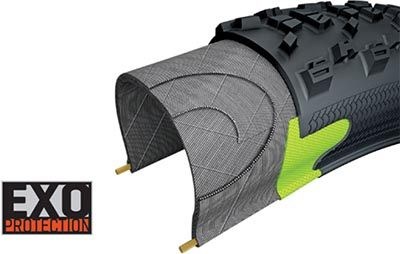 EXO +
Maxxis EXO+ construction features a layer of EXO protection with an additional layer of SilkShield, the two best puncture protection materials from Maxxis. Combined, these materials improve tread puncture protection by 27%, sidewall durability by 51% and resistance to pinch flats by 28%.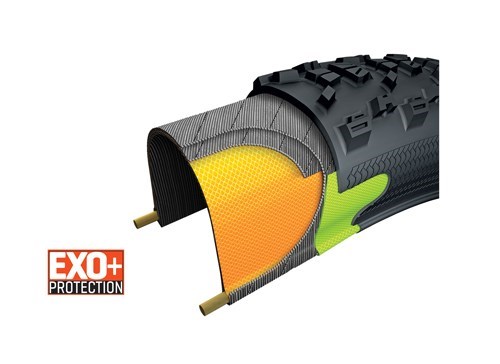 Silkworm
This breaker layer sits under the tread and offers improved puncture and tear resistance. Silkworm features on selective Maxxis tyres.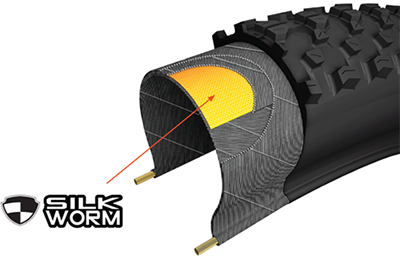 SilkShield
This puncture and tear resistant layer is incorporated into the casing of the tyre and runs from bead to bead. As well as offering under the tread puncture protection like Silkworm, SilkShield provides an additional level of protection for sidewalls.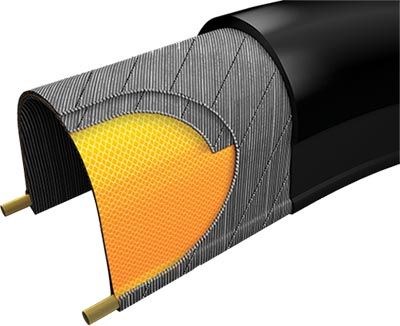 Kevlar Composite (K2)
This puncture protection breaker layer is exclusive to Maxxis. Kevlar Composite offers better protection than both standard Kevlar and Vectran. Supple and lightweight K2 ensure that tyre performance and ride quality are unaffected.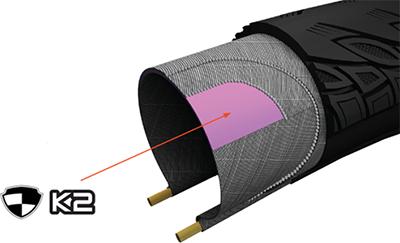 MaxxShield
Combining both a K2 (Kevlar Composite) under tread layer with SilkShield bead-to-bead protection, Maxx Shield represents the ultimate in flat protection.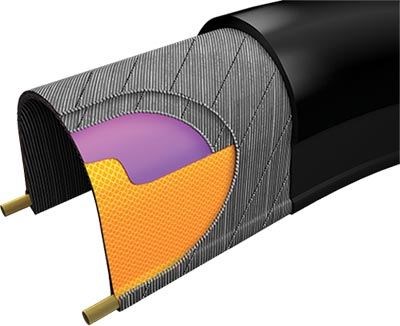 ebike
Maxxis eBike tyres are designed to meet European ECE-R75 standards, guaranteeing performance and reliability for additional cargo capacity and increased speeds electric bikes can offer.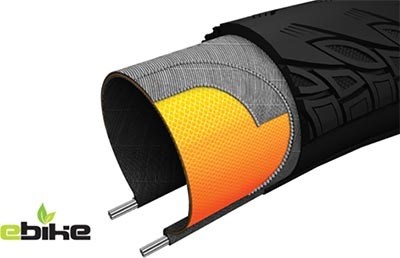 Butyl Insert
An extra piece of butyl rubber that extends from the bead of a downhill tyre up into the sidewall. Featured in Maxxis DH tyres, the butyl insert helps prevent pinch flats, protects the rim from hard hits and adds sidewall stability.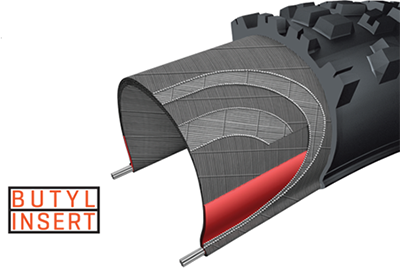 3C Triple Compound Road
Triple Compound road technology utilizes three distinct silica compounds in different locations within the tread of the tyre. The centre compound is optimized for exceptional tread wear and low rolling resistance. The progressively softer shoulder compounds provide increased grip while cornering.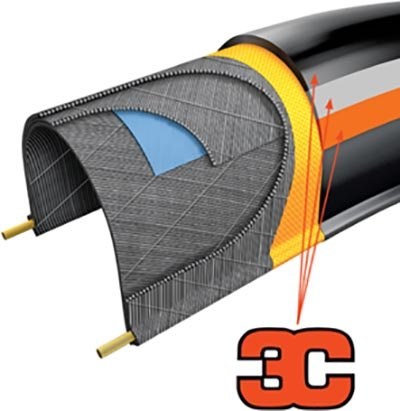 3C Triple Compound Mountain
Maxxis 3C Triple Compound mountain technology uses a harder, longer lasting base layer and two progressively softer top layers in order to optimize traction and stability. Maxxis offers three different configurations of our 3C Triple Compound mountain technology: MaxxSpeed, MaxxTerra and MaxxGrip.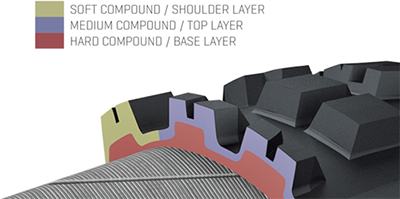 3C MaxxSpeed
MaxxSpeed is the fastest rolling 3C tyre. Used primarily in cross country and xc race tyres, the two compounds in the outer layer are specially formulated to reduce rolling resistance and optimize tread wear and traction.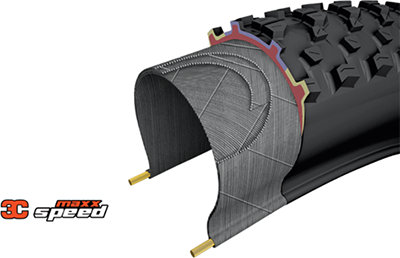 3C MaxxTerra
An intermediate compound configuration used in select mountain tyres MaxxTerra is the 3C compound that is ideal for trail and enduro riding. 3C MaxxTerra is softer and offers more traction than 3C MaxxSpeed, yet provides better tread wear and less rolling resistance than 3C MaxxGrip.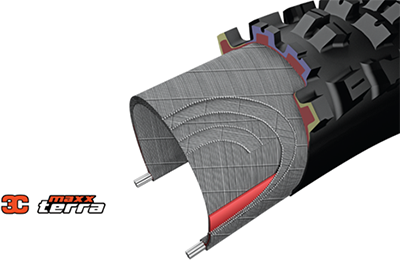 3C MaxxGrip
This is the grippiest Maxxis 3C compound.3C MaxxGrip uses the softest rubber compounds to offer the ultimate in grip and slow rebound properties for unparalleled traction in downhill applications.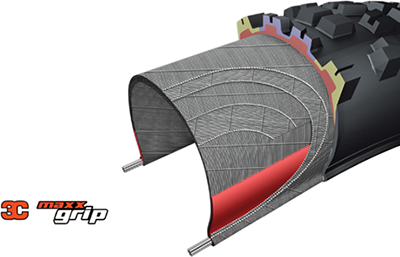 ---
Tyre Construction Technologies
Bead
There are three different types of bead on Maxxis tyres. Wire beads are strong but are not so flexible. Foldable beads are made from spun aramid or Kevlar fibres. These are also strong but are lighter weight than wire as well as being easier to transport. Carbon fibre beads are flexible with greater strength to withstand the forces exerted by a high-pressure road tyre.
Casing
Single-Ply Casing - One layer of nylon wrapped from bead-to-bead. A single ply casing conforms well to the terrain and is lighter weight.
Dual-Ply Casing - Two layers of casing material are used from bead-to-bead, providing additional protection and sidewall stiffness for enduro and downhill applications.
Threads Per Inch
The number of threads that cross through one square inch of a single ply of the tyre's casing. Lower TPI gives better puncture, cut and abrasion resistance but is heavier. Higher TPI conforms better to the terrain, offering a smoother, more comfortable ride while reducing the weight of the tyre.
Tubeless Ready (TR)
Tubeless tyres provide the rider with many benefits: the ability to run lower air pressures, which improves traction; lower rolling resistance when compared to a tube-type tyre; and less chance of flatting since there is no tube.
Liquid sealants should only be used in the following types of tyres: Tubeless Road, tubular, and tubeless Ready. The use of liquid sealants in any other Maxxis tyre will void the warranty.