Riding with tubeless tyres means that you'll spend less time fixing flats and more time shredding the trails or lighting up the open road. In this tubeless guide we'll look at all the things you need to get rolling without inner tubes.
Tubeless Wheels and Tyres
Tubeless Ready Tyres
A tubeless ready tyre is designed specifically to work well in a tubeless set up. The main difference between a tubeless and regular tyre is that tubeless tyres have better sealing. Many regular tyres can be used without tubes when you use tubeless sealant as this fills any little gaps in the tyre. You can use innertubes with tubeless tyres if you wish.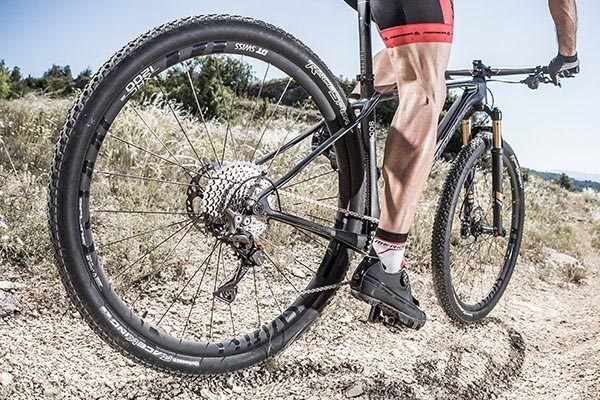 Tubeless Wheels
To run tubeless tyres on your bike, you will need wheels that are properly sealed. Tubeless wheels use a special rim that is free from holes or is ready sealed with tubeless tape. Tubeless wheels feature a rim shape that is optimized to work with tubeless tyres, but they will work fine with tubes too. It is possible to convert regular wheels to tubeless wheels using a tubeless conversion kit.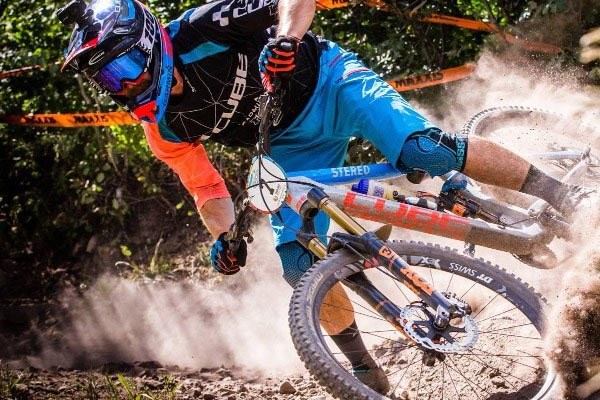 Sealing all the little air gaps in your tyres, whether through a puncture or a less-than-perfect tyre/rim seal, tubeless sealant is an essential for every cyclist who wants to ride without tubes. There are a few different options to choose from, but they all work on the same principle: a liquid that solidifies when it leaks out of the tyre to seal gaps and punctures.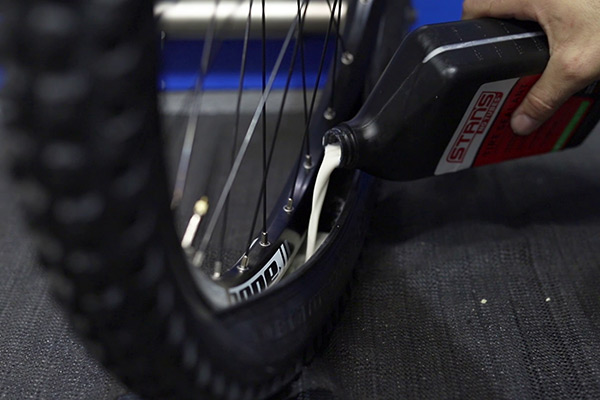 While simple latex-based liquids will work as sealants most brands sealants use special formulas and additives to improve longevity and sealing performance. Sealants with particles added are better at sealing larger holes so are ideally suited to mountain bike tyres. Lighter weight sealants are good for road bikes as puncture holes are generally smaller and easier to heal. Some sealants don't work well with CO2, so check for compatibility if you plan on using a CO2 inflator to seat your tyre.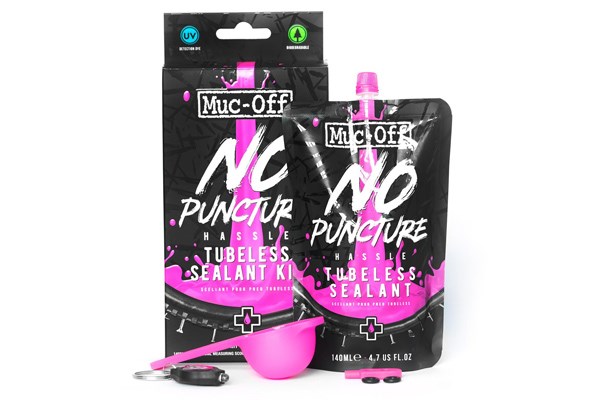 How much sealant should I use?
The amount of sealant you need to use will depend on the volume of the tyre. Brands will recommend specific amounts for their sealants which will be about 30 – 60ml for road bike tyres and 70 – 150ml for MTB tyres.
The table opposite shows typical sealant quantity recommendations to use as a starting point. If your tyres are a little porous some sealant may leak out. Don't worry about this, it's just the sealant doing its job, but you may need to top up with a little extra to be sure that there is enough left to seal any punctures.
| | |
| --- | --- |
| Tyre size | Sealant quantity |
| 27.5 x 2.0 | 75ml |
| 27.5 x 2.4 | 110ml |
| 29 x 2.0 | 90ml |
| 29 x 2.4 | 130ml |
| 700 x 25 | 30ml |
| 700 x 32 | 50ml |
Tubeless Tyre Accessories
Tubeless Rim Tape
If your wheel doesn't have tubeless ready rim tape installed, then you will need to tape the rim with tubeless compatible tape. Tape is available in different widths and you'll need a size that best matches the internal width of your rim.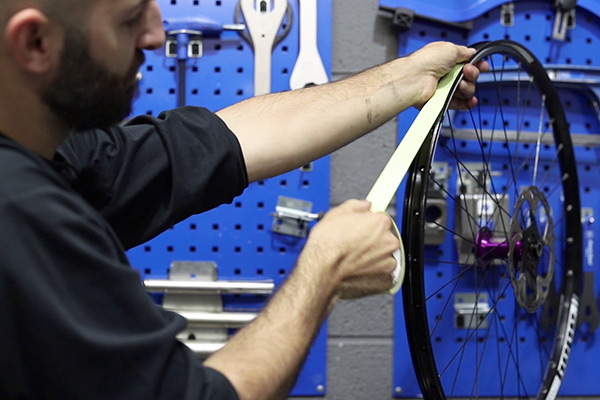 Tubeless Valves
As there is no inner tube the valve attaches directly to the rim of a tubeless wheel. These are usually Presta valves. Make sure that you get ones that are long enough to easily go through the rim of your bike. Longer valves are available for deep section rims. The valve cores tend to block up with sealant after a while so they will need taking out and cleaning and/or replacing from time to time.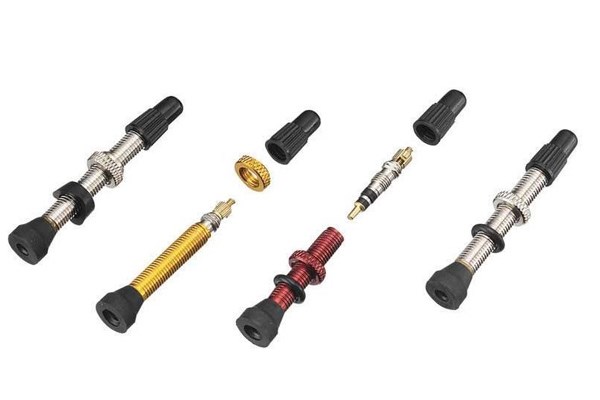 Tubeless Conversion Kits
Tubeless conversion kits contain sealant, tape and valves as well as fitting instructions, so these are the best option when converting your wheels for the first time. When buying a conversion kit make sure that you get one with the correct tape width and valve length to fit your wheel.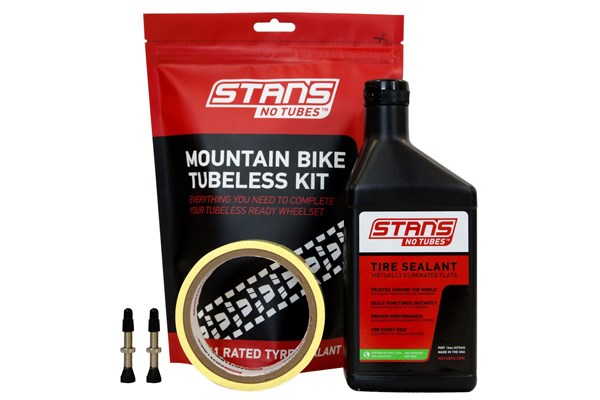 Sealant Injector
You can pour sealant into the tyre before you finish putting the tyre on, but many people prefer to inject the sealant through the valve. You can use a normal syringe, but specific injectors usually include a valve adaptor that makes the job easier. Some Tubeless Kits include an injector.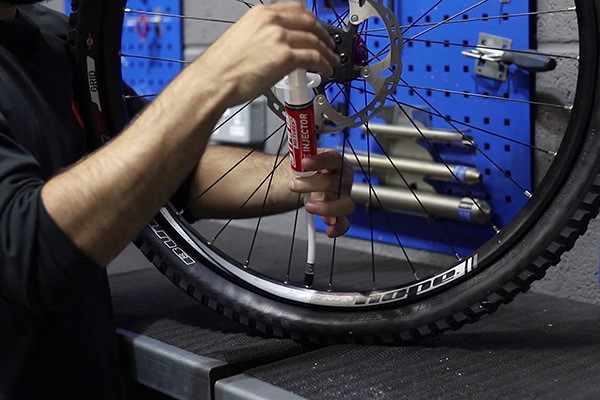 Tubeless Tyre Repair Kits
While sealant will heal smaller punctures by itself a larger hole or tear in the tyre will need to be plugged or patched. Tubeless plug systems offer long lasting repairs and are very quick and easy to use even at the road or trail side. If you don't want to have a small bit of the rubber bung showing through your tyre, then you will need to take the tyre off and patch it from the inside.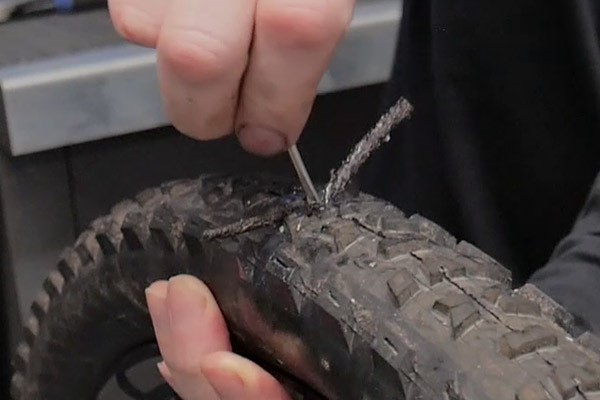 Tyre Inserts
Foam tyre inserts cushion the blows from rock strikes, especially when running low tyre pressures. They are a great way to protect your MTB tyre and rim when riding through rough terrain. Inserts can also help to keep the tyre on the rim more securely to avoid burping air when cornering.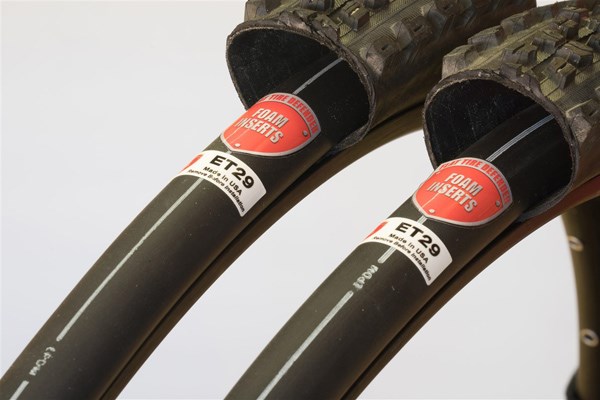 Tubeless Inflators
When you fit a new tubeless tyre, it can sometimes be difficult to get the tyre seated properly on the rim. This is because a normal track pump doesn't blow the air out quick enough to overcome the initial gaps between tyre and rim. Tubeless inflators allow you to blast a shot of air directly into the tyre to pop it onto the rim.
Tubeless inflators like the original Air Shot need to be pumped up with a separate track pump whereas others combine both track pump and inflator tank.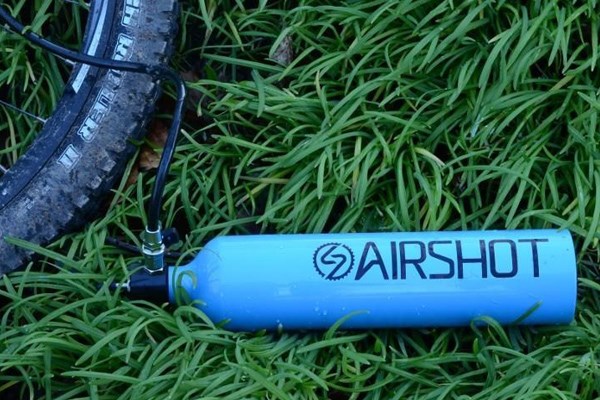 How to Convert to Tubeless
While tubeless systems will save you time in the long run, they do take a little more care to set up.
Frequently Asked Questions
Are tubeless tyres worth it?
If you want to have fewer punctures, then tubeless tyres are definitely worth it. Tubeless tyres can also be run at lower pressures which gives you more traction in wet or loose conditions so there are performance advantages too.
What do you need to go tubeless?
All you need to convert your wheels to tubeless are tubeless rim tape, tubeless valves and tubeless sealant or a tubeless conversion kit. Tubeless tyres make things easier but many non-tubeless tyres work fine if you use enough sealant.
How can I convert to tubeless?
Converting to tubeless is easy. See our set by step guide on how to convert to a tubeless set up. All you need is tubeless rim tape, tubeless valves and tubeless sealant or a tubeless conversion kit.
Why is tubeless better?
Tubeless is better because you are less likely to get flats. Small punctures will heal themselves with tubeless sealant and even larger holes in the tyre are easy to fix. You can also run lower pressures with a tubeless set up to increase traction.
What are the disadvantages of tubeless tyres?
The disadvantage of tubeless tyres is that they are more complicated to fit. You also need to top up the sealant once in a while.
How long do tubeless tyres last?
Tubeless tyres last as long as regular tyres as they are made from the same rubber compounds.
How much does it cost to set up tubeless?
Setting up tubeless will cost you around £40. This includes tubeless rim tape, tubeless valves and tubeless sealant for two tyres. You may also need to purchase new tyres if your existing tyres don't play nicely with tubeless.
Do tubeless tyres go flat?
Tubeless tyres do lose a little pressure over time but not enough to notice if you ride regularly. If you leave them long enough, they will eventually go flat. This is the same for bikes fitted with inner tubes, so this isn't really a disadvantage of a tubeless system.
Can I put a tube in a tubeless tyre?
Yes, you can use inner tubes with tubeless tyres without any problems.
Why do my tubeless tyres go flat?
If your tubeless tyres go flat even if you have plenty of sealant in them there is probably a problem with the rim tape or valve sealing. Another potential issue to look out for is a dent in the rim.