Electric bikes are a great way to ride further with less effort, as you will arrive at your destination feeling fresh e bikes are perfect for cycling to work. The best e bikes for commuting offer a powerful boost to your natural pedalling power, so you can cycle more easily and arrive ready for a productive day at work.
We've picked out our most popular electric urban bikes at a range of price points to help you choose your ideal power assisted ride. From the very simple and affordable Gtech Sport e bike to the high-tech Specialized Turbo Vado this selection covers a wide spread of e bike technologies.
There are two basic types of e bike motor to choose from: hub drives are lighter weight while crank drive units are more powerful. Battery capacity effects how far you can ride. The terrain, weather conditions and power modes also make a big difference to the range you can expect from on e bike. While it is difficult to give exact ranges, you can expect a 300Wh hour battery pack to give you a range of over 70km when riding on mixed terrain with careful use of the power modes. A smaller battery will reduce this range while a large on will obviously extend it.
Electric bikes that cost less than £1,000 are available on every Cycle to Work scheme, which makes them an even better option for commuting. While you don't have a great choice of electric bikes at this price point many employers' schemes have a higher limit of £2,000 and allow top ups. This brings most mid-range e bikes in to contention as a Cycle to Work steed.
Gtech e bike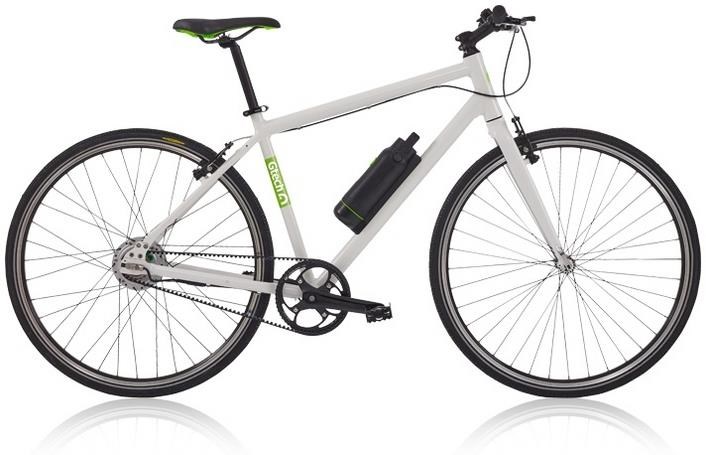 Motor Gtech rear hub drive
---
Battery Pack 200Wh bottle design
---
User Interface Button & display on battery
---
Drivetrain Single speed belt drive
---
Brakes Tektro rim brakes
---
Best for Getting started
---
Review
Keeping things simple the Gtech Sport e bike is one of the easiest ways to experience the benefits of pedal assisted cycling. The rear hub drive motor delivers an impressive power boost from the first pedal stroke which makes it incredibly easy to get going. The single-speed belt drive means that there are no gears to worry about and no oily chain to get your clothes dirty. On steeper hills you might miss the option to change into a lower gear, but the motor is powerful enough to get you up moderate climbs very easily.
The Gtech is one of the few electric bikes that costs less than £1,000 making it the prime contender as a commuter e bike. The 200Wh battery pack is smaller than most which limits range but the battery is very easy to remove and charge, so you can always top up the battery pack in work.
The Sport model is featured here but there is also the Gtech City that has a low top tube in the style of a traditional lady's bike. Both the City and the Sport model have the same motor, battery and components. The Sport is only available in a medium 20" frame size while the City has a slightly smaller 17" frame.
At last, a sensibly priced e-bike that performs well and doesn't intimidate those who aren't into bikes, the Gtech deserves huge success. Bike Radar.
Raleigh Stow-E Way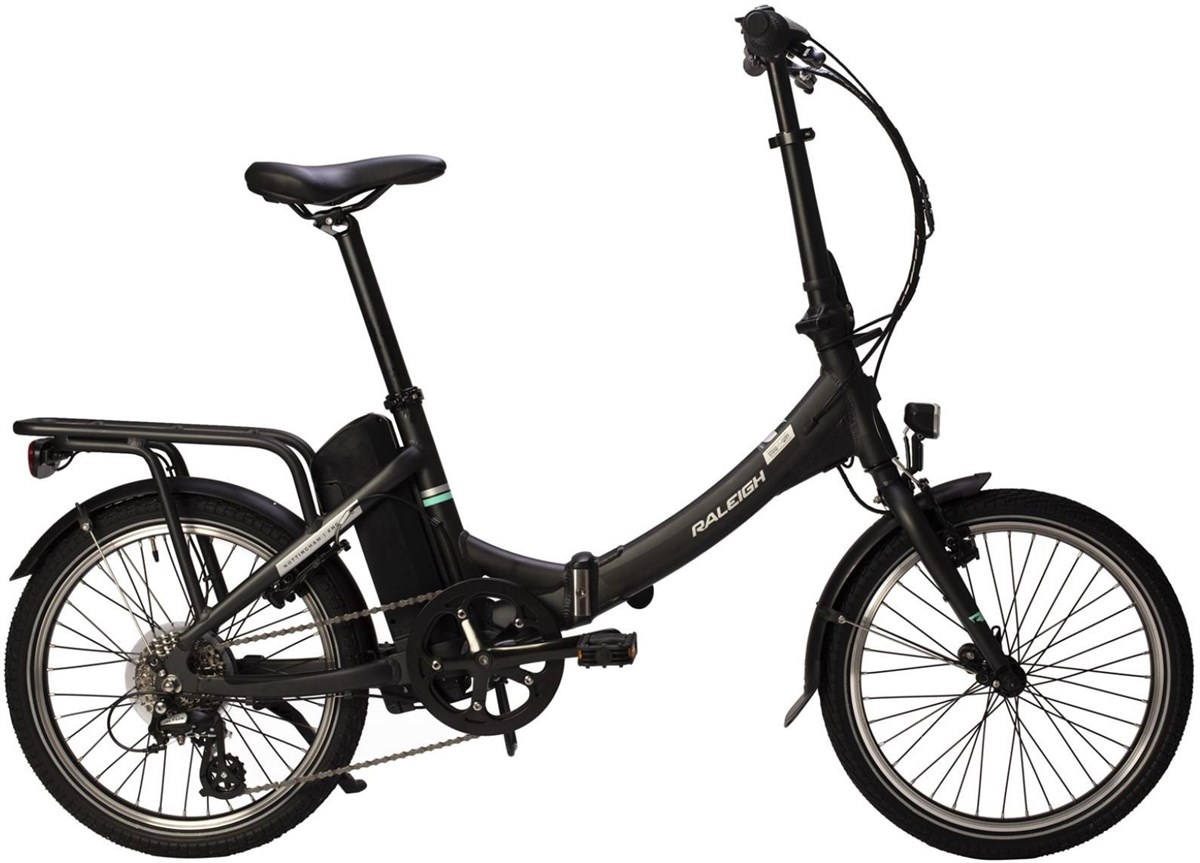 Motor TranzX R15 rear hub drive
---
Battery Pack 260Wh
---
User Interface TranzX DP15 remote
---
Drivetrain Shimano 8 speed
---
Brakes Alloy V-brake
---
Best for Easy storage
---
Review
Folding bikes are a great option for commuting if you are short on space. You can store folding bikes in a cupboard in your flat or under your desk at work and they are easier to get on and off the train. The Raleigh Stow-E Way adds a powerful electric motor to the folding bike concept so you can take advantage of some pedal assistance even if you've not got space to store a regular bike.
The Stow-E Way is powered by TransX. The hub drive motor is impressively powerful putting out up to 45Nm of torque through the rear wheel. The battery pack slots in neatly behind the seatpost and is easy to charge both on and off the bike. A remote switch on the handlebars allows you to control the four power modes on the fly and a simple battery display shows you how much charge you have remaining. The integrated lights are powered from the main battery pack and will turn themselves on in low light conditions. A great feature for urban commuting.
This is a real fun bike to ride, it's easy to manoeuvre in traffic while still feeling nice and stable on long straight cycle paths. While the Stow-E Way doesn't pack up quite as small as a regular folding bike it is much easier to store and transport than most other electric bikes.
Raleigh Stow-E Way Range Review
This compact but stylish electric bike's boost of power makes it perfect for taking on tour, so that you can see the hidden gems and have the freedom of being able to leave the campsite without faffing around packing up the 'van. Practical Motorhome
Popular Raleigh E-Hybrid Bikes
Cube Cross Hybrid One 400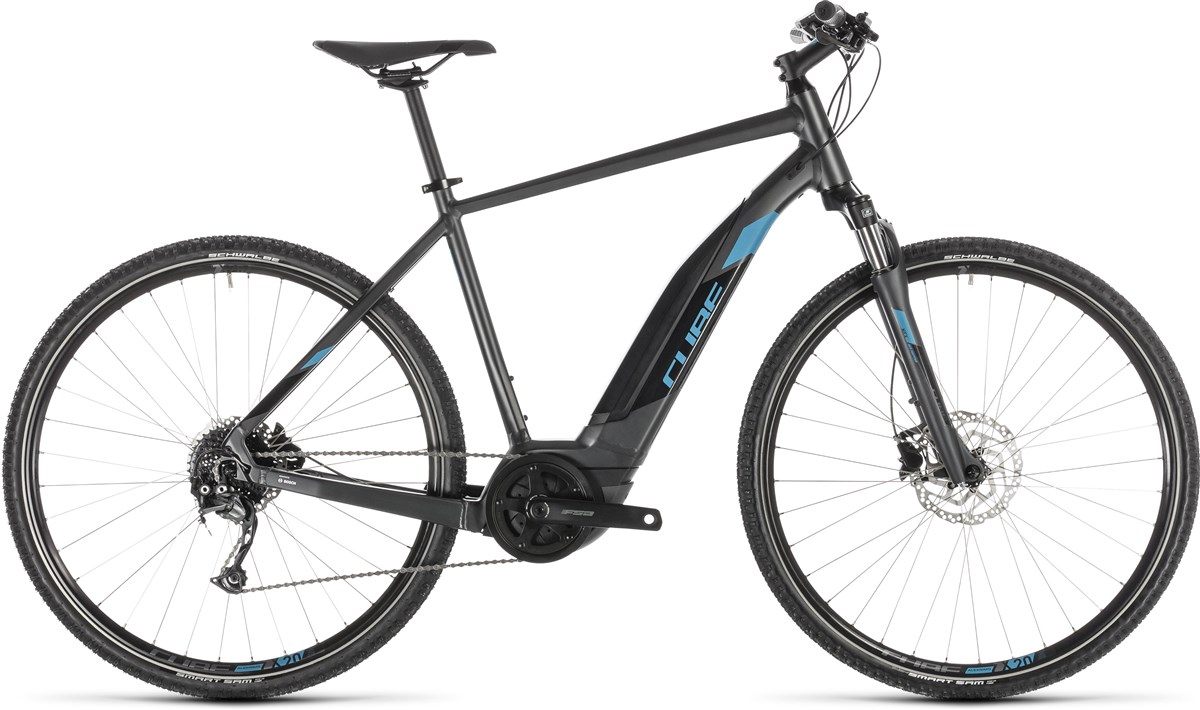 Motor Bosch Active Plus crank drive
---
Battery Pack Bosch Powerpack 400Wh
---
User Interface Bosch Purion
---
Drivetrain Shimano 9 speed
---
Brakes Shimano hydraulic disc
---
Best for Mixed terrain cycling
---
Review
One of most popular electric urban bikes, the Cube Cross Hybrid One packs a lot of punch into an affordable package. The Bosch Active Line Plus motor is one of our favourite e bike drive units. It is quieter than the more powerful Bosch units but with 50Nm of torque on tap it still gives you plenty of pedal assistance. You will have no trouble climbing even the steepest hills with this motor fitted.
The battery pack is neatly integrated into the down tube of the frame but is still easy to remove and can be charged both on and off the bike. This model has a 400Wh battery pack fitted but a 500Wh battery version is also available. The four power modes are easily selected from the handlebar mounted Purion display screen. This shows you your current speed as well as remaining battery capacity and remaining battery charge.
With a suspension fork and 44mm wide knobbly tyres the Cross Hybrid is great for taking off the road onto rough gravel tracks. The hydraulic disc brakes give you plenty of stopping power in all weather conditions too. The Women's Cross Hybrid has the same great features with a lowered top tube to make getting on and off the bike easier.
Overall there's a great deal to like about the new Active Line Plus motor. It has plenty of power for most people's city riding, it's very quiet and has a natural feel. ebiketips
Popular Cube E-Urban Bikes
Orbea Gain F40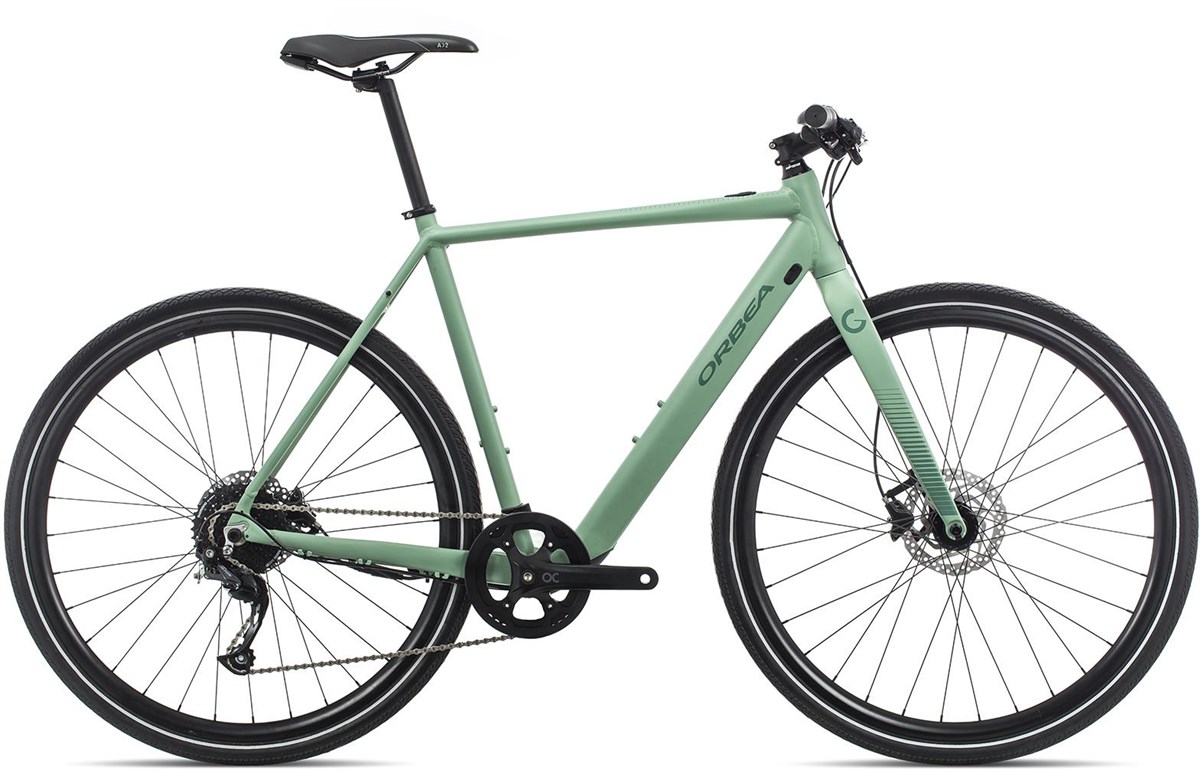 Motor Ebikemotion X35 rear hub drive
---
Battery Pack 250Wh fully integrated
---
User Interface iWoc One button & TRIO remote
---
Drivetrain Shimano 9 speed
---
Brakes Shimano hydraulic disc
---
Best for Efficient road riding
---
Review
At first glance the Orbea Gain doesn't look like an electric bike. This is thanks to the Ebikemotion hub drive motor and battery pack that is fully integrated into the down tube. With a maximum torque of 40Nm the Gain is designed to enhance your ride rather than dominate it. The Gain F40 rides much like a normal flat bar road bike only it's much easier to pedal.
There is no display screen on the Gain but the iWoc control button and TRIO handlebar remote allow you to switch between the three power modes and show the remaining battery capacity with a coloured LED light ring around the button. The Gain is fast rolling and efficient, so you'll get a good range from the 250Wh battery pack.
A sporty commuter e bike, the F40 is the entry level model in the Orbea Gain range but the alloy frame, carbon fork and drive unit is the same as you get on the more expensive models. The one-by nine speed drivetrain gives you a wide enough range of gears for most of the hills and the hydraulic disc brakes give you precise speed control in all weather conditions.
this urban orientated machine does such a top job of integrating the motor and 250-watt battery into the frame that you barely notice either are there. Cyclist
Specialized Turbo Vado 3.0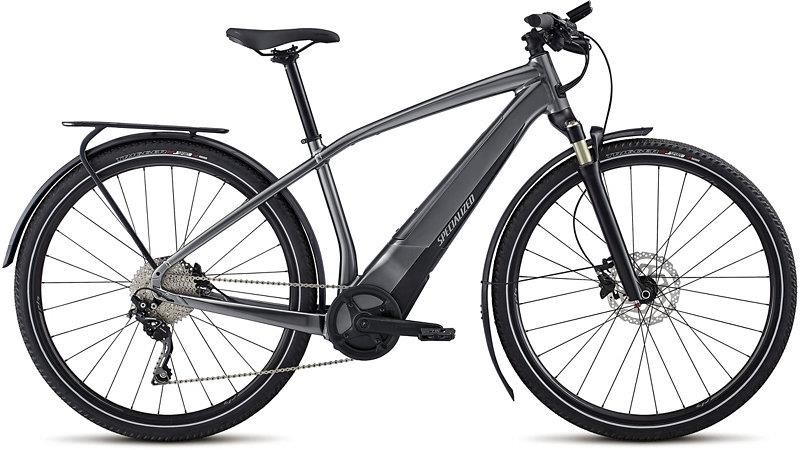 Motor Brose 1.2 crank drive
---
Battery Pack 460Wh integrated
---
User Interface BLOCKS 2.2" display and remote
---
Drivetrain Shimano Deore 10 speed
---
Brakes Shimano hydraulic disc
---
Best for Refined city cycling
---
Review
The Specialized Turbo Vado takes the urban electric bike to the next level. While this bike is designed to for city cycling the wide tyres and suspension fork mean that it is also very capable on rough gravel tracks. The Vado comes ready equipped with mudguards, lights and a rear luggage rack, but it is the drive system that really sets this bike apart from the competition.
The Turbo Vado uses a custom tuned Brose drive unit. This is one of the quietest motors while also being one of the most powerful. The power delivery is very smooth, and the three power modes are easily selected from the handlebar mounted remote. The display is mounted centrally giving you all the motor and battery info as well as acting like a cycle computer.
With the mission control smart phone app you can really unlock the potential of the Vado. All the power modes are completely customizable. You can decide exactly how much assistance the motor gives you in each mode as well as the response of the motor when you turn the pedals. The smart navigation features will even manage the battery capacity for you to ensure that you will always have enough charge to finish your ride. The Women's Turbo Vado 3.0 has a lowered top tube which makes getting on and off the bike easier
Specialized Turbo Vado Range Review
The Specialized Vado Turbo is a fantastic and fun ride. The urban bike is more than capable of taking to the slightly rougher stuff and delivers a confidence inspiring ride mile after mile. Cycling Weekly