10% off In Stock Accessories - Use Code : ACCESSORIES10
Updated: 18th Octeber 2021
When you're on the trails, and the weather turns the best MTB jackets will make your ride much more comfortable. From lightweight packable windproofs for chilly-but-dry rides to waterproof MTB jackets that will keep the rain out for hours at a time, there's a lot of variation in performance.
The best MTB jacket for you will depend on the features that match the weather conditions on your ride, and whether you want a jacket to wear all the time or a packable. When looking for a new MTB jacket it's good to think about what you want it to do before you buy.
If you just want a jacket to keep the wind off, then a lightweight packable windproof is ideal. These are the lightest jackets and are easily stashed in a pocket for the climbs ready to put on when descending. You can use a lightweight packable waterproof jacket in the same way with the added advantage that they will keep the rain out if you get caught in a shower.
Soft shell jackets are warm, windproof and highly breathable so they're comfortable to ride in. Soft shell fabric tends to be tough, so these jackets are less likely to tear in a crash. The best MTB softshell jackets have a DWR water-resistant coating that will protect you from trail spray as well as a light shower.
For proper rain protection you'll need a waterproof jacket with taped seems to stop water seeping in through the stitching. Even the most affordable waterproof tends to offer good waterproof protection. The real difference comes with breathability. The best MTB waterproof jacket is highly breathable, so will stop you from overheating too quickly.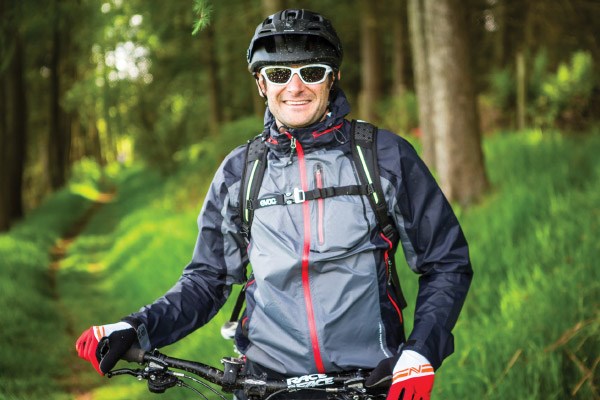 The best waterproof mountain bike jackets have both a high waterproof rating and a high breathability rating. Mountain biking speeds are much slower than road cycling, so a focus on breathability and venting is more important. Plenty of airflow helps to stop you from the dreaded 'boil-in-a-bag' feeling. Zip vents are helpful for this especially when combined with a good breathable fabric. Look for a high breathability number alongside a high waterproof rating for the best MTB winter jackets.
Cut is important in a mountain bike jacket. You need to be able to move around freely on the bike, so the best mountain bike jackets tend to have a loose fit. Hoods can be useful too as you have a more upright riding position on a mountain bike and climbing speeds are low. Over helmet hoods are easy to pull on and off again but don't stay in place so well when riding fast. Under helmet hoods stay put but you'll need to stop to put them on.
Other useful features to look out for adjustable elements such as hem draw cords, wrist closures. Pockets tend to add bulk but if you intend to wear the jacket all-day then they are very useful for storing ride essentials. Mesh back pockets also double up as vents.