Cycling to work is a great way to get fit and engage your brain ready for the day ahead. Living in our beautiful country means we can encounter all four seasons in one day. It's essential choosing the right jacket to make your commute much more enjoyable. With so many cycling jackets on the market, it can be difficult to choose the right one for you. That's why we've chosen our favourite commuter cycling jackets and put them into this handy guide for you.
Unlike performance and club fit jackets, all the cycling jackets on this list are built specifically for commuting and daily wear. They have a slightly looser and more relaxed fit, so you can fit under layers easily if the temperature drops.
The best commuter cycling jackets will be lightweight, have plenty of venting for if you get too hot, are waterproof (you really want this) and have lots of reflective elements to help you stand out.
Endura Gridlock II Waterproof Cycling Jacket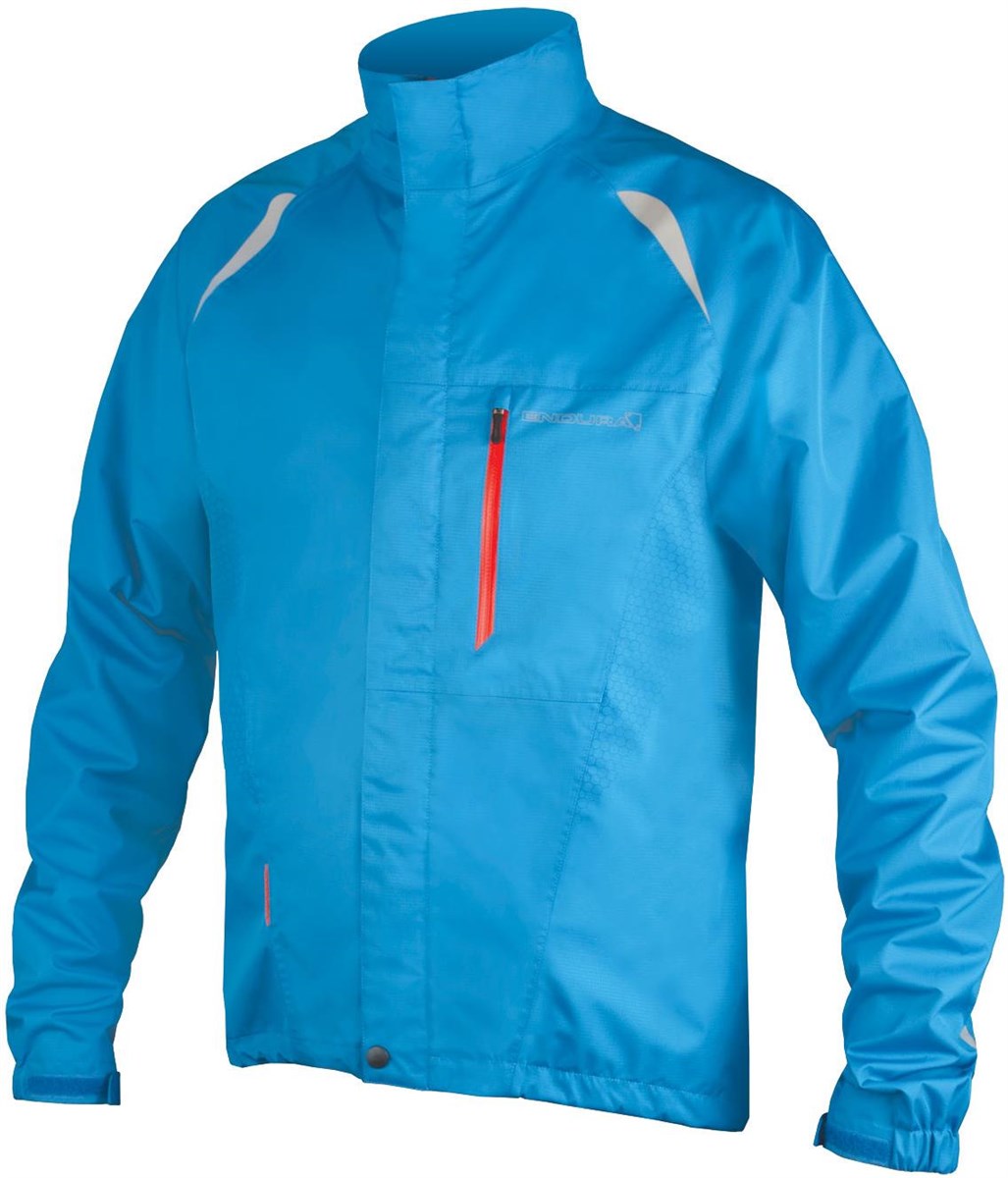 Waterproof Yes
---
Windproof Yes
---
Hi-viz Reflective Decals
---
Pockets 1 Chest, 1 Rear
---
Best For Staying Cool While Riding To Work
---
Review
The Gridlock II is a Tredz favourite with the staff and our customers. It's simply the best commuter cycling jacket under £65. To get an equivalent you'll need to jump up a price point - it's that good. While it's not the most waterproof out there, the Gridlock will keep you dry on the way to work with no issues - even in heavy rain.
But where this cycling jacket comes into its own is with the thoughtful venting. Instead of just having vents under the pits, Endura have extended the zip under the bicep. This offers better airflow as the vent is directed forward to catch cool air. If you're somebody that heats up fast, this is the jacket for you.
Other great features are the LED loop on the rear to give you extra viz, the chest zip has a rain garage to stop water seeping through and damaging your phone or wallet. The black colour with a contrast blue zip looks great on or off the bike.
Best in class at its price point. Light, waterproof and very breathable
Hump Strobe Mens Waterproof Cycling Jacket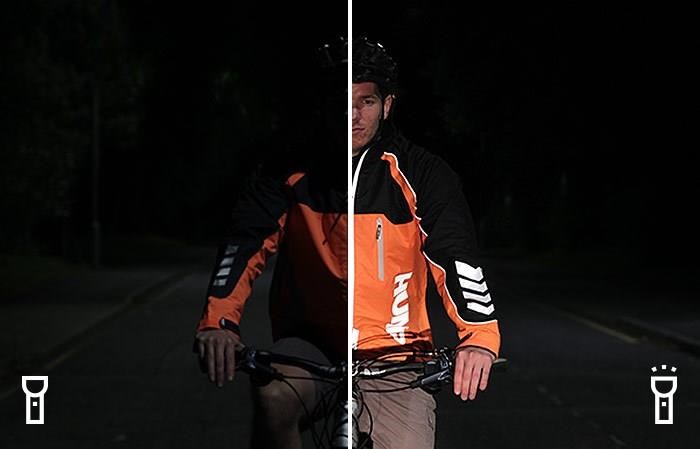 Waterproof Yes
---
Windproof Yes
---
Hi-viz Reflective Print
---
Pockets 1 Chest, 1 Hip
---
Best For Downpours
---
Review
Hump are well known for creating hi-viz cycling clothing and accessories. Their Strobe waterproof cycling jacket comes with all the reflectivity you would expect such as large chevrons on the arms and reflective elements on the front and back. From all angles you will light up in car headlights, making this a great commuter jacket for urban cycling.
The Hump Strobe is fully waterproof with the addition of taped seams, so no water seeps through to your clothing underneath. Even in heavy autumnal downpours, the Strobe will keep you dry. When there is a breeze you can pull the adjustable waist shock cord tight to keep draughts out.
A vented rear yoke prevents you from overheating, so when you get to work you'll be feeling refreshed and not clammy. A slightly longer drop tail keeps your lower back protected when you're bet over in a cycling position for extra coverage. There are 3 colour options to choose from, yellow, orange and blue. All of them are highly visible during daylight riding.
Fully waterproof with taped seams keep you dry in heavy downpours.
Madison Prime Waterproof Jacket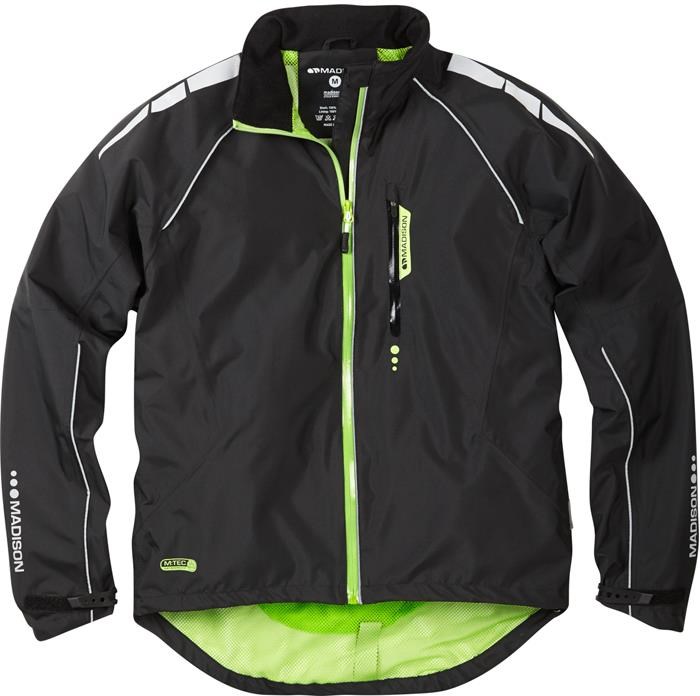 Waterproof Yes
---
Windproof Yes
---
Hi-viz Reflective Print
---
Pockets 1 Chest, 1 Rear
---
Best For Commuting/ Recreational Riding
---
Review
Madison always take a lot of thought when developing their cycling jackets. If you're navigating busy urban roads then the stylish reflective will help you get seen and the rear venting will help you to keep your cool.
Where this jacket differs from some of the others are the little touches that just add next level quality and performance. For instance, the waterproof main zip comes with a garage (something the more expensive Evo doesn't). Teardrop shaped cuffs and adjustable wrist straps keep your gloves tucked in nicely.
When you're cycling to work in the same jacket everyday, it's these features that'll keep you comfortable. The fabric is lightweight yet will keep you dry in the rain, and thanks to extended underarm and rear venting you'll not boil in a bag.
Very stylish all season commuter jacket with quality features.
Altura Night Vision Evo 3 Waterproof Jacket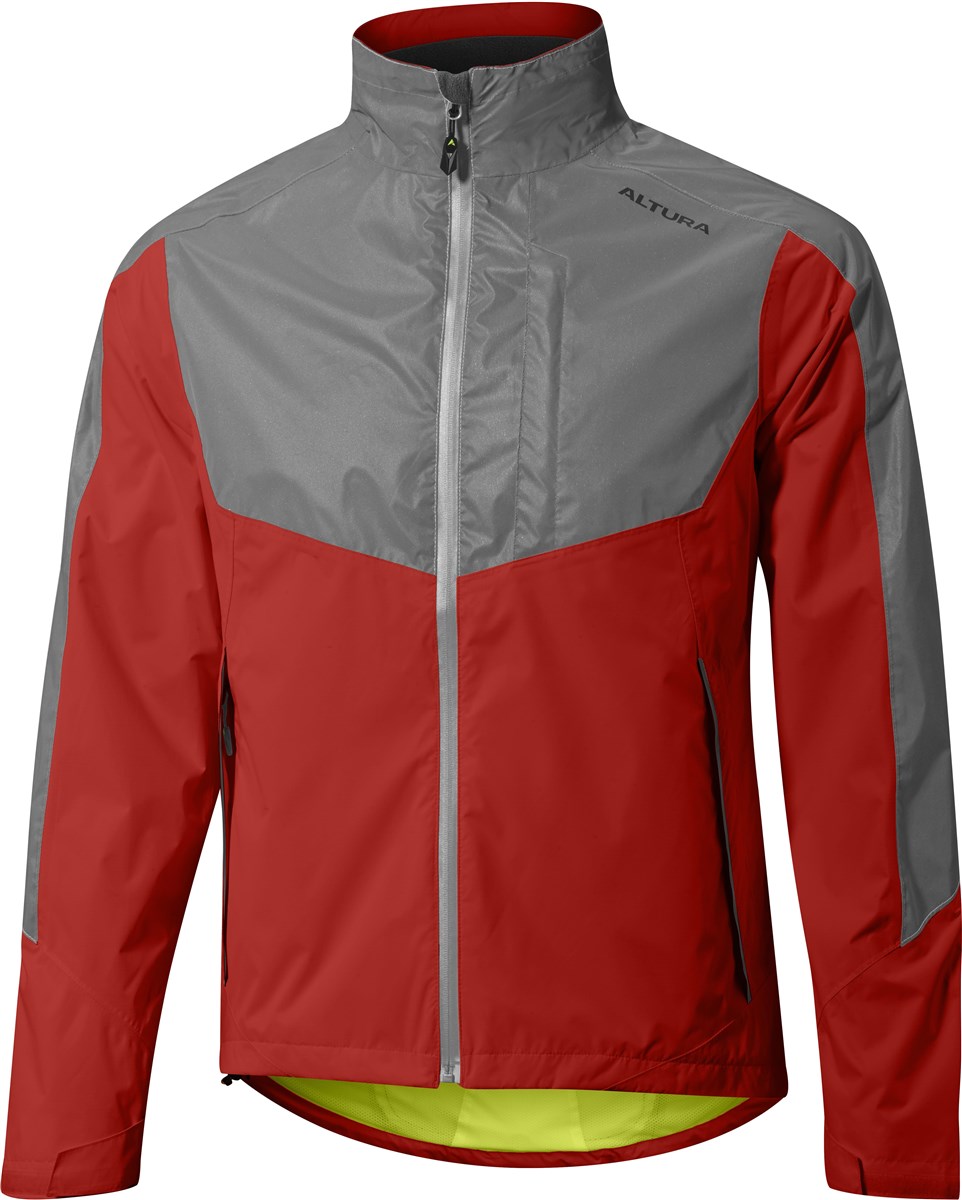 Waterproof Yes
---
Windproof Yes
---
Hi-viz Reflective Print
---
Pockets 1 Chest, 1 Side
---
Best For Fitness training in poor weather
---
Review
The Altura Night Vision EVO range of waterproof cycling jackets have been a firm favourite with commuters and recreational riders for years. The EVO 3 jacket carries on the lineage, packed with advanced features for cyclists needing maximum visibility, waterproofing and breathability.
Key to visibility is Altura's NV360 technology that offers exceptional retro reflectivity in dark light conditions. An integrated I-Lume rear flashing light on the tail of the jacket is a great addition that sits at driver's eye level when you're on the bike.
Keeping you comfortable is Altura Shield EVO fabric technology that protects you from wind and water, whilst keeping breathability so you don't get that 'boil in a bag' feeling. Pit and yoke draft venting also enhances breathability. A great all rounder cycling jacket that is perfect for commuting.
High visibility, max waterproofness and breathability rolled up into one jacket.
Proviz Reflect 360+ Cycling Jacket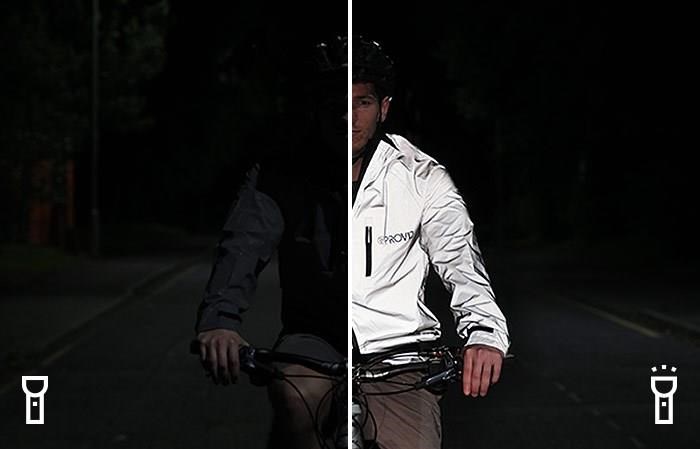 Waterproof Yes
---
Windproof Yes
---
Hi-viz 100% Reflective
---
Pockets 2 Chest, 1 Rear
---
Best For Reflectivity
---
Review
No guide on the best commuter cycling jackets would be complete without the innovative Proviz Reflect 360+. This cycling jacket is 100% reflective as the fabric will pick up any external light source to greatly improve your safety in low light conditions. This is the big brother of the Reflect jacket and comes with tiny glass beads to help sparkle.
Not just incredibly reflective, the Proviz jacket is built with a lightweight fabric that is waterproof and very breathable so you don't overheat on the way to work. Shoulder and back vents help keep airflow unimpeded.
Raglan sleeves give you better freedom of movement on the bike. The casual cut allows for under-layers while multiple pockets will keep your ride essentials safe. Simply put, the Proviz is our favourite commuter cycling jacket.
You won't believe how reflective this jacket is.