Let's face it. If you're cycling for any length of time in the UK, you're going to need a waterproof jacket in your clothing arsenal. In our waterproof jacket guide we'll arm you with all the knowledge you need to choose the best rain proof jacket for your needs.
Before you buy any waterproof jacket, you'll want to know whether it is 100% waterproof, or simply water resistant.
To be classed as waterproof, a jacket must have taped seams and weather proof zips to ensure no water seeps through to your under garments. These jackets will also have a DWR coating on the outer layer that makes water droplets bead up and roll off the garment.
Water resistant jackets are cheaper and will offer light rain protection but should not be used during heavy downpours as water will make its way to your clothing underneath.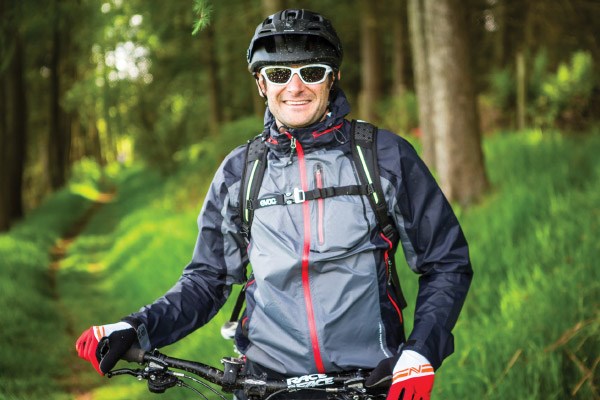 Water Resistant Jacket
Waterproof Jacket

Waterproofness rating of 5,000mm and under
Fabric will be treated with a DWR (Durable Water Resistance) coating

A minimum waterproofness rating of 10,000mm
Taped seams
Weatherproof zips
DWR coating on outer fabric
How is waterproofness measured?
Waterproofness is rated in millimetres and usually based off the Static Column Water Resistance Test. A column of water is placed on top of the fabric and the level at which water begins to seep through to the under layer is recorded in 'mm'. The higher the rating the more waterproof the jacket is.
0 - 5,000mm: Splash/rain proof but not waterproof
10,000mm – 20,000mm: Waterproof in moderate to heavy rain
20,000mm – 30,000mm Plus: Waterproof in the heaviest conditions
After waterproofness, breathability is the most important factor when choosing your jacket. While these jackets will keep water from getting in, they'll also stop water vapour (your sweat) from getting out and it doesn't take long to get damp and sticky on a hard ride.
A general rule of thumb is the more waterproof a jacket is, the less breathable it will be. However, there is an exception. Premium jackets will use advanced fabrics such as GoreTex that let vapour escape without letting water in. A jacket with a breathability rating of over 10,000g will help to stop that 'boil in a bag' feeling.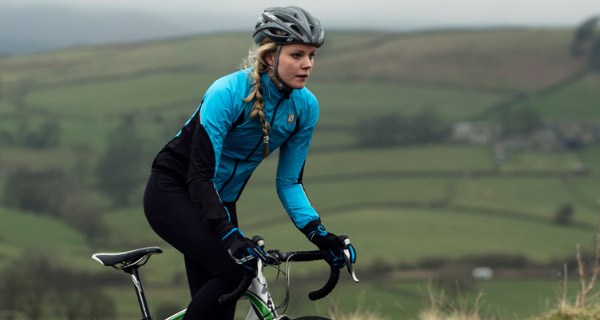 How is breathability measured?
Breathability is measured by how much water vapour can pass through the fabric during 24 hours. This will be recorded in grams of vapour per square metre (g/m2) but is often simply rated as just "g". The higher the grams, the more breathable the jacket is.
What is a good measurement?
0 - 5,000g: Standard breathability, you'll get damp when riding hard
10,000g – 20,000g: Good breathability when pedalling hard
20,000g plus: Great breathability for all out efforts
Great Features to Look for in a Waterproof Jacket:
Fabric:
Usually waterproof jackets will have an outer layer or nylon or polyester with a laminated inner membrane that lets water vapour escape, without letting rain in. Sometimes you'll find a mesh layer inside the jacket for extra comfort.
Durable Water Resistance (DWR):
DWR is the first line of defence against the elements. It's a treatment added to the outer layer of almost all waterproof jackets (except where the waterproof laminate membrane is the outer layer). It works by forcing water droplets to bead up and roll off the garment.
The DWR coating will wear away over time so you will need a waterproofer such as Nikwax to reinstall performance.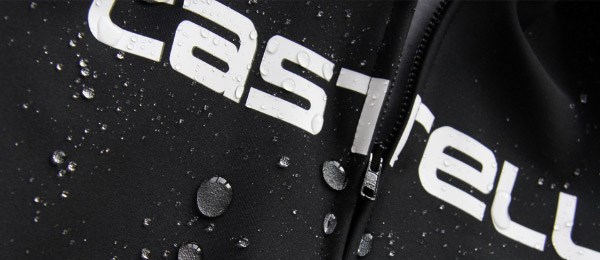 Waterproof/Breathable Inner Laminates:
Enhancing breathability and waterproofness will be an internal layer (or multiple layers) of laminate membrane such as GoreTex. These laminates will be made of millions of tiny pores that are big enough for water vapour molecules to escape, but too small for liquid water molecules to enter.
Premium jackets will come with more advanced laminates that are lighter and can transfer moisture away from your skin quicker.
See our Technical Fabric Guide to learn more about key fabric technologies from the biggest names in cycle clothing.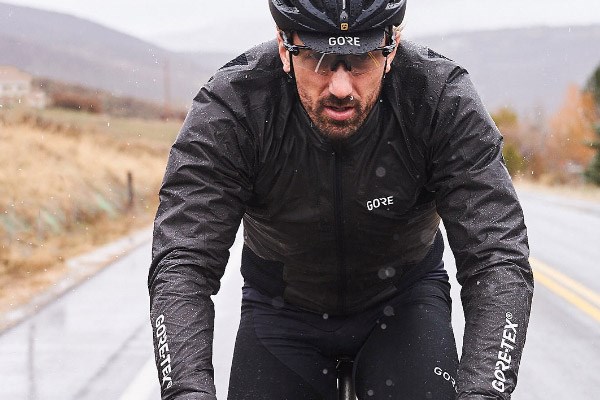 Cycle Specific Fit:
Before choosing your jacket, consider the type of riding you'll be doing.
Road cyclists who train and race hard will want a tighter cut for improved aerodynamics. You don't want excess flapping around in the wind causing extra drag.
At the slower speeds of mountain biking and commuting a looser cut with more freedom of movement is what you'll want. For commuting having extra space under your jacket to fit work clothing is a handy option.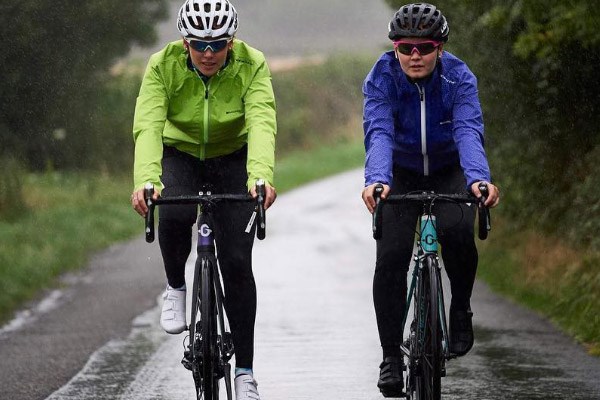 Other general cycling specific features include:
An extended drop tail at the rear to cover your lower back when in a cycling position (some jackets will give you the option to roll up the tail into a pocket for 'off-the-bike' style).
A slightly raised front hem to reduce fabric bunching at your waist.
Articulated arms and elbows which are pre-shaped for cycling can improve comfort.
Elastic hem, collar and cuffs all keep the jacket in place and help stop rain from getting through.
Packability:
During the warmer months of summer, you'll want a lightweight, packable waterproof shell rather than a bulky jacket. Look for packable jackets that you can stash in your jersey pocket or backpack, ready for if the weather turns.
Most packable jackets will be water-resistant rather than waterproof, make sure you check the product description to see if it will fit you needs.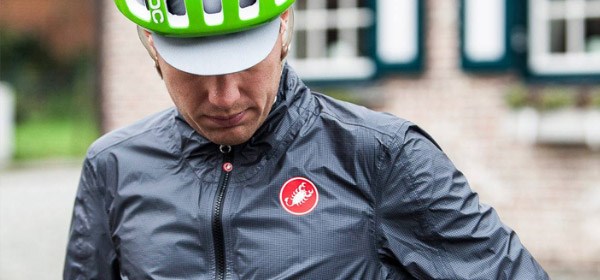 Stowable Hood:
Look for jackets which feature a stowable hood that will slip underneath your helmet. Removable hoods are ideal for rides where rain stops and starts. A cinch at the rear of the hood will help keep the hood fixed in place when you turn your head in different directions, so you don't lose visibility.
Security Pocket:
When choosing a water-resistant jacket, make sure there is one pocket with taped seams and a zipper garage for storing your smartphone and other gadgets. This'll keep them protected from the elements.
Zipper:
For a jacket to be waterproof it must not let water seep through seams and zips. Make sure there is a zipper garage to stop water from leaking through to your underlayers. A storm garage is a good idea for riding in harsh conditions.
YKK zips are super durable to stand up to daily wear and tear. A full length zipper is a good option to improve venting when the rain stops and the sun comes back out.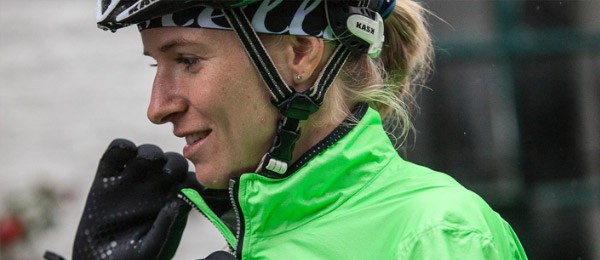 Visibility:
If you're planning on commuting in your jacket, choose one which includes reflective elements and bright hi-vis colour options. Some jackets like the Altura NightVision will come with integrated LED's for extra visibility in low light conditions.
Scotchlight reflective material will help you pop out from the background in car headlights. Bright block colour options are always a good option for day time visibility too. See our reflective jacket comparison to see just how powerful reflective technologies can be.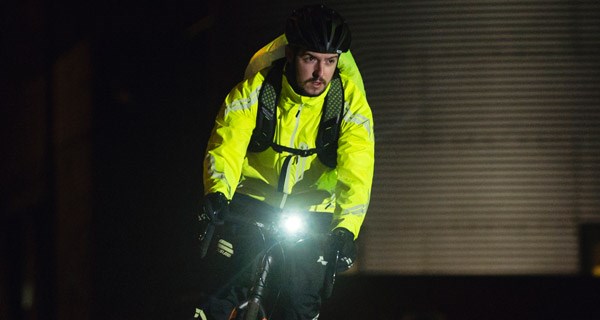 Most Popular Waterproof Cycling Jackets