Rapid rolling over all types of terrain, 29" MTB wheels are now a popular choice for trail riders as well as cross country and enduro racers. From lightweight XC wheels to durable enduro hoops, we have picked out the best 29er wheels in this review to help you choose the standout performers for your 29er wheel upgrade.
Lightweight wheels accelerate faster and make climbing easier. This is especially noticeable on 29ers and a wheel upgrade is one of the best ways to improve your performance on the trail. More aggressive enduro and all mountain riders will also benefit from wider rims. As well as being stronger, a wide rim improves the tyre profile offering better grip. Some of the wheels in this review are sold singly, others are sold as front and rear wheelsets.
Accelerate faster and climb quicker with a 29" mountain bike wheel upgrade.
Mavic Crossride 29er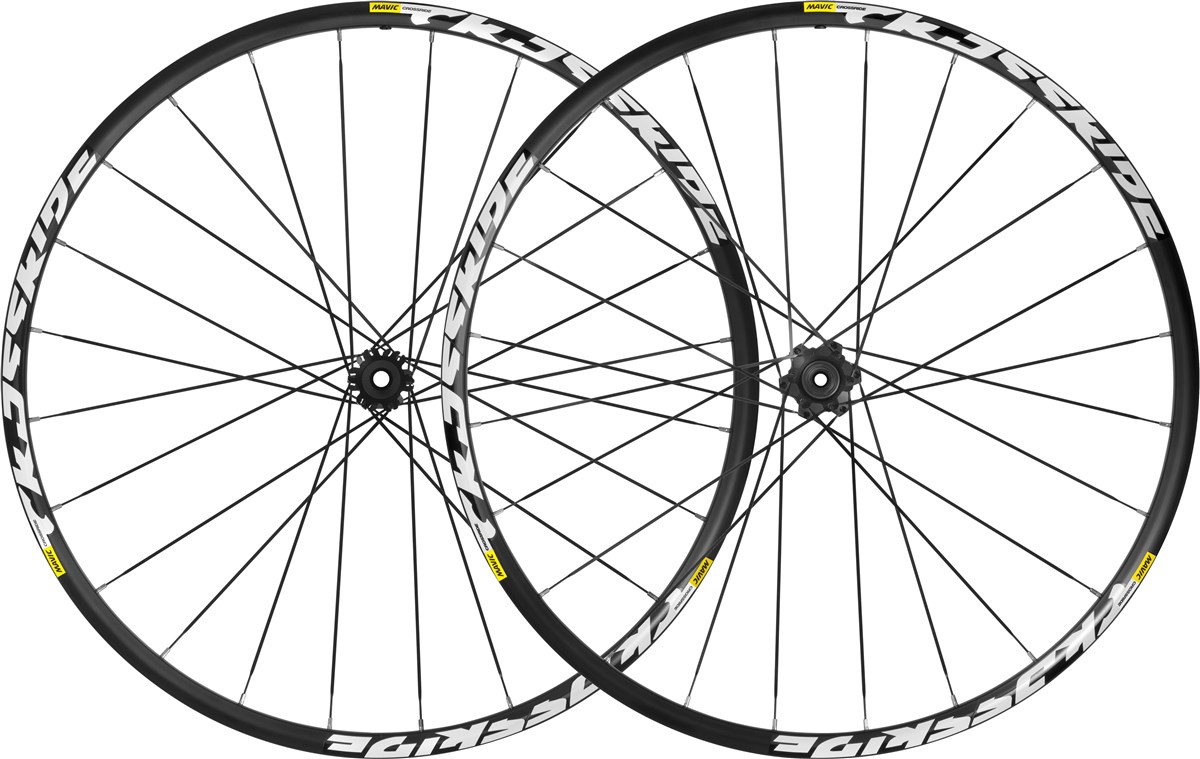 Rim Aluminium, 21mm internal width
---
Spokes Straight pull, steel bladed
---
Hubs Aluminium alloy TS-2
---
Tubeless not designed for tubeless
---
Weight 2,000g / pair
---
Best for XC / Trail
---
Review
Offering Mavic's legendary design and build quality at an affordable price point the Crossride 29" wheels are built for hard riding over all types of terrain. Building on the success of this classic wheelset the rim has been redesigned and now features a wide profile that offers improved tyre support and is lighter too.
Bladed spokes offer improved aero performance and the straight pull design is stronger than traditional j-bend spokes, it's great to see these on a wheelset at this price point. The alloy hubs feature the TS-2 freewheel that is inspired by Mavic's high end wheelsets. These wheels are compatible with both bolt thru and quick release axles.
The legendary Crossride, now with a wider and lighter rim.
Stans No Tubes Flow Mk3 29er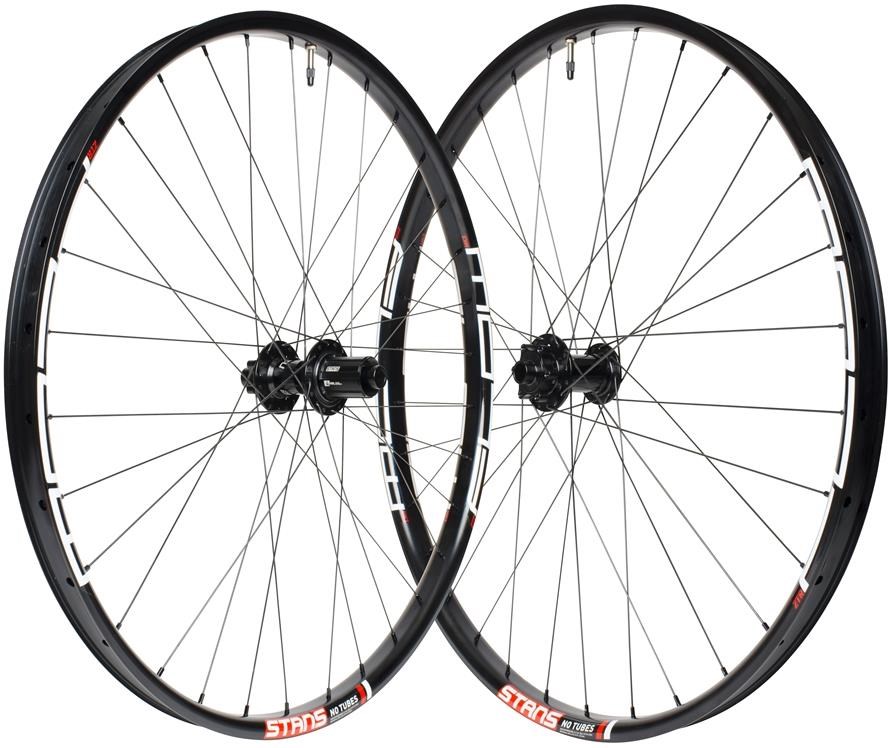 Rim Aluminium, 29mm internal width
---
Spokes Sapim Force Black
---
Hubs Neo alloy hubs
---
Tubeless Tape and valves ready fitted
---
Weight 2,134 g / pair
---
Best for Enduro / trail
---
Review
The Stan's No Tubes Flow S1's build on the World Cup DH success of the Flow EX and are scaled up for 29ers. Like the Specialized Traverse featured below, the Flow S1's features a wide rim profile with a 29mm internal diameter that offers improved tyre stability for control at any speed. Alongside this, Bead Socket Technology promises faster rolling and harder cornering control.
With a deeper 1.6mm profile and reinforced rim walls the new Flow S1 offers greater impact strength for an even wider range of use. The rims are laced to Neo hubs that offer durable performance with quick engagement and options to fit every axle standard. Supplied with tape and valves ready installed the Stan's Flow S1 wheels offer trouble free tubeless running.
Designed for control at speed, the Flow S1s are perfect for technical trails and enduro racing.
Hope Tech Enduro Pro 4 29er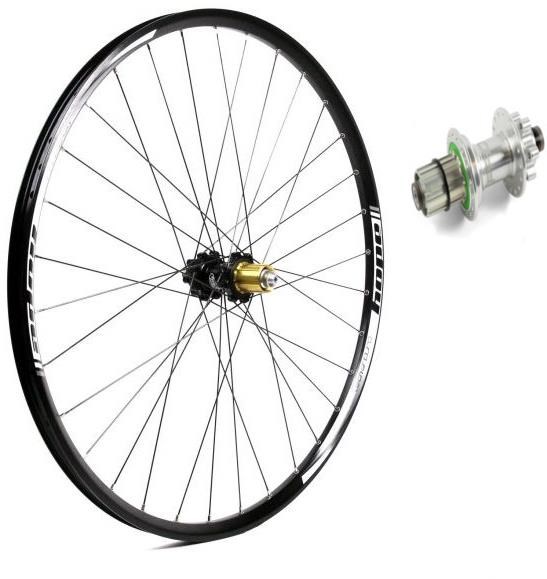 Rim Aluminium, 23mm internal width
---
Spokes Sapim, double butted
---
Hubs Hope Pro 4 aluminium
---
Tubeless Requires tape and valves
---
Weight 2,055g / pair
---
Best for Enduro / trail
---
Review
Hope Tech hubs have long been favourites of British mountain bikers due to their ability to put up with the months of muddy riding that UK MTBers endure. The new Pro 4 hubs offer the reliability, hub options and wide range of colours that you expect from Hope, all in a lighter weight package.
The rims feature a trail friendly 23mm internal width for good tyre support. The 3-chamber rim design is strong giving you the confidence to attack rough trail sections. Strong enough to take on challenging trails these 29er hoops are ideal for enduro racers and aggressive trail riders.
Rear wheel featured, Hope Tech Enduro front wheel sold separately
Built for the very worst British trail conditions
Specialized Roval Control 29 Inch Carbon Wheelset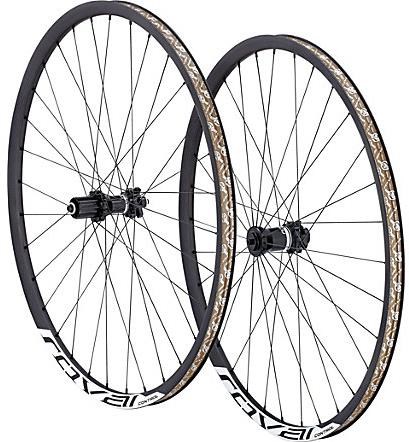 Rim Carbon, 22mm internal diameter
---
Spokes DT Swiss Revolution
---
Hubs Aluminium, DT Swiss internals
---
Tubeless Rim tape ready fitted, valves supplied
---
Weight 1,508g / pair
---
Best for XC racing / trail
---
Review
Stiff, strong and lightweight, the Specialized Roval Control carbon wheels are built to offer XC race performance at an affordable price point. Built with much the same technology as the Control SL wheels these hoops feature a Zero Bead Hook design. This allows for continuous fibre layup across the side wall for improved impact resistance. These wheels are tubeless ready out of the box, the tape is ready fitted all you need to do if fit the supplied valves.
The hubs feature DT Swiss internals for quick engagement with reliable running and are laced onto the rims with DT Swiss Revolution spokes. These are hand built wheels and the build quality is exceptional. Neat touches like the mixed radial/three cross spoke lacing on the front wheel help to set these high performance 29" hoops apart.
DT Swiss XMC 1200 Carbon Rim 29er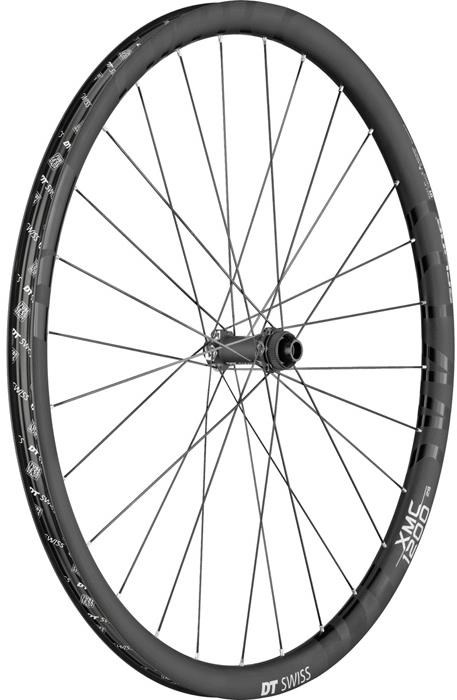 Rim Carbon, 24mm internal diameter
---
Spokes Stainless steel, butted
---
Hubs Lightweight DT Swiss
---
Tubeless Tape and valves supplied
---
Weight 1,495g / pair
---
Best for XC racing / trail riding
---
Review
Lightweight enough for XC racing, yet strong enough for technical trail riding, the DT Swiss XMC 1200 carbon wheels stet a new benchmark for all-round MTB wheels. Offering class-leading stiffness with an unmatched strength to weight ratio, the carbon rims feature a 24mm internal diameter with a hookless bead that is ideal for high volume tyres running at lower pressures. The outer edge of the rim is reinforced to imp0rove resistance to rock strikes.
The Rims are designed for use with straight pull spokes and are heavily CNC machined to make them the lightest MTB hubs that DT Swiss have ever produced. The freewheel ratchet system in the rear hub features 36 teeth that offers almost immediate engagement, perfect for technical climbs and sudden accelerations. Available in a wide variety of axle sizes, the rear wheel includes both Shimano and SRAM XD freewheels for easy conversion.
XC light and trail strong