One of the best upgrades you could ever buy for your bike is a new pair of wheels. And no doubt the best to look for are a pair of carbon fibre wheels. They are lightweight to help climbing and sprinting, while their stiffness is unparalleled. This helps with getting up to speed and transferring power to the road. Today carbon wheels are more affordable than ever, so you can make the jump to high performance hoops without breaking the bank.
Carbon wheels transform the ride feel and make the bike faster, lighter and more responsive. Carbon fibre road bike wheels are often designed to improve climbing or aero performance. Aero wheels usually have deep dish rims for better aerodynamics. While this may increase the weight of the wheels, the aerodynamic advantage far outweighs this minor disadvantage. For climbing, a shallower dished rim keeps the weight as low as possible while also improving handling in cross winds.
While the pros favour tubular wheels, most normal riders don't have a support vehicle following them with spare wheels to swap out in case of a puncture. This is why all the wheels featured here are clincher wheels that offer high performance with the easy tyre changing convenience that regular cyclists need.
Tubeless wheels have been around on mountain bikes for ages and this puncture reducing technology is now becoming popular on road bikes. The rims are the same as clincher wheels but are sealed from the spokes (often with special tape) and require tubeless tyres that allow for an airtight seal. Of course, you can still use regular tubes and clincher tyres with tubeless wheels if you wish.
We review a selection of the best carbon fibre road wheels we offer from brands: Mavic, Zipp, DT Swiss and Campagnolo to help you choose your next carbon wheel upgrade.
Mavic Cosmic Pro Carbon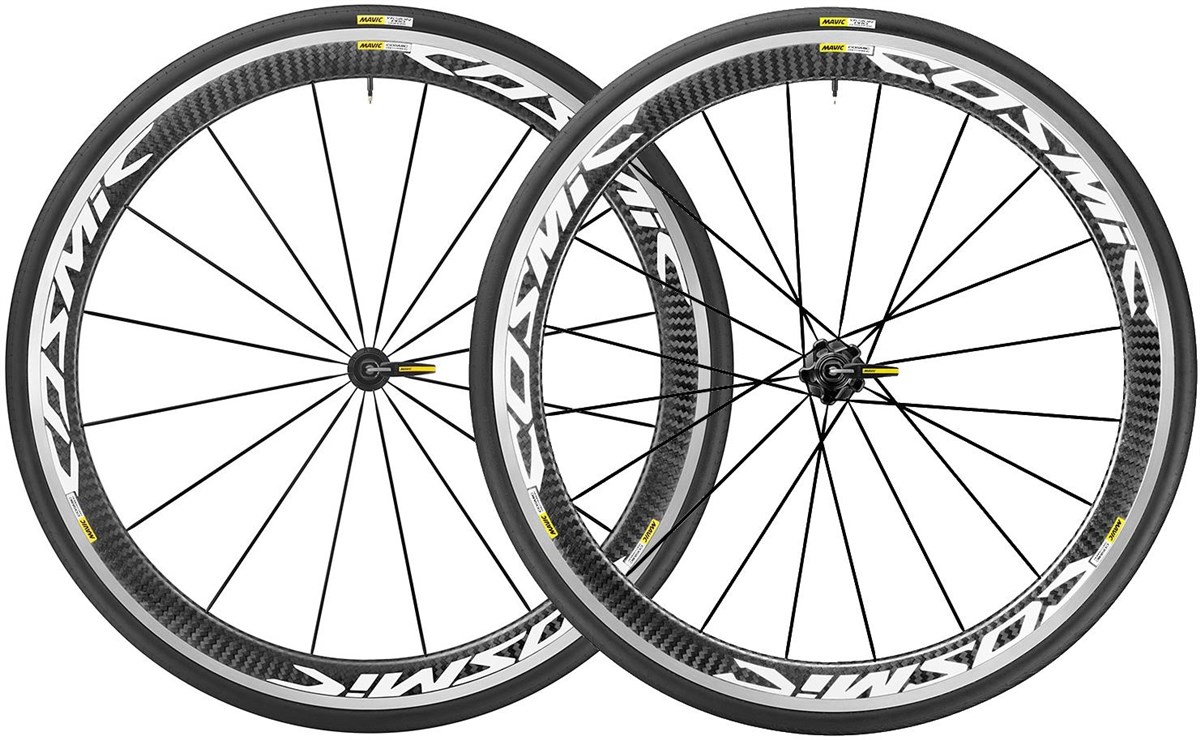 Rim material Maxtal alloy and 12k carbon
---
Rim type Rim brake, clincher
---
Spokes Steel, straight pull, bladed, double butted
---
Hubs Aluminium/carbon
---
Weight 1650g / pair
---
Best for All round road riding
---
Review
A great way to enter the world of carbon wheels, the Mavic Cosmic Pro Carbon road wheels feature a carbon rim with an alloy breaking surface. This means you get the lightweight and stiffness of a carbon wheelset with a conventional braking surface. Full carbon wheels require special carbon composites for the braking surface which adds cost. By bonding an alloy brake track on to the carbon rim Mavic can offer the high-quality rolling of carbon at a much more affordable price point.
The rims are stiff as well as being lightweight and the 45mm deep section rims balance aerodynamic advantage with cross wind stability. Lightweight these wheels are good for climbing too. The double butted bladed spokes are laced to balance aero performance with a strong and stiff wheel build.
The front hub gets a carbon shell with aluminium alloy flanges to give you the lightweight of carbon with the affordability of aluminium alloy. The steel freewheel on the rear hub gives you plenty of durability for riding mile after mile.
Sold as a wheel/tyre system, the Cosmic Pros are supplied with 25c Mavic Yksion Pro tyres with front and rear specific rubber compounds for the optimum balance between high levels of grip and low rolling resistance.
An affordable way to experience the rapid rolling performance of carbon wheels
Zipp 302 Carbon Clinchers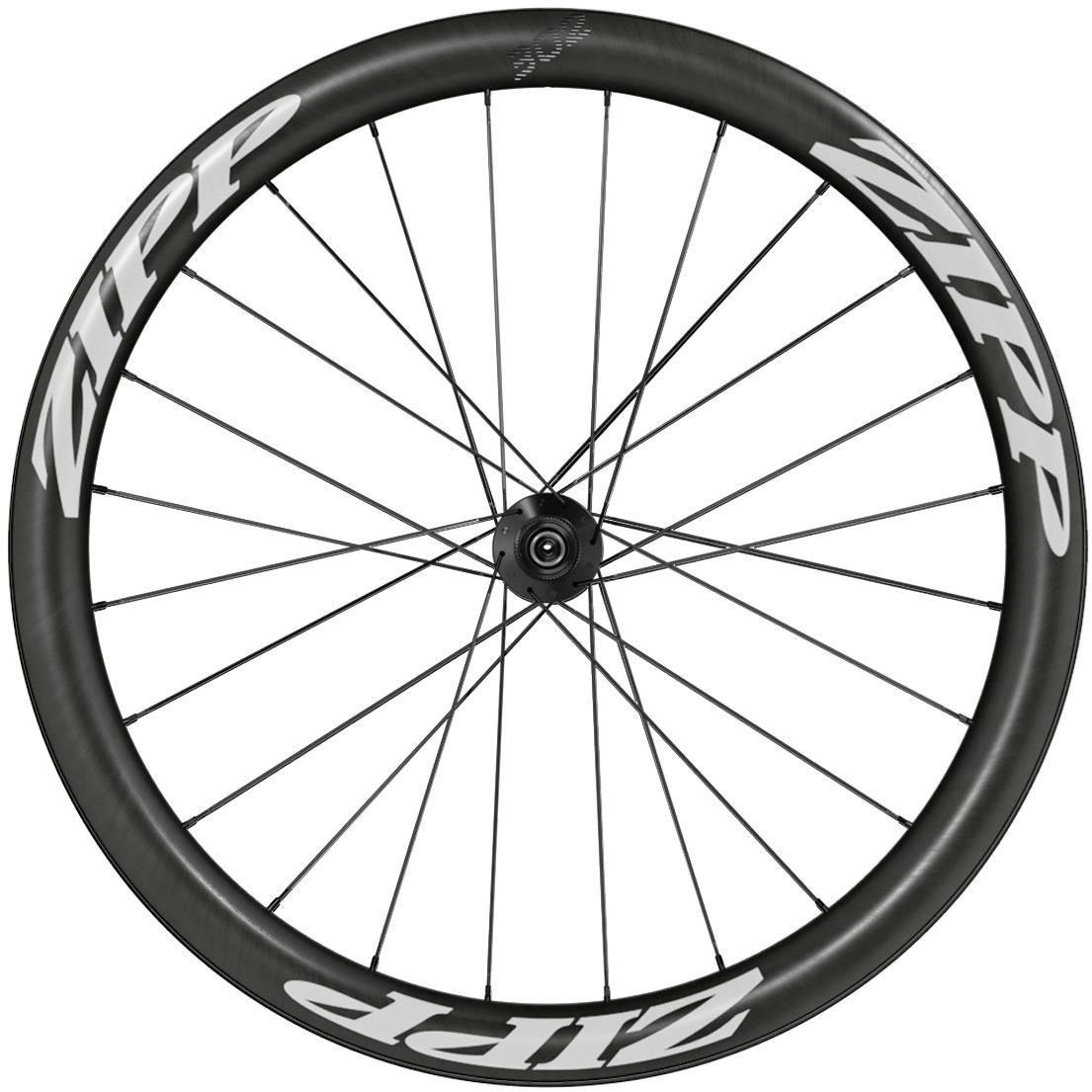 Rim material Full carbon
---
Rim type Clincher
---
Spokes Sapim CX-Sprint
---
Hubs Zipp 76/176
---
Weight 1695g / pair
---
Best for All round road riding
---
Review
Zipp make some of the most desirable road bike wheels on the planet but the high price points put them out of the reach of most regular cyclists. While a wheelset nudging £1,000 may not seem affordable to some for a wheelset of this quality it is an absolute bargain. Like all the other wheels in Zipps range, the 302s are made and hand assembled in their Indianapolis factory.
The full carbon, 45mm deep section rims feature Zipps classic bulgy rim profile that offers all the strength and stiffness you expect from a set of Zipps. You don't get the dimpled surface of their premium wheels, and this is why Zipp are able to offer this wheelset at such an affordable (for Zipp) price point. The 302s have inherited their brake track from the Firecrest wheels which are widely regarded as among the best among carbon clinchers.
The rims are hand laced on to Zipps new 76/176 hubs with Sapim CX-Sprint spokes to offer a reliable wheel package that is tough enough for riding the most demanding road surfaces yet lightweight enough for the steepest climbs.
Zipp quality and performance has been opened up to a wider audience
DT Swiss RC 28 Spline Full Carbon Road Wheel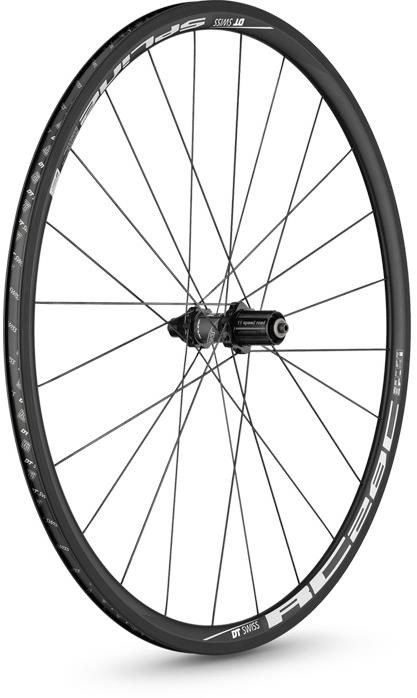 Rim material Full carbon
---
Rim type Tubeless clincher
---
Spokes DT Aerolite/Aero Comp
---
Hubs RC/DT 240
---
Weight 1385g / pair
---
Best for Climbing
---
Review
This is a lightweight carbon wheelset that is 'born on Swiss alpine roads'. With a shallow 28mm deep rim, these wheels in the DT Swiss Spline range are made for climbing and descending in mountainous terrain. This is the shallowest rim in the Spline range, but all come with a braking surface that is infused with heat resistant resin. The braking performance is well above the stringent German DIN standard when used with the supplied Swiss Stop carbon specific brake pads.
The hubs have been designed specifically to pair with the RC series carbon rims and straight pull spokes. Offering improved strength over traditional J-bend spokes, these wheels are particularly stiff when railing the corners. Featuring stainless steel bearings, the internals come from the legendary 240 hubs for lightweight reliability that you can trust.
You can take advantage of the latest tubeless technology with these wheels, although you can always use conventional tyres and tubes if you wish.
Searing acceleration uphill, and solid cornering coming back down
Zipp 303 NSW Carbon Clincher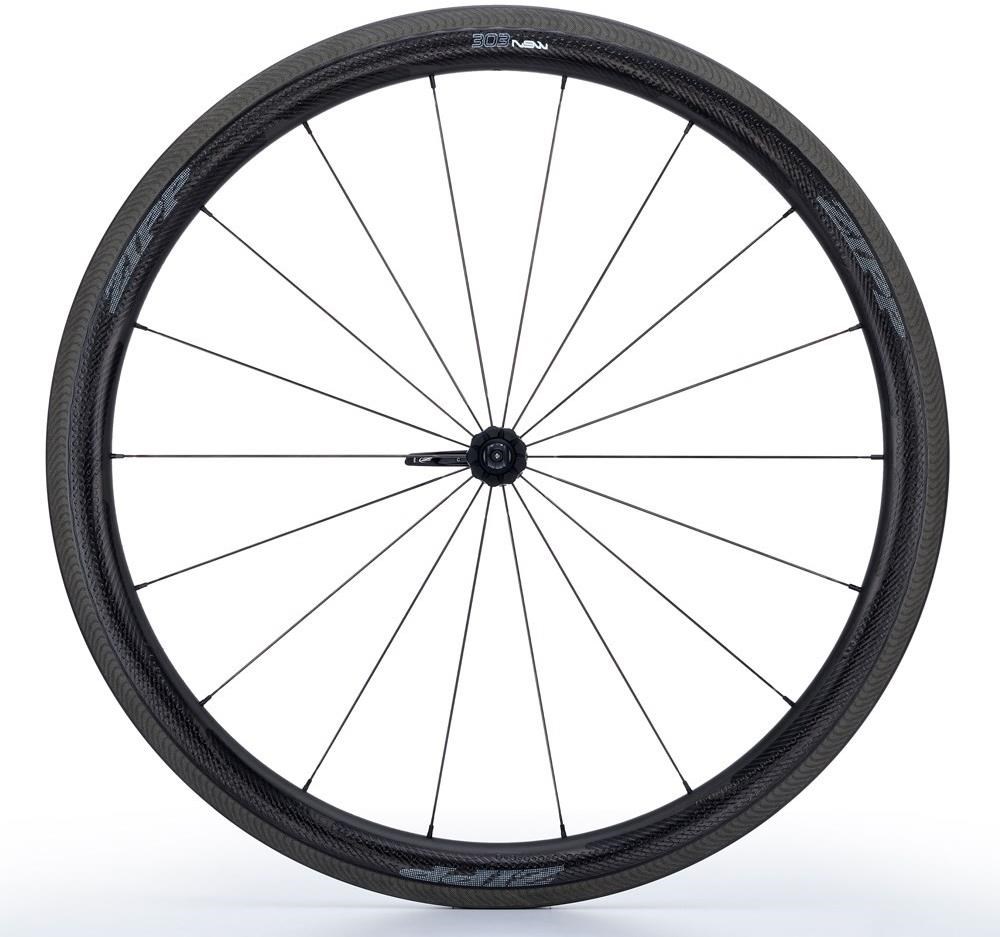 Rim material Carbon
---
Rim type Clincher
---
Spokes Sapim CX-Ray
---
Hubs Zipp Cognition
---
Weight 1425g / pair
---
Best for Racing / Climbing
---
Review
A contender for the most sought-after road bike wheels in the world, the Zipp 303 NSW wheelset has all the features you could ever want. The new 'Axial Clutch' rear hub uses a magnetic ratchet mechanism instead of the usual spring pawl mechanism that disengages when coasting to reduce drag helping you keep your speed.
The 45mm deep rims have a dimpled to reduce deflection from crosswinds and Zipp's Showstopper braking surface to increase modulation and braking performance. Sapim CX-Ray spokes hold it all together to make for one of the most technology packed wheelsets in the world. With all this, the wheels still come in at a super lightweight 1425g.
Lightweight and packed with technology for the ultimate performance
Campagnolo Bora Ultra 50 Dark Label Clinchers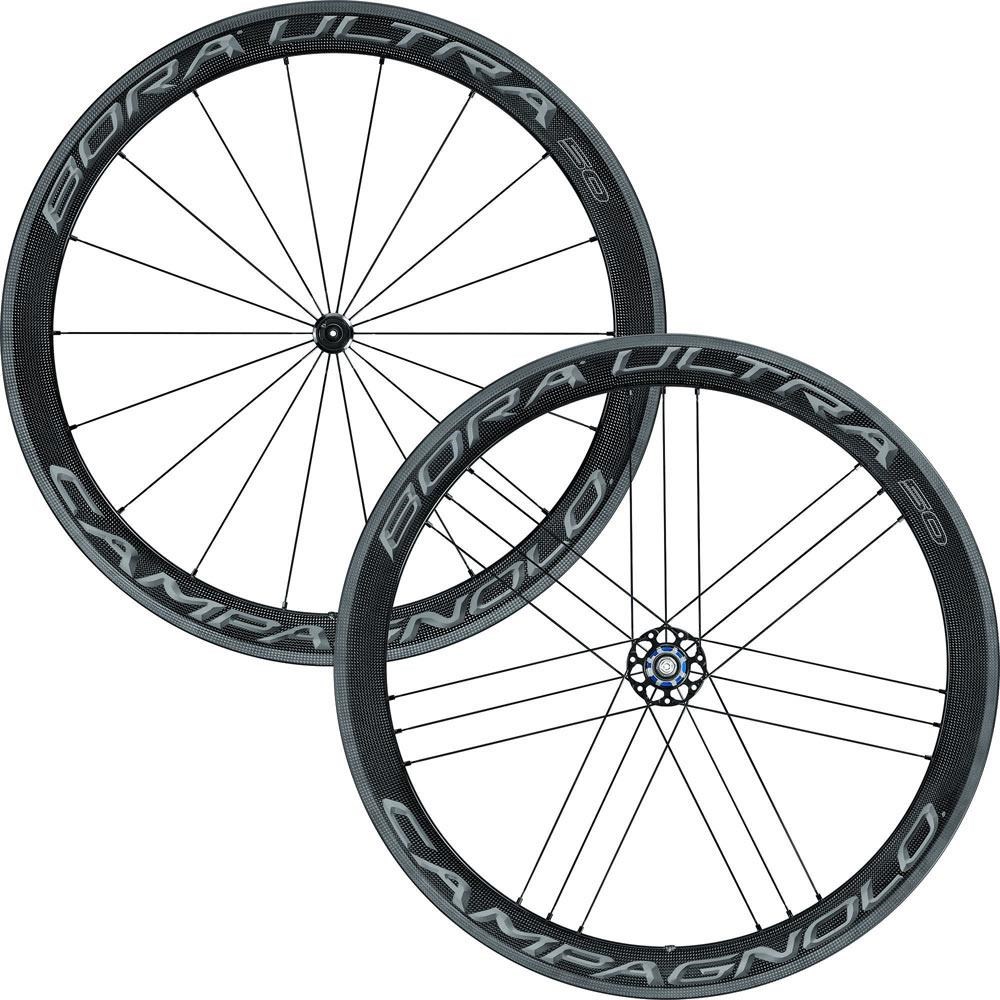 Rim material Carbon
---
Rim type Aero tubular
---
Spokes Campagnolo Aero
---
Hubs Carbon Fibre
---
Weight 1435g / pair
---
Best for Racing
---
Review
Italian style is hard to beat and the Campagnolo Bora Ultra 50 road wheels are stunning. With their exclusive G3 spoke pattern, Campagnolo have claimed that rigidity is increased while improving energy transfer. The Bora Ultra 50's feature 50mm deep rim profiles and are 24.5mm wide for extra aero performance.
The carbon hubs, with oversized flanges on the rear, roll on super smooth CULT Ceramic bearings, which are said to avoid wear entirely. The AC3 (All Condition Carbon Control) braking surface treatment means you get powerful stopping control, even in the wet, especially when used with the supplied carbon specific brake pads.
Being incredibly lightweight, especially for aero wheels, the Campagnolo hoops deliver cutting edge performance for racing.
Classic Italian styling matched with high performance for a near unbeatable package