When the weather closes in and the heavens open, you'll need an MTB tyre that will cut through the gloop to give you the traction you need. Here is our pick of the best winter mountain bike tyres to help you decide which ones are right for you.
These MTB tyres can make a big difference to your enjoyment, performance and control. In the wet you need mud tyres with spiked tread and soft rubber compounds. All the tyres in this list are good for UK trail conditions and will perform well in muddy conditions but are also good for loose rocky terrain. While a little slower than summer tyres, they also grip well on hardpack trail centre surfaces, so you can leave them on all winter with no worries.
In our list we've chosen the best winter MTB rubber for wet conditions from each of the major tyre brands to give you a good spread of what's available. DH tyres have thicker sidewalls to run lower pressures and improve grip, as well as reducing the chance of flats. Enduro tyres are lighter but are just as tough and are also great for aggressive trail riding.
We've chosen tubeless ready tyres so you can run lower pressures to improve traction, and have less chance of getting a flat. When setting up for winter some mountain bikers will choose a mud tyre for the front wheel for grip and control where it's needed and then run a regular tyre at the rear.
Winter tyres tend to have softer rubber compounds for extra grip in slippery conditions. High-end tyres are available with two or three rubber compounds used in the same tyre. You'll find harder rubber in the centre to reduce rolling resistance and softer edges for more cornering grip.
Sometimes known as 'cut spikes' or intermediate tyres, the tread has prominent blocks with wide spaces between them. These tread blocks are not as long as mud specific race tyres, so you can still ride in dry conditions. Intermediate tyres clear mud well and offer good grip but stay predictable on the hard stuff. It's this combination of characteristics that make these MTB tyres so good for winter riding.
Continental Mud King Tyres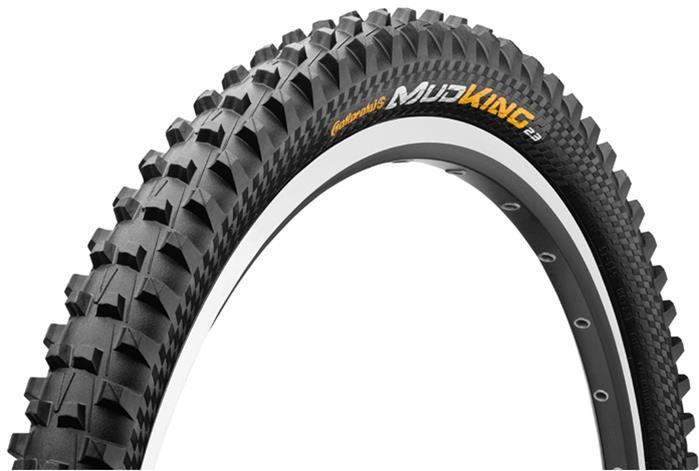 Wheel Sizes 26", 27.5", 29"
---
Disciplines DH, Enduro, Trail
---
Compound Black Chilli
---
Tyre Widths: 1.8" – 2.3"
---
Tyre Weights: 520g – 1,160g
---
Review
Conti's Mud King tyres are a super aggressive tyre with wide open tread spacing to help shed slop quickly. These tyres were developed in conjunction with Atherton Racing. The narrow profile of these tyres helps to clear mud but they still roll pretty fast for such a knobbly tyre. Side nobs on the edges bite well for confident handling.
You can get the Mud King in super durable DH or a lighter weight trail options. Key to the performance of these tyres is Continental's Black Chilli compound which blends grip, low rolling resistance and longevity for great all-round usage.
The sidewalls feature extra protection to guard against impact damage. The DH tyres get an apex layer made of soft elastomer rubber sandwiched between the casing plies. The trail versions get a ProTection nylon breaker belt to protect against cuts and punctures.
Fast rolling winter tyres developed in conjunction with Atherton Racing.
Maxxis Shorty Tyres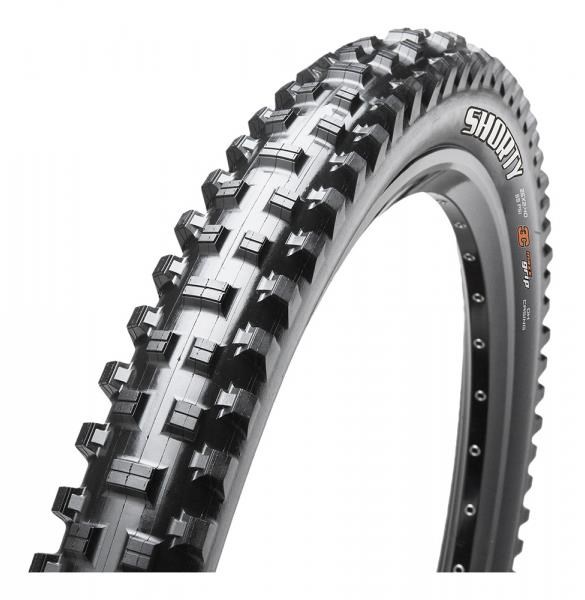 Wheel Sizes 26", 27.5", 29"
---
Disciplines DH, Enduro, Trail
---
Compound 3C Maxx Terra, 3C Maxx Grip
---
Tyre Widths: 2.3" – 2.5"
---
Tyre Weights: 1,819g – 1,579g
---
Review
Maxxis Shorty MTB tyres are very capable for riding challenging descents and natural trails. These are more versatile than you'd expect from a mud specific tyre and are especially good on loose trails too.
Maxxis 3C rubber formula is predictable on loose conditions and withstands abuse well. If you plan on riding gnarly conditions, then look for Shorty tyres with EXO sidewall protection. This offers very good cut and abrasion resistance whilst being lightweight and flexible. EXO tyres are ideal for rocky conditions where the chance of damage is high.
Shorty tyres have softer rubber compounds. The 3C Maxx Terra models use a soft compound that strikes a good balance between grip and rolling resistance and are ideal for trail and enduro riding. The DH tyres use a softer Maxx Grip compound for the best possible traction.
The Shorty is often used as a front tyre combined with a faster rolling rear like the High Roller II.
Highly versatile tyre for aggressive descents and natural conditions.
Specialized Hillbilly Tyres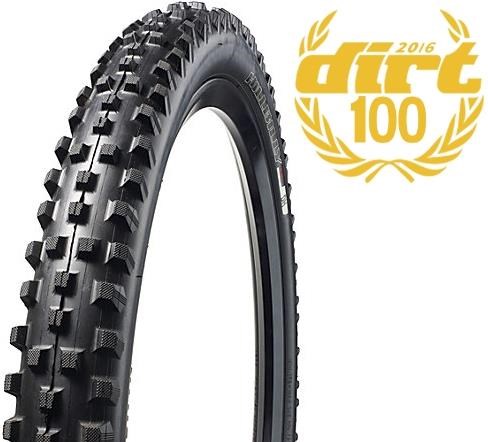 Wheel Sizes 27.5", 29"
---
Disciplines DH, Enduro, Trail
---
Compound 70a/42a or Gripton
---
Tyre Widths: 2.3" - 2.6"
---
Tyre Weights: 900g – 1,290g
---
Review
Specialized Hillbilly MTB tyres are much like the Magic Mary's, they're great in the mud as well as other conditions. Their versatility is what put them in the 2018 Dirt 100 – so you can be sure of their quality.
First thing you'll notice is the moto-inspired knob pattern that's ideal for moist and dry conditions. Originally the Shorty was a DH specific winter tyre, but Specialized have now brought out trail/enduro versions which are ideal for winter riding in the UK. With knurled knob tops the Shorty offers improved traction on roots and rocks, as well as cutting through the mud.
The DH versions feature butyl inserts at the tyre bead help cover you against pinch flats while the trail version get the Grid casing with sidewalls protected against cuts and abrasions. Excellent mud clearance performance and surefooted handling on intermediate surfaces are what put this winter tyre in our list.
Moto-inspired DH tyre that takes on pretty much anything.
Schwalbe Magic Mary Tyres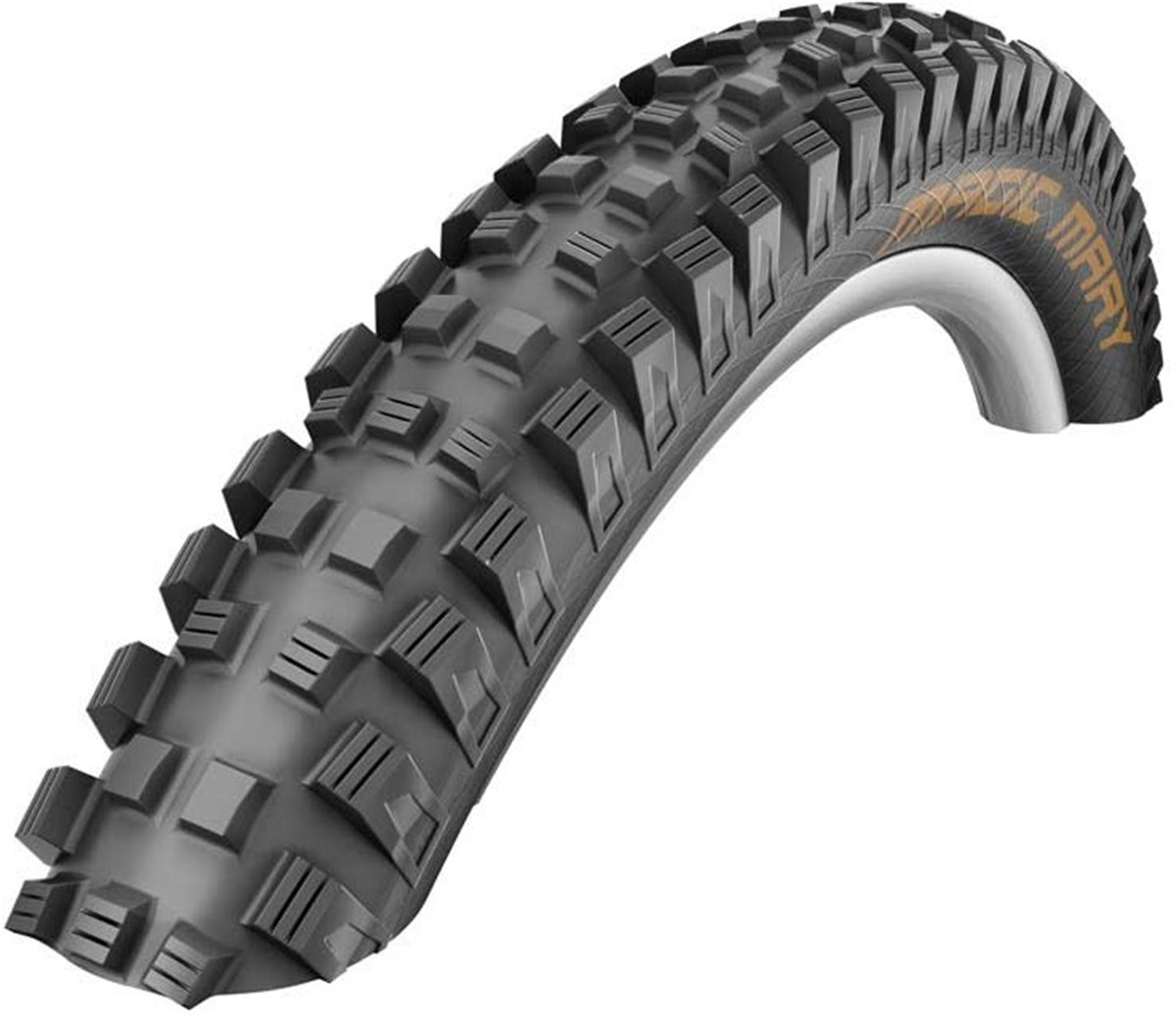 Wheel Sizes 26", 27.5", 29"
---
Disciplines DH, Enduro, Trail
---
Compound ADDIX: Ultra Soft, Soft and Speedgrip
---
Tyre Widths: 2.35" - 2.8"
---
Tyre Weights: Not Stated
---
Review
You simply can't have a list of the best winter MTB tyres without including Schwalbe's Magic Mary tyres. These are one of the most popular intermediate tyres on the market, and have been for some time. They're favoured by pro DH and enduro riders.
The tread pattern and size inspires aggressive riding in most conditions you'll encounter in UK trail centres. Like Specialized's Hillbilly's these tyres also feature in the 2018 Dirt 100 because of their superb all-round performance.
These tyres come in a range of casings and compounds for different riding styles. The Downhill version gets a robust double carcass with ADDIX Ultra Soft compound from maximum grip. The Super Gravity version is designed for enduro racing and has an Apex puncture proof layer with an ADDIX soft rubber compound. The trail ready Tubeless Easy versions are also available with Apex protection, you get a choice of ADDIX Soft or ADDIX Speedgrip so you can choose if you want to prioritize grip or fast rolling.
Schwalbe also offer two compound options – Vertstar and Trailstar. Vertstar is softer and DH orientated while the Trailstar is harder and faster-rolling. With such a wide range of sizes, carcasses and compounds you're sure to find an option that suits you. These MTB tyres are widely considered to be the benchmark – we agree.
Class leading winter tyres favoured by the pros.