Updated: 20th September 2021
When the weather closes in and the heavens open, you'll need an MTB tyre that can handle wet rock and roots as well as muddy trail sections. The best MTB tyres for mud give you the traction you need by cutting through the gloop to the solid surface beneath. But you'll also need to find grip on those slippery rocks and roots. The best winter MTB tyres balance these two aspects for great all round wet weather performance. Here's our take on the best winter mountain bike tyres to help you decide which ones are right for you.
Tread pattern is key for MTB mud tyres. A full spiked tread is the best for pure mud because the long, well-spaced knobs can penetrate through the mud to find grip beneath without clogging up. Unfortunately, these tyres don't do so well hard surfaces. As you're unlikely to ride through mud all the time when winter mountain biking you'll want a tyres that work on wet rocks and roots as well. This is where the intermediate or cut-spike tyres like the Maxxis Shorty and Specialized Hillbilly come in.
The tread on cut-spike or intermediate tyres, have prominent blocks with wide spaces between them, but the blocks aren't as long as mud specific DH race tyres, so they still work in dry conditions. Intermediate tyres clear mud well and offer good grip but stay predictable on the hard stuff. It's this combination of characteristics that make these MTB mud tyres so good for winter riding.
Another key factor is tread compound. Softer rubber compounds offer extra grip in slippery conditions, but they roll slower and wear quicker. High-end tyres are available with two or three rubber compounds used in the same tyre. With dual compound or 3C tyres you'll find harder rubber in the centre to reduce rolling resistance and softer edge blocks for more cornering grip.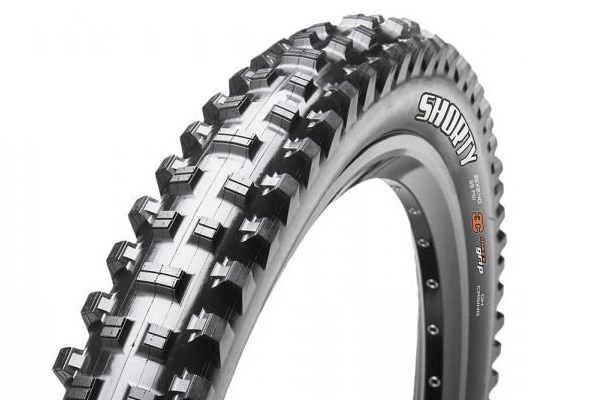 Tyre construction makes a difference too. Thicker tyre carcases enable you to run lower tyre pressures safely, but they require more pedalling effort. DH tyres have very thick sidewalls, so you can run low pressures while riding very rough terrain. Enduro tyres are a little lighter but are still tough enough for rocky trails, they're also great for aggressive trail riding. Trail and cross-country tyres are lighter still but features like EXO sidewalls protect the tyre from cuts.
The tread patterns on mountain bike mud tyres tend to make them roll slower. This is why many mountain bikers will choose a mud tyre for the front wheel for grip and control where it's needed most and then run a regular tyre at the rear where grip is less important. The best front/rear winter MTB tyre combination would be a Maxxis Shorty with a Minion, a Specialize Hillbilly with a Butcher or a Schwalbe Magic Mary with a Hans Dampf.