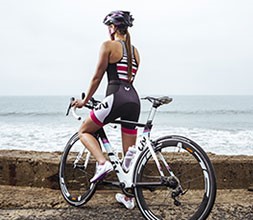 Cycling Tights & Knickers
Cycling tights offer excellent thermal coverage from the elements on colder rides and support your leg muscles as you ride. There are few things as comfortable as riding with a thermal pair of padded cycling tights to keep you cosy and protected from the elements. We stock cycling tights with different thicknesses for Winter or Summer, as well as different length coverage.
Cycling bib tights are possible the best when you seek comfort over other factors, as shoulder straps take away the need for a waistband that can sometimes dig in as you ride. The straps keep the fabric taut around your body which improves aero performance and minimises chafing. Cycling tights are great as an addition to your kit, keeping your legs supported and compressed when you ride, as well as warm.