10% off In Stock Accessories - Use Code : ACCESSORIES10
With smart turbo trainers and virtual cycle training apps like Zwift, winter training has never been so appealing. Zwift and other cycle training apps link to your turbo trainer through your computer, tablet and/or smart phone, and use your ride data to simulate a real cycling experience. Zwift has created the biggest buzz in cycling, but there is competition from other training apps like TrainerRoad and The Sufferfest. In this guide we give you all the information you need to make the most of your indoor turbo training sessions and choose which is the best virtual training solution for you.
Is Zwift King of the Virtual Mountains?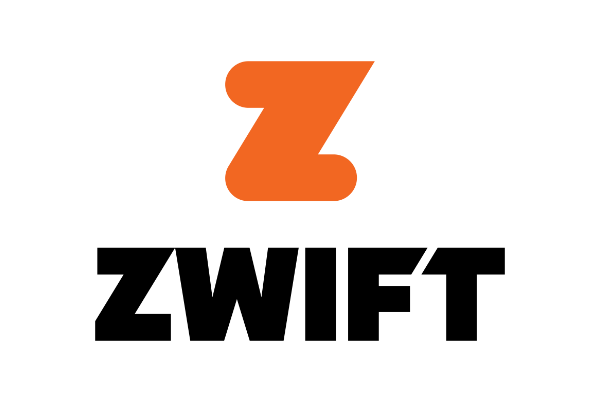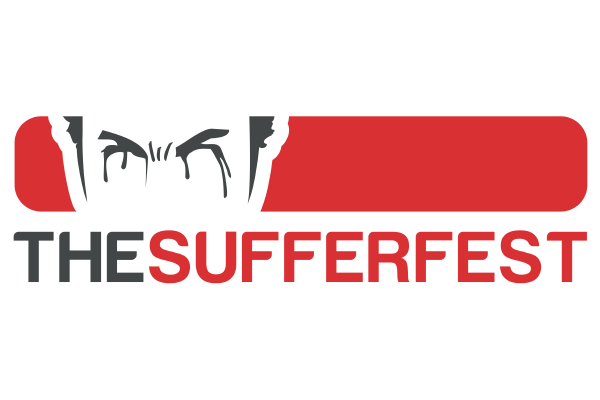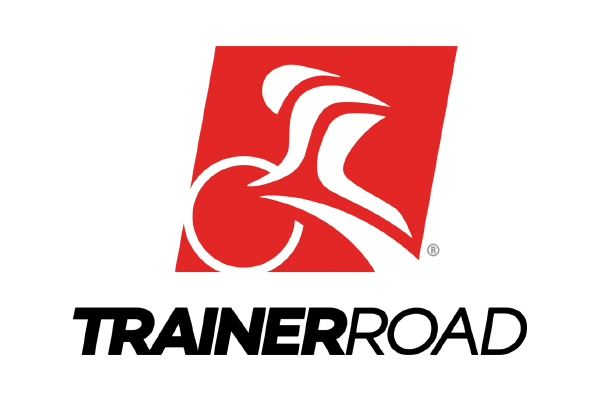 What do I need to start virtual cycling with Zwift?
Zwift and the other training apps mentioned above are subscription based services, so you will need to sign up before you start using them. Some riders may baulk at the thought of yet another monthly subscription, but a virtual training app will likely have a much more beneficial impact on your health, well-being and cycling fitness than a video streaming service.
Zwift offers a 7-day free trial, so you can check it out before you commit to a monthly fee. You will of course need an indoor training set up and we'll look at the three main ways that you can do this.
The most basic level
A classic turbo trainer and an ANT+/Bluetooth speed sensor.
All you need to get started with Zwift is a classic turbo trainer and some way of telling Zwift how hard you are pedalling. This could be as simple as a speed sensor that connects to your computer, tablet or even a smart phone, and tells Zwift how fast your back wheel is spinning.
Using this data, combined with information about your trainer model, Zwift will give you a virtual power reading in watts. Zwift uses this virtual power reading to plot your progress in their virtual worlds. Z-Power compatible turbo trainers offer a more responsive experience.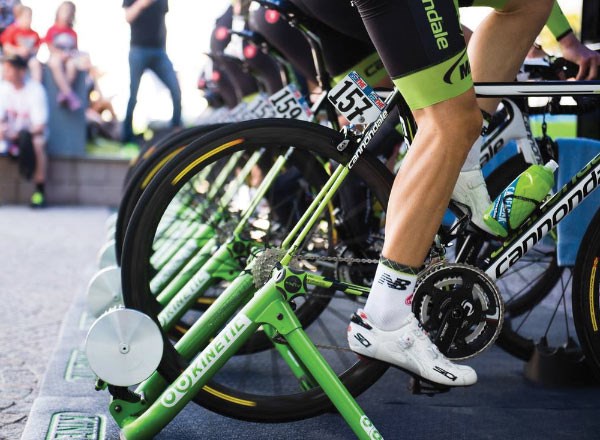 With real power data
An ANT+/BLE power meter and any trainer/rollers.
If you have an ANT+ or Bluetooth Smart (BLE) power meter on your bike, then you can send your actual power readings to Zwift. As well as offering more accurate power readings, this will allow you to use any indoor trainer, including rollers.
If you use the same bike on the turbo and the road, another advantage of this approach is that you can use the power meter to feed you data when you ride on real roads.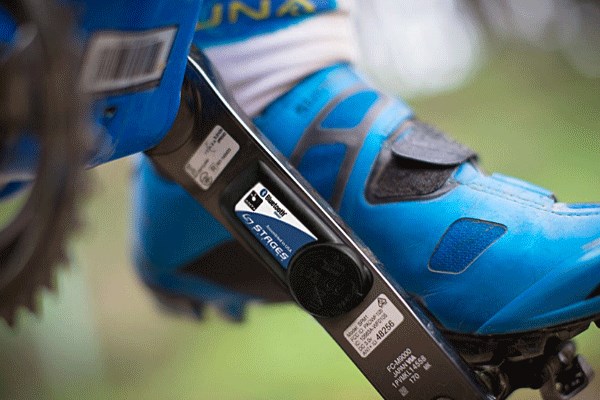 Best experience
A supported Smart Turbo Trainer.
A smart turbo trainer will interact with Zwift to give you the most immersive riding experience. In addition to accurately telling Zwift how hard you are pedalling, it will also change the resistance that you feel at the pedals depending on what is happening on Zwift.
If you are riding uphill or downhill you will know about it and you will also feel less resistance if you are drafting behind another rider. This really cements Zwift's place as the most realistic virtual road cycling experience.
Taking this real-life experience one step further, high-end turbo trainers like the Tacx Neo Smart offer road surface simulation.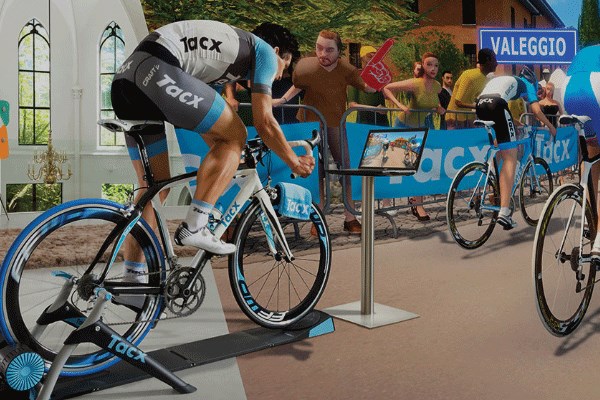 This means that when cycling on a cobbled section in a Zwift virtual world, you will feel the vibrations in your legs in the same way that you would riding real cobbles outdoors.
Real world riding at home
Download routes and races to experience
A Smart trainer will change its resistance when paired with software to simulate a real-world route.
You can download real Grand Tour stages, or routes you know, to interact and virtually experience the ride from the comfort of home. Ride famous roads and climbs from the world's biggest races by downloading or creating GPX files using apps like Strava or Ride with GPS. Software like Tacx Trainer can then show the 3D map view of the route as you ride along with it.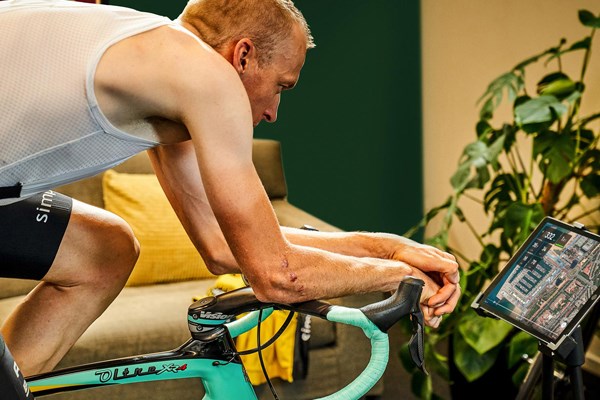 The final touches
Of course, you will need a screen to view your progress in the Zwift virtual worlds. This can be as simple as your tablet attached to your handle bars or a full-sized display screen linked to your computer.
Another great feature of Zwift is that you can use your phone as a remote control to interact in the virtual world. If you are connecting through your computer and your phone is on the same wifi network, then using the Zwift Mobile Link app you can wave, flick an elbow, change course and even do a u-turn without missing a beat.
Zwift Worlds and Routes
There are three different virtual worlds for you to ride in Zwift, each with multiple routes for you to ride. Watopia, a South Pacific island, is a fully virtual world that, according to Strava, is positioned somewhere near the Solomon Islands. Watopia has 42km of roads with 8 routes, including one that goes up a volcano. The other two virtual worlds are modelled on real world locations. Richmond is based on the 2015 UCI World Championship road race course with 4 routes and 18.9km of roads that even take in some cobbled climbs. The London virtual world is based on the 2016 ride London courses and has 8 routes covering 27.5km of roads.
Zwift links seamlessly with Strava and your virtual efforts show up on your feed just like your real rides. All routes have three official Strava segments shown by an arch over the course. The orange arch measures your overall lap time around the route. The green arch shows a short sprint segment while the polka dot arch is for a climb. Each has their own leader board and if you are the fastest rider on the course at that time you will be awarded the respective jersey. There are also numerous user-generated Strava segments just like on the real roads.
Riding the Zwift virtual worlds
Getting started
Once you have your turbo set up and your Zwift account is online, then all you need to do is choose a route and hit ride. Zwift will steer you automatically around the route, but you can change course and head onto a different route by using the remote to turn at a junction. You will see the virtual road ahead of you with ride data displayed around the edges. Personal performance data includes your real or virtual power output alongside cadence and heartrate, if you have the relevant sensors connected. Your virtual speed, distance, elevation and time is also displayed alongside a course profile, so you can see what's coming up on the road ahead. Zwift also shows you information about the other riders on the route with you and you can send them a message or give them a big Zwift thumbs up.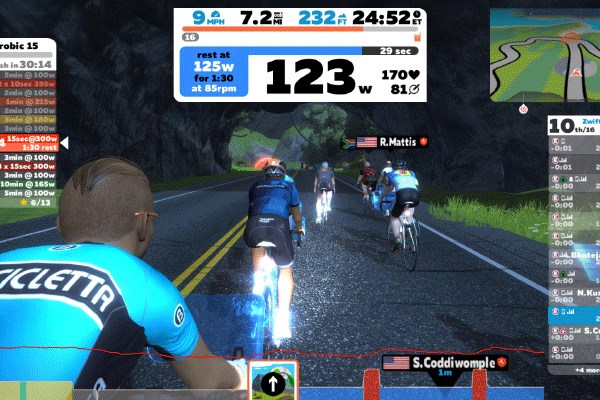 Workout mode
If you are interested in more structured training then, instead of clicking ride, you can select workout mode from the start screen. This opens up a whole range of workout plans from simple time-based workouts to completely structured training plans.
The workouts are very easy to follow, and the structure of the workout is displayed on the screen, as well as your current and target power output. A smart trainer will adjust the resistance to help you stick to your target power.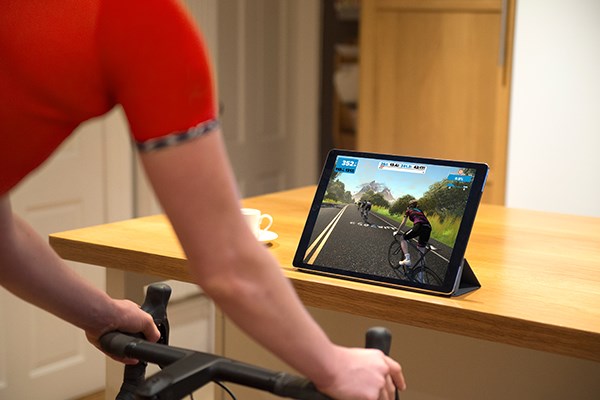 Group rides and races
One of the best things about Zwift is the ability to join a group ride and cycle with other Zwift users or even race against them. Group rides are shown on the event screen and there are plenty to choose from each day.
Most group rides have a level, based on your power output range in watts per kilo (w/kg), so you will be riding with others of a similar level. Riders gather in the start corral before the event begins. Here you you can warm up on a virtual trainer and chat with the other riders while you are waiting to start. Just like in real world cycling the structure of the events is quite varied so you will be sure to find one that is just right for you.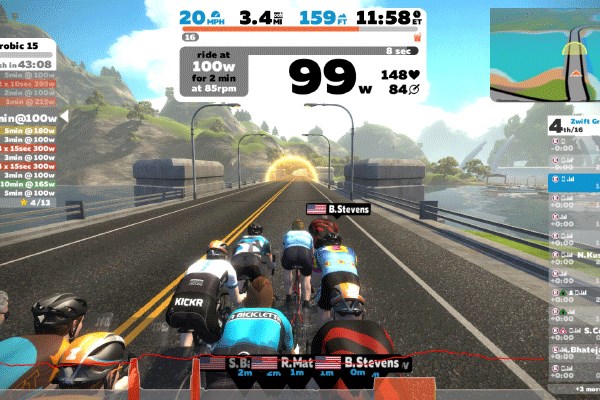 How well does Zwift work as serious a training tool?
With virtual worlds, custom avatars and upgrades, the gamification of your turbo trainer sessions may seem like a gimmick. However, there is much more to Zwift than mere entertainment to relieve the boredom of the pain cave. The advantages of this gaming approach shouldn't be underestimated, as you can really get some serious training under your belt using Zwift.
The Matt Hayman story is a very good example of how well Zwift can help you to train for specific goals. Matt was building towards the 2016 spring classics when, just six weeks before the Paris-Roubaix, he crashed and broke his arm.
With so much enforced time off the bike many would have written off his chances, but Matt had other ideas and simply moved his training into the Zwift virtual worlds.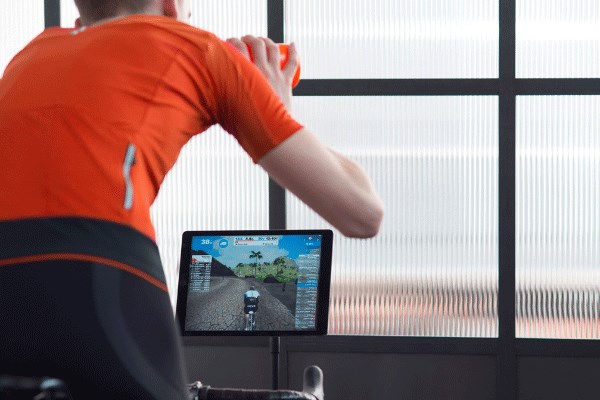 Working with his coach, Matt was able to maintain and build on his race fitness, so that he was in top form as soon as his tyres touched tarmac. Matt's Zwift training was so successful, that not only was he able to compete, but he was so strong that he achieved his dream and took the win in that most arduous of races, the Paris-Roubaix.
So, there are certainly some real benefits to be gained by using a virtual training tool to enhance your indoor turbo training. Whether you choose Zwift, The Sufferfest, TrainerRoad or one of the other turbo trainer apps, will depend on which format suits you better. What you can be certain of however, is that using a virtual cycle training app with your turbo training sessions will motivate you far more than watching old race videos or catching up on the latest box set. And there is no other way you could climb a volcano on a wet Thursday evening in Sussex!
What is FTP and w/kg?
Functional Threshold Power (FTP) is the maximum average power that you can sustain for a given period, measured in Watts. Combining this with your weight will give you your Watts per Kilogram (w/kg) rating which is the basic metric that drives Zwift. Zwift has various w/kg categories and most group rides and races are for specific w/kg groups. This means that you will be able to ride with cyclists who are at a similar level to you.
It is helpful to enter your weight honestly, and ride enough to understand how many watts you can sustain for different durations. If you are unsure what your w/kg is, then Zwift has an FTP test so you can find this out.
Best selling Zwift compatible trainers