Updated: 16th September 2021
Sometimes it's hard to get on the bike when it's cold and wet outside. Fortunately, turbo trainers and training bikes are a great way of improving or maintaining your fitness without leaving the comfort of your home. In this turbo trainer guide we'll look at all the various features and types of trainers to help you choose the one that's best for you.
Types of Turbo Trainer
There are a few distinct types of trainer each with their own advantages. We'll look at all the benefits and limitations of each type in more detail below. You can get a good workout on any of our trainers, but the basic rule of thumb is that the more money you spend the more engaging your ride experience will be.
Classic Trainers
Classic or standard turbo trainers are those that don't have any built-in sensors or the ability to connect to virtual training apps. These 'wheel-on' trainers are the simplest and most affordable type and are a good place to start if you have a limited budget. It is possible to 'smarten up' your trainer set up by adding speed and cadence sensors separately, but these won't be able to interact with your turbo trainer.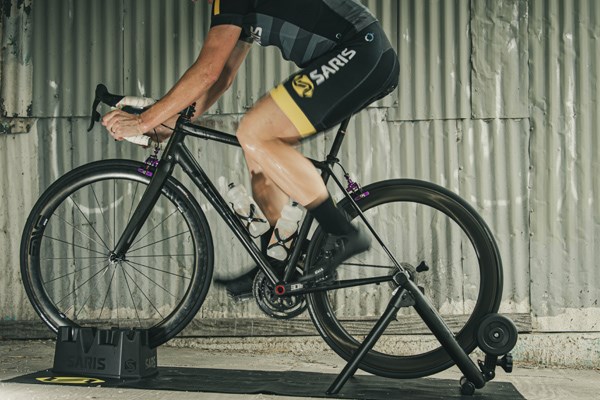 Smart Trainers
Smart trainers have sensors built in to measure things like your cadence and power output. They also have ANT+ and Bluetooth capabilities, so you can connect to virtual cycling and training apps like Zwift and Bkool. This allows you to ride virtual cycling routes with other cyclists while viewing your progress on screen in real time.
There is quite a lot of variation within smart turbo trainers, but they can be divided into two basic types: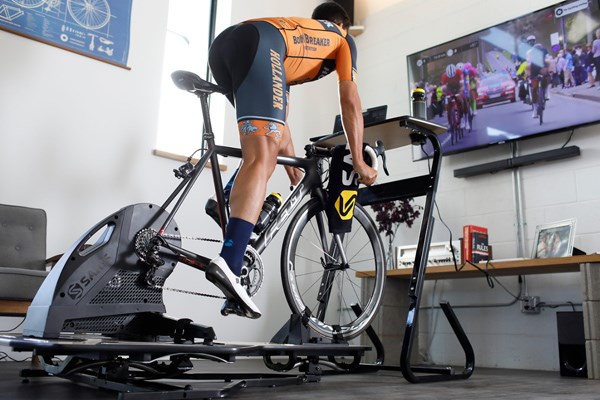 One-way smart turbo trainers:
The most basic and affordable type, one-way smart trainers connect to third party apps, but the apps can't control the resistance of the trainer. This means that they can't react to the changing terrain of an app-based route, so you won't feel any extra resistance on the climbs.
Interactive smart trainers:
Offering a more immersive indoor cycling experience interactive smart turbo trainers allow apps to control the resistance of the trainer to simulate changing terrain. When your virtual route goes up hill the resistance ramps up to match then slackens off again on the descent. At the premium end some trainers can even change the pitch of the bike when climbing and simulate riding over cobbles.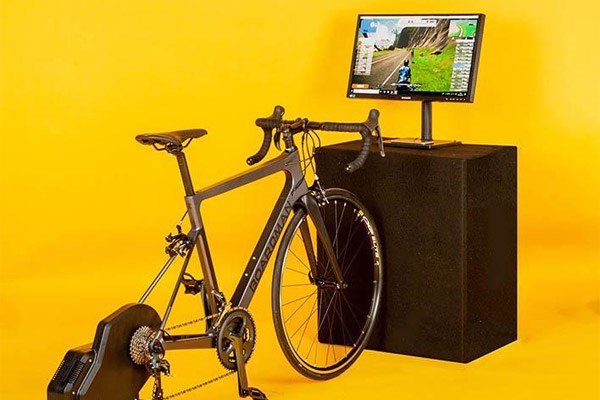 Wheel-on trainers
Wheel-on turbo trainers lift the rear wheel off the ground and attach to your bike frame with a clamp around the quick release skewer. This puts your bike into a position where the rear tyre will sit on the turbo trainer's roller drum. As you begin to pedal, your rear wheel spins and the roller drum turns resisting your pedalling effort.
Most wheel-on turbo trainers use a magnet to offer resistance. To simulate real cycling conditions the amount of resistance can be varied, often with a remote unit that you can attach to your handlebars. Wind or fan resistance is an affordable alternative that increases resistance progressively as the wheel turns but can be very noisy. Fluid trainers work in a similar way to fan trainers but are much quieter and the resistance is smoother and more lifelike.
All classic trainers and some smart trainers are wheel-on. The advantage of these trainers is that they are relatively compact and easy to store. The downside is that they are noisy and tend to wear your rear tyre very quickly. To get around this problem you can fit an indoor turbo training tyre, but this means that you'll have to have a spare wheel to use on the trainer if you don't want to change the tyre every time you go for out for a proper ride.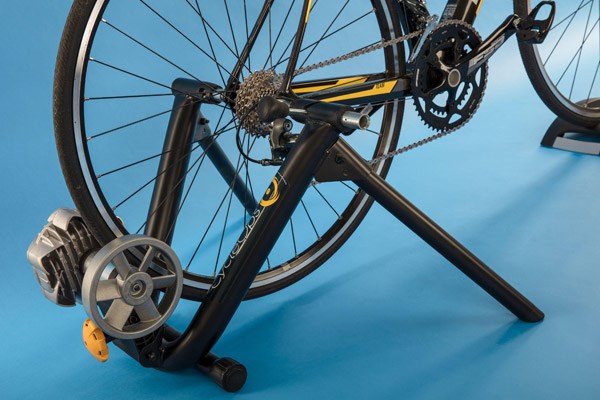 Direct Drive Trainers
With a direct drive or wheel-off trainer your bike is attached directly to the trainer itself. With the rear wheel off you attach your bike to the trainer with a QR skewer or through axle. The chain loops around a cassette on the trainer to drive an internal flywheel that offers variable resistance.
As well as being quieter, direct drive trainers offer a more lifelike ride feel. They tend to be more stable than wheel-on trainers and offer more precise performance metrics as there is no tyre slippage to cause inconsistencies in your data. They are bulkier than wheel-on trainers, and take a little longer to set up initially, but they offer a much better riding experience.
Direct Drive trainers can be used with both quick release and bolt through rear axle. For bikes that use a bolt-thru rear axle, a compatible axle must be purchased to fit your trainer. These are brand specific to the trainer, but the thread pitch and diameter must be the same type used on your bike. Click here to identify your pitch thread.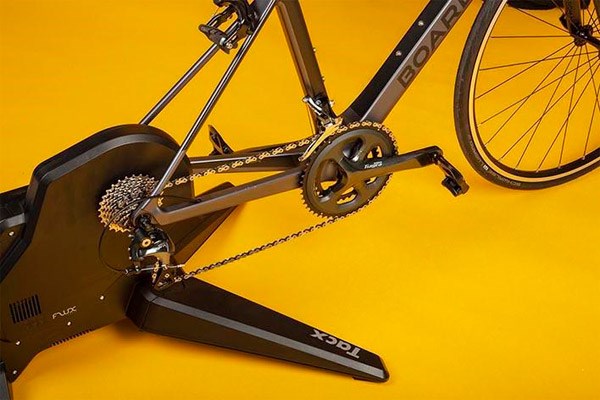 Smart Training Bikes
If you want the very best indoor training experience, then a dedicated indoor training bike is the way to go. They are by far the quietest type of trainer and with no wheels they take up less floor space when you're using them. Smart bike trainers are very adjustable, they can fit XS to XL riders with ease and mimic the geometry of your favourite road bike set up, you can even fit flat or TT bars if you wish.
Power metrics are very accurate on bike trainers, and they have all the sensor connectivity you need for focused training workouts. With interactive fans and vibration mechanisms some models offer advanced simulations that accurately mimic the feel of steep climbs, fast descents, and even riding over cobbles. Built in screen holders are perfect for using with virtual training apps.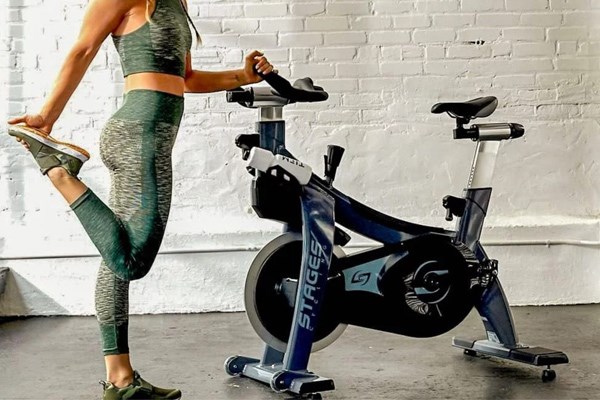 What do I need for a virtual training experience?
The smart turbo
Many trainers are labelled as 'smart', and you can make a classic trainer smart with the right sensors and a dongle, but the experience you get will depend on how smart your set up is. For a truly immersive experience you will need an interactive smart trainer that can alter resistance to realistically match the virtual terrain you're riding over.
Like the majority of trainers, smart trainers are designed to be used with 700c wheels, but many will also fit mountain bike wheel sizes. The rise of disc brakes and thru-axles has also meant that most manufacturers now sell adaptors so you can use bikes with this specification on their trainers.
If exact power measurement is important to you check the specification of your chosen turbo to see whether it measures watts directly from the unit or it estimates the figure using the trainer software. Direct measurement offers much lower +/- accuracy figures. If you already own a power meter, look for a trainer that can sync with other power measurement devices. That way the power figures you ride to out on the open road will be the same inside on the turbo.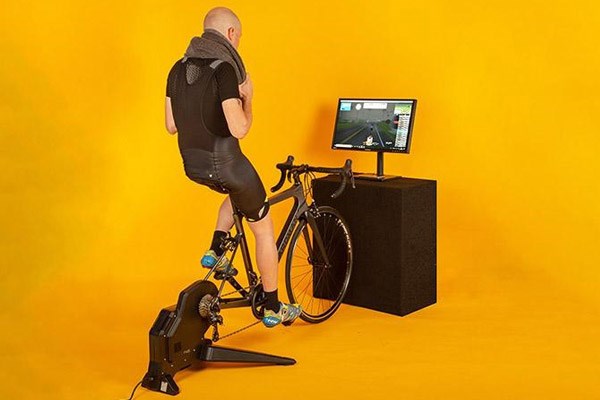 Getting connected
As we mentioned, smart trainers are sold with access to accompanying software. It's a good idea to see if this software is available on your chosen device. The same goes if you're looking at riding with third party systems like Zwift, Bkool or TrainerRoad.
Both Zwift and TrainerRoad track your activity data - like distance, elevation, and calories - then imports it into Strava for the world to see, so you can climb up the leader boards, win KOMs and beat yesterday's sprint time, just like in "real life".
Other than a 'smart trainer' an ANT+ dongle or a Bluetooth connection is the most common way of linking a turbo to your device. We'd recommend reading the fine print to see if your chosen turbo comes with one or whether you'll need to purchase one separately.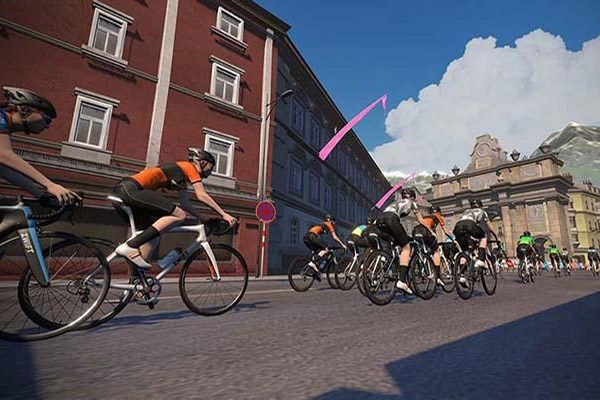 Zwift virtual training app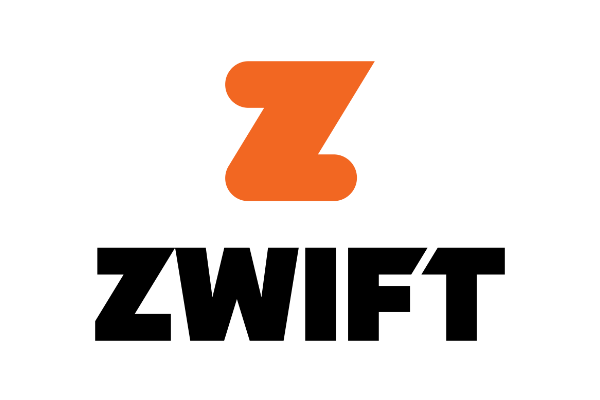 Zwift is powerful training app where you can challenge yourself against other real-world riders to a race in a 3D virtual environment. Zwift distinguishes itself from other training apps by offering a video game-like experience with immersive virtual worlds for you to ride in. As well as structured workouts, Zwift gives you the opportunity to join group rides with other riders of a similar ability and even compete in online races. It's a great way to mix up your training and have a bit of fun.
Your power is measured by the watts you produce, which is then used to move you forward through the 3D environment. Speed is also adjusted by your height, weight and even the road gradient for added realism. You can learn with our Zwift guide
Zwift is compatible with a wide range of turbo trainers, indoor bikes and rollers with ANT+ or BLE enabled. Read our Zwift Compatibility guide for more information.
Turbo Training Accessories
We find that beaming your virtual riding to a large screen and plugging in some headphones takes the immersion dial to 11. Once hooked don't be surprised if you find yourself squeezing in sessions before work or after dinner.
If this is the case, accessories like fans, training mats, sweat guards and front-wheel riser blocks can make things a tad comfier when you're putting yourself through a big session.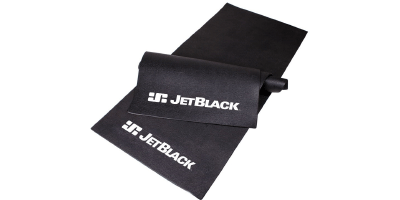 Training mat
A training mat will protect your floor from marks and damage, as well as sweat. These mats help prevent you skidding around when you're really powering through and they will soak up some noise.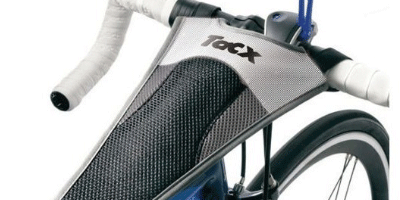 Sweat towel
Indoor cycle training will make you sweat. These small towels will cover your top tube to prevent damage and corrosion.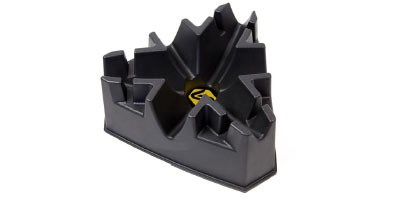 Riser blocks
With a standard turbo trainer, your rear wheel will be slightly raised, giving the feeling of descending. A riser block will lift your front wheel for a more realistic cycling position.
Popular Classic Turbo Trainers
Popular Smart Turbo Trainers
Popular Turbo Trainer Accessories