A new suspension fork is one of the most noticeable and worthy upgrades you can make to your mountain bike. A higher quality fork will be able to deal with more difficult terrain, remaining composed on the trail and keeping your front wheel in contact with the ground. This gives more grip, and therefore a more confidence inspiring ride.
Not all forks are made equal and you want to be sure that you choose the best one for you and your bike . Before you buy your new fork there are some very important size and compatibility aspects to look at.
Compatibility - How to choose the right suspension fork
Not all suspension forks will fit your bike, so you it's important that you know how to choose one that is compatible with your bike's frame and your existing front wheel.
Wheel size
There are a few different wheel sizes for mountain bikes. 26", 27.5" (650b) and 29" are the most common.
There is also plus (+) and fat versions available. If you are not sure it should be written on the side of the tyre.
Whatever wheel size you have, the fork must be designed to suit.

The fork steerer is attached to the fork crown, this comes up through the frame and headset to be clamped at the top by the stem.
Most modern bikes will have a tapered steerer, this is 1.5" inch wide at the fork and 1 1/8th inch at the stem. Some DH bikes and older mountain bikes will suit a straight 1 1/8th inch steerer.
It is easiest and best if the replacement fork has the same diameter steerer to fit into your frame and headset.
If you are unsure on the size, drop the forks out from the frame and you should be able to see straight away if the steerer is tapered or straight.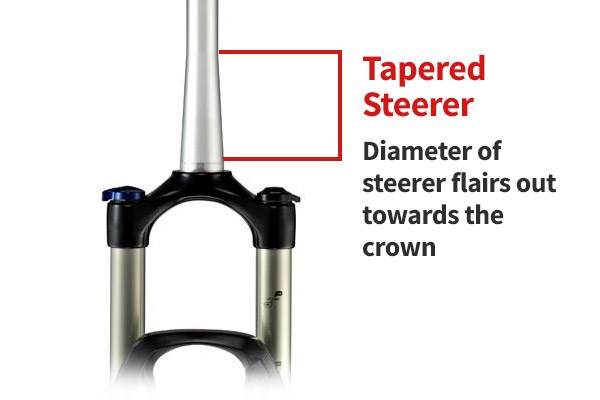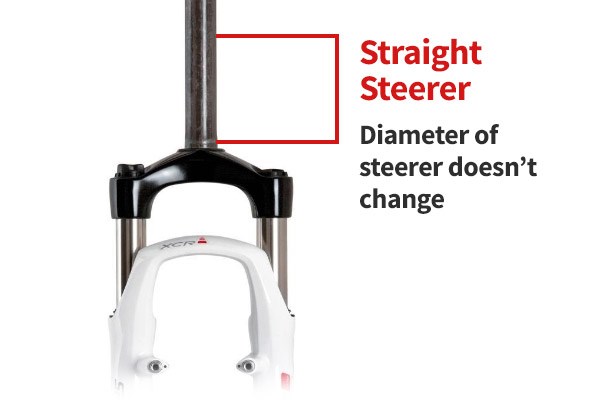 Axle size
If you are planning on using the same front wheel with your new fork, the fork's dropouts must suit your wheel.
The width of the front hub has traditionally been 100mm, with either a 9 or 15mm axle. With a 9mm Quick Release (QR), a fork could be described as 9mm x100mm or QR to fit. A larger 15mm bolt through axle is more common on higher end bikes, a fork could be described as 15 x 100 to suit. This 15mm axle can be a quick release style and can be referred to as 15QR
Over the last few years, a wider 110mm spacing known as "Boost" has become the new standard, this is not available for 9mm QR axles and would be shown as 15mm x 110 or 15mm Boost.
20mm axles have been common on DH bikes for some time. Although DH wheels will be 110mm wide, they are not always "Boost". There is a new DH Boost for front wheels and forks, this means the hub is still 110mm wide, but the disc rotor/mount sits 5mm out.
Travel
The amount of distance the fork can move vertically is referred to as travel (shown in mm). The frame manufacturer will have designed the bike around a certain amount of travel. The general rule is to stay with this. Increasing or decreasing the fork travel can result in the geometry being severely compromised, making the bike handle worse than intended and putting more stress on the headtube structure.
*Changing fork travel can void frame warranty from the manufacturer, please check with the manufacturer before any travel increase/decrease.


As fork travel increases so can flex, to combat this a triple clamp design is used for forks with over 180mm of travel. The hub plus the two crowns creates a triple clamp. The forks are for DH use.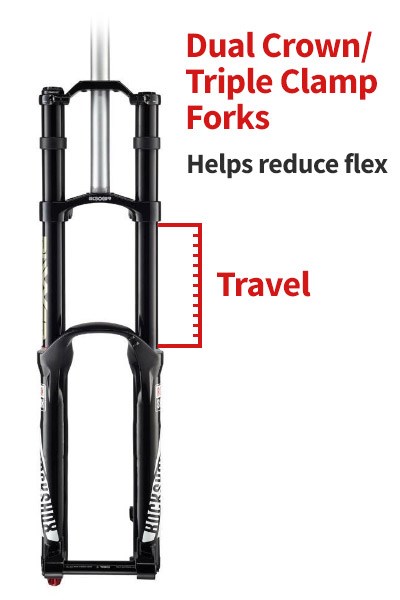 Offset/Rake
The distance the axle is offset from the steering axis. This directly affects the "Trail". Trail is the distance between the contact point of the tyre and where the steering axis hits the floor. The shorter the offset the longer the trail and vice versa. Wheelsize also affects trail. Larger wheels have a longer trail. With the popularity of 29er MTB's, there is often an offset choice to be made.
The most common offset for a 29er fork is 51mm, however, fork manufacturers offer shorter offsets to increase trail.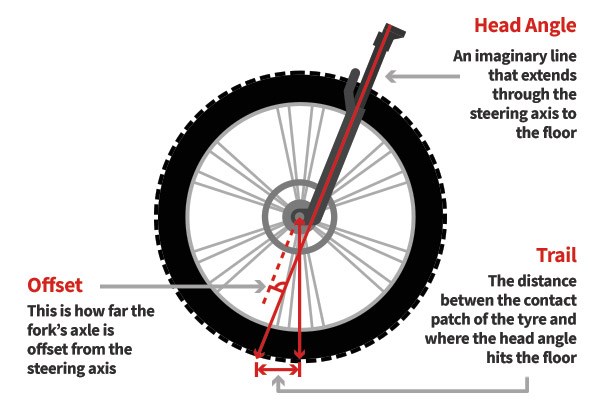 Without going too far into things, a longer trail (Shorter offset) will increase stability at speed in a similar way to a slacker head angle. A longer offset (shorter trail) will sharpen the bikes handling at low speed but might not feel quite as stable at high speed. Often it is best to stick with whatever offset was chosen by the manufacturer to work with the geometry of the frame.
Spring type
Although the vast majority of forks are air sprung, some entry level and a handful of high-end forks use coil springs.
Air sprung
| | |
| --- | --- |
| Strengths | Weaknesses |
| | |
| | More internals than coil to maintain |
| | Less small bump sensitivity |
Coil sprung
| | |
| --- | --- |
| Strengths | Weaknesses |
| | |
| | Not as easy to set up as air springs |
| | |
Compression Damping
Compression damping controls how the fork moves through its travel. Almost every fork will have some form of compression adjustment. On entry level forks a "lockout" to stop the fork compressing while you ride might feature, the more the fork costs the more compression adjustment is available. Forks might have multiple compression options, for example, a "Climb, Trail, descend" or "open, medium, firm" dial, while top-line forks have precise control of both high and low-speed compression.
Rebound Damping
This adjusts how fast the fork returns to full extension or sag point. Rebound damping adjustment is one of the most important adjustments when riding off road which is why it can be found on entry level shocks. Top-line shocks will have separate high and low-speed rebound adjustment controlling how the fork reacts after high and low-speed compressions.
Once the correct fork has been chosen there are a few things you should know before fitting.
Crown race – Slid down over the steerer is the crown race, these are usually particular to the headset on your bike. They create a seat for the lower bearings of the headset to sit on, this should be removed from your forks and slid into place on the new fork steerer before installing the new forks.
Star Nut – Inside the steerer tube there is a star nut. This has a wedge design allowing it to be slid down into place but not slid back up. There is an internal thread that takes the top cap bolt allowing the forks to be held in place and allowing adjustment of the pressure on the bearings.
Steerer length – A new fork will have a long uncut steerer, this will more than likely need to be cut to match the length of your original forks, however, it can be cut longer if you wanted to have more adjustment for stem height.
Compression – Controlling how the suspension moves through the available travel.
Head Angle – The angle of the fork to the floor, this will range in degrees from low 60's to high 70's depending on the bike
High-speed compression – How the suspension moves through the travel from High-speed hits, not high-speed riding. For example, rocks, roots, braking bumps, landing from jumps/drops etc.
Low-speed compression – How the suspension moves through the travel from low-speed movement, not low-speed riding. For example, when under compression through a berm, going up a transition of a jump etc.
Preload – How much the coil spring is compressed in its static state.
Bolt On – An axle that is incorporated into the hub with nuts on the end. Designed to work with traditional 9mm or 10mm dropouts.
Rebound – How fast a shock returns to full extension.
Sag – How much travel is used under rider weight.
Shock pump – A high-pressure air pump used to adjust air shocks, running at a much higher pressure than a normal inner tube/tyre pump.
Spring rate – The force needed to compress the shock.
Triple clamp – A fork with two crowns, used on long travel DH forks to combat flex.