Carbon fibre mountain bike frame technology has come a long way in recent years and the best carbon mountain bikes are tough enough for aggressive riding on the most challenging downhill and enduro trails. Of course, the advantages of carbon fibre technology aren't restricted to the toughest MTB disciplines and you can experience these benefits on cross country (XC) and trail bikes too.
As well as being tougher and stiffer than aluminium alloy, a carbon mountain bike deliver a distinctively smooth ride. Carbon can also be moulded into more complex shapes and forward thinking manufacturers have taken advantages of this by offering radical new carbon mountain bike frame designs. Yeti have used the versatility of carbon manufacturing to offer an innovative suspension design while Specialized have managed to open up the down tube to offer a trail storage solution that lowers your centre of gravity for a more assured ride.
In this best carbon mountain bike review, we focus on the best carbon fibre hardtail and full suspension MTBs for cross country, trail and enduro riding, with both 29" and 27.5" wheels, from top brands including Giant and Cube.
Cube Reaction C:62 Race 29er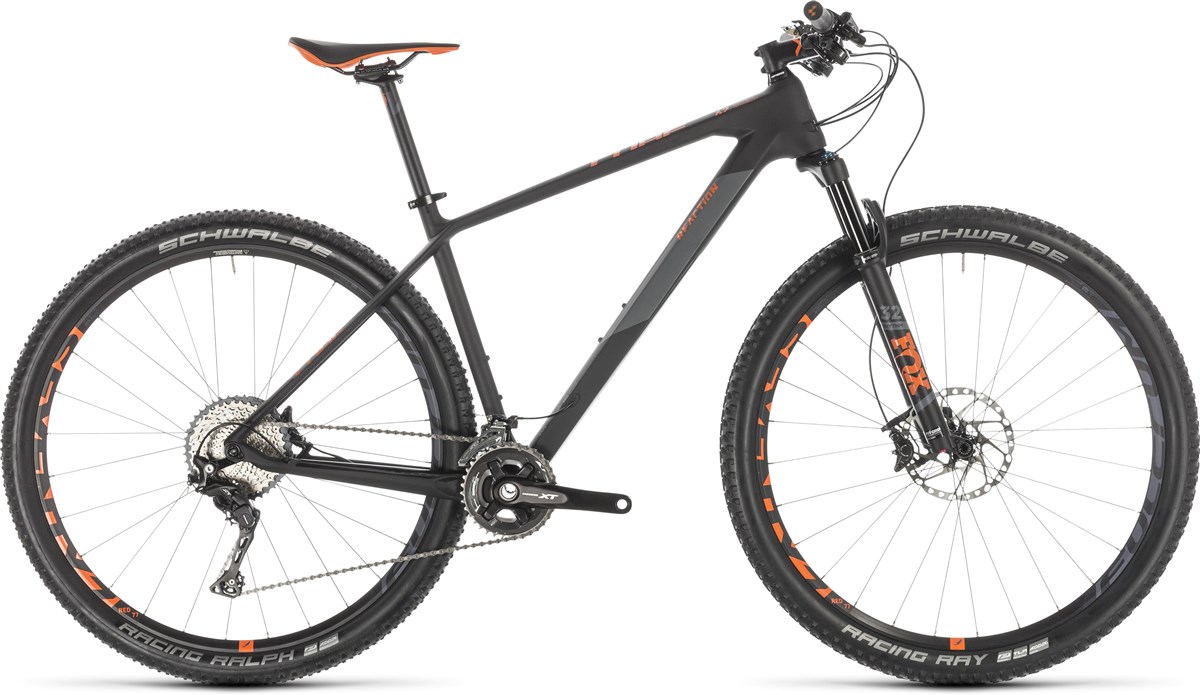 Frame C:62 Twin Mould carbon
---
Wheels Fulcrum Red 77
---
Suspension 100mm travel Fox Float fork
---
Drivetrain Shimano XT 2x11 speed
---
Brakes Shimano XT
---
Best for XC riding and racing
---
Review
Built for rapid cross-country riding the carbon frame on the Cube Reaction C:62 is built with a sophisticated twin mould, monocoque construction technique that makes the frame stiff, strong and lightweight. Cube's Agile Ride Geometry offers a race oriented riding position with nimble handling characteristics. The tapered head tube and 12mm thru-axle add stiffness while the slim seat post adds extra comfort in the saddle.
The 29" wheels are ideal for hardtail MTBs as they carry speed much better over rough sections. You get a Fox 32 Rhythm fork up front which offers 100mm of plush suspension travel to smooth the trail ahead and features a remote lockout switch for more efficient climbing on smoother trails. The Reaction is spec'd with a full Shimano XT groupset with a slick shifting 2x11 speed drivetrain and powerful hydraulic discs.
This carbon framed bike is light, smooth and effortlessly rapid, even on rough trails.
Specialized Stumpjumper FSR ST Comp Carbon 29er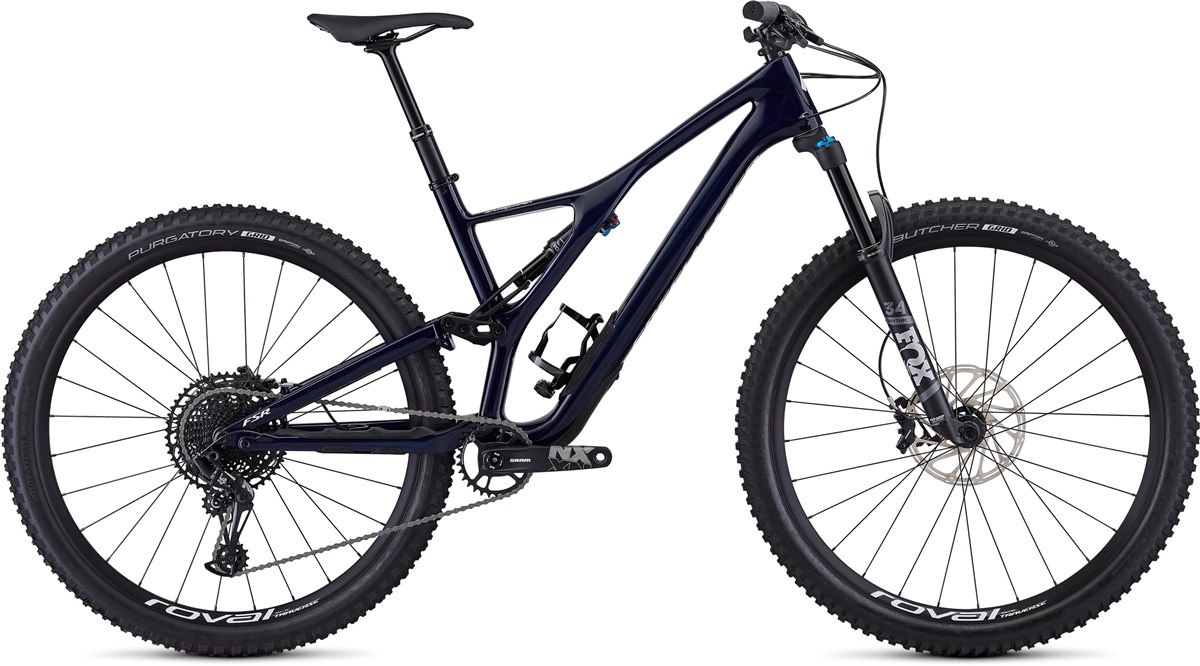 Frame Fact 11m carbon
---
Wheels Roval Traverse 29
---
Suspension Fox Float Rhythm 34 fork / Fox Float shock, 130mm front, 120mm rear
---
Drivetrain SRAM NX Eagle 1x12 speed
---
Brakes SRAM Guide R hydraulic discs
---
Best for XC & trail
---
Review
Combining lively handling with climbing prowess and playful trail manners, the Specialized Stumpjumper ST Comp Carbon is a lightweight trail bike that offers 120mm of full suspension travel to tame rough tracks. The full FACT Carbon is lightweight, durable and includes the SWAT door for storing your trail essentials in the downtube instead of in your Camelback.
The fully active FSR rear suspension platform offers efficient performance that keeps on working even while you are pedalling and braking. The Fox Float 34 Rhythm fork up front gives you plush control up front while the smooth performing Fox Float DPS rear shock offers three compression damping settings, so you can adapt its performance to suit the trail conditions ahead. The SRAM NX Eagle 1x12 speed drivetrain is ideal for trail riding as it combines a very wide gear range with the easy shifting simplicity of a single front chainring. The 29" wheels offer fast rolling performance on the trail.
A superbly thought-out high-speed, low-stress all-rounder
Giant Trance Advanced 1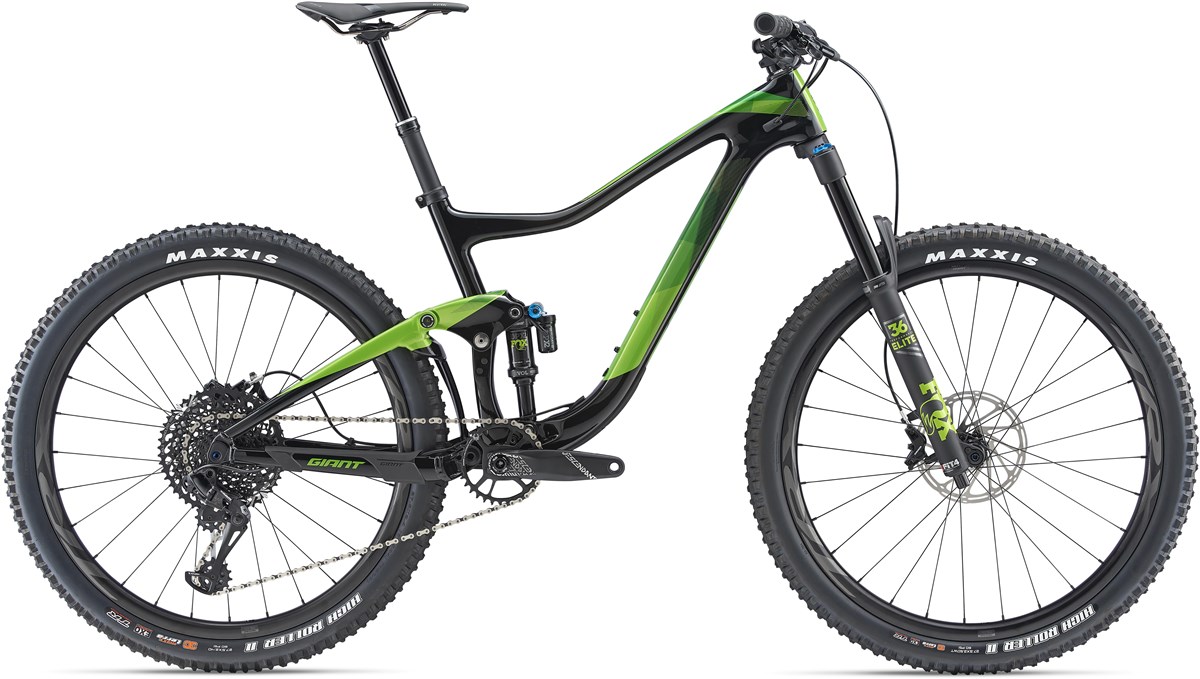 Frame Advanced-Grade carbon fibre composite front trianle / alloy rear
---
Wheels Giant TRX1 Carbon 27.5"
---
Suspension Fox 36 Float Performance Elite, 150mm front / Fox Float DPX2, 140mm rear
---
Drivetrain SRAM GX Eagle 1x12 speed
---
Brakes SRAM Guide RS hydraulic discs
---
Best for XC/trail/enduro
---
Review
An incredibly popular trail bike, the Giant Trance Advanced 1 continues its steady evolution and is now more capable than ever. The Advanced-Grade carbon composite frame is both stronger and lighter than its predecessors. While retaining the same amount of travel the already very impressive Maestro suspension platform has also been improved and now offers improved traction with plenty of big hit ability.
The Fox 36 fork is super stiff, capable, and offers 150mm of plush suspension travel up front. A Fox Float DPX2 shock takes care of the 140mm of rear travel. Boost hub spacing front and rear adds wheel stiffness for a more confident ride. The SRAM GX Eagle speed drivetrain is perfect for all types of trail riding as it offers a very wide range of gears with easy shifting and great chain security on rough tracks.
With carbon rims on the Giant TRX WheelSystem the Trance advanced is both quick to accelerate and assured on gnarly terrain.
...this new Trance gets us even closer to that perfect do-it-all trail machine – Bike Radar.
Specialized Enduro Elite Carbon 29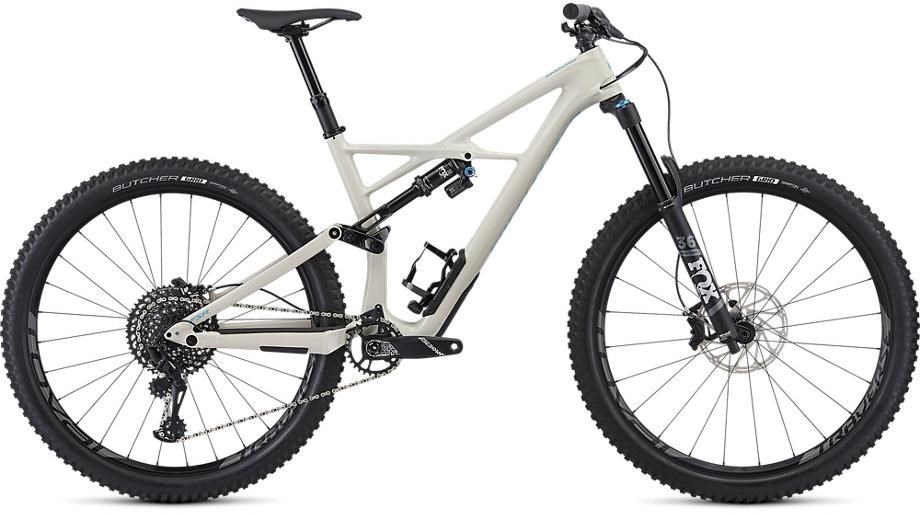 Frame Fact 9m carbon with alloy rear stays
---
Wheels Roval Traverse 29"
---
Suspension FOX Rhythm FLOAT 36, 160mm front / FOX Performance FLOAT DPX2 160mm rear
---
Drivetrain SRAM GX Eagle 1x12 speed
---
Brakes SRAM Guide R
---
Best for Enduro / trail
---
Review
Effortlessly fast and built to take on the most challenging descents, yet still ride comfortably up-hill and down all-day-long, the Specialized Enduro Elite Carbon 29 is one of the most capable long travel trail bikes currently on the market. Combined with the 29" wheels, the 160mm of fully active FSR rear suspension travel means that the Enduro can soak up almost anything on the trail while still pedalling efficiently.
The updated frame design features longer, lower and slacker geometry that offers composed handling on challenging terrain. The SWAT door that allows you to keep your trail essentials tucked neatly away in the down tube. The 160mm travel FOX Rhythm FLOAT 36, fork is burly enough for the gnarliest descents and is well matched to the FOX FLOAT DPX2 rear shock. High performance Roval Traverse wheelsround off the spec on this dialled MTB.
It is the 29er enduro that we feature here (as it's the one we like riding most at Tredz) but the Specialized Enduro Elite Carbon 650b is also available and rolls on more nimble 27.5" wheels.
An authentic legend, the Specialized Enduro hasn't just lent its name to the discipline but also majorly influenced the direction of trail riding – Pink Bike.
Yeti SB6 C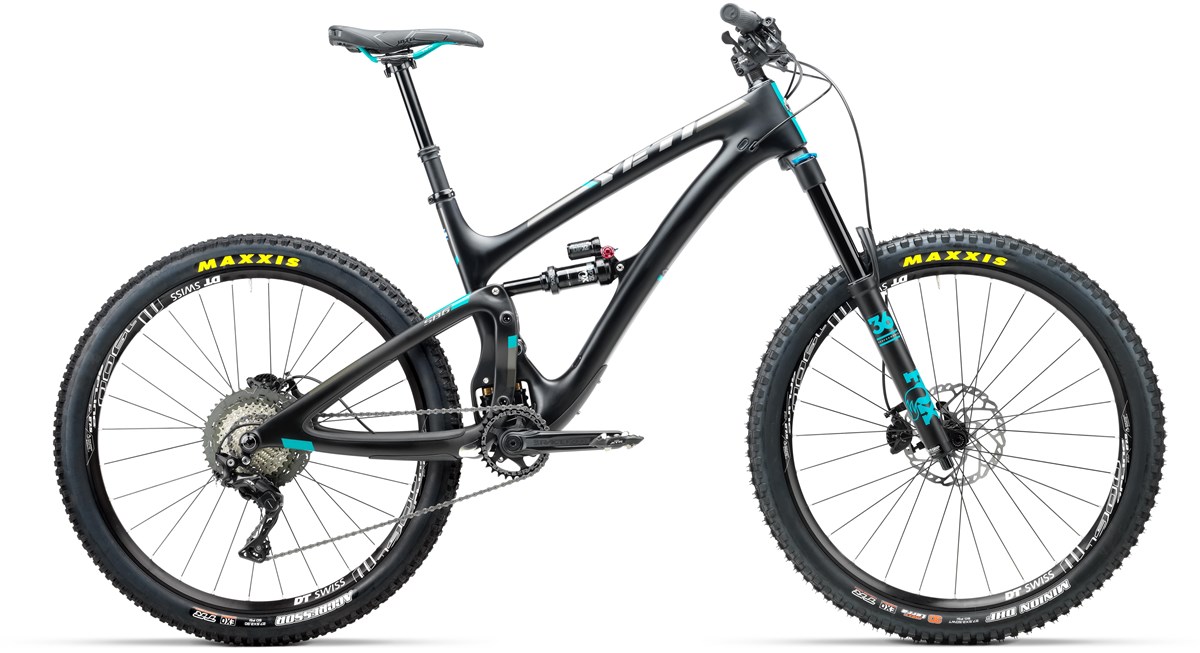 Frame High Modulus carbon
---
Wheels DT Swiss
---
Suspension Fox 36, 160mm front / Fox Performance DPX2 rear
---
Drivetrain Shimano XT/SLX 11 speed
---
Brakes Shimano SLX
---
Best for Enduro / trail
---
Review
The Yeti SB6 is arguably the fastest enduro mountain bike on the planet. A bold claim we know, but there is no denying Richie Rude's dominance of the Enduro World Series for the last couple of years, all aboard an SB6. Lighter than it looks and far more capable than its 5.2" of rear wheel travel would suggest, the Yeti SB6 is the dream bike for many trail riders as well as aspiring enduro racers.
The full carbon frame is made with high modulus fibres and offers stiffness and strength with lightweight and plenty of standover clearance. Combined with the stiff chassis and dialled geometry, it is the Switch Infinity suspension system that really makes the SB6 stand out from the crowd of accomplished enduro machines. The SB6 offers capable confidence on almost any trail and just gets better and better as the trails get steeper and rougher.
I can't remember ever descending a trail as aggressively, or as fast, as I did on the SB6C – Bicycling.com.