Carbon fibre mountain bike frame technology has come a long way in recent years and the best carbon mountain bikes are tough enough for aggressive riding on the most challenging downhill and enduro trails. Of course, the advantages of carbon fibre technology aren't restricted to the toughest MTB disciplines and you can experience these benefits on cross country (XC) and trail bikes too.
As well as being tougher and stiffer than aluminium alloy, a carbon mountain bike deliver a distinctively smooth ride. Carbon can also be moulded into more complex shapes and forward thinking manufacturers have taken advantages of this by offering radical new carbon mountain bike frame designs. Yeti have used the versatility of carbon manufacturing to offer an innovative suspension design while Specialized have managed to open up the down tube to offer a trail storage solution that lowers your centre of gravity for a more assured ride.
Carbon frames are more expensive to produce than alloy frames. This means that the component spec will lower than on an equivalently priced alloy MTB. That said if you want the very best, then carbon is the way to go.
Best Carbon Mountain Bikes - Hardtail
Hardtail mountain bikes with carbon frames are usually XC race bikes. The main focus here is on lightweight, so these bikes are often tricked out with the high-end components like carbon wheels and top-of-the-range groupsets.
Another advantage of carbon hardtails is that they offer a smoother ride than alloy framed bikes. This is because carbon is better at absorbing vibrations and carbon can be designed to flex vertically without compromising on pedalling efficiency.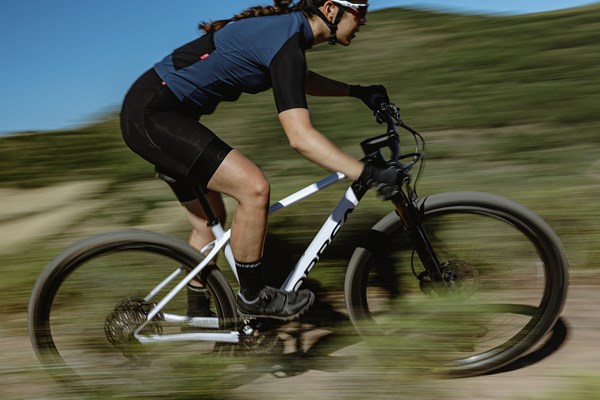 Best Carbon Mountain Bikes - Full Suspension
Carbon full suspension mountain bikes can be found in every mountain bike discipline. Carbon enduro and downhill bikes are extremely tough, so you don't need to worry about riding them on rough terrain. Combined with high-end components carbon enduro bikes can take on the most demanding tracks but are still lightweight enough for all-day pedalling.
Trail bikes are the most popular type of carbon MTB. High-end carbon trail bikes offer the very best performance as they are lightweight, efficient and extremely capable. Just remember that components make up a big part of the weight of the bike so it's worth looking for a model that has a good spec if you want a bike that is significantly lighter than an alloy bike.