Trail mountain bikes have come a long way since simply being a longer travel cross country bikes. Modern trail bikes can rival enduro bikes in ability over technically demanding terrain but retain the agility and all-day comfort that made them shine. With slack head angles and steep seat angles the long, low and slack geometry seen on modern mountain bikes makes them perfect for the majority of UK riding where the weight and sometimes sluggish slow speed feel of an enduro bike are not wanted or warranted.
We have picked out 5 of the best modern trail bikes that will take on almost any terrain while remaining lightweight and agile, most of these bikes use 29 inch wheels, they are slowly becoming the standard for trail bikes, with their fast rolling and speed carrying advantages over varied terrain. Prices range from below £2,000, to top tier models five times the cost. All bikes here are unisex models that have slack head angles in the 65-67° range, and seat tube angles from 73.5 to 77°.
We have a handy geometry guide here if you want to read more on some of these points.
Trail mountain bikes typically have under 150mm of wheel travel though that is not always the case. It is the geometry that really sets the ride characteristics of a trail bike. 29-inch wheels are slowly becoming the staple of trail bikes though there are plenty of 27.5 options. components like 1x drivetrains, dropper seatposts, short stems, wide handlebars and chunky tyres are now prevalent on modern trail bikes.
Merida One-Forty 600 27.5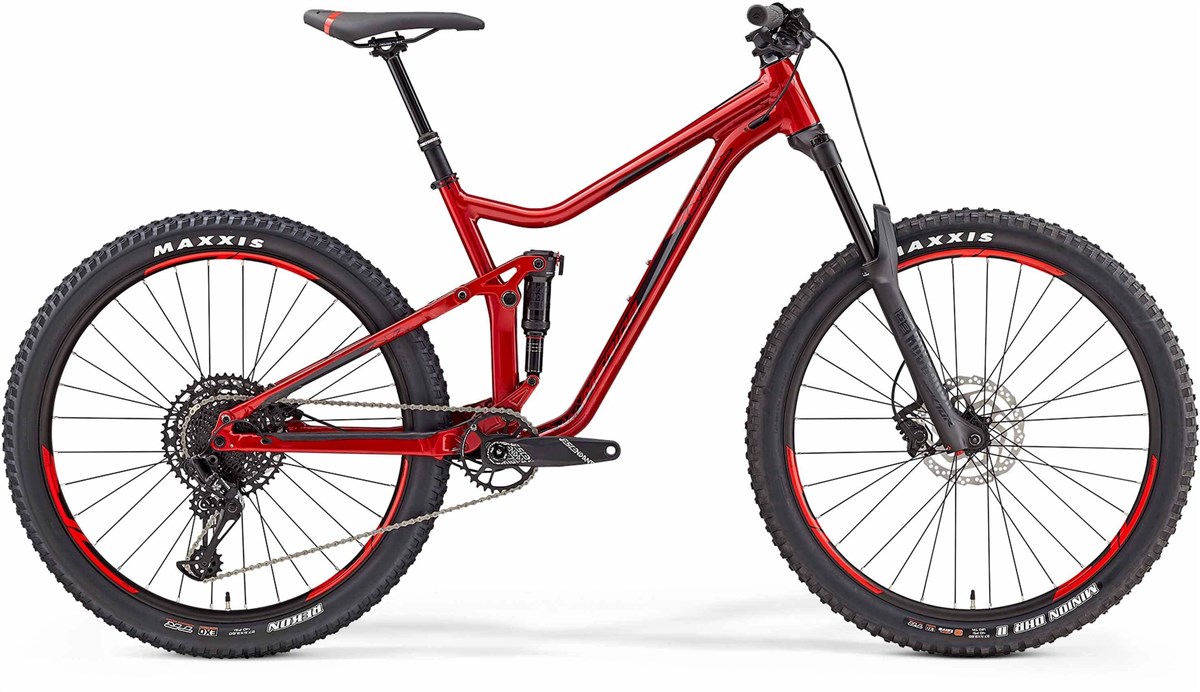 Frame 140mm travel, 6016 series triple butted, hydroformed aluminium
---
Wheels Shimano Boost Hubs on wide Merida rims
---
Suspension 150mm RockShox Sektor fork / RockShox Deluxe RL rear shock
---
Drivetrain SRAM NX Eagle 1x12 speed
---
Brakes Shimano MT-500
---
Best for Trail centres and XC adventures
---
Review
A versatile do-it-all trail bike the Merida One-Forty range is now available at a lower price than last year and is now one of the best alloy framed trail centre bikes on the market. Perfect for red graded trail centre loops, the One-Forty has enough hard-hitting capability for taking on more challenging trails as well. Not limited to waymarked tracks, these bikes are efficient climbers and lightweight enough for cross-country adventures.
With a 66.5° head angle and 75° seat tube angle it offers a confident and playful ride, the Merida One-Forty has a revised suspension system combined with modern geometry for a confident ride. This helps the One-forty punch above its weight on steep and technical tracks, while still maintaining the nimble efficiency you need to extract the most fun out of mellower, flow trails.
"The One Forty offers a more playful and versatile ride"- Mbr.co.uk.
Giant Trance 2 29er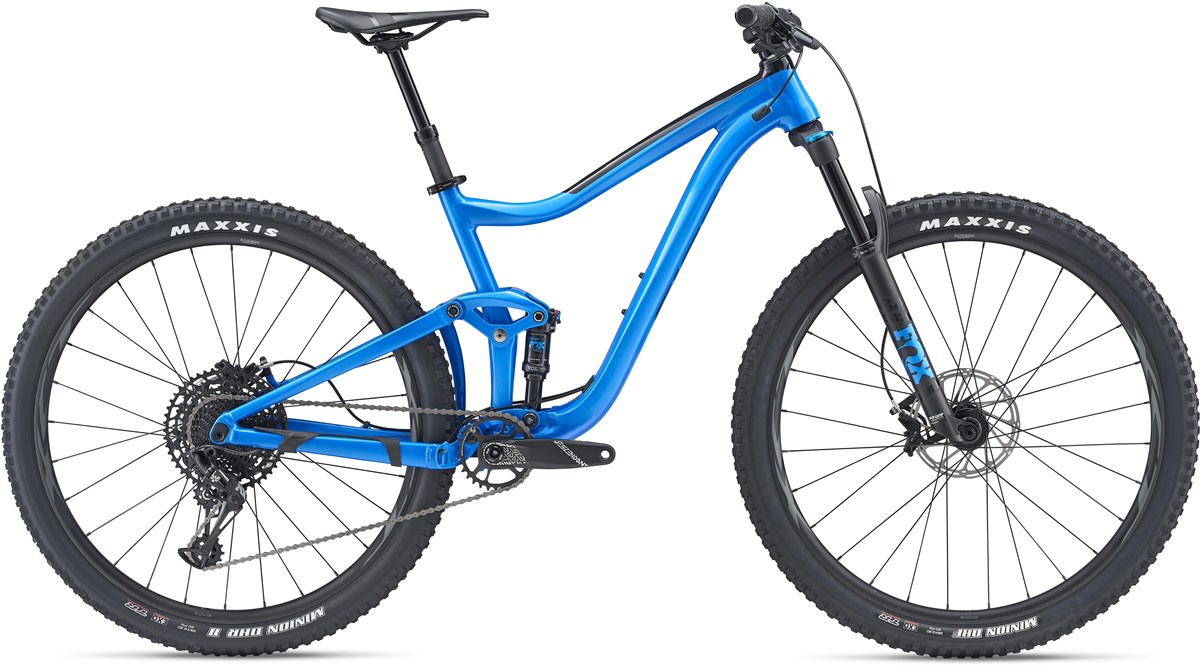 Frame ALUXX SL-Grade Aluminum, 115mm travel
---
Wheels Giant XCT 29
---
Suspension 130mm travel Fox 34 Float Rhythm fork / Fox Float DPS Performance shock
---
Drivetrain SRAM NX Eagle 1x12 speed
---
Brakes Hydraulic discs
---
Best for All-day, all-mountain rides
---
Review
The new Trance fits perfectly in the Giant line-up as that mid-weight full suspension mountain bike to take on nearly any terrain. It's the do-it-all trail bike that you'll be happy hitting your local trails, riding XC loops, launching down enduro tracks. With a bottomless feel to the suspension this bike is far more capable than the 115mm of rear travel suggests. It's quick and climbs efficiently, while descending capably.
The Trance is a great all-rounder and is fun to ride on milder trails, as well as more challenging, steeper terrain. With a 66.5° head angle and 74.5° seat tube angle the new Trance has had applause from the MTB press for it's versatility, sprightly ride and modern feel.
"The Trance 2 is versatile and super fun to ride especially when playful jumps are the priority ahead of all-out speed"- Bikeradar.com.
Scott Genius 930 29er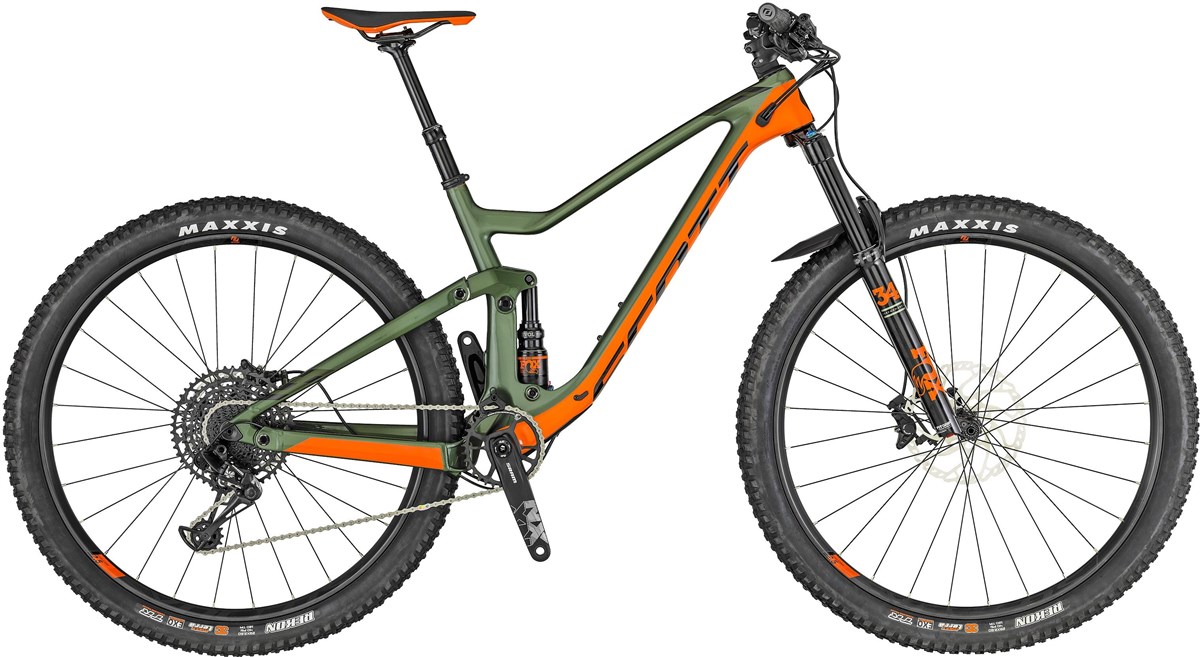 Frame Genius Carbon / IMP technology / HMF carbon fibre front triangle / alloy rear, 150mm travel
---
Wheels Syncros Revelstoke 2.0
---
Suspension 150mm travel FOX 34 Float Performance Fork / FOX Nude T Evol shock
---
Drivetrain SRAM NX Eagle 1x12 speed
---
Brakes Shimano MT520 4 Piston hydraulic discs
---
Best for Light and fast trail riding
---
Review
The Genius from Scott is a long established and incredibly capable trail bike. This year with the launch of the revamped Scott Ransom enduro bike the Genius sits between the Ransom and the shorter travel XC race bike the Scott Spark. The Genius has won praise from many magazines over the years with its impressive all-mountain performance.
Available in both 27.5 and 29 wheeled versions utilising the frames flip chip, with a women's specific model and even an E-bike model the Genius range is vast to suit a wide budget and type of rider.
The genius' real party trick is its versatility, featuring Scott's Twin Loc suspension system that gives lock-out and pedal mode adjustment from an on-bar control. It allows you to choose between spring rate, damping and travel too, giving 3 unique modes of suspension, descend, traction control and lockout.
For the new season SCOTT revised and optimized the Genius-concept even further and gifted it with a new especially-developed NUDE TR shock and an improved spec.- Enduro-mtb.com.
Specialized Stumpjumper FSR Comp Carbon 29er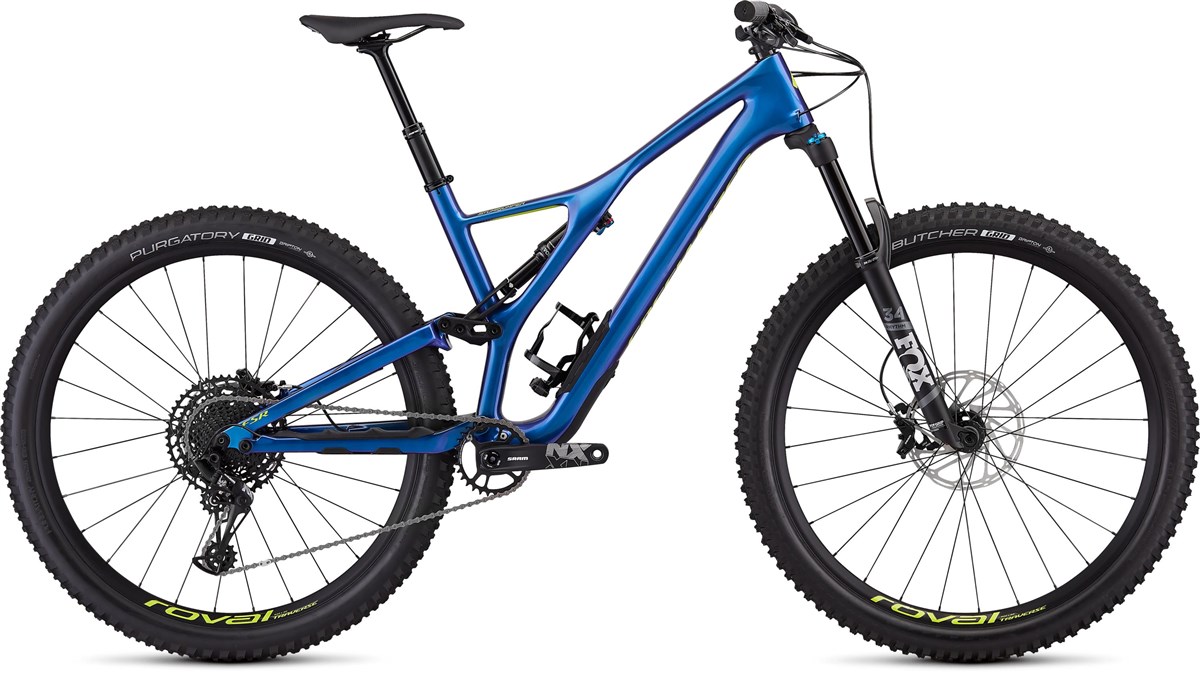 Frame Full FACT 11m carbon frame with SWAT storage, 140mm travel
---
Wheels Roval Traverse 29
---
Suspension 150mm FOX Rhythm FLOAT 36 fork / FOX Performance FLOAT DPX2 shock
---
Drivetrain SRAM NX Eagle 1x12 speed
---
Brakes SRAM Guide R
---
Best for Blurring the line between trail bike and Enduro bike
---
Review
The iconic Specialized Stumpjumper has been completely redesigned for 2019. With a distinctively different frame design, this is a bike that performs as good as it looks. It's more capable than ever on challenging trails, yet still lightweight and playful. The new Stumpy is one of the most-wanted-bikes of the season.
Specialized have increased the range with the introduction of new models. The short travel, Stumpjumper ST supersedes the Camber, while the Stumpjumper EVO offers more of a gravity focused ride. The Regular Stumpjumper featured here, is available with either 650b (27.5") or 29" wheels. It has the same trail riding focus as the previous bikes but offers significantly better ride characteristics. Specialized have also made the new Stumpy much easier to live with, thanks to neat little tweaks that well go into later.
An ideal everyday trail bike, the Stumpjumper is lightweight enough for cross-country adventures. At the other end of the spectrum this is a bike that can take on challenging enduro trails and bike park tracks. Most at home at the trail centre, the Stumpy will give you an ear-to-ear-grin on every track you ride, from blue right through to black.
The new Specialized Stumpjumper Expert 29 is a bike for an extremely wide range of applications. From short after-work rides, alpine tours over several days to a hard-riding shuttle day, this bike can do it all.- Enduro-mtb.com.
Orange Stage 5 Factory 29er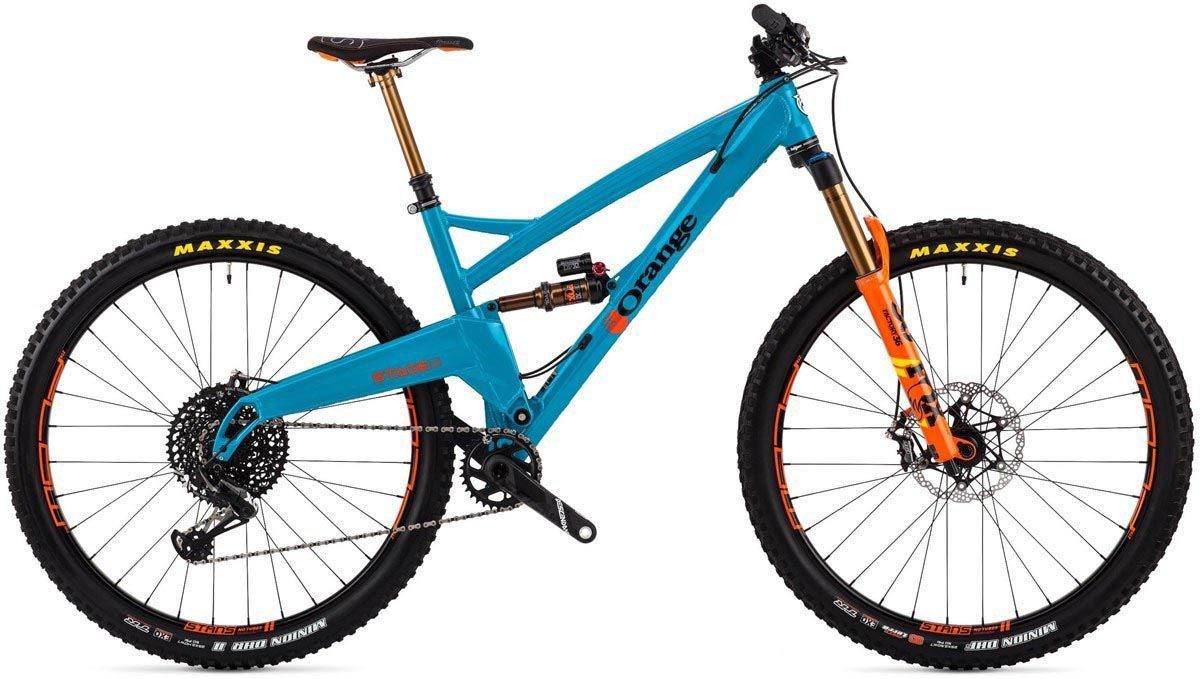 Frame 135mm travel 6061-T6 Aluminium Monocoque
---
Wheels Stans Flow Mk3 rims on Hope Pro 4 hubs
---
Suspension 140mm Fox Factory 36 fork / Fox Factory DPX2 rear shock
---
Drivetrain SRAM X01 Eagle 1x12
---
Brakes Hope Tech 3 E4
---
Best for Those who want a simple, effective and well proven trail bike
---
Review
Handmade in the UK, Orange has the privileged position of having a long line of simple, effective and unique trail bikes under their belt. This Stage 5 is the 29er version of the Five, a bike that has a legendary status among hardy UK riders. Its single pivot design is not only simple to maintain but has been refined over the years to give a ride that just wants to go faster. Riders comment on how this bike picks up speed and continues to accelerate through terrain far rougher than the 135mm of rear travel suggests. As with all Orange bikes, there is a high level of customisation offered by Orange. Any options shown on their website can be added by us, just call our Bike Specialists on 01792 346501 to talk through available options.
This Factory edition, however, gives top-spec as standard. The bike is clad in the very best components from the Fox 36 forks and DPX2 shock, SRAM X01/GX Eagle groupset and Stans Flow wheelset to the Hope brakes and Burgtec finishing kit. Perhaps the ultimate UK trail bike.
What I particularly love about the Stage 5, though, is the way that it pummels over technical terrain while providing you with plenty of on-trail feedback. With good support through the suspension, it has a distinctly analogue feel to it.- singletrackworld.com.