Want to get into road biking but unsure which bike will be best for you? To make the choice easier we have picked out the very best models for new cyclists in this best road bike review.
Road bikes are available in a range of different types, each best suited to different types of cycling. Road race bikes offer nimble handling with an efficient tucked riding position and are best for shorter rides on good road surfaces. Sportive or endurance road bikes offer a slightly more upright riding position with comfort features built in which makes them ideal for longer rides over less than perfect road surfaces. The other option is a flat bar road bike that combines the speed and efficiency of a road race bike with a flat handlebar for easier handling – especially useful for urban cycling.
Aluminium alloy frames are lightweight, strong and affordable which makes them ideal for a first road bike. Butting and hydroforming are manufacturing processes that reduce weight so are worth looking out for. Carbon fibre frames offer the best performance. If your budget can stretch that far then a carbon frame is a great choice and will be worthy of future component upgrades.
Compact chainsets with wide range cassettes offer plenty of low gears for easy climbing as well as higher gears for rapid cycling when the road flattens out. As you go up the price points, the number of gears tends to increase which offers smaller gaps between each gear so you can find the ideal gear to match your pedalling speed. All the bikes featured in this best of review have aluminium frames with compact chainsets.
Carbon fibre has natural vibration damping properties so most road bike now feature carbon forks which help reduce fatigue in the arms, especially on rough road surfaces. Disc brakes are becoming ever more popular on road bikes. While they add a little weight hydraulic disc brakes work far better than traditional calliper brakes, especially in wet conditions, so we have included a couple of disc equipped bikes in this review.
Scott Speedster 50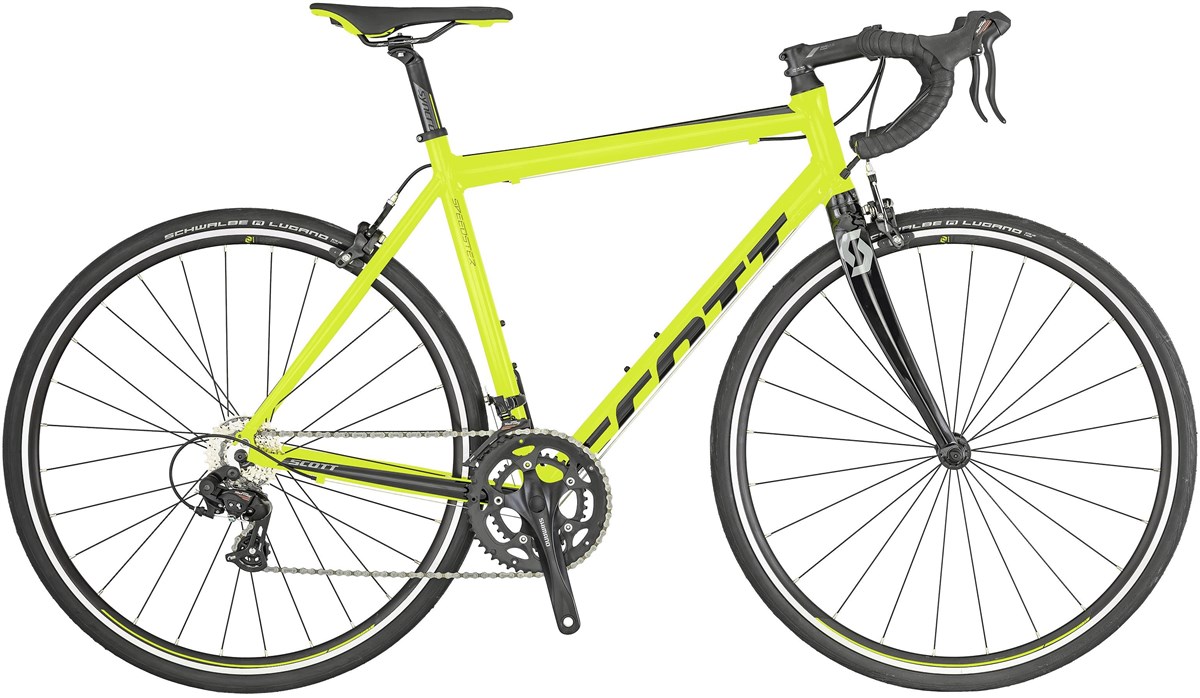 Frame Butted 6061 aluminium alloy
---
Fork Aluminium Alloy
---
Drivetrain Shimano Tourney 2x7 speed
---
Brakes Tektro calliper
---
Best for General road cycling
---
Review
The Scott Speedster is a classic road bike with endurance geometry. This makes it a little more comfortable, especially on long rides or if you are new to road cycling. The frame is made from 6061 aluminium alloy with butted tubes. Butting is a process that removes material from low stress areas of the fame. This reduces the weight of the frame while maintaining strength and stiffness. The Speedster 50 is the entry level model in the range and is fitted with an aluminium fork to keep the price competitive.
The Shimano 2x7 speed drivetrain features dual-control brake and shifter levers. These allow you to change gear without moving your hands off the bars and are similar to the levers you'll find on high-end road bikes. Wider 28c tyres offer a little more cushioning on rough road surfaces as well as giving you plenty of grip in the corners.
The Speedster is a fully functional road bike at a very competitive price point.
Cube Attain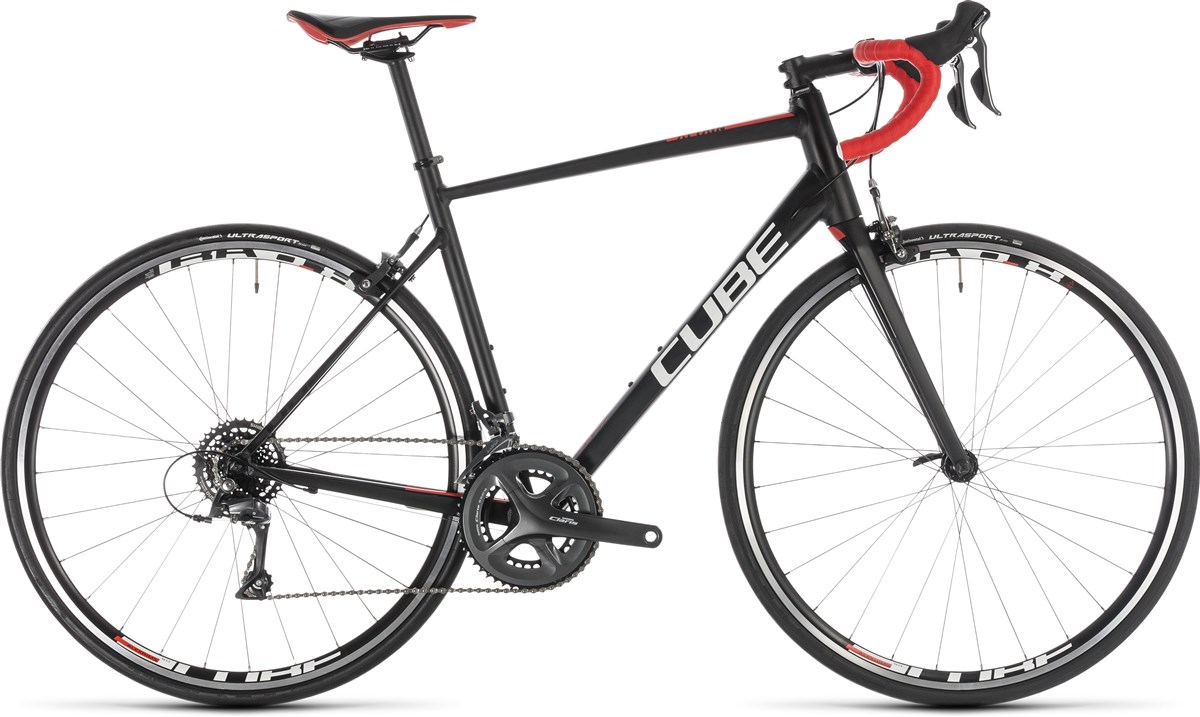 Frame 6061 T6 aluminium
---
Fork Full carbon
---
Drivetrain Shimano Claris 2x8 speed
---
Brakes Shimano Claris calliper
---
Best for Longer rides and sportives
---
Review
Offering a slightly more upright endurance riding position than a full-on road race bike the Cube Attain offers the comfort you need on long distance cycle rides and Sportives. The double butted 6061 aluminium alloy frame features slim, cross ovalised seatstays which offer vertical flex (compliance) for a smoother ride over rough road surfaces. The full carbon fork is a real highlight on a bike at this price point
It is great to see Shimano Claris dual pivot calliper brakes to match the Claris groupset and these offer composed stopping power. Wide 25c Continental Ultra Sport tyres are also a nice touch on this entry level road bike.
The Cube Attain offers endurance road bike comfort and efficiency.
Giant Contend SL 2 Disc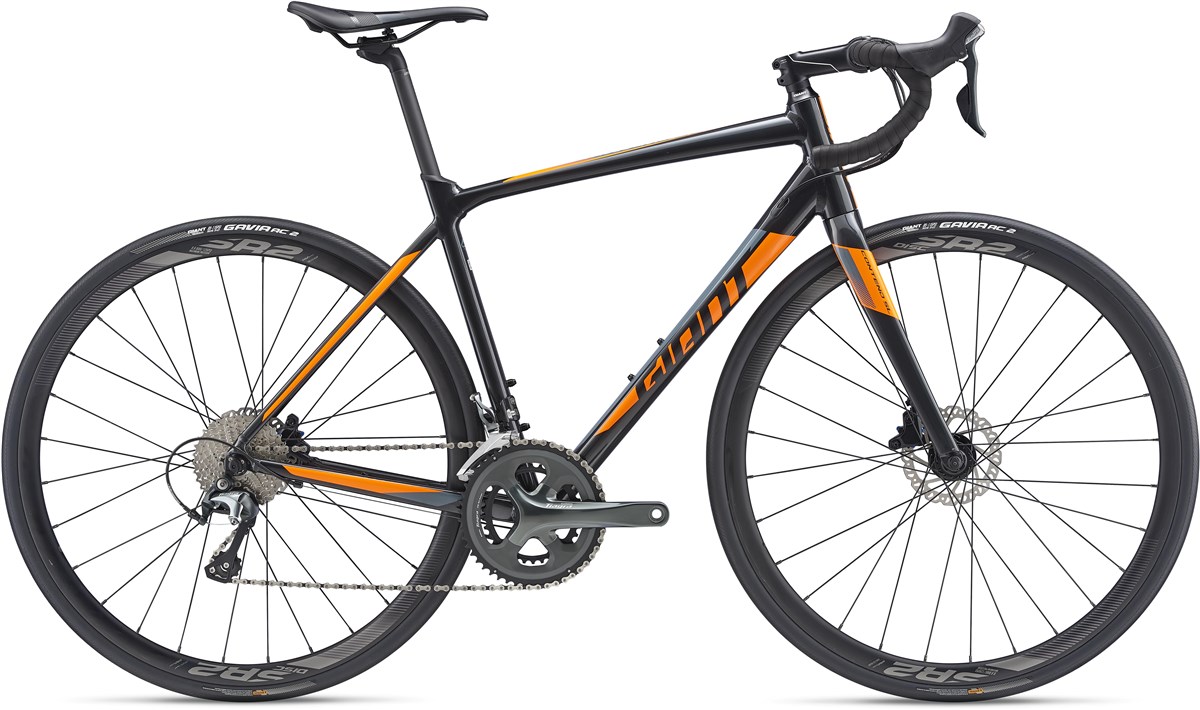 Frame ALUXX SL-Grade aluminium
---
Fork Carbon blades, alloy steerer
---
Drivetrain Shimano Tiagra 2x10 speed
---
Brakes Giant Conduct hydraulic disc
---
Best for All-weather cycling
---
Review
The Contend is Giant's new alloy road bike that combines the endurance riding position and comfort features found on the popular Giant Defy Advanced with slightly shorter chainstays for nimbler handling characteristics. The seatpost and seatube feature a D-Shaped profile that is made to flex slightly to help absorb the bumps from riding on rough roads.
Often disc equipped road bikes at this price point feature mechanical disc brakes rather than the better performing hydraulic discs. This is because mechanical disc brakes use conventional shifter/brake levers while hydraulics need a special lever. Giant have developed an ingenious system that combines the two, so you get the improved performance of hydraulic disc brakes with conventional levers. As well as offering great stopping power, this makes future drivetrain upgrades much easier.
A comfortable and versatile sportive/endurance bike with a dependable feel that encourages you to keep going and just do those extra few miles. road.cc
Cannondale Synapse Carbon Disc Tiagra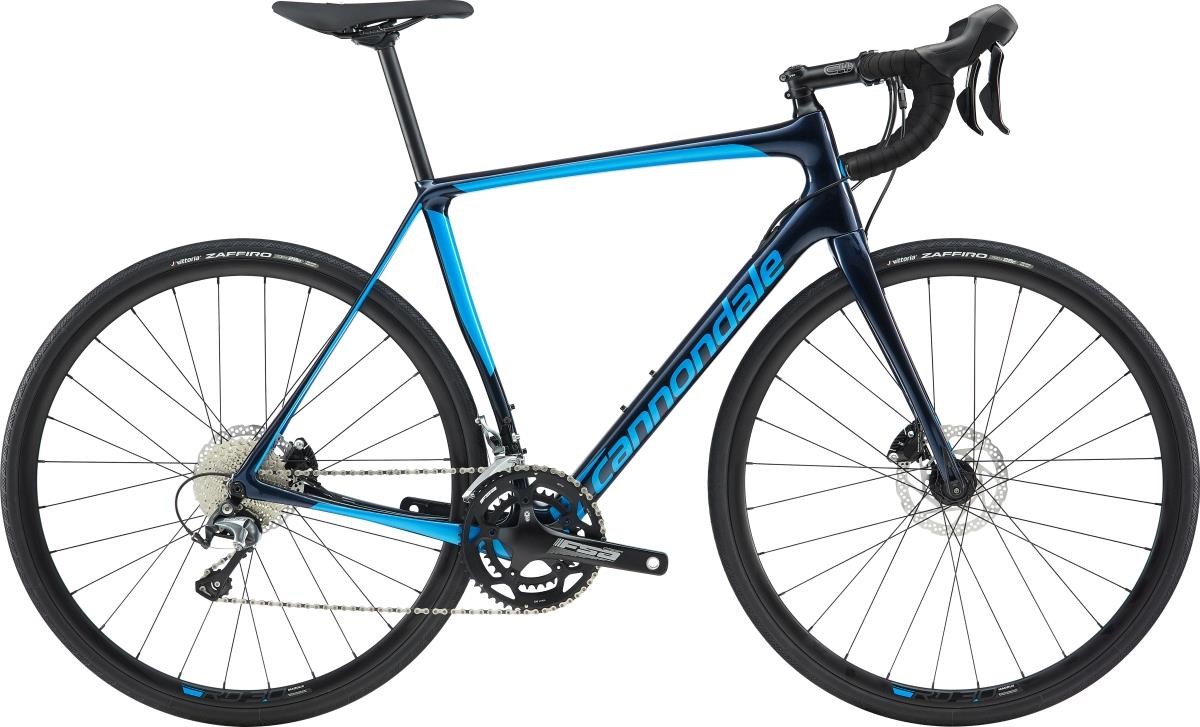 Frame BallisTec Carbon
---
Fork Full Carbon
---
Drivetrain Shimano Tiagra 2x10 speed
---
Brakes Shimanop Tiagra hydraulic disc
---
Best for Sportives and long road rides
---
Review
With its cutting-edge carbon fibre composite frame and fork, the Cannondale Synapse is by far the smoothest rolling road bike here. Designed for long distance cycling over challenging road surfaces the Synapse features an endurance riding position with the handling characteristics of a true race bike.
The SAVE rear stays and fork are shaped to offer bump eating compliance over rough road surfaces. Cannondale call this micro-suspension and it helps the bike to track efficiently on bumpy roads which improves grip in the corners as well as offering a more comfortable ride.
The Shimano Tiagra 2x10 speed drivetrain features a compact chainset and wide range cassette giving you plenty of gears for all the ups and downs on your route. Hydraulic disc brakes give you confident stopping power in all weather conditions. With such a high-quality carbon frame this is a bike that is worthy of future component upgrades.
Cannondale's engineers have a knack for translating geometry into great handling, and in testing we found the bike reminded us distinctly of the highly revered SuperSix Evo. Bike Radar