Want to get into mountain biking but unsure what bike you need?
We take a look at a selection of the best mountain bikes, at different price points. New MTB riders We'll help you choose the bike that is right for you. Mountain bikes are available in a range of different flavours for different types of riding. From relaxed countryside cycling to adrenaline fuelled trail adventures.
An entry level mountain bike will be able tackle a range of different terrain. There is always a trade-off between lightweight and robust performance. Suspension gives mountain bikes their ability to tackle challenging terrain. More suspension generally gives you more ability. Yet suspension is both weighty and costly so bikes with more suspension travel tend to be heavier. This tends to be offset by price point of the bike as more expensive components tend to be lighter weight. For this reason, the most affordable mountain bikes are hardtails with suspension only at the front. The most capable machines tend to be more expensive full suspension bikes.
Wheel size also makes a big difference to performance. Larger 29" wheels offer faster rolling performance on rough terrain. These are heavier and less nimble than the more popular 27.5" (650b) wheels. 29ers also tend to be more suitable for larger riders. Many manufacturers take this account by offering two different wheel size versions of the same bike.
All the mountain bikes featured in this review offer a wide range of gears. As you move up through the price points, you will find fewer front chainrings and wider range rear cassettes. This means that gear shifting becomes easier, so you can focus more of your attention on the trail ahead. Hydraulic disc brakes offer consistent performance in all conditions. You will now find them on all the MTBs featured here.
Scott Aspect 750 27.5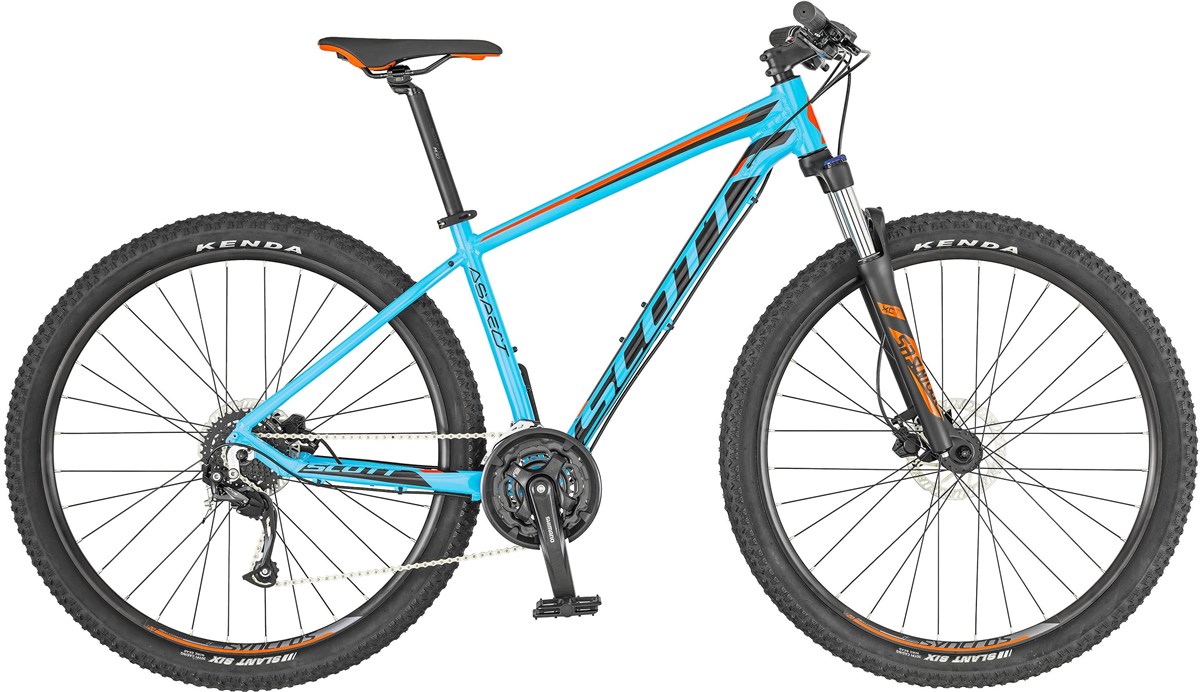 Frame 6061 aluminium alloy
---
Suspension 100mm travel Suntour XCT fork
---
Drivetrain Shimano 3x8 speed
---
Wheels 27.5" (29" available)
---
Best for Cross-country trails
---
Review
Simple and effective, the Scott Aspect 750 27.5 is a hardtail mountain bike. The Aspect ideal for cross country trail riding and general off-road exploring. The aluminium alloy frame features double butted tubes. These that have had excess material removed from low stress areas to reduce weight while maintaining strength. You get a stable riding position with a suspension fork that offers 100mm of travel to smooth the trail ahead.
The Shimano 3x8 speed drivetrain gives you all the gears you need to ride even the steepest climbs. Hydraulic disc brakes offer confident all-weather stopping power. The Kenda Slant tyres on the 27.5" wheels feature low profile nobs. These are ideal for efficient rolling over hard-pack trails. The Scott Aspect 950 rolls on 29" wheels.
A capable entry level hardtail for cross country trail riding..
Cube Attention 27.5" / 29er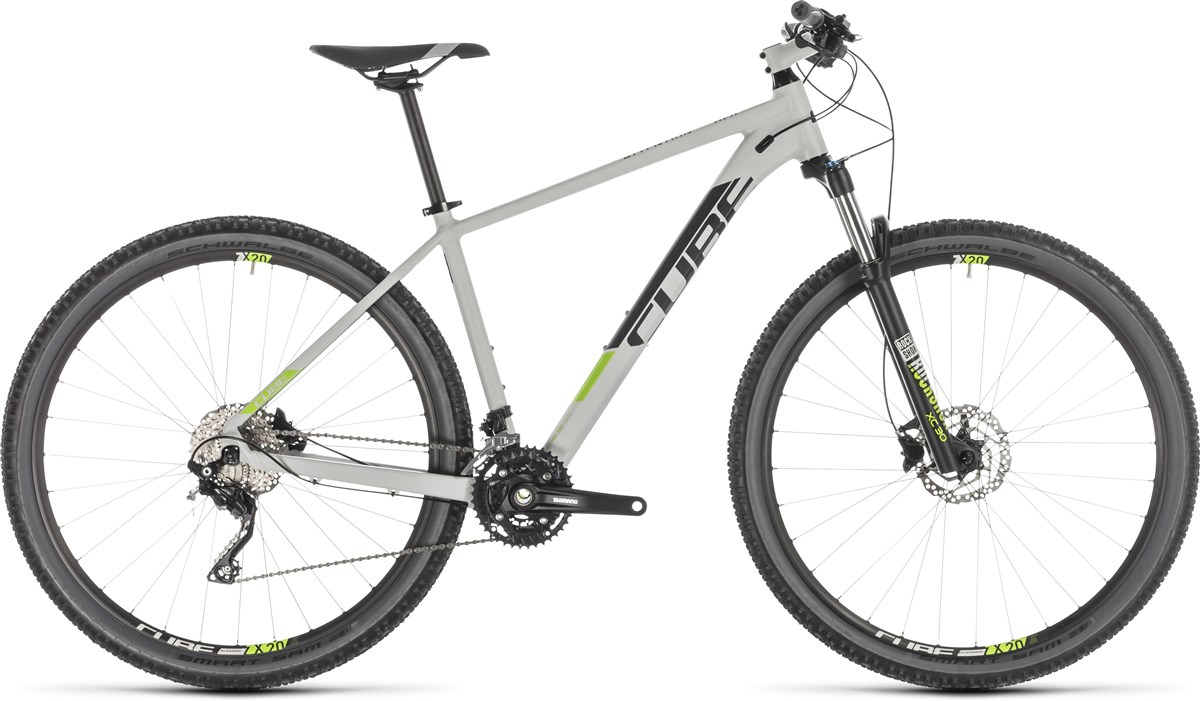 Frame 6061 aluminium alloy
---
Suspension 100mm travel RockShox XC 30
---
Drivetrain Shimano XT/Deore 3x10 speed
---
Wheels 29" (27.5" available)
---
Best for Singletrack trails
---
Review
With its lightweight aluminium alloy frame featuring Agile Ride Geometry, the Cube Attention offers a frame quality and similar riding position to the Scott Aspect but with a more capable component spec. The Shimano XT/Deore 3x10 speed drivetrain offers slicker gear shifting with a slightly wider gear range but it is the RockShox suspension fork that helps to set the Attention apart from other MTBs at this price point. As well as offering 100mm of plush suspension travel the XC 30 fork features a remote lockout that allows you to ride more efficiently on smooth surfaces.
The Attention is available with both 27.5" and 29" wheels. This is to offer the best fit in different frame sizes. The smaller frame sizes have 27.5" hoops while the large models are 29ers.
The Cube Attention is ideal for fast singletrack adventures.
Nukeproof Scout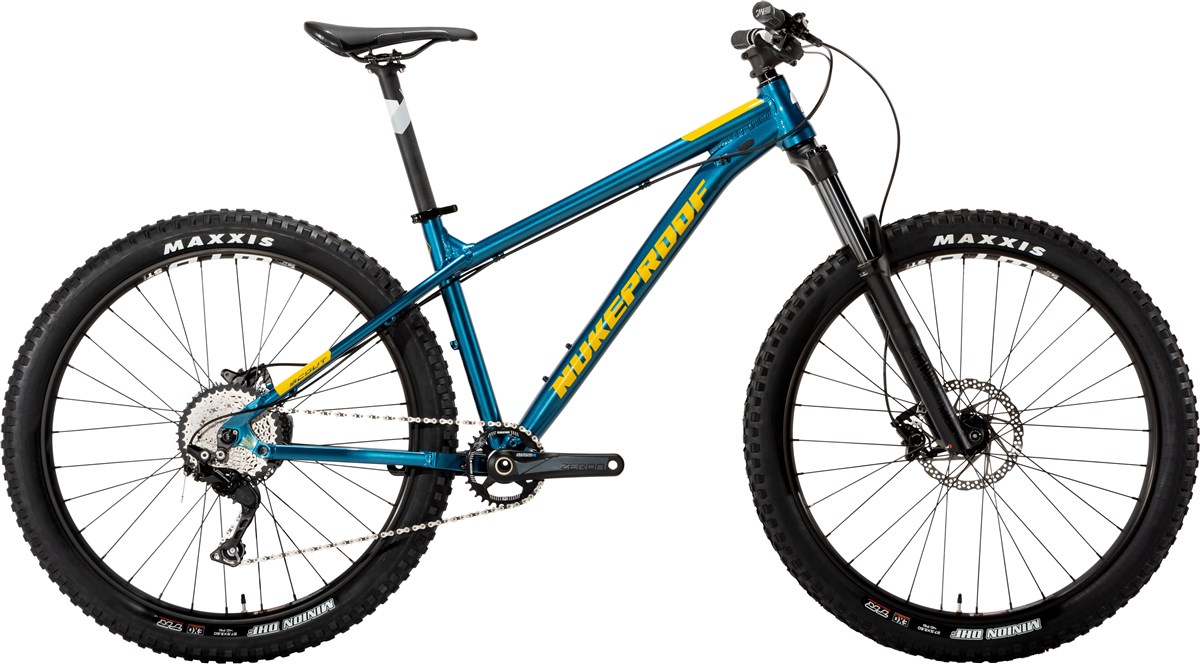 Frame Triple Butted aluminium alloy
---
Suspension 140mm RockShox Recon RL
---
Drivetrain Shimano Deore 1x10 speed
---
Wheels 27.5"
---
Best for Trail centre trails
---
Review
The Nukeproof Scout is one of a new breed of hardtail mountain bikes for riding more challenging trails. Long and slack, the modern trail geometry offers a confident ride. The 130mm travel suspension fork will soak up more bumps on the trail. The Scout is an ideal hardtail for UK trail centre adventures.
The triple 6061 aluminium alloy frame features a tapered head tube that offers a stiffer front end for improved control. The RockShox Recon fork offers 140mm of suspension travel and adjustable rebound damping. This means teh fork offers confident performance when the going gets rough. The one-by Shimano Deore drivetrain is a nice touch at this price point. With a wide range cassette and clutch mech you have plenty of gears without the chain rattling around on rough terrain. The Nukeproof Scout 290 sport features 29" wheels.
On flowing singletrack the Scout is lighting fast and with the rapid engagement of the Horizon rear hub it's lost none of its snap, actively encouraging you to crank out of every turn. - MBR.
Giant Stance 2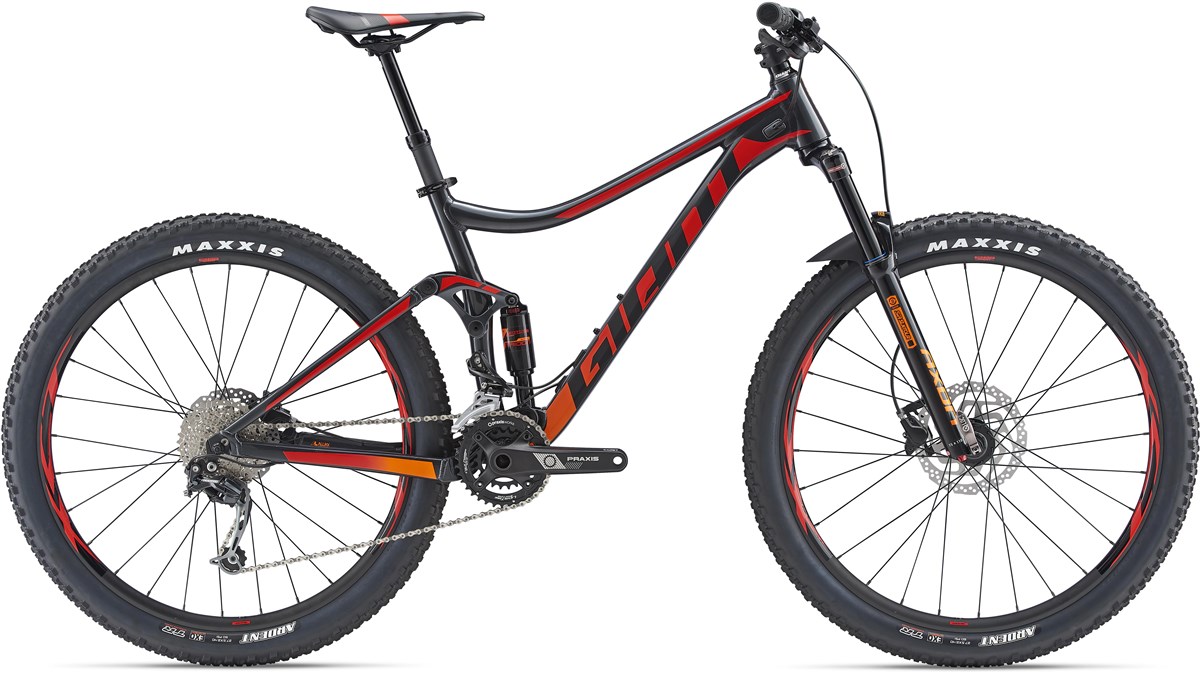 Frame ALUXX-Grade aluminium
---
Suspension 120mm SR Suntour Raidon fork, SR Suntour Epixon R rear shock
---
Drivetrain Shimano 2x9 speed
---
Wheels 27.5"
---
Best for Trail centre trails
---
Review
With suspension front and rear the Giant Stance offers a step up in performance on rough trails. The trail focussed geometry and full suspension design give you more traction on rough climbs. You also get and increased composure on the descents. The extra cost of the rear suspension does mean that you get a lower spec level compared to similarly priced hardtails.
The Suntour shocks are simple but effective with all the adjustment you need to get started on the trails. The tapered head tube helps with front end stiffness. The Shimano Deore 2x9 speed drivetrain offers a wide range of gears for taking on the ups with the downs. Maxxis Ardent tyres on the 27.5" wheels are fast rolling with enough grip for challenging trails.
Sorted entry-level full-susser that will reward upgrading over time – Bike Radar
Specialized Stumpjumper Comp Alloy 29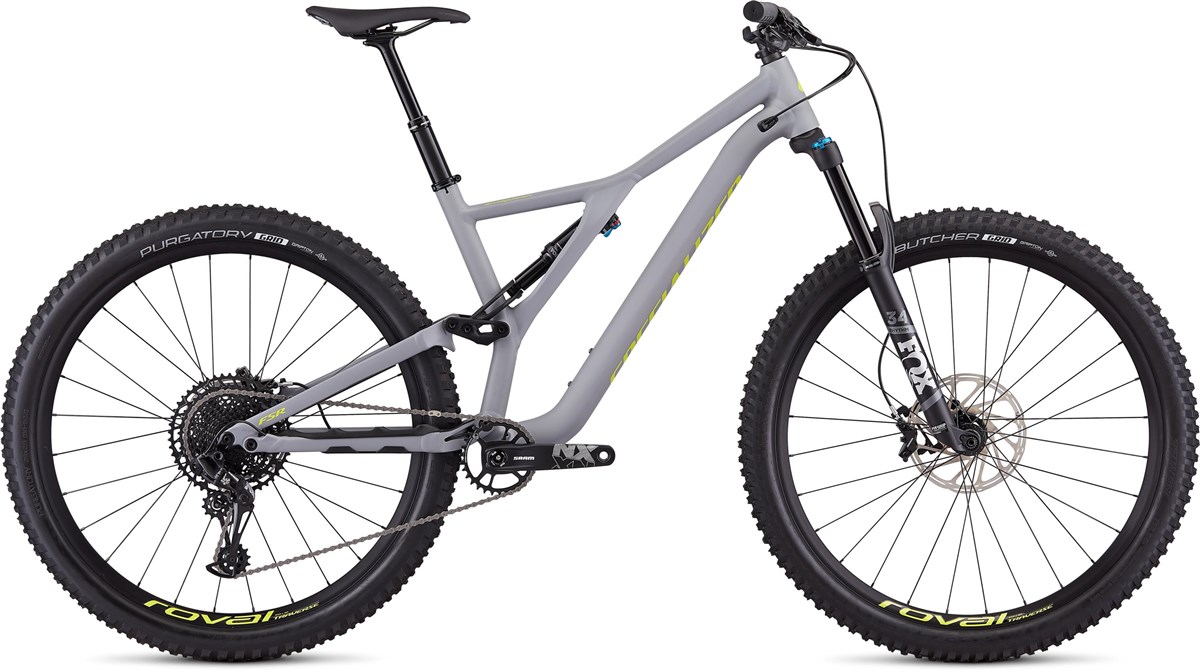 Frame M5 aluminium alloy
---
Suspension 150mm front 135mm rear
---
Drivetrain SRAM NX Eagle 1x12 speed
---
Wheels 29" (650b version available)
---
Best for All MTB trails
---
Review
Do you want to jump straight on to a mountain bike that offers capable performance on almost every type of MTB trail? Then the Specialized Stumpjumper FSR Comp 29er is an ideal choice. Fast rolling and lightweight with the ability to ride the most challenging trail centre sections. Confident and composed the Stumpjumper is a real performance machine.
The 150mm travel Fox 34 Float fork is paired with a Fox Float DPS rear shock that controls the 135mm of rear travel. The FSR rear suspension system is fully active. This means it works efficiently to soak up all the hits on the track even while pedalling and braking. With a confident riding position and user friendly SRAM 'one by' 12 speed drivetrain the Stumpjumper is up-for-anything.
A dropper post allows you to change your saddle height on the fly. this means you can make the most of every trail section without missing a beat. The 29" wheels are tubeless ready and feature a great tyre combination for fast rolling performance on challenging trails. The Stumpjumper Comp Alloy 650b is available with 27.5" wheels.
Quote: You might say that this bike is idiot-proof, such is the speed you can carry into turns and still come out riding – IMB