A good pair of cycling shoes can make a big difference to your ride. As they have a direct impact on how your leg power is transferred to the road the best road cycling shoes can even make you faster. Before we look into the anatomy of the best road bike shoe it's worth considering what type of pedal you'll be using, especially if you're new to the sport.
Road bike shoes are designed to work with specific clipless pedals. Most road bike pedals use a cleat that is attached with 3 bolts - Shimano SPD-SL or Look KEO for example – all the best road shoes are compatible with 3-bolt cleats. When commuting or touring some cyclists prefer the smaller 2 bolt cleat - Shimano SPD or Time ATAC - pedals used by mountain bikers as they are easier to clip in and out of. Some road shoes are compatible with both 2-bolt and 3-bolt cleats.
You don't want a flexible shoe to absorb the power that you push through the pedals, so a stiff sole is essential for fast, efficient cycling. All top-of-the-range road shoes use carbon soles as these can be made to be very stiff while also being lightweight. The best cycling shoes have a stiffness rating with the stiffest shoes offering pro level performance. Carbon is expensive, so more affordable shoes will have a nylon or glass fibre sole that gains weight and sacrifices a bit of stiffness to save costs.
The shoe also needs to fit securely so you can apply pressure all the way through the pedal stroke. As your feet swell when you warm up, you'll want a shoe that's easy to adjust while you're riding. The best road bike shoes use BOA dials that offer easy to use micro-adjustment. This means that you can maintain the perfect fit throughout your ride even if the temperature changes.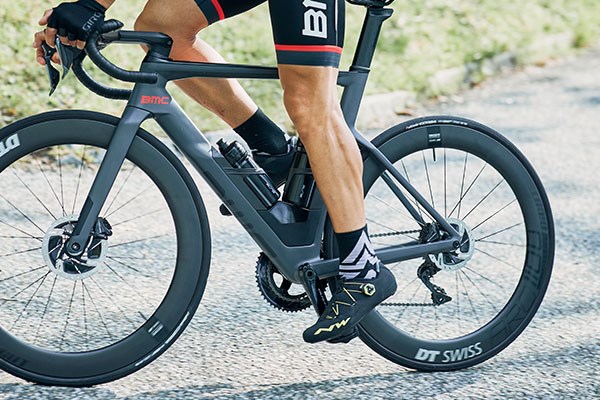 There are some different BOA options with the Li2 dial currently offering the best performance for cycling shoes. Some shoes have a single dial while others use two or even three. A single dial is easier to adjust on the fly, but multiple dials allow you to tweak the tightness in different areas of the shoe.
Soft, pliable uppers allow the shoe to mould around your foot for a comfortably snug fit. A relatively stiff tongue flap helps to spread the load of the BOA straps. Most shoes are designed for warm weather so the upper is often perforated to help keep your feet cool but don't offer much protection from the elements when not wearing overshoes.
Other features to look out for are heal and toe blocks to make walking easier when you're off the bike. Inevitably these will wear, so consider replaceable blocks if you like to include regular coffee stops on your rides. Of course, weight is one of the most important considerations for the serious cyclist and this is what often separates the 'very best shoes' from the 'also rans'.