Using road clipless pedals vastly improve the performance and efficiency of your road riding. Offering better support for improved efficiency over flat pedals, clipless road pedals feature a large cleat that is attached to your shoe.
Three bolt cleats have a much larger surface area than two-bolt MTB clipless pedals, which means there is better power transfer for performance and speed on the road. Power is transferred on the up-stroke as well as the down-stroke.
Click here to see our full range of Road Clipless Pedals
By aligning the cleat correctly your foot will be in the right place on the pedal. This optimises power from the leg thus maximising output from each pedal stroke. Injury can be prevented by locating the foot straight and avoiding any twisting or poor foot placement. Cleats are included with pedals. Here we pick out some of our favourites and take a closer look at the features.
Shimano PD-R540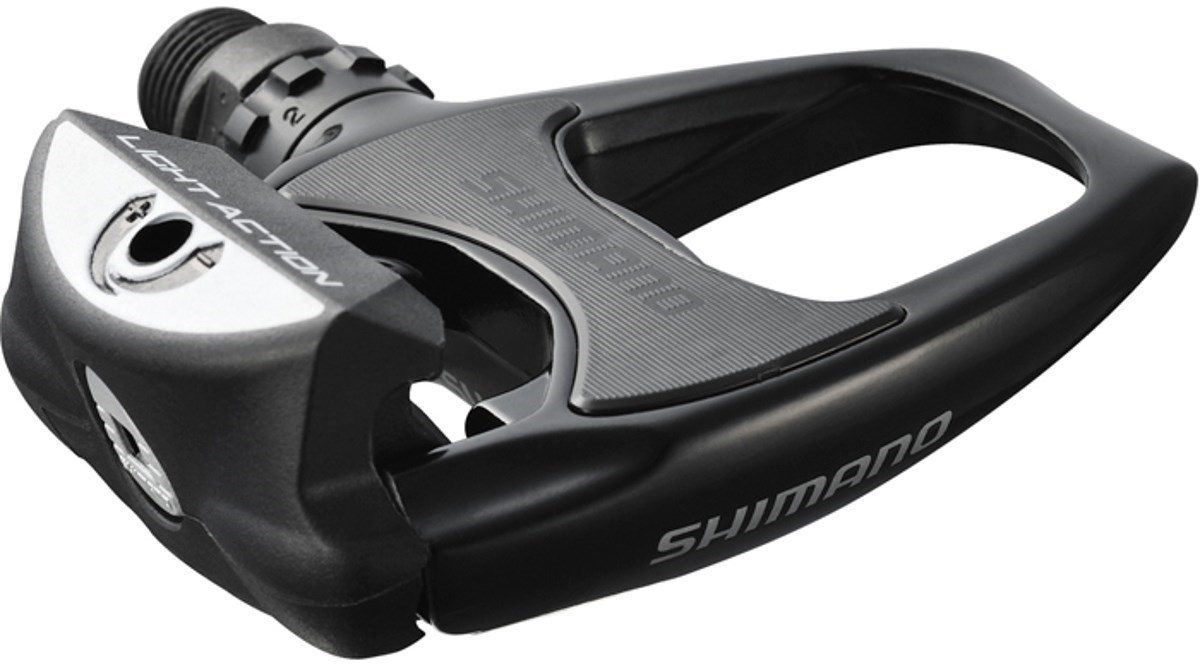 Bearings Sealed cartridge
---
Mechanism Shimano SPD-SL
---
Colours Black, White
---
Weight 330g/pair
---
Review
The best introduction to the world of clipless road riding. Simple and effective using exactly the same mechanism as Shimano's top end clipless road pedals. SPD-SL style pedals are one-sided but weighted at the rear, so they hang with the nose high ready to catch and engage with the cleat.
The rear of the pedal clicks to lock onto the cleat. Adjustment can be made to how tight the mechanism is controlling cleat release. Anyone new to clipless riding can loosen this screw making it easy to unclip, then as confidence grows they can be tightened.
These pedals represent great value with not too much weight. Bearings and seals are long-lasting, the pedal body is strong and resilient to knocks and scrapes.
Great value pedals with the same dynamics as Shimano's pro-level models –Bikeradar.com.
Shimano PD-5800 105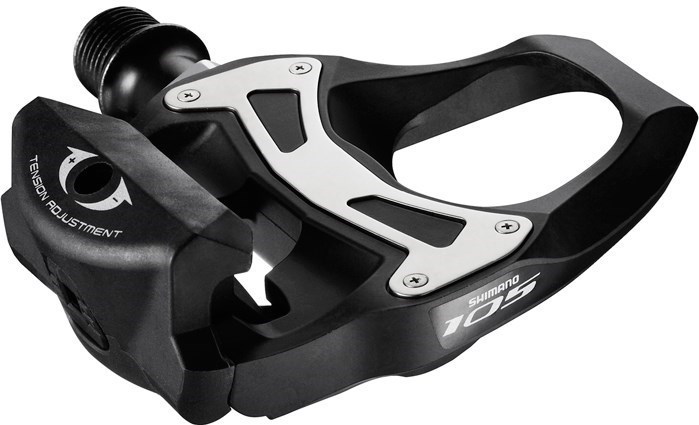 Bearings Sealed cartidge
---
Mechanism Shimano SPD-SL
---
Colours Carbon
---
Weight 280g/pair
---
Review
A step up from the R540 above, the 105 level PD-5800's have a carbon composite body with a stainless steel plate over the centre to cope with any wear from the cleat. Again, tension can be adjusted with a small allen key at the rear of the pedal.
These pedals are known for their longevity and quality. Bearings can be serviced at home, though with good maintenance these pedals are still smooth with no play after thousands of miles. Supplied with the yellow cleats giving 6° of float. Blue (2°) and red (Fixed) are available separately.
The Shimano 105 pedals benefit from the brand's trickle down from its higher end models. 105 pedals are more akin to older versions of Dura-Ace and Ultegra -Cyclingweekly.com
Look KEO 2 Max Carbon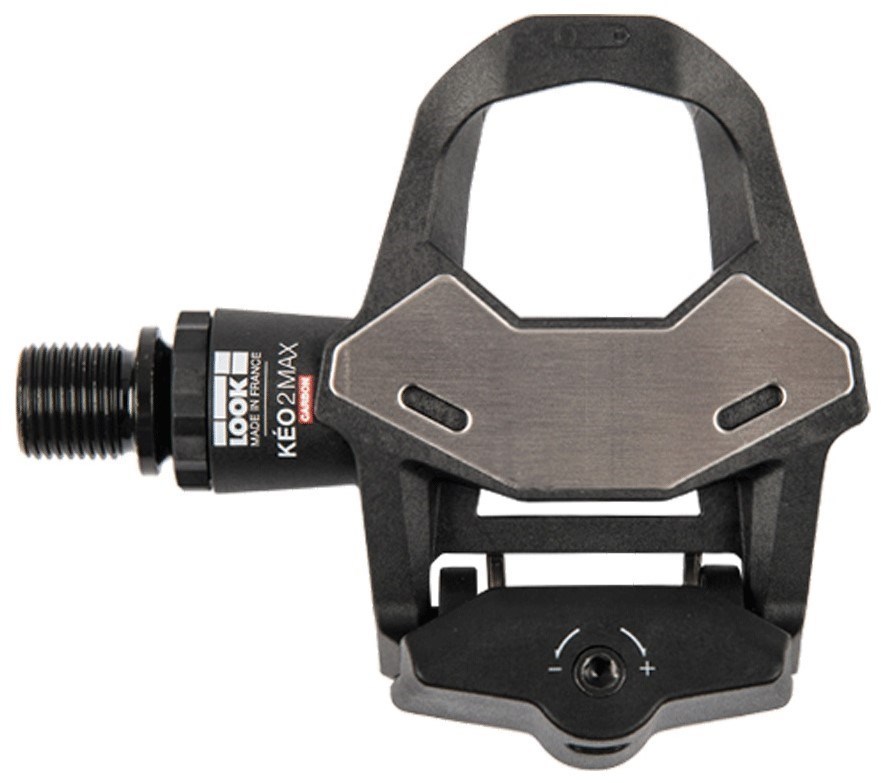 Bearings Needle roller bearing
---
Mechanism Look
---
Colours Black
---
Weight 250g/pair
---
Review
Look invented clipless road pedals in 1984, taking inspiration from ski bindings the benefits were immediately noticeable, a Tour de France victory in '85 with Bernard Hinault riding clipped in.
Look operate entirely in-house with all pedals designed and manufactured in France. The mechanism uses a spring similar to Shimano's SPD-SL system giving the same adjustability with a small allen key. A carbon fibre body with a stainless steel plate, smooth needle and roller bearings, as well as a larger size platform, make these pedals feel very stable.
Grey cleats are supplied with the Keo 2 Max giving 4.5° of float. A red cleat giving 9° and a fixed black cleat are available separately.
Even though the fundamental design of Look's venerable Keo pedal has been much copied, this is still one of the most intuitive pedals to use, with simple and safe engagement and release, and smooth rotational float –Bikeradar.com
Time XPro 10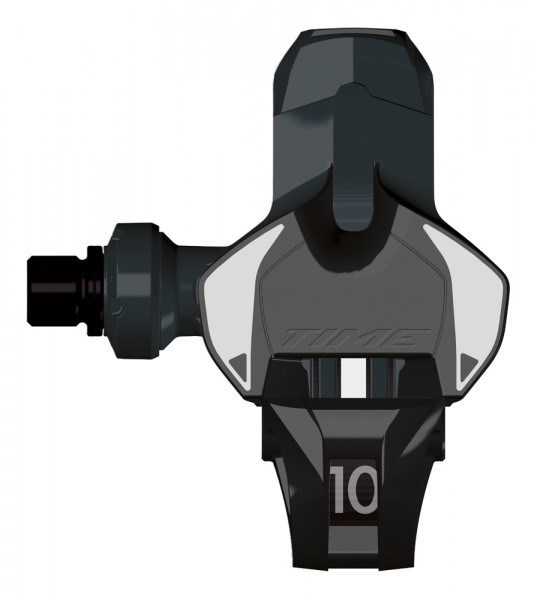 Bearings Steel bearings
---
Mechanism Time ICLIC
---
Colours Carbon/Grey
---
Weight 226g/pair
---
Review
For those looking for race performance, Time clipless road pedals are known for having a slim profile and easy to use mechanism. The XPro offers a larger platform than the race-specific Xpresso models giving more stability.
Time's ICLIC system has very efficient power transfer while being very simple to use. When unclipped the mechanism remains open, to clip back in requires little effort. Time use a carbon blade functioning as a leaf spring under the pedal, this is then protected by a carbon cover, giving a lower profile and therefore less weight with a slimmer aerodynamic profile.
This XPro 10 uses a carbon fibre body and hollow steel axle. Time label the float as Bioposition, along with adjustable Q-factor this pedal can be set up to suit personal taste and feel. This XPro 10 is the entry level pedal of the XPro range. Click here to see the other models.
The Xpro line slots in nicely to a long history of high-end carbon fiber products from Time, appealing to a different rider than the ultralight Xpresso, and most importantly they retain Time's Bioposition float, incredible simplicity and ease of use – Pelotonmagazine.com
Speedplay Zero Aero Titanium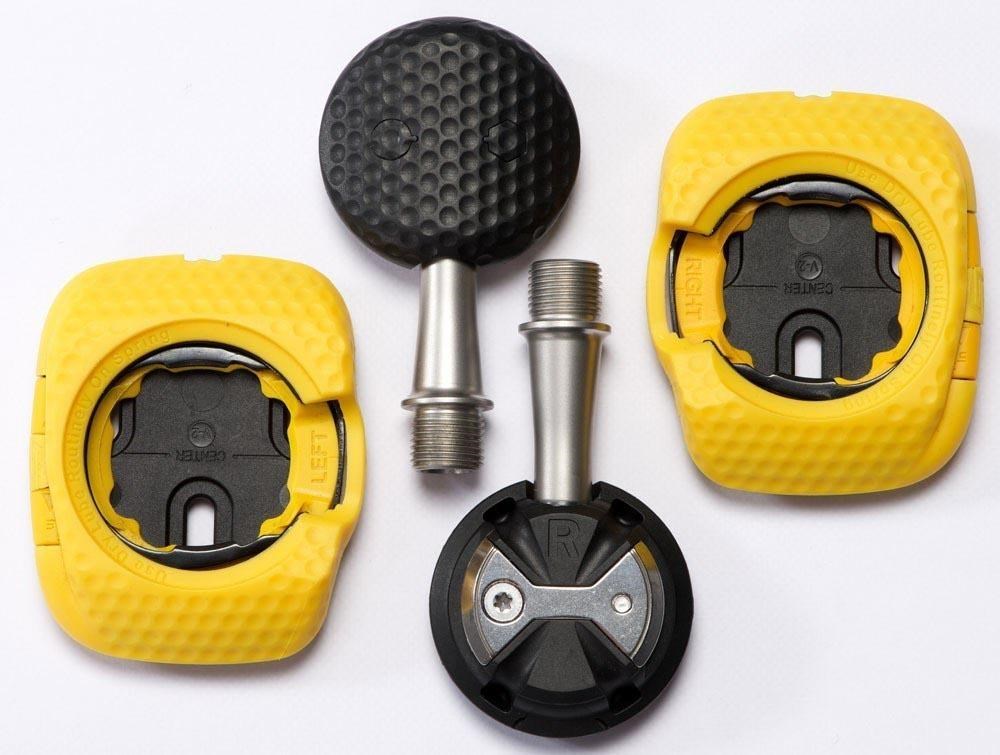 Bearings Precision cartridge and needle bearings
---
Mechanism Speedplay
---
Colours Black
---
Weight 158g/pair
---
Review
Speedplay does things a little differently. Often hailed as the most aerodynamic system available for time trial and triathlon riders. The usual set-up is flipped with the pedal clipping into the cleat, rather than the cleat into the pedal with other manufacturers designs.
Attached to the shoe the large cleat docks with the pedal to create a very streamlined profile, dimpled like a golf ball for increased aerodynamics. Used by Bradley Wiggins to set the Hour world record keeping an average of 33mph.
Micro-adjustment of the float is available to set the exact range needed or can be set in a fixed position within the 15° range. Uniquely the Speedplay system also gives fore-aft, side to side and rotational adjustability.
Offering the lowest stack height the axle is closer to the foot giving immediate power transfer and unbeatable corning clearance. Cleats are included and will fit any road shoe with 3 bolt holes. The design of the cleat makes walking easier than other designs. A grease port help maintenance on the Zero Aero, perhaps the most aerodynamic pedal available.
With #aeroiseverything being one of cycling's current vogues, it's perhaps no surprise that we're now seeing aero pedals, most notably from Speedplay -Bikeradar.com.