10% off In Stock Accessories - Use Code : ACCESSORIES10
Clipless mountain bike pedals are designed to keep your foot firmly in place when riding over rough terrain but are easy to clip out of whenever you need to. Clipless MTB pedals allow you to keep pedalling when riding over rough terrain and stop your feet from sliding off when it's wet and muddy. Many mountain bikers prefer the feel of flat pedals, but you can't beat clipless for power and efficiency.
Shimano SPDs were the first type of clipless pedals. Initially designed for road cycling they were soon adopted by mountain bikers as they are very quick to clip in to and more importantly clip out of. Unlike modern road pedals SPDs allow your foot to move a little while still being clipped into the pedals. This is called float.
Now there are many clipless pedal brands. Many use a very similar system to Shimano with comparable features. Crank Brothers are one of the brands that use a different system. Their open eggbeater style pedals allow you to vary the unclip angle rather than the tension. This style of pedal works particularly well in muddy conditions as they don't tend to clog up.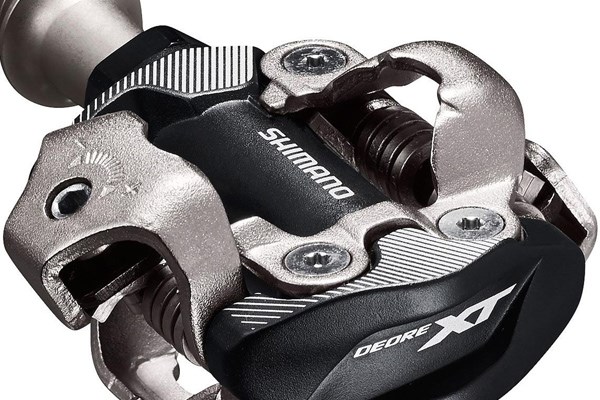 The amount of effort that it takes to clip in and out of is adjustable in many clipless pedals. This adjustable tension allows you to decide how securely you want your feet to be held in place. When you first start using these pedals a low tension makes it easy to clip in and out. Once you've gained confidence you can tighten them up a bit, so your foot is held more securely.
Some clipless pedals rely solely on the clip mechanism to hold your foot in place. These are the lightest type and are the pedals of choice for XC racers. Many also have a platform around the mechanism to give your foot something more solid to connect to. Downhill and enduro racers tend to prefer this type of pedal as do many trail riders.