Put your foot down
For power, comfort and practicality, the right pair of pedals is vital.
If you are buying a new bike, it's important to know that many bikes don't come with pedals. To make sure you can jump straight on and test you bike, we send out a pair of basic pedals to make sure you can get pedalling right away and make sure the bike is the right fit for you. Hybrid bikes, city bikes, kids' bikes and cheaper mountain bikes generally do come with a set of pedals - although you may want to upgrade to something suitable for your own riding straight away. It's definitely worth ordering a pair of pedals that suit your riding with your bike, giving you the perfect completion to your new ride.
The term 'clipless pedals' often catches people out - confusingly, it refers to pedals that need you to clip-in to them, such as SPD or SPD-SL.
Platform pedals
Platform pedals, are standard pedals that you simply rest your foot on, which have good contact with the foot for extra support.
Platform pedals are most often used on mountain bikes and hybrids. They can be made of plastic resin or metal for greater durability. Some platform pedals have small permanent or removable studs to help grip your shoe. These are particularly good for control when you're riding off-road on tricky terrain.
The main advantage of flat pedals is you aren't attached to your bike, so can get your foot down quickly. Many mountain bikers find they have more safety and versatility this way. You also don't need special shoes to use them and the platform gives.
The main disadvantage of flat pedals is you only power your bike on the downward pedal stroke as you are not attached to the pedal. This means you have to work harder and won't achieve the same speed and efficiency as will clipless pedals.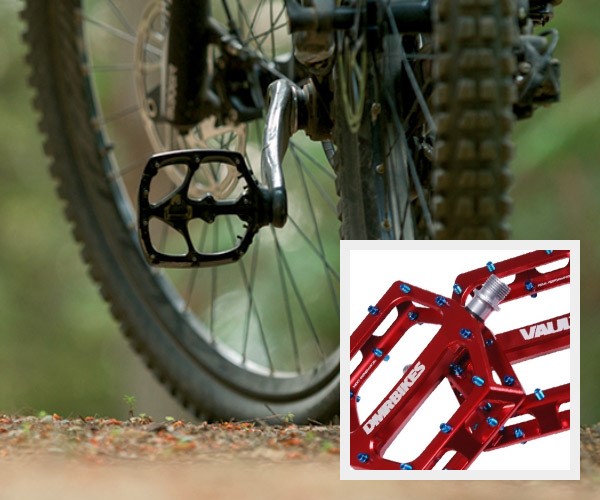 Cage pedals
Cage pedals are a type of flat pedal that has a metal cage around the central spindle.
Because cage pedals have less material than platform pedals, they tend to be lighter. They are often found on city or hybrid bikes as they don't offer as much grip for off-road riding as platform pedals, due to their smaller surface area.
Some caged pedals come with toe clips or straps to fasten around your foot for greater efficiency.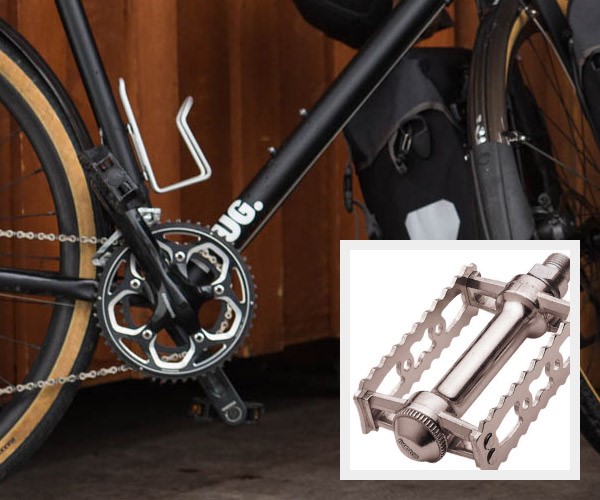 Clipless MTB
Pedals that use the two-bolt cleat system are commonly called SPD pedals, after Shimano SPD, the primary brand for this system.
Clipless MTB pedals let you connect your shoes to them, for greater power and control. Although they are traditionally off-road pedals, they are very popular for leisure and commuter riding, as they are easier to use and to walk in than road clipless pedals.
To use clipless MTB pedals, you will need a pair of shoes that take two-bolt cleats. You will also need to attach the right type of cleats for your pedals to the shoes.
Most clipless mtb pedals are Shimano SPD, or are compatible with them, such as Ritchey and Wellgo. However, there are several brands that make pedals and cleats that are only compatible within that brand, such as Crank Bros, MKS, Time Atac and Look Quartz.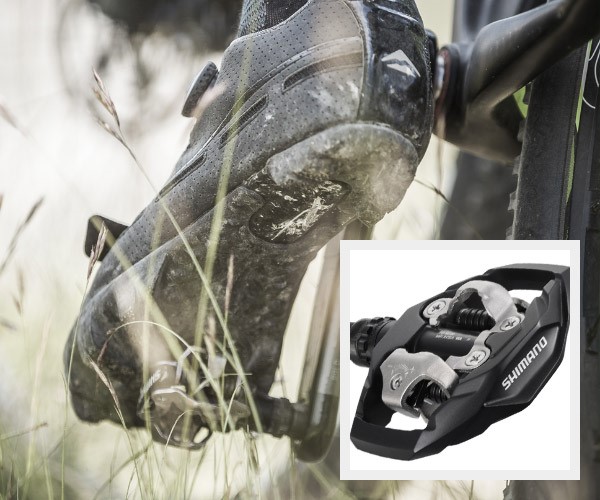 Two-bolt cleat/pedal compatibility table
Pedal →
Cleat ↓
Shimano SPD
Ritchey
Wellgo
RSP/Raleigh
One23
BBB
Genetic
Outland
Crank Bros
Time Atac
MKS
Mavic
Look Quartz
Speedplay Frog
Shimano SPD
✓
✓
✓
✓
✓
✓
✓
✓
Ritchey
✓
✓
✓
✓
✓
✓
✓
✓
Wellgo
✓
✓
✓
✓
✓
✓
✓
✓
RSP/Raleigh
✓
✓
✓
✓
✓
✓
✓
✓
One23
✓
✓
✓
✓
✓
✓
✓
✓
BBB
✓
✓
✓
✓
✓
✓
✓
✓
Genetic
✓
✓
✓
✓
✓
✓
✓
✓
Outland
✓
✓
✓
✓
✓
✓
✓
✓
Crank Bros
✓
Time Atac
✓
✓
✓
MKS
✓
✓
✓
Mavic
✓
✓
✓
Look Quartz
✓
Speedplay/Frog
✓
Clipless road
Clipless road pedals attach to road bike shoes using the three-bolt cleat system.
Three bolt cleats have a much larger surface area than two-bolt mtb clipless pedals, which means there is better power transfer for efficiency and speed on the road. The drawback is that the way the cleats fit to the sole of the shoe makes it hard to walk anywhere in road-cleated shoes.
There are several brands of three-bolt road shoes and each will the right type of cleat fitted to your shoe. However, they all fit to three-bolt road shoes. See the table below for full pedal compatibility.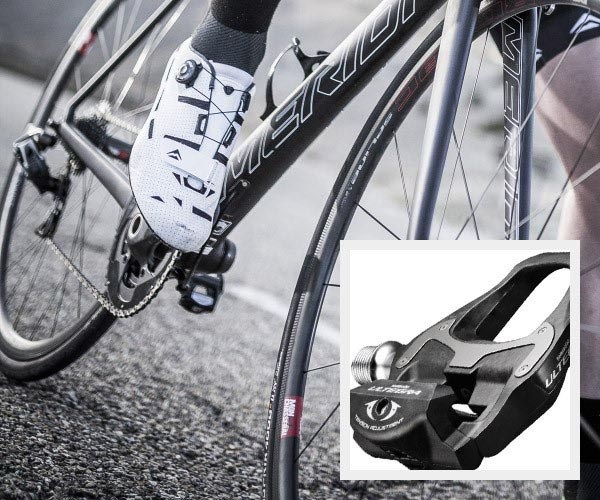 Three-bolt cleat/pedal compatibility table
Pedal →
Cleat ↓
RSP
Ritchey
Look Keo
BBB
One23
Genetic
Mavic
Time
Campagnolo Pro-Fit
Shimano SPDSL
Speedplay
RSP
✓
✓
✓
✓
✓
✓
Ritchey
✓
✓
✓
✓
✓
✓
Look Keo
✓
✓
✓
✓
✓
✓
BBB
✓
✓
✓
✓
✓
✓
One23
✓
✓
✓
✓
✓
✓
Genetic
✓
✓
✓
✓
✓
✓
Mavic
✓
✓
Time
✓
✓
Campagnolo Pro-Fit
✓
SPD-SL
✓
Speedplay
✓