Designed for mountain bikes these pedals will keep your foot in place over rough ground.
Attached to your shoe the small SPD style cleat fixes with two bolts. Pedals that use the two-bolt cleat system are commonly called SPD (Shimano Pedalling Dynamics), after the primary brand for this system. Clipless MTB pedals let you connect your shoes to them, for greater power and control. Although they are traditionally off-road pedals, there are many types of shoe style available so are popular for leisure and commuter riding. They are easier to use and to walk in than road clipless shoes.
To use clipless MTB pedals, you will need a pair of shoes that take two-bolt cleats. You will also need to attach the right type of cleats for your pedals to the shoes. Cleats are included with pedals.
Increased efficiency
Stay planted to the bike over very rough terrain
Durable, with great mud shedding qualities
Specific shoes are essential
Being attached to the bike takes some adjustment time
Dabbing in corners is not as instant
Types of MTB clipless pedal
There are essentially three styles of mountain bike clipless pedals: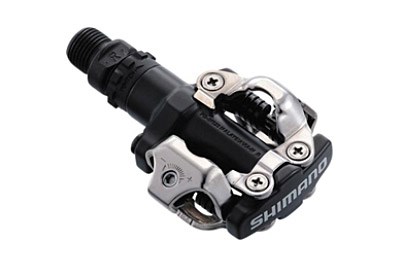 Small lightweight traditional SPD type pedal with no platform other than the clipless mechanism. Suits race style cross country shoes with a stiff sole.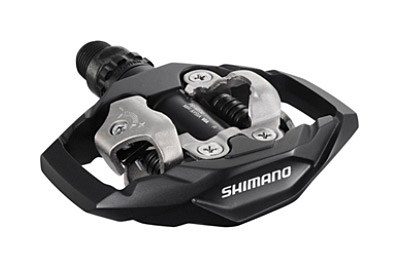 Trail type, with a medium sized cage around the pedal. Protects the mechanism against rock strikes and gives a small platform area for the foot if the mechanism is missed.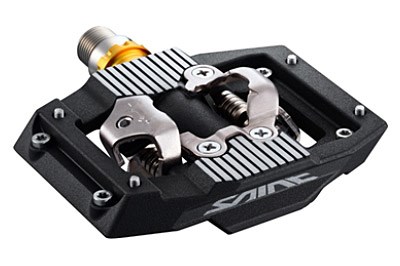 Larger downhill type with a large platform, aids clipping in and provides a good base if you do not clip in first time. Often with replaceable pins for added grip.
Two-bolt cleat/pedal compatibility table
Most clipless mountain bike pedals are Shimano SPD, or are compatible with them, such as Ritchey and Wellgo. Yet, there are several brands that make pedals and cleats that are only compatible within that brand, such as Crank Bros, MKS, Time Atac and Look Quartz.
Pedal →
Cleat ↓
Shimano SPD
Ritchey
Wellgo
RSP/Raleigh
One23
BBB
Genetic
Outland
Crank Bros
Time Atac
MKS
Mavic
Look Quartz
Speedplay Frog
Shimano SPD
✓
✓
✓
✓
✓
✓
✓
✓
Ritchey
✓
✓
✓
✓
✓
✓
✓
✓
Wellgo
✓
✓
✓
✓
✓
✓
✓
✓
RSP/Raleigh
✓
✓
✓
✓
✓
✓
✓
✓
One23
✓
✓
✓
✓
✓
✓
✓
✓
BBB
✓
✓
✓
✓
✓
✓
✓
✓
Genetic
✓
✓
✓
✓
✓
✓
✓
✓
Outland
✓
✓
✓
✓
✓
✓
✓
✓
Crank Bros
✓
Time Atac
✓
✓
✓
MKS
✓
✓
✓
Mavic
✓
✓
✓
Look Quartz
✓
Speedplay/Frog
✓
Popular Clipless MTB Pedals