Order Before 19th December for Christmas Delivery
With so many different types of mountain bike to choose from finding the best MTB for you can be confusing. To make buying a mountain bike easier, this guide will show you what to look for, so you can find your perfect new off-road ride.
When choosing a new mountain bike, the first thing to understand is the differences between them. There are two basic types of mountain bike, hardtail and full suspension. These can then be split into four disciplines: cross-country, trail, enduro and downhill. We're going to look at the pros and cons of each to help you choose the right mountain bike for you.
Hardtail or full suspension bike?
Hardtails are the simplest and most affordable of the two basic types of mountain bike. They have a suspension fork up front to smooth out the bumps on the trail, but the rear wheel is attached securely to the frame. A hardtail will be lighter than an equivalently priced full suspension bike.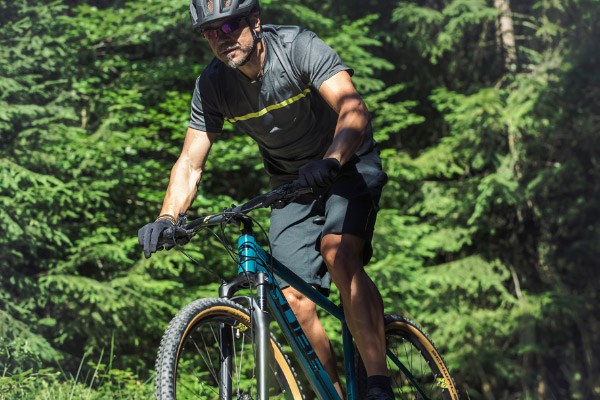 Hardtail
MTBs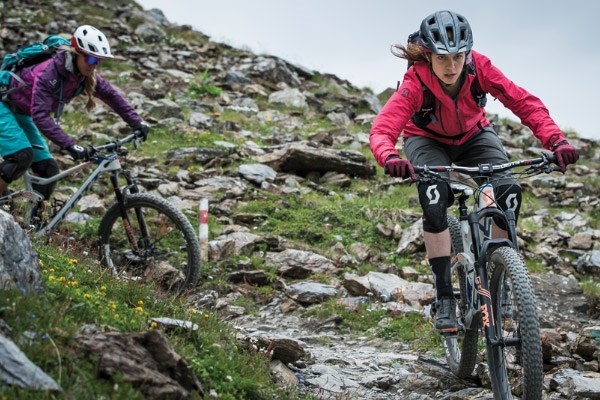 Full-suspension
MTBs
As well as a fork, full suspension or full sus mountain bikes have a rear shock which offers suspension to the rear wheel as well as the front. This makes these bikes smoother and faster over the roots and rocks. The main advantage of a full suspension bike is that it will feel less skittish when the going gets rough. This gives you more confidence and control on bumpy trails.
MTB disciplines: cross country, trail, enduro & downhill
The four main mountain bike disciplines reflect the different types of terrain that you can ride. The bikes in each discipline are mainly defined by the amount of suspension travel they have. Travel is the amount that the wheel moves when the suspension compresses. Generally speaking, a bike with less suspension travel will be lighter and will be easier to ride on smoother terrain. A bike with more travel will allow you to ride rougher, more challenging terrain but will be heavier.
While bike weight is closely associated with these different disciplines, it is worth remembering that price point also plays a major role. While hardtails are generally lighter than full sus MTBs and XC bikes are lighter than enduro bikes, an entry level xc hardtail may actually weigh more than a high-end full sus trail or enduro bike. This is because the components fitted to higher-end bikes tend to weigh much less than the ones fitted to more affordable bikes. Frames also tend to get lighter as you move up through the price points.
Cross country bikes
The cross country or XC mountain bike category includes recreational hardtail mountain bikes as well as lightweight full suspension and hardtail XC race bikes. These bikes have a fork that offers up to 100mm of suspension travel and are designed to be efficient on the climbs while also being capable on relatively smooth off-road descents. Cross country bikes have lower profile tyres than other mountain bikes. This means that they are quicker on smooth terrain, so are good for general cycling on gravel tracks and cycle paths as well as singletrack trails.
XC bikes have a wide range of gears to get you up steep hills and most are fitted with hydraulic disc brakes for confident speed control on the descents. Compared to the other disciplines these bikes offer a more traditional MTB riding position with narrower bars and longer stems. This makes them efficient on smoother terrain, but they can feel a bit sketchy when the going gets rough.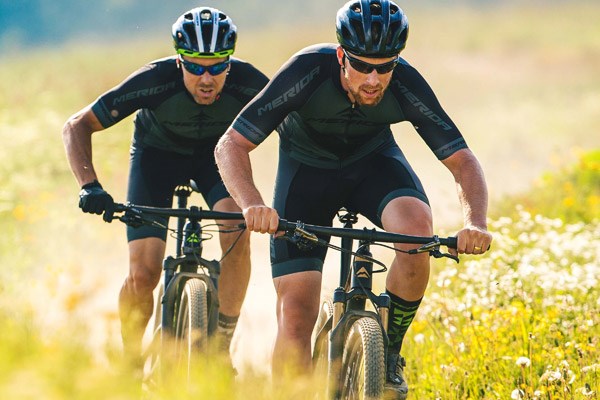 Trail bikes
Trail bikes are the most popular type of bike with MTB enthusiasts. These hardtail and full suspension bikes have between 110mm and 150mm of suspension travel. This makes them perfect for trail centre riding. Modern trail bikes are made to be fast and confident on the fun descents and flowing singletrack trails that characterise modern mountain biking. As well as offering a confident ride on the downhill sections. These bikes are lightweight and efficient, so that the climbs aren't too much of a chore.
A hardtail trail bike is a great way to get into the sport of mountain biking and will help you to learn the essential MTB skills. When compared to a similarly priced full sus, hardtails are lighter weight and will have a better component spec.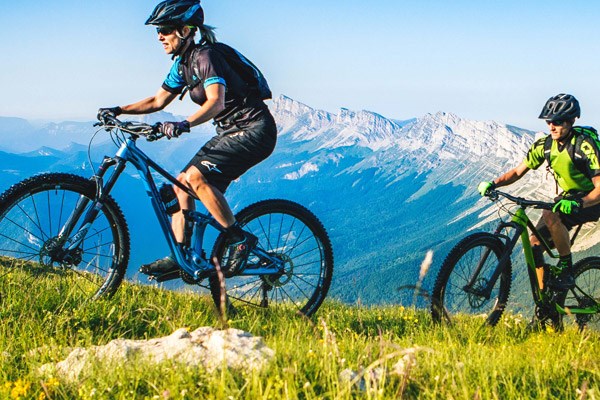 Full sus trail bikes are much smoother on rough terrain which will encourage you to take on more challenging terrain and help you to take your riding to the next level.
Trail bikes have a more relaxed geometry than XC bikes with slacker head tube angles and longer top tubes. This gives you a more confident ride when the going gets rough. Wide handlebars and short stems give you more control on challenging terrain.
Most trail bikes have dropper posts which allow you to lower your saddle easily, so that your body position isn't compromised when riding steep descents. As with cross country bikes, steep seat tube angles give you a good seated riding position for the climbs. One-by drivetrains with wide range cassettes give you plenty of gears for the climbs while clutch mechs make sure the chain stays in place on rough trails.
Enduro bikes
Like trail bikes, enduro bikes are built for all-day-long riding, but the emphasis is skewed much more towards descending. With around 160mm to 180mm of suspension travel these bikes are capable of riding the very steepest and roughest descents. Of course, you can ride mellower trails on an enduro bike but they may feel sluggish if the gradient isn't steep enough. It's when the going gets tough that enduro bikes come into their own.
Tried and tested at the races enduro mountain bikes are at the cutting edge of modern MTB design. These bikes have even more relaxed geometry than trail bikes with slacker head angles. As well as offering more travel the forks tend to have wider tubes and the shocks often have piggy-back reservoirs and coil springs.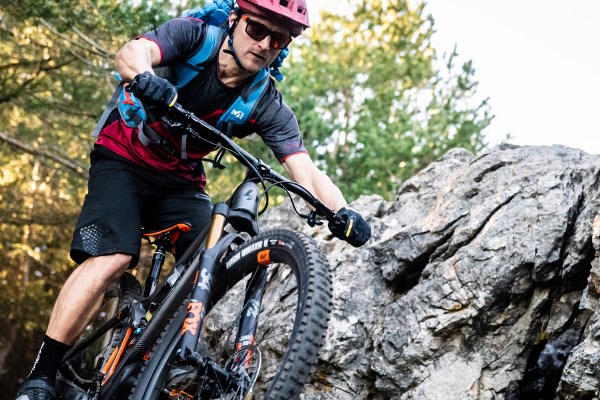 This helps the bikes handle rougher terrain and longer descents without the performance dropping off. The brakes are more powerful on an enduro bike to deal with the steeper gradients, but the rest of the spec is similar to what you'll find on a trail bike.
While you can ride an enduro bike uphill and down all day long, trail bikes are quicker climbers and are more fun to ride on most trail centre tracks. An enduro bike is a good choice if you spend most of your time pushing your limits on the most challenging trails or want to test yourself at an enduro race. For most riders though a trail bike will be ideal.
Downhill bikes
Downhill or DH bikes are the real specialists of the mountain bike world. As the name suggests these bikes are designed for riding the very steepest and roughest descents. You can't ride these bikes uphill, so you've either got to push the bike or get an uplift back to the top.
Downhill bikes have extreme geometry with around 200mm of suspension travel. Triple clamp forks are a DH bike signature and help make these bikes very stable when hard charging through challenging terrain. The wheels, tyres and components are stronger to cope with the extra forces generated when riding such challenging terrain. Everything is bigger on a downhill bike, except for the rear cassette which is missing the big climbing cogs that you find on other mountain bikes.
DH bikes are great for bike parks and downhill races, but you'll need another bike if you want to ride anywhere else.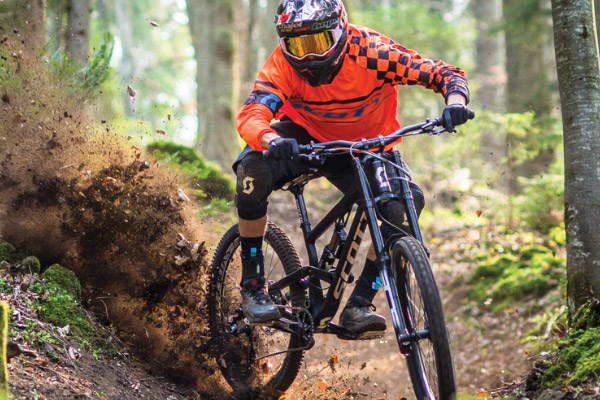 Wheel size: 27.5" or 29er?
Wheel size is a hotly debated topic in the mountain bike community. A few years back 27.5" replaced 26" as the most popular wheel size. Now larger 29" wheels are becoming increasingly popular following their success at the races. Most cross-country racers use 29" wheels and many enduro and even downhill racers have had success on these bigger wheels. While there is no clear-cut answer to the question of which one will be better for you, there are some points to consider which will help your decision on whether to buy a bike with 29" or 27.5" wheels: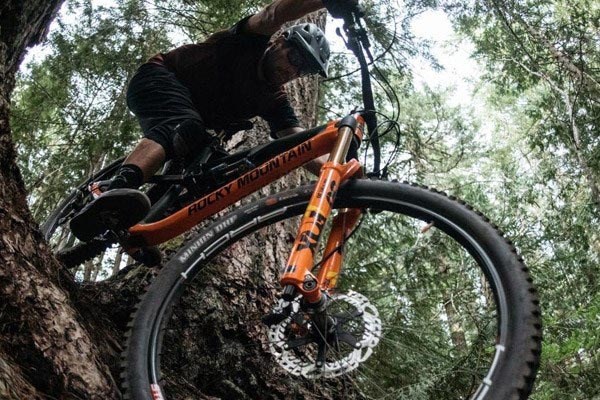 Pros

---

Larger 29" wheels roll more quickly when they get going.
Smaller 27.5" (& 26") wheels are easier to turn. This makes the bike easier to steer around tight corners.
Larger wheels suit taller people. Riders over 6 foot tend to get on really well with 29" wheeled bikes.
Cons

---

Big wheels are slower to accelerate.
Smaller riders prefer the fit of a smaller wheeled bike. 29" wheels can sometimes limit your ability to move around on the bike, especially on steep descents. 27.5" bikes are great for the average rider and 26" wheels are still fitted to some very small and junior size mountain bikes.
Of course, personal preference comes into it and many shorter racers love their 29ers. But if you are in doubt, and are under 6 foot tall a 27.5" wheeled bike will probably be your best choice.
Popular Hardtail Mountain Bikes
Popular Full-suspension Mountain Bikes