Be safe, be seen
If you are cycling after dark, legally you need front and rear lights. Don't let the dark stop you from riding all year round. As you'd expect, the more you spend on lights the brighter they tend to be. Measured in Lumens, brightness varies from small back-up LED flashers, to off-road lights with thousands of lumens. These high-end off-road lights will rival the brightness of car headlights.
Lights and the law: Between the hours of sunset and sunrise, you must have at least one white front light and one red rear light. A reflector at each end of your bike and on your pedals is required.
To be seen on lit roads a front light around 100 lumens is a good place to start, over 400 Lumen will be best if you ride fast. At the rear, anything from 20 to 100 lumens is plenty.
Lights will generally have multiple modes offering various level of output along with flash modes. Mounts are cycle specific so the lights stay in place and the light itself is weather resistant.
The lenses used help to focus and magnify the beam in different ways. Urban lights tend to give a wide beam so others can see you on the road. More expensive lights will give a central spot to see, along with a wider less intense spread to aid spacial awareness and to be seen.
For riding on darker roads, lanes and trails a front light with at least 800 lumens or above is best. If you ride fast and wish to keep the same speed then above 1000 lumen will allow you to see the extra distance needed.
We have a lights comparison tool along with both a Front lights guide to help you choose the right bike light for your needs.
Light sets
Matching pairs
Buying a light set usually works out cheaper than purchasing front and rear lights individually.
It's a great way to get a pair of backup lights or a more substantial pair of main lights. What's more, you'll have a coordinated look to your bike. Usually, the more powerful lights are only available individually but when you need a pair to be seen, especially for urban riding a set is a great choice.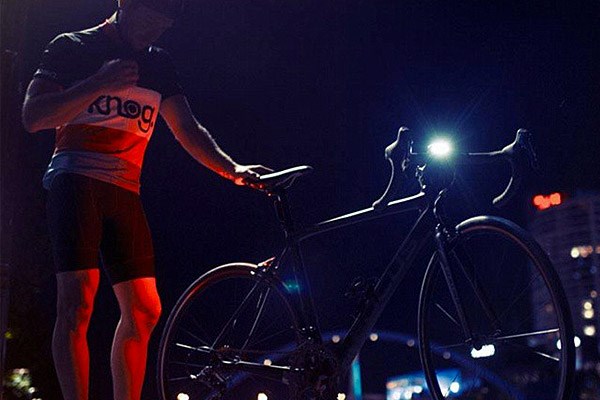 Commuter lights
What to look for
If you commute on lit-up city streets, you will need lights to be seen, rather than to see by.
A front light with around 100 lumens should be enough for city commuting, with around 30 lumens for the rear. If you live in a darker area add lumen to your front light requirements up to around 800 for a totally dark cycle path.
Even so, the more lights you have, the more visible you will be to traffic so ideally, you should have more than one light at each end with one flashing, at different heights. For instance, attach the main light to your seatpost and have a backup light on the rear of your helmet/backpack.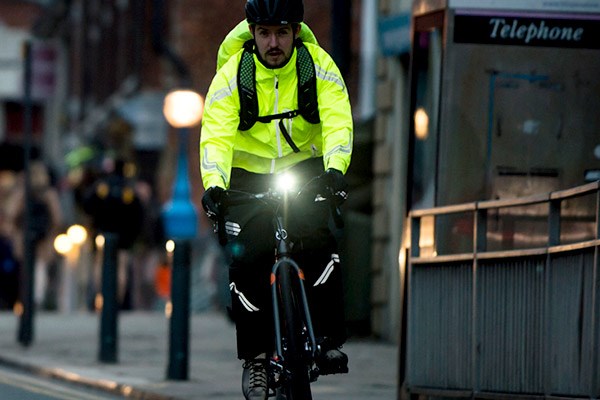 Off-road lights
Ultimate illumination
If you're a mountain biker and want to venture onto the trails after dark, you won't have any street lighting to guide you.
That's when super-powerful front lamps with rechargeable batteries come into their own. Lighter weight units have the battery built into the light body, while the longest lasting and most powerful lights have a separate battery unit attached to your bike, in a bottle cage mount, for instance.
One light on the bars and one attached to the helmet work best. lights in this category tend to have thousands of Lumens. At this High-end the battery technology has vastly improved usage and charging time over cheaper lights. The mounts are designed to cope with the rigours of mountain biking, with lenses that optimise the magnification and spread for trail riding.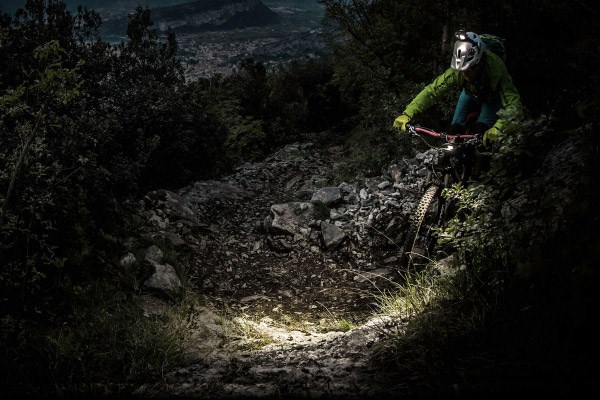 Batteries and charging
Power your lights
There are two main power sources for your lights: ordinary batteries such as AA which need replacing when they run out, or those with a rechargeable battery built in.
Rechargeable lights used to be far more expensive, but there are now many cost-effective and compact units available which recharge from your computer with a USB cable. This makes them a brilliant option for commuters, who can charge them at their office desk during the day.
There are other ways to charge your lights. Dynamo hubs store charge from your rotating wheel. They do require a new wheel to be built but need no power source other than your own legs. Modern dynamo hubs have very minimal drag and are the perfect choice for long distance touring a bikepacking. There are even a few solar power lights for totally carbon neutral cycling!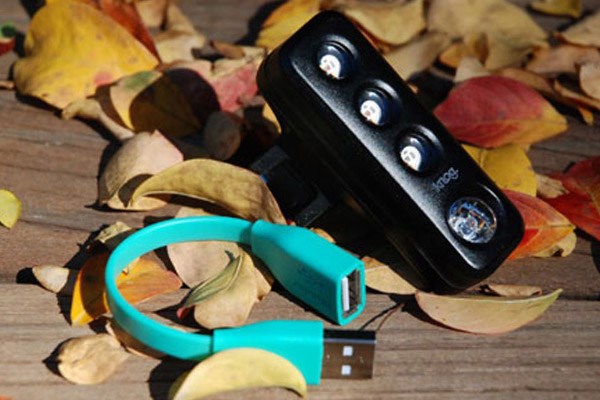 Reflective clothing
Think high-vis
Finally, your lights are not the only way to make sure you can be seen at night. If you are a road rider, consider some high-vis clothing and accessories.
You don't need to deck yourself out head to foot in dayglo yellow as most cycling jackets and trousers will have some subtle reflective areas built in. Alternatively, consider some high-vis accessories, like a rucksack cover or ankle bands.

Click here for our Buyers Guide to the Best Reflective & Hi Vis Cycling Jackets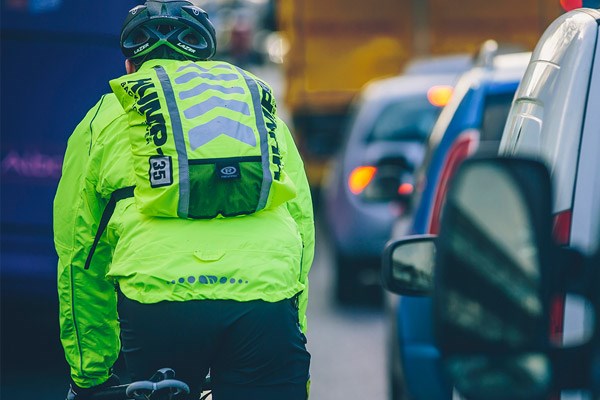 Bike Lights: FAQ
As the calendar turns to September and summer slides away, us cyclists need to strap lights on to keep riding.
Bike lights are a necessity if you're going to ride through to spring, but what should you look for when buying some?
If you're riding on public roads, what are the legalities on bicycle lights? We've taken some frequently asked questions about bike lights and given you a concise answer to each.
Click here to read our Bike Light FAQ guide.