Go ahead and jump
If you like the thrill of launching yourself off high things and landing smoothly at the bottom, then a jump bike is for you (and it's likely you were a cat in a former life).
Jump bikes blend the simplicity and smaller frames of BMXs with the rough ground capabilities of mountain bikes. This makes them light and agile but sturdy enough to withstand abuse from stresses on the frame. Jump bikes come with front suspension with short travel, 24-26" wheels, single speed gearing and bombproof components.
Jump bike geometry
Small but mighty
In general, jump bikes are small and burly hardtails with tough components that can take the abuse of jumping ramps, skate parks, urban walls, ledges and concrete blocks.
Jump bikes typically have suspension forks with short travel (between 80-130mm) depending on the rider's style. These forks are similar to mountain bike forks but are generally stronger with thicker legs.
Riders that do more urban or skate park riding often like shorter travel forks, while riders who like to 'huck' and do huge gap jumps often like longer travel forks, but it really doesn't matter as long as they are strong.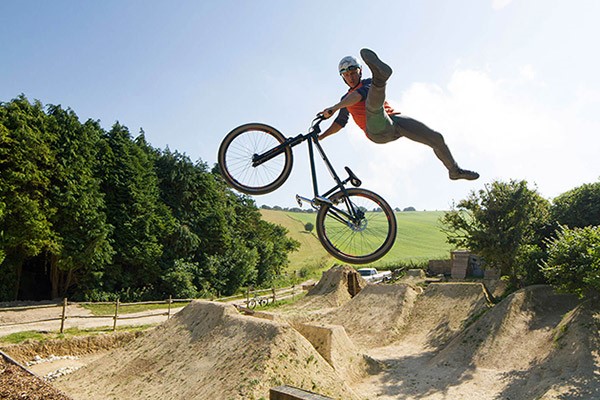 Wheels are on the small side, being 24″ or 26″, making them light and agile. As jump bikes aren't required to stop quickly, they don't need powerful brakes, so expect to see lighter disc brakes or v-brakes. Similarly, gears aren't often needed, so there's no risk of damaging derailleurs or shifters. Usually frames are specially designed to run either with or without gears and you can't switch between the two.