What is a mountain bike?
A mountain bike, also known as an MTB, is designed for riding off-road tracks and trails. An upright riding position and stable handling characteristics offer control on uneven ground, chunky tyres offer grip on loose surfaces while suspension helps to smooth out the bumps on the trail.
Mountain bikes have a wider range of gears than road bikes which makes climbing steep hills easier, while braking tends to be more powerful than on their road cousins. Wheels vary in size from 26" up to 29" and tyre widths from 1.8" up to 3.5", which we will go into in more detail later.
MTB's are great bikes to learn to ride on and many people use mountain bikes on the road. While MTBs are safe to ride on the roads their chunky tyres make them slower than road or hybrid bikes on smooth tarmac.
Are there different types of mountain bikes?
There are many different types of mountain bike but they can be easily split in to two main categories: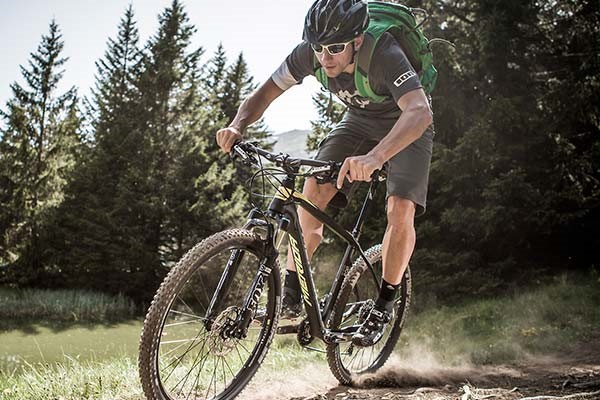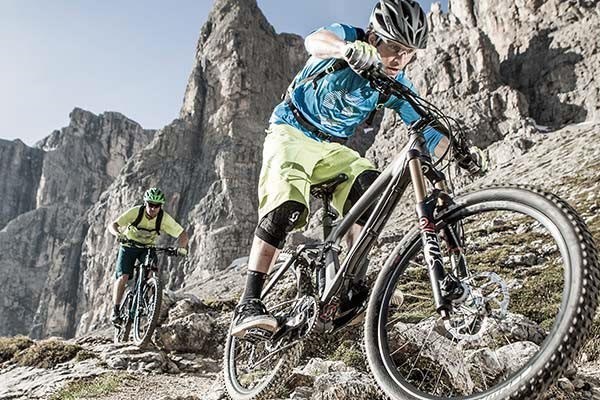 What mountain bike should I buy?
The best mountain bike for you will depend very much on the type of riding you intend to do;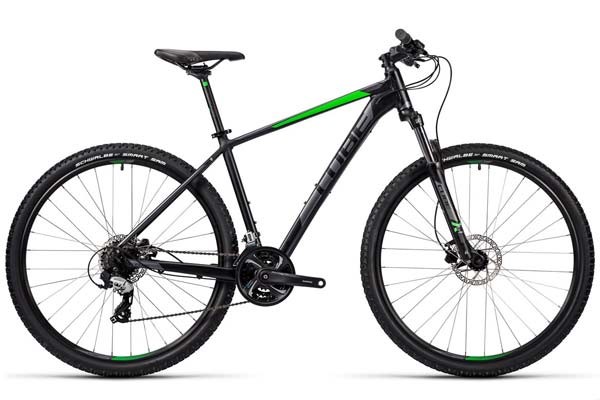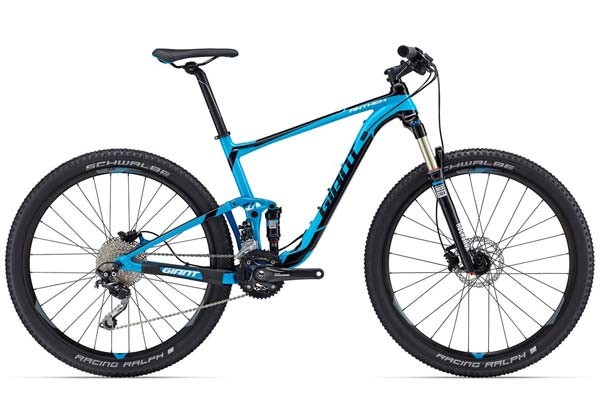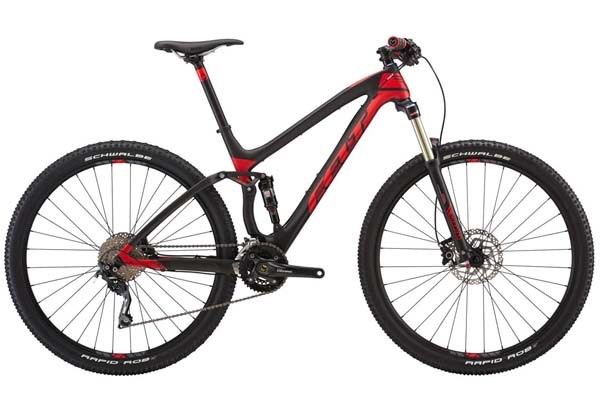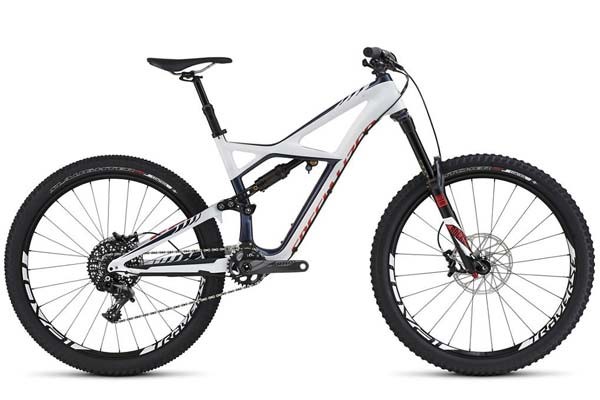 Should I buy a full suspension or a hardtail mountain bike?
This will very much depend on your budget as well as the type of riding you intend to do. Generally speaking, a hardtail will have a much better fork and component spec than a similarly priced full suspension bike. Hardtails are a great starting point if you are just getting into mountain biking and are ideal for learning new skills.
What to look out for
Hardtail frames
Aluminium frames are found on most hardtails and are lightweight stiff and robust, although they can be unforgiving on bumpy surfaces.
Carbon fibre composites are lighter still, as well as being stiff and robust, but they are also engineered to offer a more forgiving ride when the going gets rough.
Steel frames are more forgiving than aluminium but are significantly heavier.
Full suspension frames
While carbon frames are lighter than aluminium, with suspension on the rear as well as the front, the difference in ride characteristics between the frame materials is not particularly significant.
Suspension designs offer different advantages and disadvantages; multi pivot bikes - from manufacturers like Specialized and Giant - offer more refined ride characteristics but single pivot bikes – from brands including Orange – offer improved reliability in British riding conditions.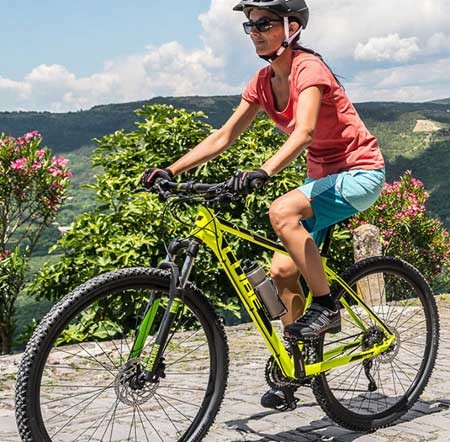 Suspension
There are major differences between suspension forks and shocks across the various price points.
The suspension on entry level bikes is often quite harsh as well as being heavy, but as you move up the price points the suspension becomes progressively plusher and lighter weight. Suspension adjustments are also an important consideration.
Rebound damping adjustment
This is the speed at which the suspension recovers after hitting a bump and is important to get right, too slow and the suspension will not be able to react to the next hit, too fast and you will be bucked around like a bouncing ball.
The amount of rebound required will vary considerably depending on spring rate and rider weight so rebound damping adjustment is a minimum requirement for anyone serious about their off-roading.
Compression damping & lockout
This effects the forks ability to compress as it hits a bump, and when you are pedalling. Lockout is a form of compression damping and will allow you to ride more efficiently on smooth terrain.
As you move up the price points shocks and forks offer different modes of compression damping - between lockout and fully open – that can be adjusted on-the-fly. These will help you to ride more efficiently while climbing and traversing while still enabling you to take full advantage of the suspension on the descents.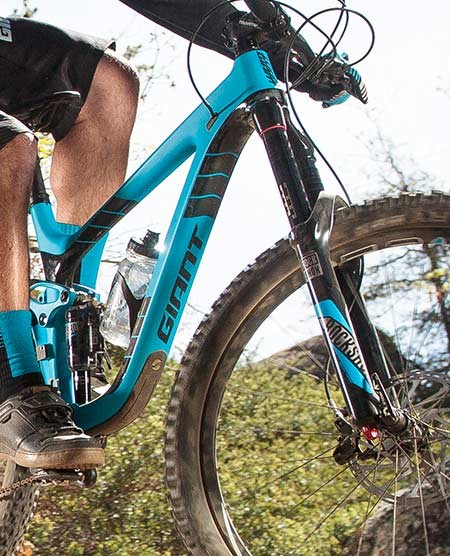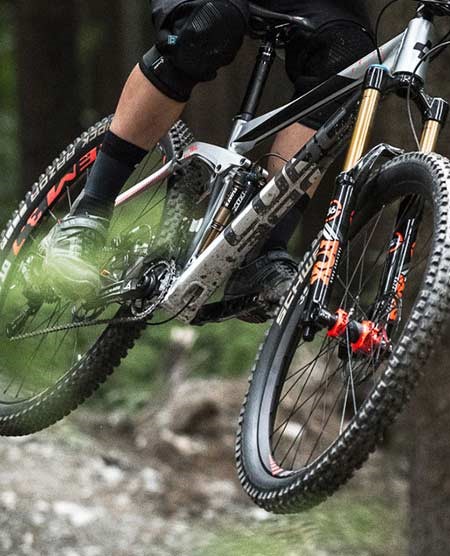 What is the best wheel size?
The different mountain bike wheel sizes offer different advantages and disadvantages.
Wheel sizes
26" wheels – The traditional MTB wheel size is strong, nimble and quick to accelerate but is significantly slower rolling over bumpy terrain. These are now only found on bikes built for smaller riders as well as specialist freestyle and gravity bikes.

27.5" (650b) wheels – This is the most common wheel size as it offers the ideal balance between rapid rolling performance and nimble handling characteristics.
29" wheels – the fastest rolling wheel size over rough terrain 29ers are ideal for hardtails and are popular with MTB racers. They are less nimble than the other wheel sizes and smaller riders may find them a bit cumbersome so they best suited to taller riders. Some brands offer hardtails with 29" wheels only in larger sizes.
Fat bikes – with 4" wide tyres fat bikes were first developed for riding in snow but are fun to ride on normal trail too. The very high tyre volume allows fat bikes to 'float' over rough terrain.
Plus sized wheels – 27.5+ and 29+ wheels feature wider 3" tyres bridging the gap between regular MTBs and fat bikes. The extra rubber increases the overall diameter of the wheel making them faster rolling over rough terrain while also offering increased grip and float. Note: Plus sized wheels cannot be used on the majority of regular MTBs as there is insufficient tyre clearance.
Drivetrain
Most mountain bikes offer a wide range of gears. Traditionally mountain bikes had triple chainrings on the front in order to offer such comprehensive gearing. However, as the number and size of the cogs on the rear cassette has increased, the need for multiple chainrings up front has diminished. Most high end MTBs now only feature a single ring up front, and as this trend continues, we will see more affordable bikes follow suit. The advantage of a single chainring up front is that is simplifies shifting, reduces weight and offers improved chain security when riding over rough terrain.
Brakes
Disc brakes are now common on most mountain bikes. While traditional rim brakes are powerful enough in dry conditions, stopping power drops off significantly when it gets wet and muddy. Disc brakes offer consistent stopping power in all conditions. Hydraulic disc brakes provide improved modulation, which means it is easier to apply just the right amount of braking power.
Most Popular Mountain Bikes