Whether you've been inspired by the Tour de France, or you're craving a new type of adventure, cycling is both an excellent way to experience the great outdoors, save money on travel expenses and keep in shape at the same time.
Choosing your first road bike can lead you down a rabbit hole full of different materials, complicated componentry, and a world of optional extras leaving you unsure of where to start. We're here to guide you through your first road bike purchase.
As you might expect, the more you spend on a bike the better it will perform. Although you might see professionals like Chris Froome and Geraint Thomas riding on custom bikes costing in excess of £10,000, prices for good quality and enjoyable road bikes can start at around £300 to £400.
As bike prices rise to around £1,000 - £1,500, you can expect to ride away on a bike with excellent performance and reliability. From around £1,500 onwards, spending more money will start to have diminishing returns as you reach racing and professional grade bikes, using exotic and expensive materials to chase every gram of weight saving possible.
Just like a car, you can buy road bikes which are sporty and feel racy or bikes which are more comfortable and relaxed. If you've heard about sportive, endurance or racing bike geometry, this is what they're eluding to, and at a first glance, it isn't immediately obvious which geometry style a bike may have.
---
Sportive/Endurance Geometry
A 'sportive' is a mass-participation (but non-competitive) road riding event in which a group of cyclists ride a long distance over a set course. A road bike with a 'sportive' geometry is designed to be easier and more relaxed to ride, focussing more on keeping you comfortable in the saddle rather than chasing outright speed.
A sportive bike (grey) can typically be identified by having a shorter top tube and a taller head tube, placing the rider in a more upright and comfortable riding position.
Because they're more comfortable, sportive/endurance road bikes are well suited to novice road cyclists who would prefer a gentle introduction to road cycling, or for cyclists who don't need a hardcore racing bike.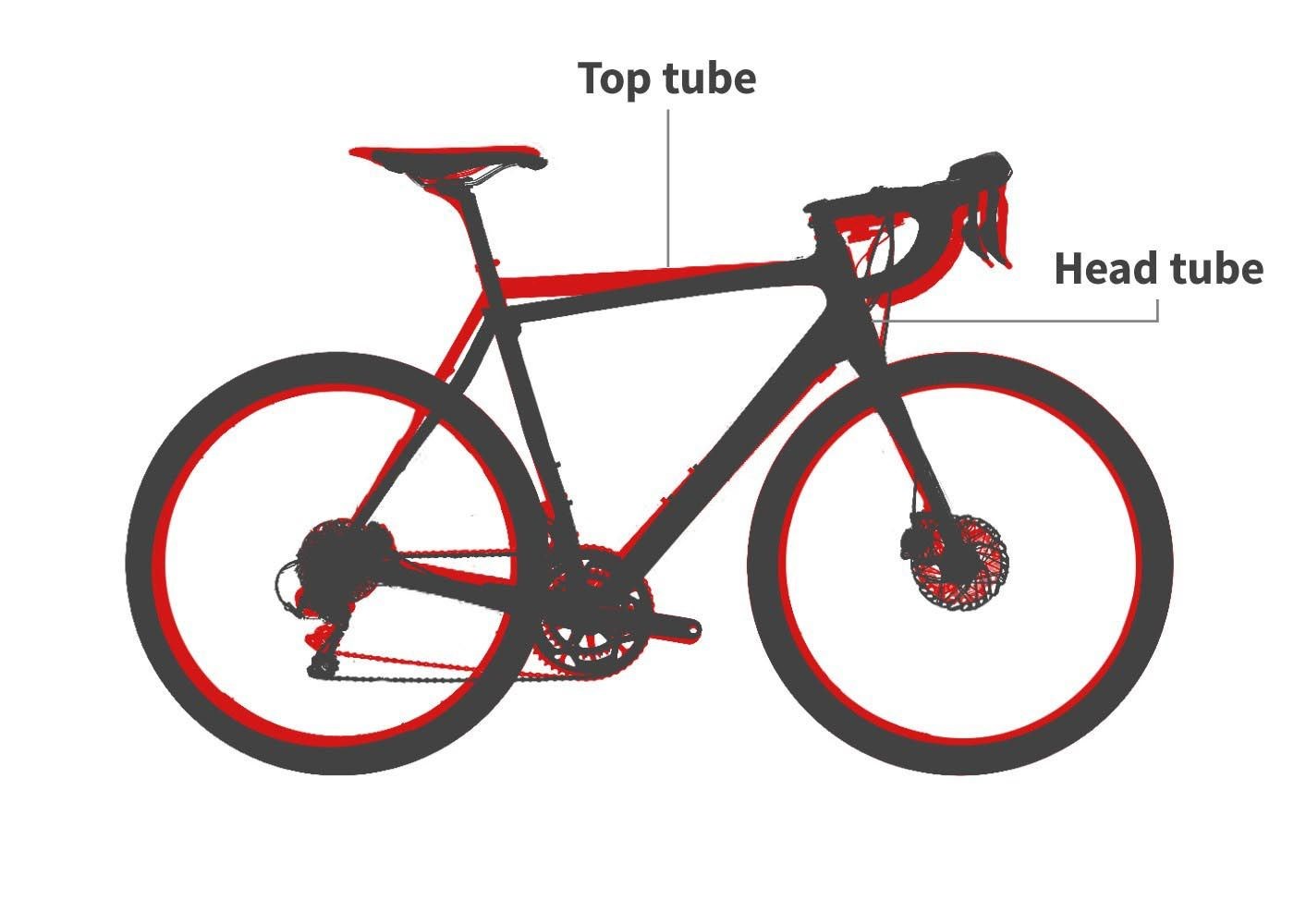 ---
Race Geometry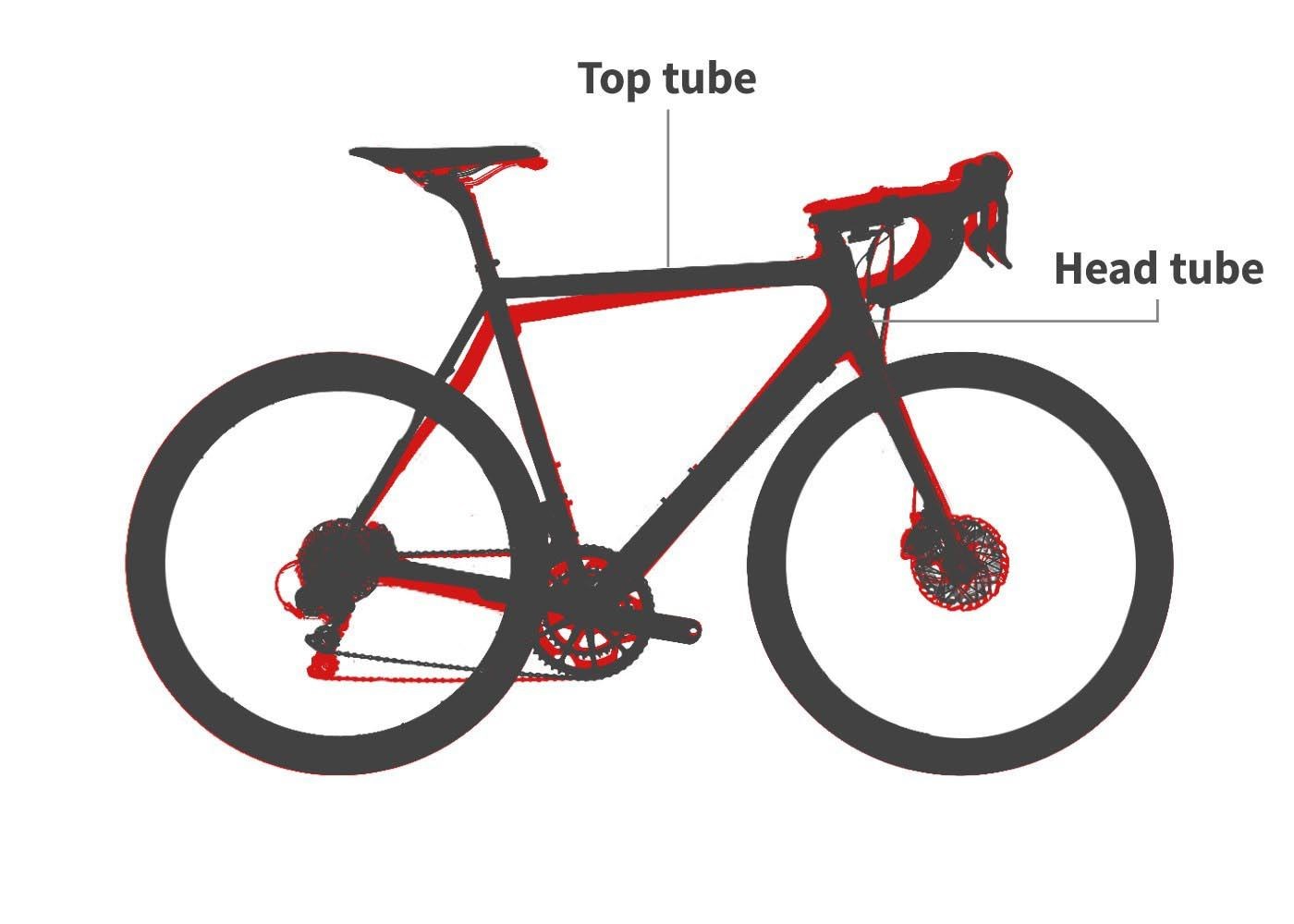 Road-racing bikes are designed to get the best speed and performance out of the rider. By placing the rider in a more aggressive position, they will accelerate faster, turn sharper and reach higher top speeds than their equivalent sportive road bikes.
Identifying a road racing bike by eye (grey), you will typically notice a longer & flatter top tube, with a shorter head tube. These put the rider in a lower and more aggressive position for the best handling and better aerodynamic profile, at the expense of some ride comfort.
Although road racing bikes are typically less popular with beginner cyclists, they're ideal if you're aiming to take up cycling competitively or as part of a triathlon.
---
Frame Materials
Aside from a few exceptions, most road bikes are made using one of four materials for the frame & fork: Steel, Aluminium alloy, Carbon fibre, and Titanium. Whilst your budget may largely dictate whether you can opt for the more expensive materials like Carbon & Titanium, there are benefits and drawback to each which may influence your decision when buying a bike.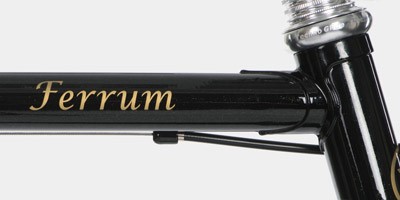 Steel
Highly robust and strong
Relatively inexpensive
More comfortable than alloy/carbon
Heavy
Bare metal corrosion
Less 'sporty' aesthetic style
Historically, steel has been the material of choice for most bicycles since their invention 200 years ago. Steel is very strong, relatively inexpensive, and is said to be a more comfortable material for a bike frame, as it naturally absorbs road vibrations very well.
The most limiting factor of steel is its weight. Steel is quite a heavy material, and bikes made from steel will generally have less agile handling & slower acceleration than lighter equivalents. If you're going to use your bike daily, perhaps taking it on the train as part of your commute, be aware that any scratches which go down to the metal will need to be treated to prevent the steel from rusting.
---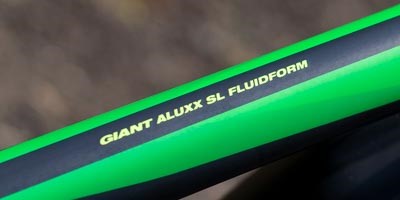 Aluminium alloy
Reasonably lightweight
Inexpensive
Can be moulded into complex shapes
Not as strong as Steel
Heavier than Carbon fibre
Doesn't readily absorb road vibrations
Lighter than steel, cheaper and more resilient than carbon fibre. Aluminium alloys have largely taken over as the material of choice for road bike frames. It's not too expensive to produce and can be easily moulded into very complicated shapes, allowing frame designers to build in very specific qualities like stiffness and weight saving. Aluminium also doesn't rust through like Steel, so if you scratch the paint there's no need to get it treated.
For most riders, Aluminium is a perfect blend of price and performance and only starts to become a hindrance when chasing the ultimate performance from your bike. Aluminium is less susceptible to knocks and accidents than Carbon fibre, however, it isn't as light and typically isn't as stiff as Carbon fibre either.
---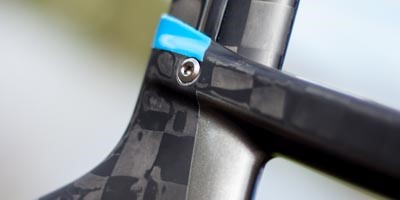 Carbon
Very lightweight
Very stiff & strong (in a given direction)
Can be moulded into highly complex shapes
Expensive
Poor resistance to accident damage
Sensitive to tolerances/torque settings
In recent years, Carbon fibre has emerged as something of a wonder material for road bikes. Its low weight, high strength and high stiffness are exactly the kind of qualities you need from a road bike frame. Because of the way Carbon frames are produced, the shape and thickness of the frame tubes can be very intricately designed, which gives the engineers incredibly tight control over things like the strength and stiffness in certain areas.
Carbon frames can even allow more stiffness in one direction than another, for example, they can be very stiff left-to-right to give excellent handling, while at the same time deliberately allowing the frame to flex up & down a small amount to make for a more comfortable ride.
As you would expect, one of carbon's major drawbacks is the cost. Carbon fibre frames are far more intricate to produce, making them significantly more expensive. Carbon fibre also doesn't do very well if you apply forces to it which it isn't designed for, so an accident which would put a dent in a steel or Aluminium frame might spell the end for a Carbon frame. If you prefer to do your own bike maintenance, you also have to be aware of how sensitive Carbon is to torque settings and tolerances.
---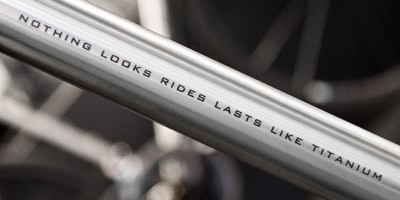 Titanium
Lighter than Aluminium
Stronger than Steel
Excellent vibration absorption
Highly expensive
Limited availability
Difficult to produce complex shapes
Titanium could be considered the best of both if you were to combine the features of Steel and Aluminium. It's very light, stiff, and strong, and has great road vibration absorption properties. Titanium is also highly corrosion resistant, so much so that many frame builders will leave it unpainted to show off its lustrous whitish-silver shine.
While Titanium itself is not a hugely expensive metal, it is incredibly difficult to process the raw material into a bike frame, making Titanium bikes are very expensive; framesets alone typically cost £1,500 and up. Because it is difficult to process, Titanium frame tubes are typically more uniform in shape, which prevents the engineers from designing in complex features like selective stiffness.
The quality and performance of a bike is also reflected in the groupset and components that are attached to it. When choosing a bike, you can use the groupset as an easy point of comparison between different models so that you can be sure you're getting good value for money.
A groupset is a collection of parts which make up the drivetrain of a bike, and includes the following:
Chainset or crankset (including the crank arms and chain rings)
Bike manufacturers regularly produce bike ranges which use the same frame & fork, then separate them into different performance & price brackets by giving them different groupsets. For example, the Cannondale Synapse Claris is fitted with a 16 speed Shimano Claris groupset, whereas the Cannondale Synapse Sora has Shimano's 18 speed Sora groupset. Both bikes use the same Aluminium frame & Carbon fibre fork.
For road bikes, there are three major manufacturers (Shimano, SRAM and Campagnolo) who each produce a range of groupsets at different price points. As the groupset quality goes up, the shifting performance and reliability is improved through more precise manufacturing, with more expensive and exotic materials (like carbon & titanium) helping to bring the weight down.
The number of gears on the cassette also increases with the component quality. the number of gears on the cassette starts at 7 speed for the entry level groupsets, up to a maximum of 11 speed, with medium to high-end bikes having 22 gears in total.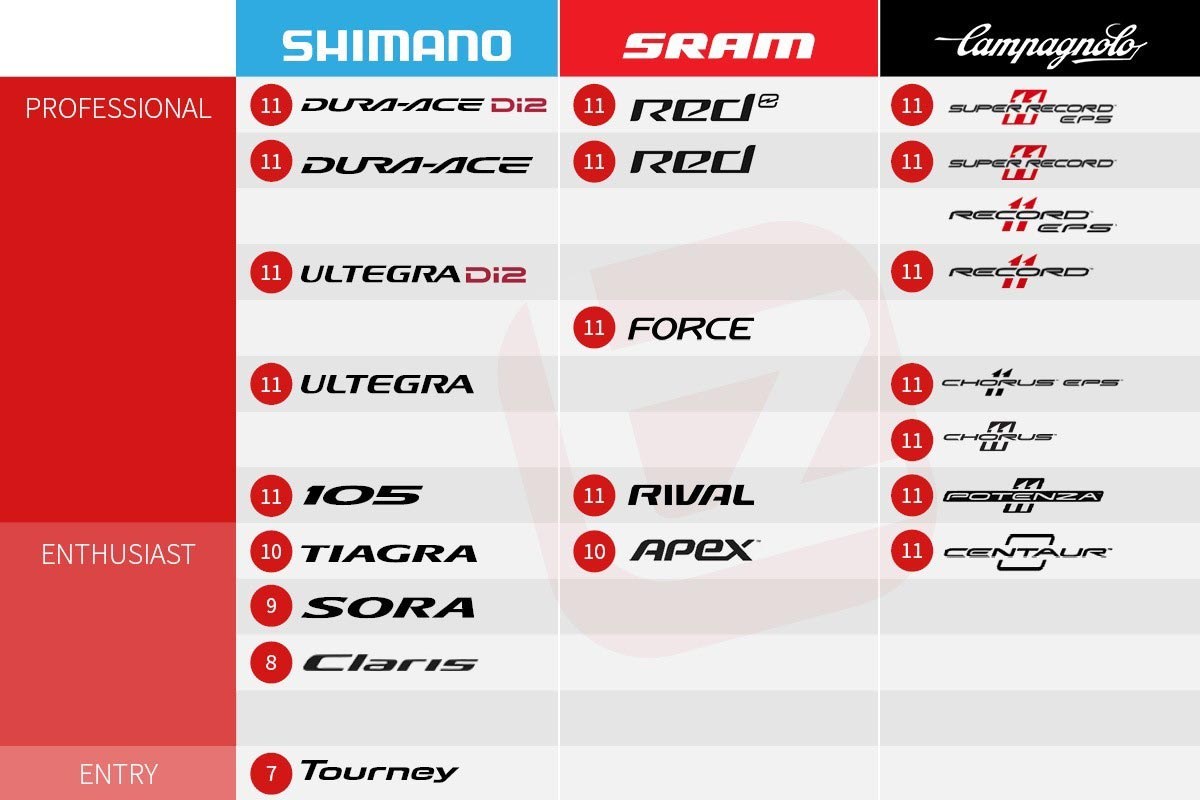 This table will give you an idea of how each manufacturer's groupset compares to one another. If you would like to know more about bicycle groupsets, take a look at our comprehensive groupset guide.
Depending on how and when you plan to use your new bike, you can choose to outfit it with extras such as mudguards, lights, and computers. A good quality bike lock will help keep your new pride and joy safe, and we highly recommend having a helmet to go with it as well. These are some of the extras & accessories you might want to consider with your new bike.
---
Pedals
Your feet are the point through which all your effort to drive the bike is focussed, which is why many road cyclists have their own preferred pedal and shoe combination. For that reason, most new road bikes are supplied without pedals. However, Tredz will always ship your new bike with a free set of pedals, so you can start riding immediately.
Bicycle pedals come in a variety of sizes and styles, and there are several different systems when it comes to clipless pedals and compatibility (you can read more about each individual type in our pedals guide). In short, bike pedals can be narrowed down to one of two types – clipless and flat (aka platform) pedals.
Flat pedals
Flat pedals don't require you the clip into them, and can be used with virtually any normal shoe. Although they're not quite as stable as clipless pedals, they're much easier to use for beginners.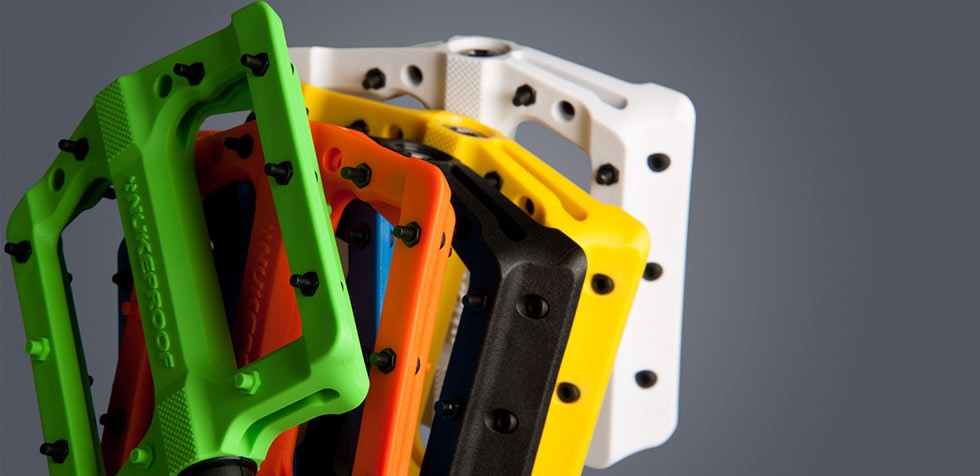 Clipless pedals
Clipless pedals are, confusingly, pedals which you actually clip into. They require the use of a specially designed cycling shoe with an adjustable cleat on the underside. This cleat locks into the pedal when you ride, keeping your feet secure and allowing you to both push and pull on the pedals, for more power. By adjusting the position of the cleat, you can find the most comfortable angle for your foot on the pedals too.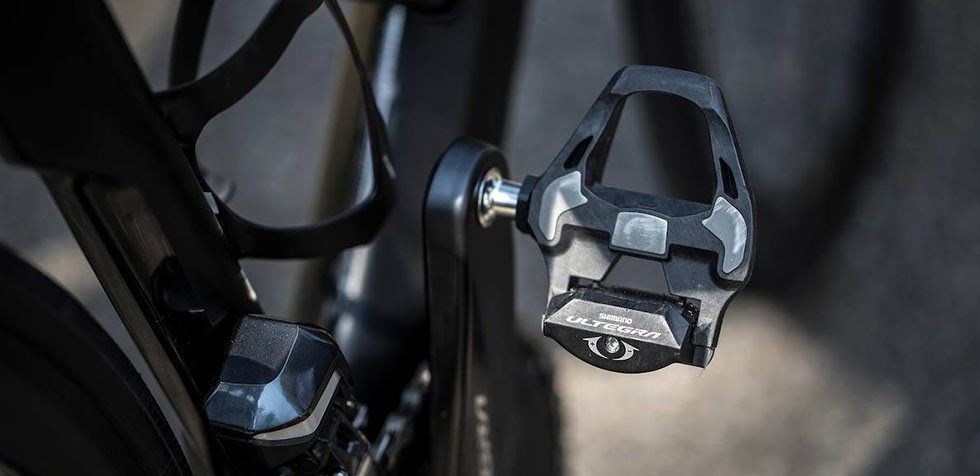 One of the most important safety accessories you can buy, a good cycling helmet could be a lifesaving investment. Road cycling helmets are typically lighter than mountain bike or urban cycling helmets, with greater ventilation to help keep your head cool on long, high-intensity rides.
Most inexpensive bike helmets use an EPS (Expanded Polystyrene) foam for impact absorption, while expensive helmets use clever technology like MIPS (Multi-directional Impact Protection System) to keep you safe in high-energy crashes.
Getting a helmet with a good fit is very important too, which is why high-quality helmets use clever fitting systems with a high amount of adjustability, making sure your lid stays exactly where you put it. You can read more about different types of bike helmet, including how to measure your head for size, in our bike helmet guide.
Outfitting your bike with mudguards is the perfect way to make it a more versatile and capable commuter. A good set of mudguards not only keeps the spray away from your face and eyes, it keeps your back clean and prevents a lot of road grime from splashing up onto your shiny new bike.
Whilst it's true that a lot of performance road bikes don't have the standard mounting points to fit mudguards, brands like SKS have developed the RaceBlade Pro mudguards, which are designed to fit road bikes without mounting points.
In 2016 alone, UK police recorded more than 90,000 bike thefts. That's more than one theft every 6 minutes. Fortunately, good quality and secure bike locks are readily available and easy to identify, thanks to the Sold Secure rating system.
The Sold Secure lock rating system awards bike locks Gold, Silver and Bronze ratings, depending on how tough they are to break open with a variety of different methods used by criminals. Gold Secure rated locks are the toughest to break open, followed by the Silver Secure and Bronze Secure locks.
Bike locks come in a variety of styles too, each with their own pros and cons:
D Locks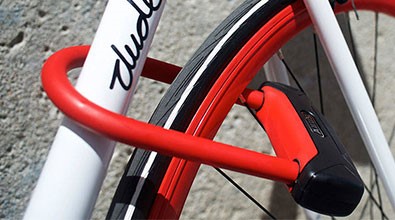 D-Locks are the most popular type of bike lock. They use a solid bar which loops around your bike, and something secure like a railing or fence.
Chain Locks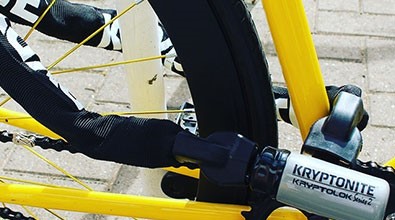 Chain locks are quite heavy duty, and are flexible and offer excellent security. They're typically best used for securing your bike at home (in conjunction with a ground anchor), where you can leave them behind.
Cable Locks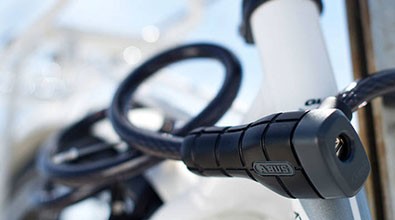 Cable locks are lightweight, compact, and easy to carry. They don't offer as much security as chain or D locks, so should only be used in low crime areas, or when you can maintain a line of sight on your bike.
Combination Locks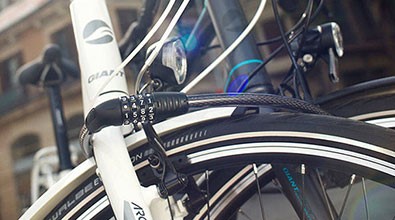 Combination locks use a multi-digit code instead of a key, making them easy to use while out and about. They're highly vulnerable to being code cracked, so rarely achieve high security ratings.
For a more detailed comparison of the different bike lock types available, including some bike locking tips, take a look at our bike lock guide.
Clothing designed specifically for cycling is designed to fit your body while you're leaning forwards in the saddle, and plays host to a whole range of benefits. These are just a few of them:
Lightweight and fitted materials which are flexible, yet don't hang loose and flap around in the wind
Highly wicking fabrics to draw sweat away from your skin
Waterproof & breathable membranes to keep you dry, inside and out
Antibacterial treatments to keep you feeling fresh
Ultraviolet protection to keep harmful rays away from your skin
Padded shorts, linings & gloves which keep you comfortable in the saddle over long rides
Not only that, it's important that you're comfortable and confident in your appearance while riding a bike as well – if you look great, you'll feel great, and you'll enjoy your ride all the more. Cycling-specific clothing comes in a huge range of men's, women's & children's styles to suit every taste. From retro themes and understated outfits, to brightly flamboyant & team kits, and everything in-between.
Commuting to work by bike is a thoroughly rewarding experience, but for most of us this will mean spending a good amount of time cycling in the dark. A good set of bike lights not only helps you to see where you're going on otherwise unlit streets at night, they make sure other road users can see where you are at the same time. Reflective clothing also ensures other road users can see where you are.
At the rear of your bike, a light with a broad surface area is the best way to make sure other road users can see where you are. At the front, a powerful light will shine further down the road to help you see where you're going, although if you're riding on well-lit streets, you don't have to use lights with a massive power output.
To help you decide, our bike light comparison tool lets you compare lights side-by-side on a matching stretch of road to see which lights offer the best performance. We've also put together a guide to some of the best reflective & hi-vis cycling jackets where you can see just what a difference they make.
Unless you're looking to start training or monitoring your performance, a cycling computer may not be high on your list of necessary accessories. Nevertheless, they're the best way to keep tabs on how fast & how far you're travelling, and can be used to time different routes on your commute, so you can find the quickest way to get to & from work.
First road bike suggestions
Here you'll find a our most popular road bikes at a range of price points