Order Before 19th December for Christmas Delivery
Why is layering important?
We all like to complain about the weather. Over the course of a single day we can experience all four seasons, so it can be difficult to choose what to wear when cycling. A proper system of layering will make cold weather riding much more comfortable and enjoyable rather than something to be endured.
The idea isn't to just pile on thick clothing. Apart from slowing you down and making you feel like the Stay Puft Marshmallow Man, you'll also overheat, sweat then feel the damp pinch of wind chill. Thin layers of technical fabrics that trap heat before dissipating, while letting your skin breathe is the holy grail.
We'll show you how layer for winter riding so you enjoy riding all year round.
How to layer for winter cycling
Upper body – The three layers
When layering your upper body you just need to remember the three layers; base layer, mid layer and outer shell.
Of course, you won't always need to wear three layers. There are many variables to consider. In Autumn and Spring you can get away with a base layer and outer shell. In summer you can get away with just a base layer.
We do recommend you have at least one type of each layer in your wardrobe ready so you're prepared for anything.
Lower body layering - Tights
With your upper body sorted, now we should look to your legs. Exposing your legs, especially your knees to low temperatures can be painful during and long after your ride. On cool days you can simply wear a pair of lycra or baggy shorts paired with leg warmers (more info below).
However, when the temperatures drop below 10 degrees Celsius, reach for a pair of tights with brushed fleece linings. They'll keep your muscles supported and supple during cold weather.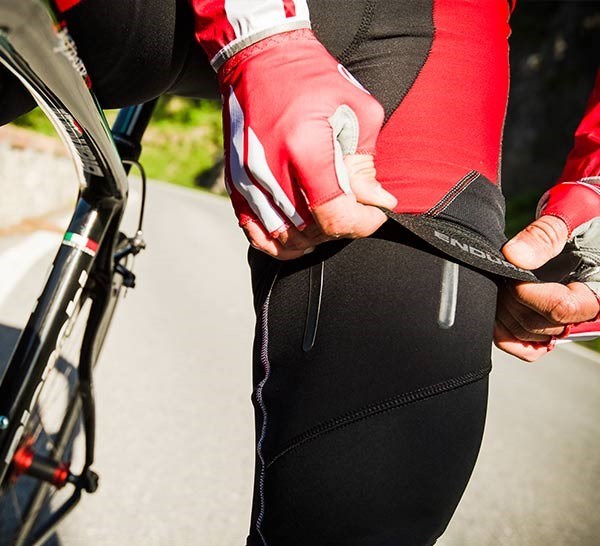 Don't forget your extremities
How to ride in changeable weather?
The UK is known for unsettled weather. The temperature may differ at the start, middle and end of your ride and it's not uncommon to experience four seasons in one ride.
It's worth testing different layering systems to see which is best for you, and have a look at the weather report for a better idea on the day. Lastly, pay attention to your own internal thermometer. We all run at different temperatures so what may work for someone else may not be best for you.
Base layers, jerseys, jackets and tights all come in different thicknesses for different conditions. Upper body clothing often comes in short or long sleeve versions for differing levels of protection.
Summary
Riding in cold weather doesn't need to be miserable. With a simple layering system you can stay warm and dry through whatever the Great British weather can throw at you.