The best road bikes under £1,500 take advantage of the recent advances in carbon fibre composite frame design for a lighter, stiffer and more refined ride.
The use of carbon fibre has many advantages over traditional materials like aluminium. As well as allowing a lighter frame build, carbon fibre composites can be manipulated to provide stiffness and compliance in specific areas. Lateral and torsional stiffness means that the frame doesn't flex when pedalling so that more power is transmitted to the wheels. Vertical compliance, in areas like the seat stays, absorbs vibrations from uneven road surfaces leading to a more comfortable ride. Carbon forks also add performance by offering precise steering characteristics as well as improving vibration damping. Carbon bladed forks feature an alloy steerer tube while full carbon forks are 100% carbon composite.
Modern road bikes are designed for specific purposes and can be quite different in character. Some are designed for riding on uneven road surfaces and are more compliant, while others are stiffer with a more aggressive riding position for speed and efficiency. Aero features enable the bike to slice through the air more efficiently. An endurance or sportive bike will have a slightly shorter top tube and longer head tube when compared to a road race bike. This gives a slightly more upright riding position than the tuck position you get on an aero race bike.
Choosing the best road bikes under £1,500 we considered the quality of the frame and fork, as well as component spec and the overall ride characteristics. All the road bikes in this review feature carbon fibre composite frames which, at this price point, tends to outperform the components giving you plenty of scope for future upgrades.
Scott Addict 30 2019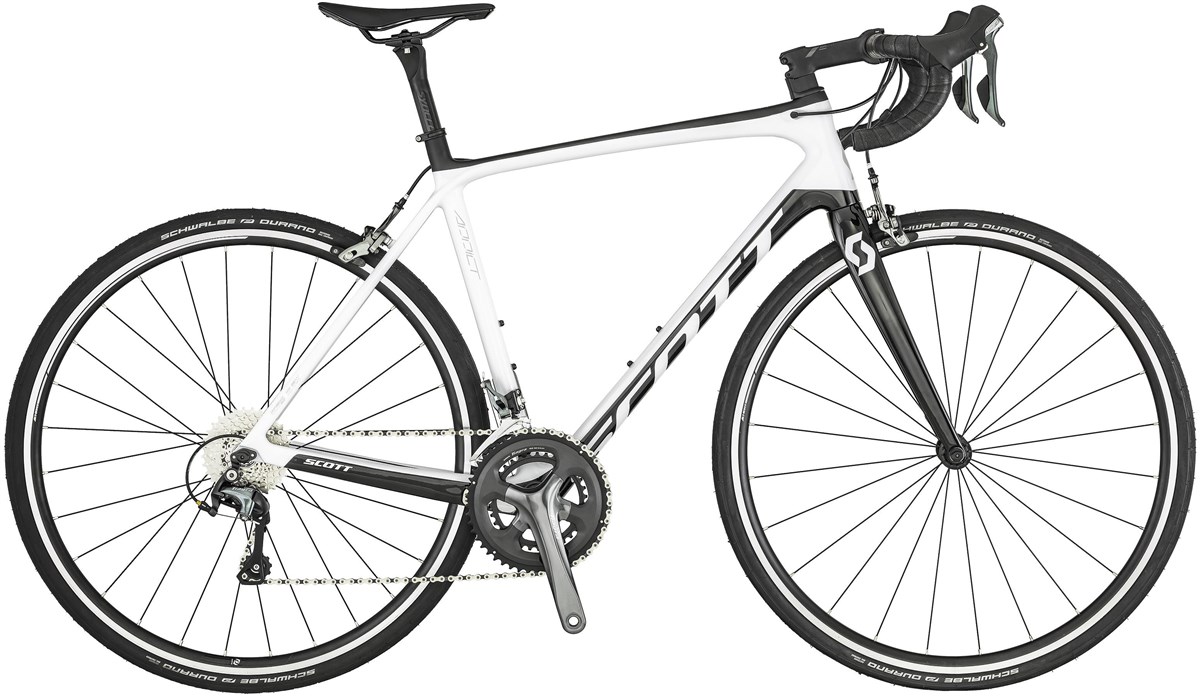 Frame Addict HMF Carbon
---
Fork Carbon
---
Drivetrain Shimano Tiagra 2x10 speed
---
Wheels Syncros Race, Formula hubs
---
Brakes Tektro calliper
---
Review
Built around a lightweight carbon fibre frame, the Scott Addict is built for those long days in the saddle. The endurance style geometry offers a more relaxed cycling position that is designed to reduce fatigue on long distance rides. This style of bike is perfect for those new to the sport as well as more experienced riders who like to clock up the miles on long road adventures on mixed terrain.
The HMF carbon frame is optimized to maximum strength while still offering the low weight that the Addict family is famed for. As well as being lightweight the Addict has compliance features built in for a smith ride. The oversized bottom bracket area gives you plenty of pedalling stiffness for a fast, efficient ride.
The Shimano Tiagra 10 speed drivetrain features a very wide range cassette and compact chainset, so you'll have plenty of gear options for the big hills.
The Addict is a versatile lightweight road bike platform and the 30 is ideal for long distance cycling.
Cube Attain GTC Pro 2019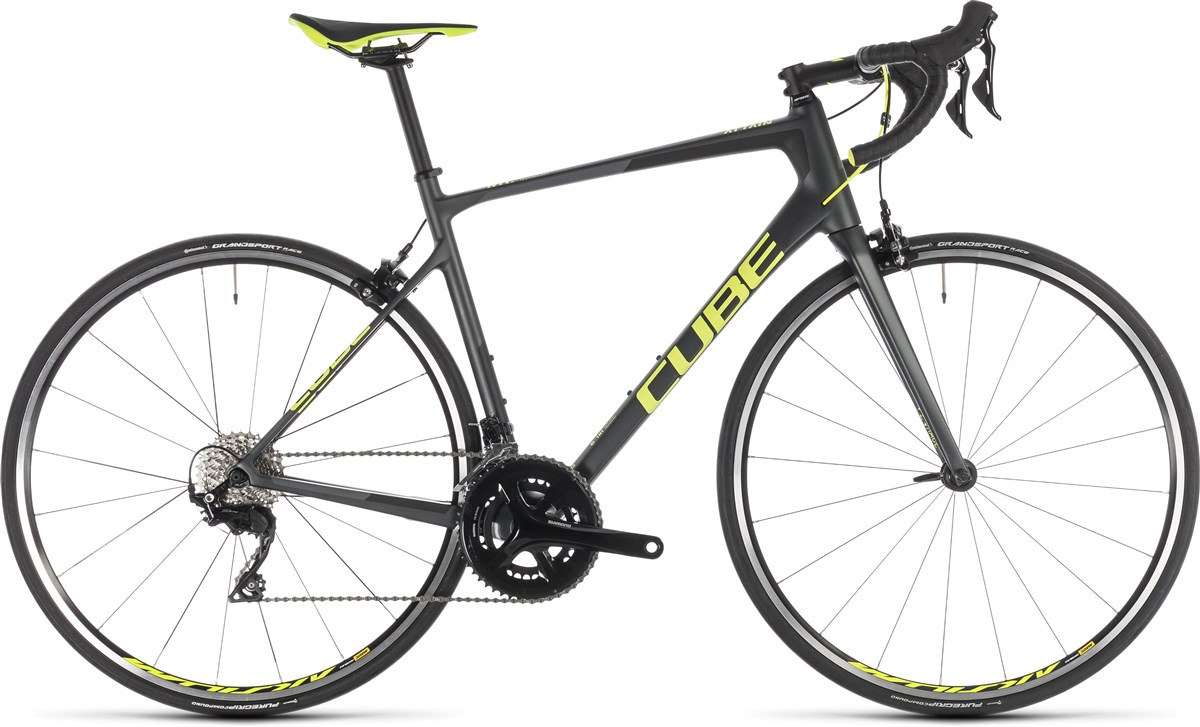 Frame GTC monocoque carbon
---
Fork Full carbon
---
Drivetrain Shimano 105 2x11 speed
---
Wheels Mavic Aksium
---
Brakes Shimano 105 calliper
---
Review
Designed for long fast rides the Cube Attain GTC is quick, efficient and comfortable as well as being lightweight. Cube may not have the same race pedigree of some of the bikes mentioned here but their performance should not be underestimated. Cube don't have a bike in the pro peloton but this this may be the reason why they can spec such a great bike at this price point.
The lightweight carbon fibre frame and full carbon fork provides great torsional stiffness combined with vertical compliance which reduces fatigue on long rides. Cube achieve this with a twin mould process which allows them to control wall thickness for compliance where you want it and stiffness where you need it.
It is the full Shimano 105 11 speed groupset that makes the spec on the Agree GTC stand out. Often manufacturers will mix components, spec'ing higher end components where they are most visible and lower ones where they are more hidden. This is not the case with Cube and the Attain even has 105 brakes. Mavic Aksium RS wheels are solid performers with a quality build, reliable running and weight comparable to others in this class.
This is a bike that will appeal to those who want endurance road characteristics and quality components at a very competitive price point.
High quality carbon frame with a component spec that is hard to beat at this price point.
Giant Defy Advanced 3 2019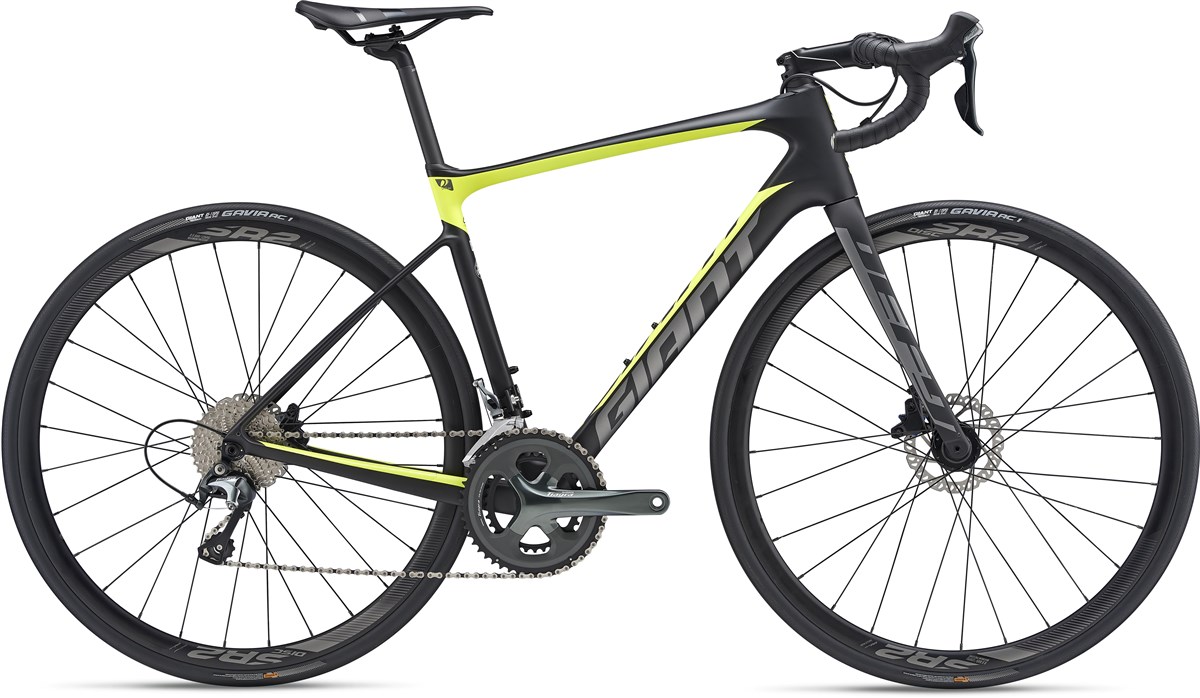 Frame Advanced-Grade carbon composite
---
Fork Advanced-Grade carbon composite
---
Drivetrain Shimano Tiagra 2x10 speed
---
Wheels Giant SR-2 Disc wheel set
---
Brakes Giant Conduct hydraulic disc
---
Review
Giant's popular endurance road bike, the Defy Advanced, offers an incredibly smooth ride and features hydraulic disc brakes as standard. The geometry of the Defy is ideal for long rides over challenging terrain and the impressive vertical compliance offered by the rear triangle and D-fuse seatpost helps to dissipate road vibrations. As well as making the ride much more comfortable this tends to reduce fatigue meaning that you can ride efficiently for longer.
Lateral stiffness isn't compromised by this extra compliance and the Defy Advanced accelerates quickly when you put the hammer down. The tapered steerer on the carbon fork adds stiffness and helps to provide precise steering characteristics.
Hydraulic disk brakes offer more stopping power than traditional calliper brakes and work reliably in all-weather conditions. The Giant Conduct hydraulic brake system uses conventional Sti levers making future groupset upgrades much simpler. Giant's S-R2 wheels are disc specific and use DT Swiss technology - they are strong and competitive weight wise at this price point.
An incredibly smooth endurance racer for pounding out the miles all-year-round.
Orbea Orca M30 2019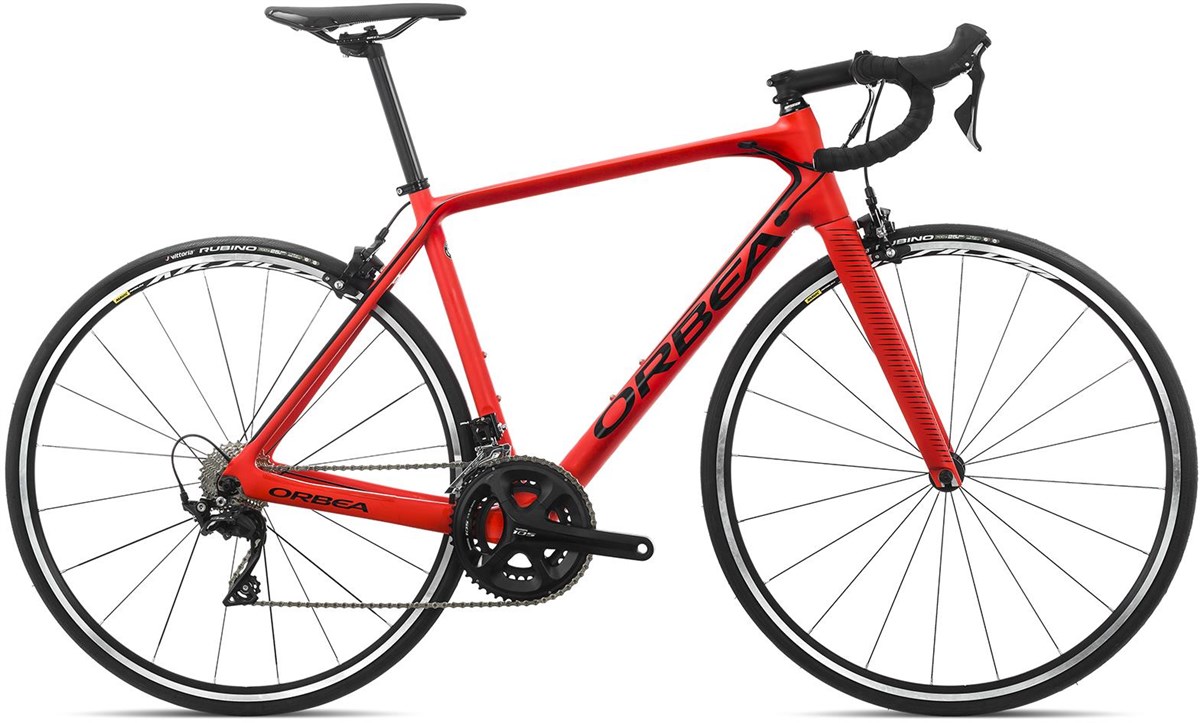 Frame Monocoque carbon
---
Fork Full carbon
---
Drivetrain Shimano 105 2x11 speed
---
Wheels Mavic Aksium
---
Brakes Shimano 105 rim brakes
---
>
Review
The Orca is a pure-bred road race bike with an impressive pedigree. Spanish cycling brand Orbea have been building bikes for nearly 100 years and the Orca is the latest in a long line of competitive road bikes that are raced at the very highest level.
The Orbea Orca M30 is built around an impressively stiff and lightweight carbon frame. Power transfer is immediate, and the bike is designed to transfer every watt of power directly to the road so that none of your effort is wasted.
A full carbon fork with tapered steerer is a real plus point in this price bracket. As well as offering a smooth ride with direct steering, the Orca OME carbon fork is shaped to improve the air flow around the front wheel for improved aero performance. The Shimano 105 groupset includes 105 brakes and a compact chainset, so you don't need to have the legs of a Pro racer to ride the Orca, but it will encourage you to push harder.
A no compromise race bike, the Orca is a pure speed machine.
Cannondale Synapse Carbon Disc Tiagra 2019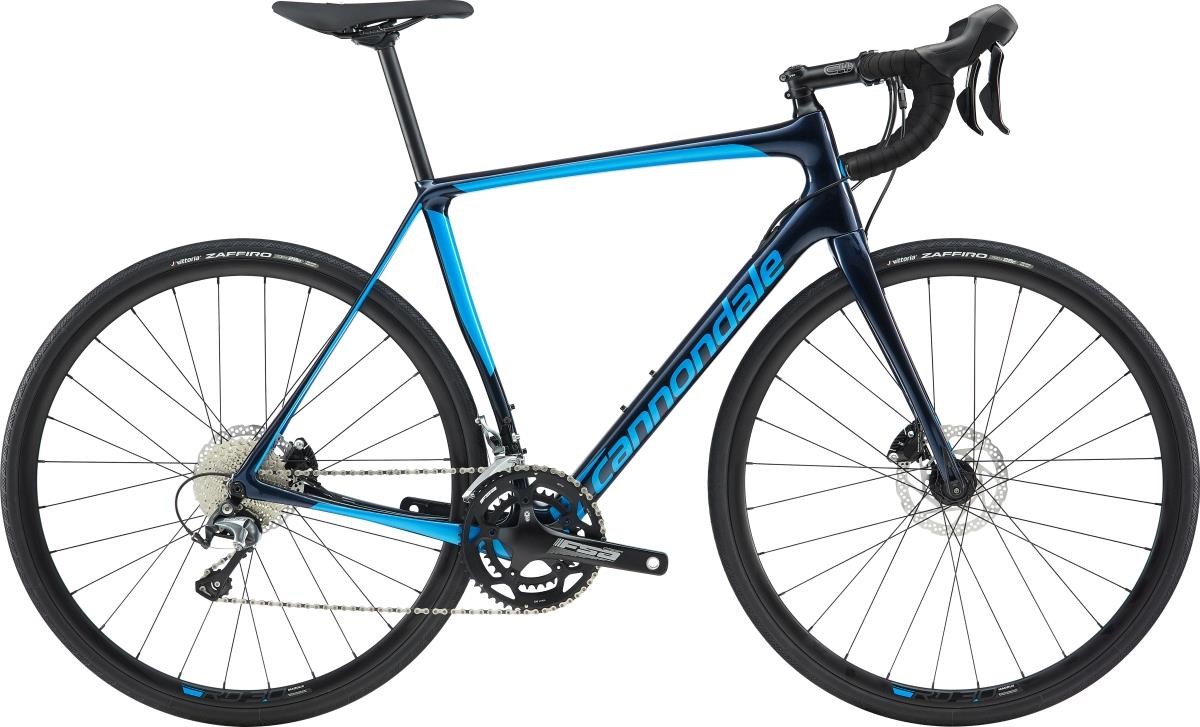 Frame BallisTec carbon
---
Fork Full BallisTec carbon
---
Drivetrain Shimano Tiagra 2x10 speed
---
Wheels RD rims, Formula hubs
---
Brakes Shimano Tiagra hydraulic disc
---
Review
With its perfect balance between raw power and all-day ride-ability, the Cannondale Synapse Carbon 6 offers endurance geometry with road-smoothing comfort in a lightweight package. Race-proven at the highest level the Synapse offers speed and efficiency while keeping you comfortable in the saddle.
Cannondale's BallisTec carbon offers all the usual composite frame benefits with improved impact resistance for long term dependability. The SAVE PLUS micro-suspension system features balanced compliance in the frame and fork which allows the wheels to track the ground over rough road surfaces including handling as well as comfort.
The Shimano Tiagra disc brakes give you powerful speed control in all weather conditions while the 2x10 speed drivetrain offers dependable shifting performance.
The Synapse Carbon Disc Tiagra 6 gives you world class frame performance with dependable components.