Sportives are to be long, all day events that involve cycling on varied terrain. When you're in the saddle for so long you'll want a bike that is comfortable as well as being quick and efficient to help you. We've handpicked 5 of the best sportive bikes under £1,000 that give you the performance you need without breaking the bank.
Sportive bikes are also known as endurance bikes. For long distance rides on mixed terrain these bikes are a better option than road race bikes as they are designed to be ridden all day over difficult terrain. Endurance bikes are also known as comfort race bikes. They are what the pros tend to ride on very challenging road race courses like the classic Paris-Roubaix.
To handle rough road surfaces like cobbles, sportive bikes have some flexibility (compliance) built into the frame to lessen the effect of road vibrations on the rider - making them more comfortable, reducing rider fatigue. The frame geometry tends to be tweaked too - longer head tube and relaxed head & seat angles - to provide a more comfortable upright riding position and stable handling. Compact chainsets and larger cassettes to make hill climbing easier are also the order of the day. Sportive bikes tend to be great all-rounders and usually have wider tyres (25c or 28c) than those traditionally found on road race bikes (23c).
Another option is a gravel bike. Built for riding on rough roads and tracks, gravel bikes are a little slower rolling but offer a comfortable riding position with wider 30c tyres as well as built in compliance features. With more low range gears these bikes will be easier to ride up steep hills, but will leave you with less high gears for the fastest sections of you ride.
The best sportive bikes are also great for training and fast commuting, and all these bikes qualify for the Cycle to Work Scheme which makes them even more affordable.
Giant Contend 1 2019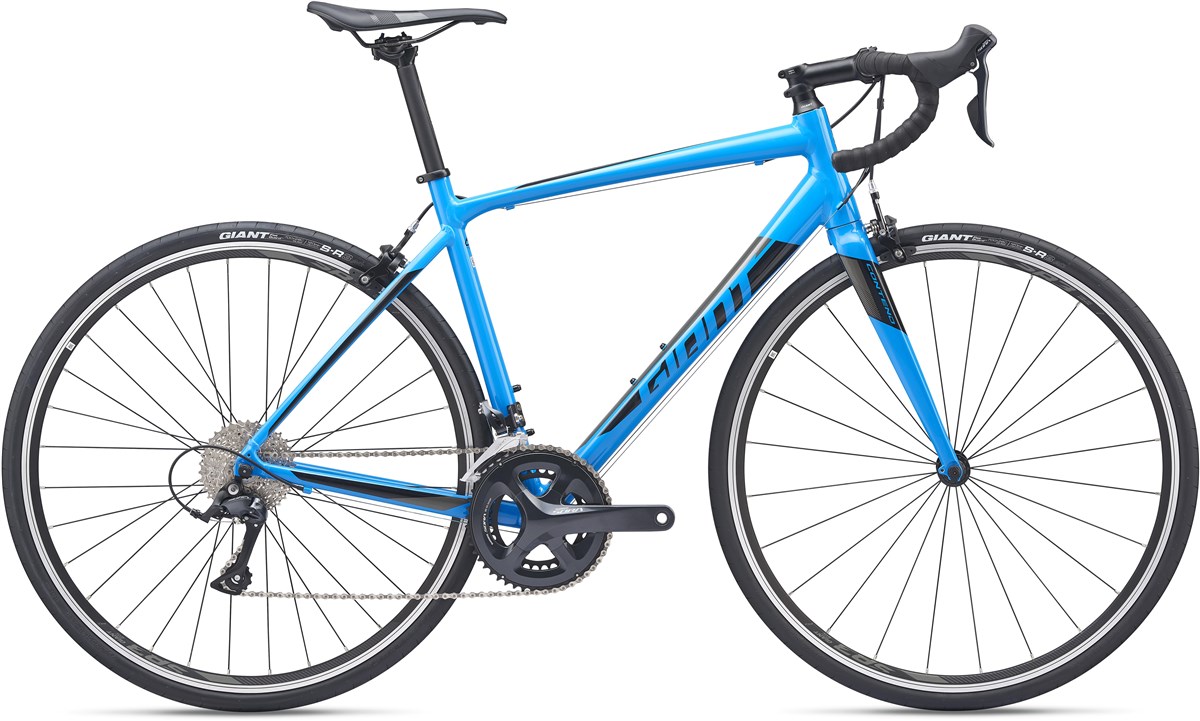 Frame ALUXX-Grade Aluminium
---
Fork Hybrid Composite, carbon bladed fork
---
Drivetrain Shimano Sora 2x9
---
Wheels Giant SR 3 Wheel Set
---
Brakes Tektro, calliper
---
Review
The Contend is an aluminium framed road bike that features a similar comfortable riding position to the Advanced race winning Giant Defy endurance bike that is so popular with sportive riders. The Contend does offer slightly nimbler handling characteristics thanks to the shorter wheelbase while maintaining comfort in the saddle.
Up front you get a carbon bladed fork that absorbs 'road buzz' for a more comfortable ride. The tapered seat tubes have also been tweaked and now dissipate more of the vibrations from uneven road surfaces.
The Shimano Sora 2x9 speed drivetrain with compact chainset has a good range of gears for tackling the hills on a Sportive. A great all-rounder the Giant Contend 1 is a great road bike for a long day in the saddle and won't hold you back on faster rides.
Offering a great entry in road cycling the Contend features similar geometry to the Defy Advanced.
Cannondale Synapse Sora 2019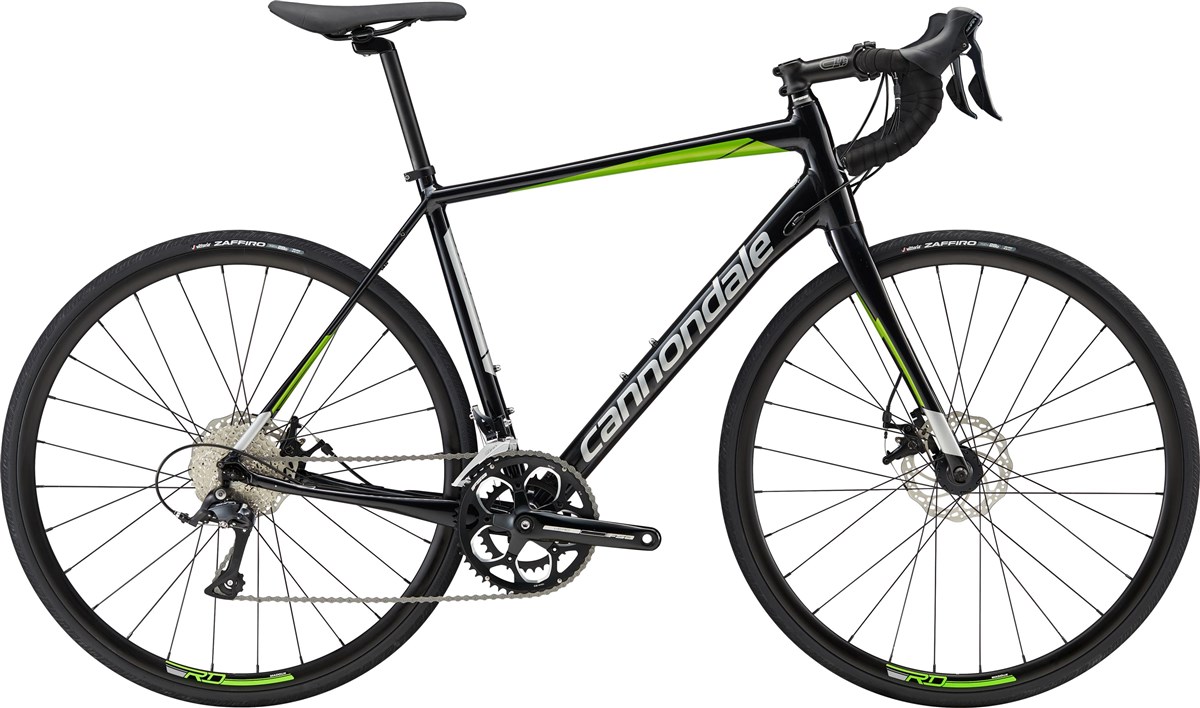 Frame SmartFormed C2 Alloy Frame
---
Fork SAVE Carbon bladed fork
---
Drivetrain Shimano Sora 2x9
---
Wheels RD 700c
---
Brakes Promax, mechanical disc
---
Review
Designed specifically for endurance riding the 6061-alloy frame uses Cannondale's Save Plus System to improve comfort. The chain and seat stays are flattened and internally butted. This allows vertical deflection to absorb road shock and vibration while remaining stiff laterally for efficient power transfer and confident cornering.
The carbon bladed fork also flexes fore and aft to match the rear, while remaining laterally stiff. As well as making the ride more comfortable this compliance also aids traction on uneven road surfaces improving grip when cornering.
The drivetrain is Shimano Sora 2x9 speed. The Compact chainset is combined with a wide range 11-34 cassette so you actually get a wider range of gears than many bikes with an 11-speed drivetrain, it's just that the gaps between each gear will be wider too. Disc brakes give you consistent stopping power in all-weather conditions.
Perfect for sportives, long rides and anyone wanting to ride fast in comfort, the high-quality frame of the Synapse Sora is worthy of future upgrades.
Super smooth ride from a quality frame.
Specialized Diverge E5 2019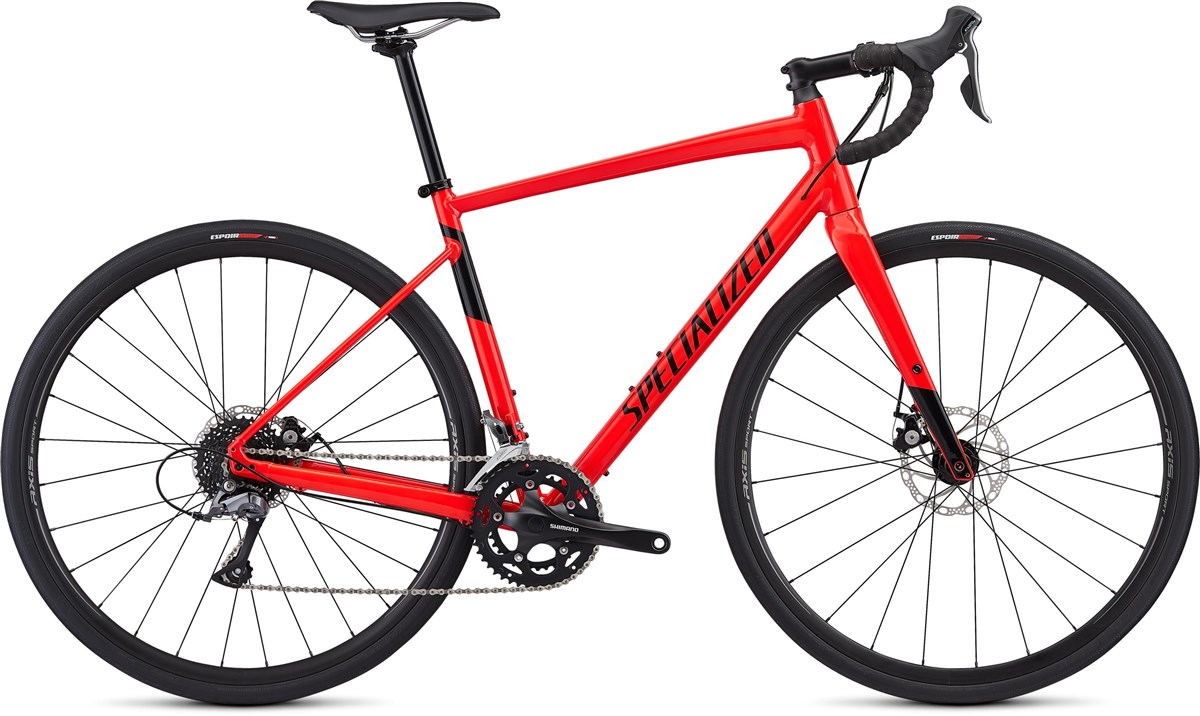 Frame Specialized A1 Premium Aluminum
---
Fork FACT carbon fiber
---
Drivetrain Shimano Claris 2x8
---
Wheels Axis Sport Disc
---
Brakes Tektro Mira, mechanical disc
---
Review
Something slightly different, we have picked the ultra-versatile Specialized Diverge E5road bike for its versatile performance. This road bike is designed for riding with speed and efficiency over rough surfaces and is built around a lightweight and robust A1 premium aluminium frame. Up front the carbon fork offers compliance to dampen road buzz and has clearance for wide tyres (for when you want to do a bit more off-road adventuring).
The Diverge is equipped with the capable Shimano Claris 2x8 speed drivetrain with a wide range cassette to give you a wide spread of gears. The sub compact chainset features smaller chainrings than the rest of the bikes in this review. This gives you extra low ratios which are helpful for those steep climbs on rough road surfaces.
The 30c tyres are a little wider than you find on most sportive bikes, they are a little slower rolling, but do give you the option of extending your cycling adventures on to gravel tracks. Tektro mechanical disc brakes give you all the stopping power you're going to need, in all weather and surface conditions.
While the Diverge E5 is not an endurance bike as such (Specialized's endurance Roubaix range starts above our £1000 cut off) its versatile nature make it well worth considering as a sportive bike.
Ride any surface from gravel tracks to smooth tarmac and everything in between.
Cube Attain SL 2019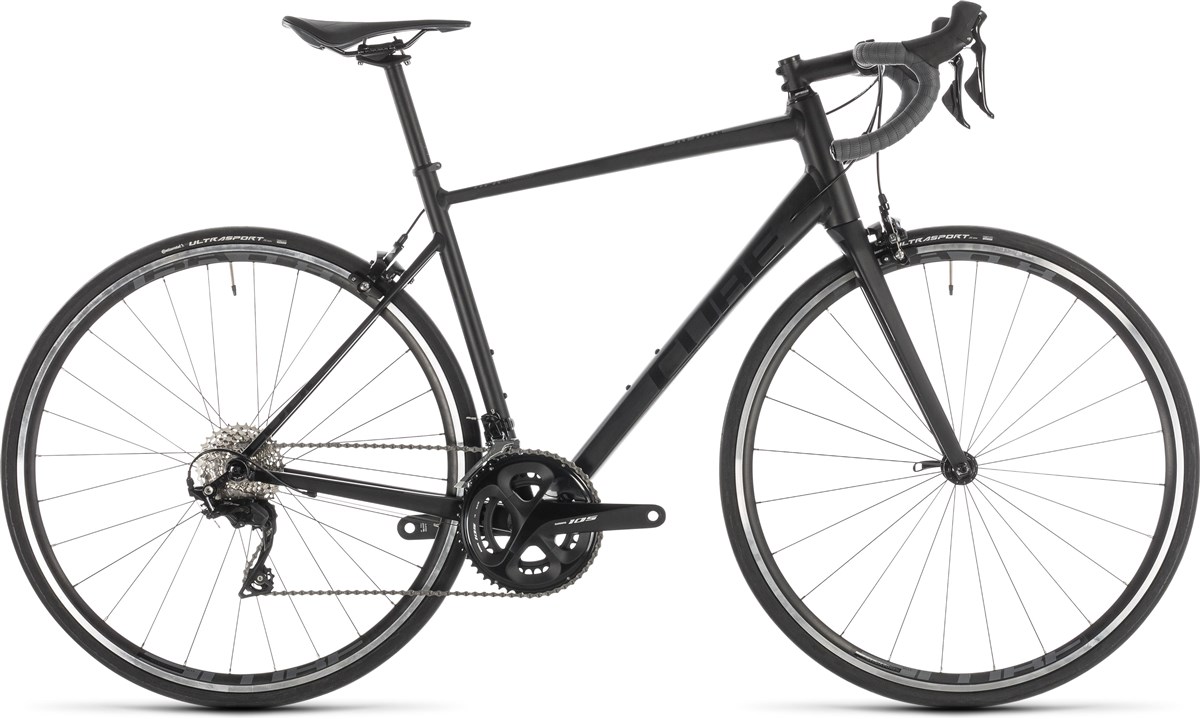 Frame 6061 T6 Superlight aluminium
---
Fork Carbon blades
---
Drivetrain Shimano 105 2x11 speed
---
Wheels Cube 700c
---
Brakes Shimano 105, calliper
---
>
Review
Like the Synapse above, the Cube Attain SL is dedicated endurance road bike that is built to offer a smooth ride with a riding position that designed to keep you comfortable in the saddle even on the longest rides. This SL version of the Attain features an advanced alloy frame that is impressively lightweight while still offering the torsional rigidity you need for efficient pedalling.
The smooth ride characteristics come from the compliant seatstays that do a great job of filtering out road vibrations. Up front the carbon fork is designed to absorb shock to complement the compliance of the frame for a smooth overall ride.
You get a full Shimano 105 1x11 speed drivetrain that offers slick shifting with the same gear ratios that you may find on high-end endurance race bikes. It is great to see that the 105 groupset includes the brake callipers. Robust wheels with 28c tyres are ideal for smooth cycling on the varied terrain you often find on sportive courses.
A specialist endurance machine the Cube Attain SL is ideal for riding sportives.
A specialist endurance machine the Cube Attain SL is ideal for riding sportives.
Merida Scultura 400 2019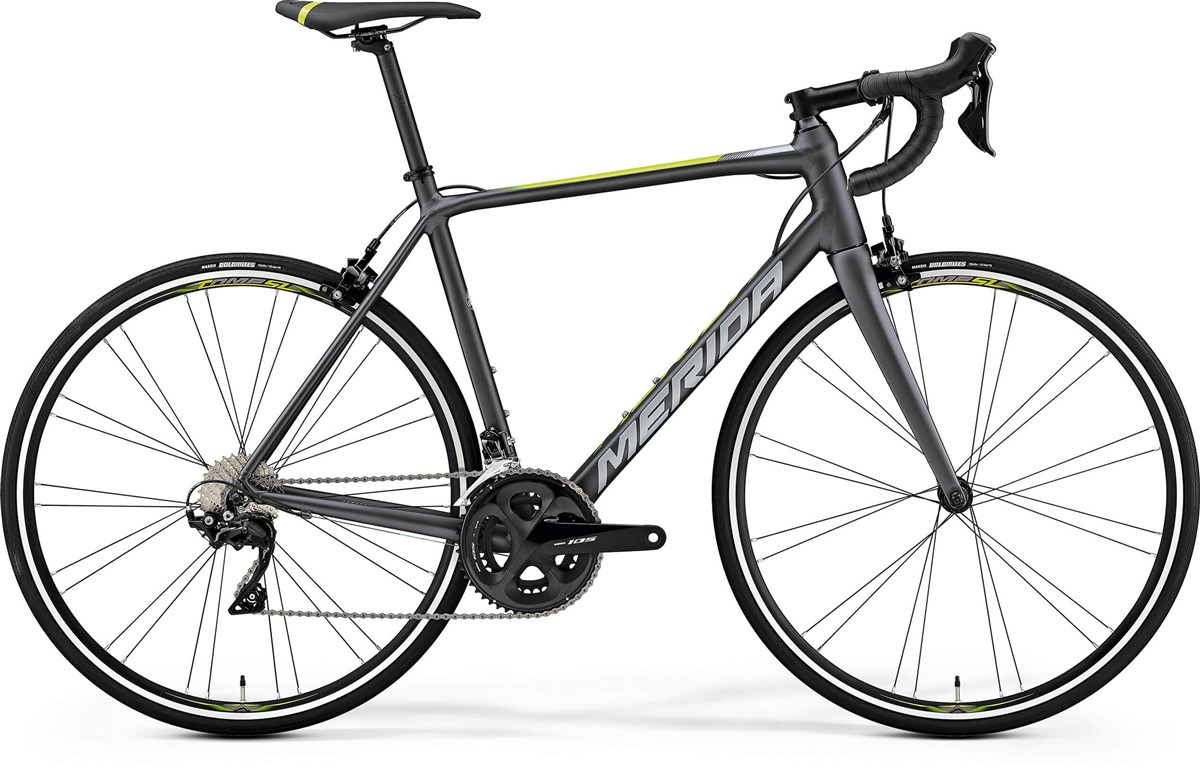 Frame 6066 triple butted and hydroformed alloy
---
Fork Full carbon
---
Drivetrain Shimano 105 2x11 speed
---
Wheels Merida Comp SL
---
Brakes Shimano 105, calliper
---
Review
While the Scultura is Merida's all-round road race bike, this alloy framed model has a more relaxed frame geometry than the carbon bikes that you see in the Tour de France. When combined with the built-in compliance features this more relaxed geometry makes the Scultura 400 ideal for sportives.
Like Giant, Merida make their frames in the own factory. This means that you get an incredibly high-quality triple butted frame that is hard to beat at this price point. You also get a full carbon fork and seat post that makes the ride a little smoother as well as keeping the weight down.
The full Shimano 105 11 speed groupset, with compact chainset and wide range cassette, gives plenty of gear options for all the climbs and descents. This groupset offers the same gear options as Shimano's high-end offerings.
It performs superbly and feels great from the moment you climb aboard until the end of your ride