Updated: 6th October 2021
MTB trousers - or MTB pants if you're looking at North American brands - are a great alternative to shorts, especially for autumn and winter riding. They keep the dirt off your legs and knee pads and are easy to change post ride, so you don't transfer mud from the trail to your home or car. As well as protecting you from dirt and water, the best MTB trousers are comfortable enough to wear all-day-long even on big climbs and technical descents.
MTB trousers are the same as all technical clothing in that the more you spend the better the fit and performance will be. Premium MTB trousers are made with better fabric and come with more features. We'll go through all the features here to help you pick out the best mountain bike trousers for your riding style.
You need to be able to move freely on the bike, especially when you're riding technical terrain or pedalling hard. This is why MTB trousers feature stretch fabrics that match your movement on the bike. Stretch panels in key areas will give you enough movement, but the best MTB trousers offer more overall stretch. Look for breathable 4-way stretch fabrics for the best on-the-bike comfort.
As well as stretching, the fabric that MTB trousers are made from needs to be tough enough to resist tearing if you snag them on vegetation or take a tumble. Ripstop, Cordura and Kevlar are tough fabrics to look out for.
Mountain bike trousers feature a pre-articulated cut that leaves enough room around the knees for you to wear pads underneath. Some trousers have laser cut vents strategically placed for ventilation while others have zip vents or mesh backed pockets that can be opened for extra cooling.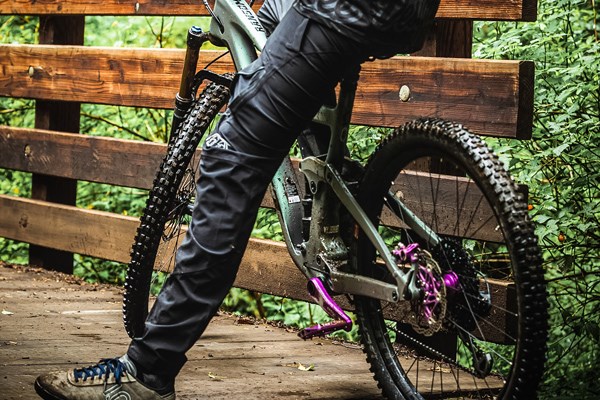 For UK riding the best winter MTB trousers need to be water resistant. Fortunately most of the big players have a DWR or similar coating that encourages water to bead off while remaining highly breathable. These fabrics dry quickly too. Combined with a waterproof rear panel this gives you enough weather protection for most winter rides without you overheating on warmer dry days.
On very wet days you'll need full waterproof protection to stay comfortable for the whole ride. The best waterproof MTB trousers combine all the features we've already talked about but are made with fabric that has a fully waterproof membrane and taped seams to keep you dry in torrential rain.
A waterproof one piece takes this weather protection to another level. If you get one of these, you'll never have an excuse not to go mountain biking again.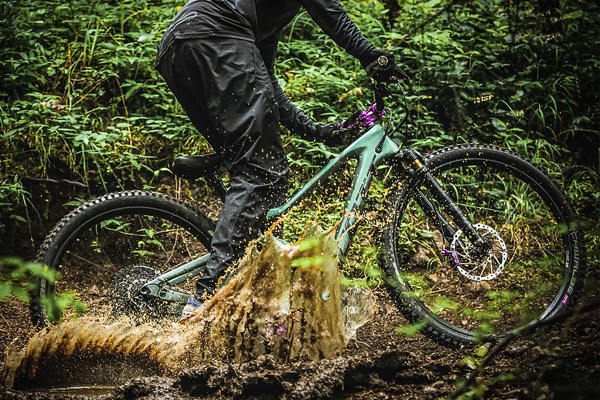 Best Waterproof MTB Trousers