Long sleeve cycling jerseys are made from materials that keep you comfortable while riding. If you ride in a normal cotton shirt you will find they do not dry quickly and do not let your skin breathe. This, unfortunately, means you will perspire sooner into your ride and the cotton will absorb the moisture and remain wet for the rest of the day, this also applies to any drizzle or surface spray you might encounter.
The best long sleeve jerseys will dry quickly as you ride, making you feel more comfortable, avoid the risk of chill as the temperature drops, and keep any stink at bay due to their anti-bacterial properties.
While there are plenty of short sleeve jerseys available, many prefer to ride in long sleeve jerseys, even in the warmer months. The best long sleeve jerseys are great at the beginning and end of a day, the phycological effect of having your arms covered can bring much-needed comfort and a sense of protection, especially when mountain biking.
Many riders like to simply roll the sleeves up as the temperature rises, and roll back down to suit. Pairing with a slightly thinner short sleeve jersey makes a great layering combination that will suit even winter conditions when you are working hard on the bike.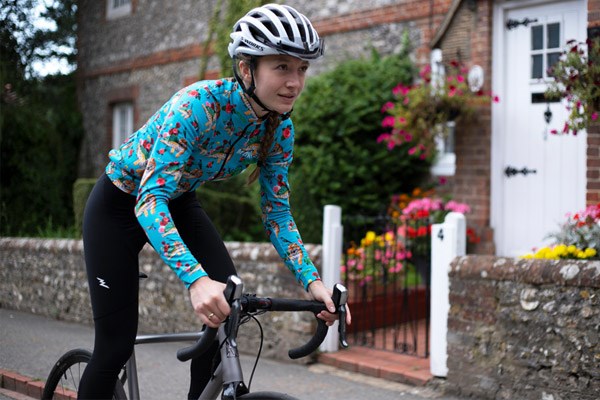 Long sleeve jerseys are usually made from a polyester type fabric, sometimes a mix with a little cotton for a more casual look and feel. Some brands use specific materials like Fox's Drirelease, in general, all jersey fabrics are very quick drying. Summer jerseys will be thinner and have vents or small holes to help dissipate heat, while other jerseys are more suited to cooler months, some with thermal properties or a windproof outer layer to the main fabric. Some even use a DWR water repellant coating and blur the line between jacket and jersey.
While polyester is the main fabric used, there are more extravagant alternatives, like merino wool. Merino wool has a luxurious feel while still quick drying and both cooling in warm temps, and insulating on chilly days. Merino has natural anti-bacterial properties, meaning it can be worn for multiple days without needing to be washed.