The best flat pedals offer a great platform, with increased grip for your foot, while still giving you the ability to take your foot on and off easily. Flat pedals are becoming increasingly popular with mountain bikers and combined with specific flat pedal cycling shoes keep your foot in place even in the muddiest of conditions.
With a wide platform and pins to grip your shoes, all the best flat pedals give you great support while you ride. Replaceable pins offer better grip than fixed pins and you can usually swap them out for longer ones if you want even more grip. As you move up the price points you will find adjustable pins so you don't need to buy new ones to get the right amount of grip. Thinner platforms make it less likely that you will hit the pedal on a rock as you ride. The titanium axles found on flagship models are significantly lighter than the steel axles found on most pedals.
As well as mountain biking, flat pedals are also great for other types of bikes like BMXs and even hybrids. We have picked out a range of flat pedals that offer dependable performance at different price points so you are sure to find a pair to suit your budget.
Nukeproof Neutron Evo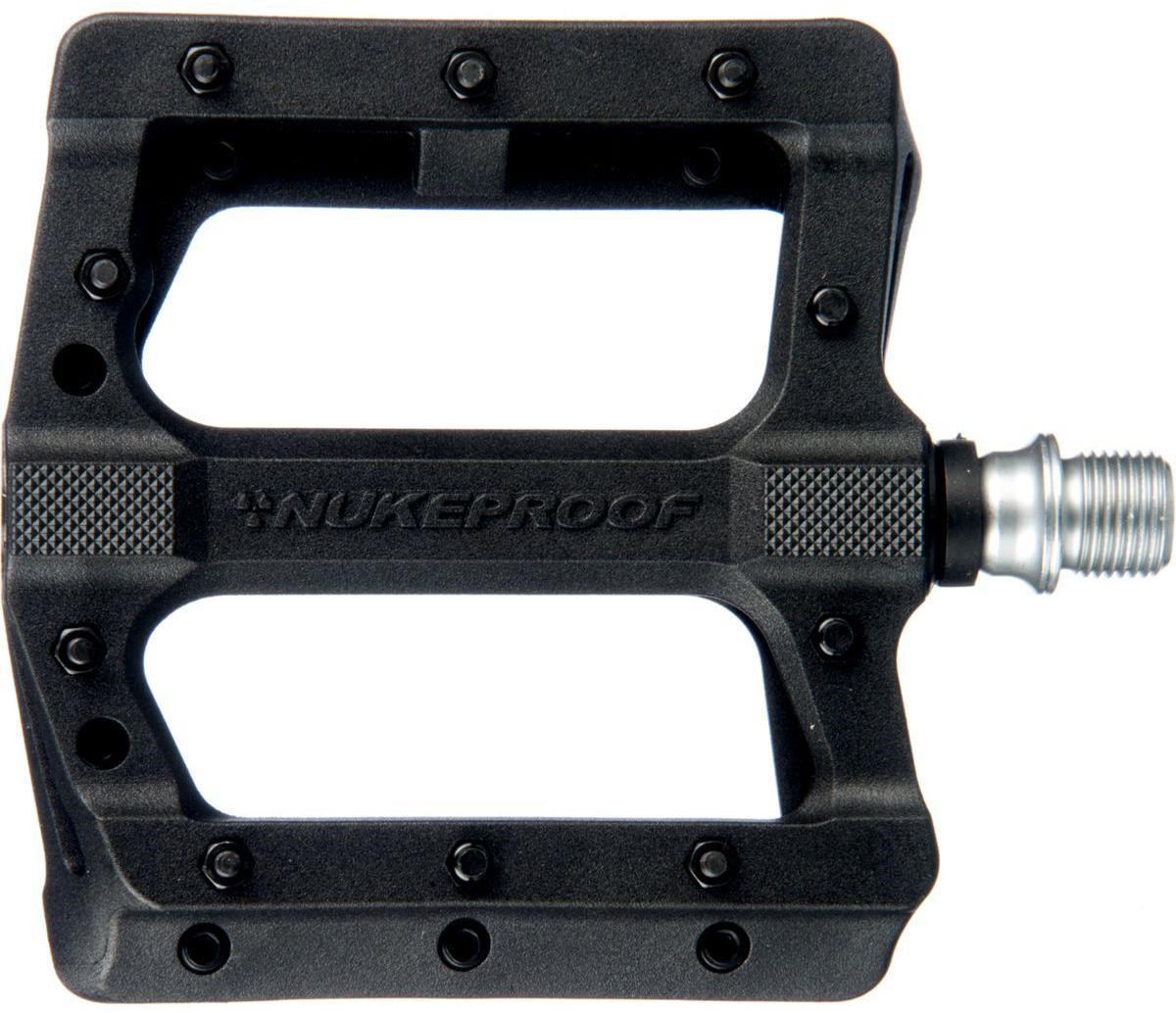 Bearings DU bushing & sealed cartridge bearings
---
Pins 14 replaceable
---
Colours Black, White, Green, Yellow, Orange, Blue
---
Weight 354g/pair
---
Review
Don't let the plastic feel of these pedals put you off, the Nylon-reinforced composite platform is both tough & lightweight and with the replaceable pins you get the same level of grip as you would with an alloy platform. The pins screw through from the back of the pedal so they will stay in place even if you bash them.
Available in a wide range of bright colours, with CroMo axles running on sealed cartridge bearings and weighing in at just 354 grams for the pair the Nukeproof Neutron Evo pedals are hard to beat at this price point.
Plastics used to be seen as the cheap option for flat pedals. But as the Nukeproof Neutron EVO shows, a 'budget' pedal can cut it with the big guns when it comes to performance. MBR.
Shimano Saint PD-M828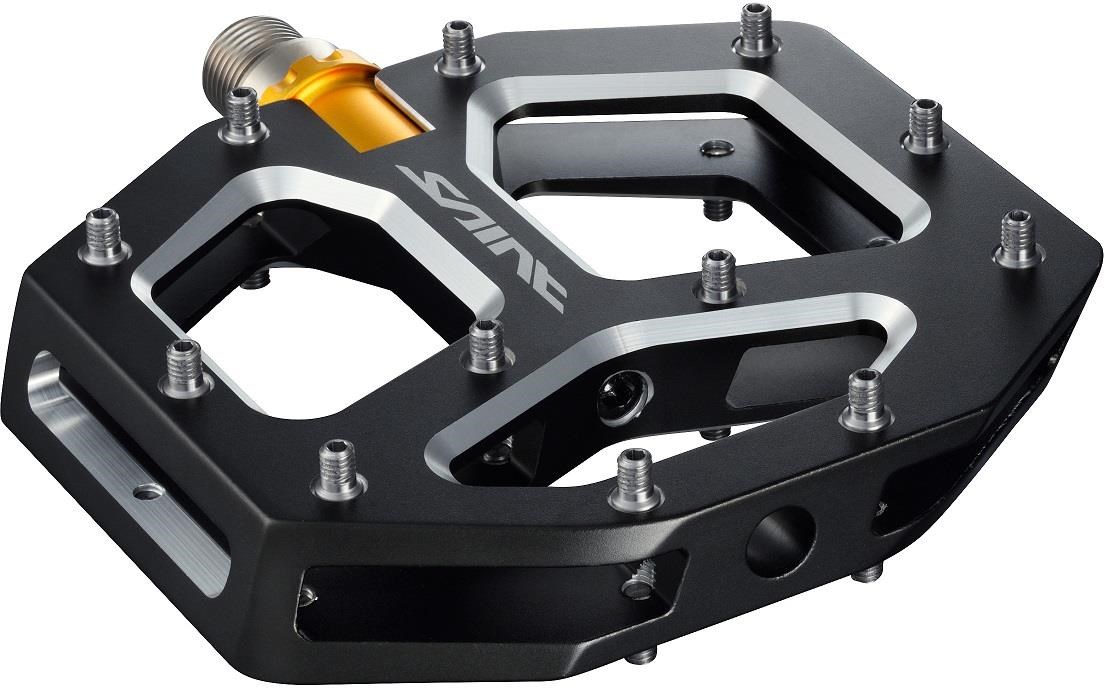 Bearings Sealed Bearings
---
Pins 24 replaceable
---
Colours Black/Raw alloy
---
Weight 493g/pair
---
Review
Long term favourites of many mountain bikers Shimano's distinctive Saint pedals have been updated for 2018 and are now lighter and grippier than ever. The fore-aft concave is enhanced by having longer 5mm pins on the front and rear of the platform with 3.5mm pins in the centre. At 105mm x 109mm the platform is significantly larger than the old Saint pedals to hold your foot even more snugly even in the harshest conditions.
The bearings run on a chromoly axle and are now sealed for improved durability. Both 5mm and 3mm pins are available so you can customise the amount of grip available to suit the conditions on the trails. While they aren't the lightest or the thinnest the Saints offer a rugged dependability that is hard to beat.
These pedals are bombproof. The support under foot is excellent due to the large platform and my feet feel really well connected to the pedals. They've handled everything I can throw at them and really live up to the SAINT name – Thomas Vanderham
DMR Vault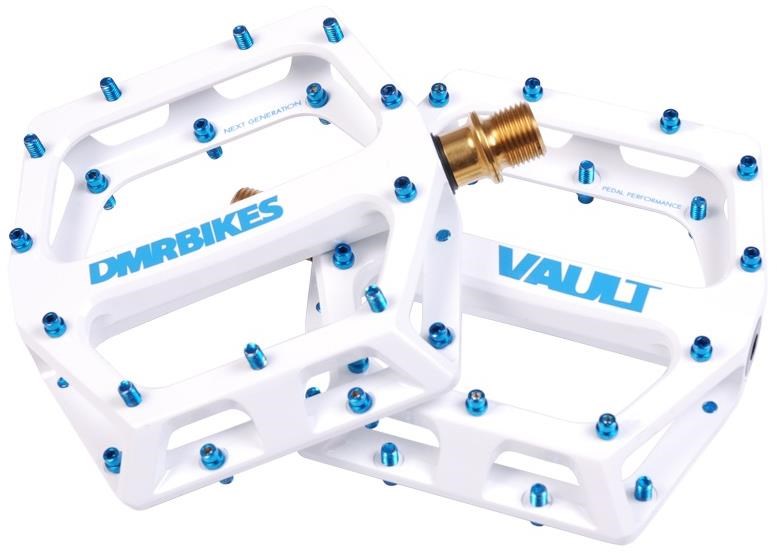 Bearings Sealed cartridge bearings and DU bushes
---
Pins 22 replaceable FlipPins
---
Colours Black, Blue, Orange, Red, Silver, White, Show Chrome, Sandblast Black, Nickle Grey
---
Weight 410g/pair
---
Review
The DMR Vaults show that that pedals can be beautiful, even though they're small. The range of anodised colours are, quite simply, mouth-watering – just check out the apple green with blue studs, or 'snow chrome' – silver with ice blue.
It's not just about looks though and the Vaults have the awesome extra feature of being able to adjust the pins to fit them long or short – effectively tailoring the level of grip to your preference. To top it off, they're really light too at just 410g/pair, plus you can shed even more weight with an optional titanium axle upgrade.
With such aggressive grip and a weight over 400 grams, these are great for those who live for the descents. - Singletrack
Hope F20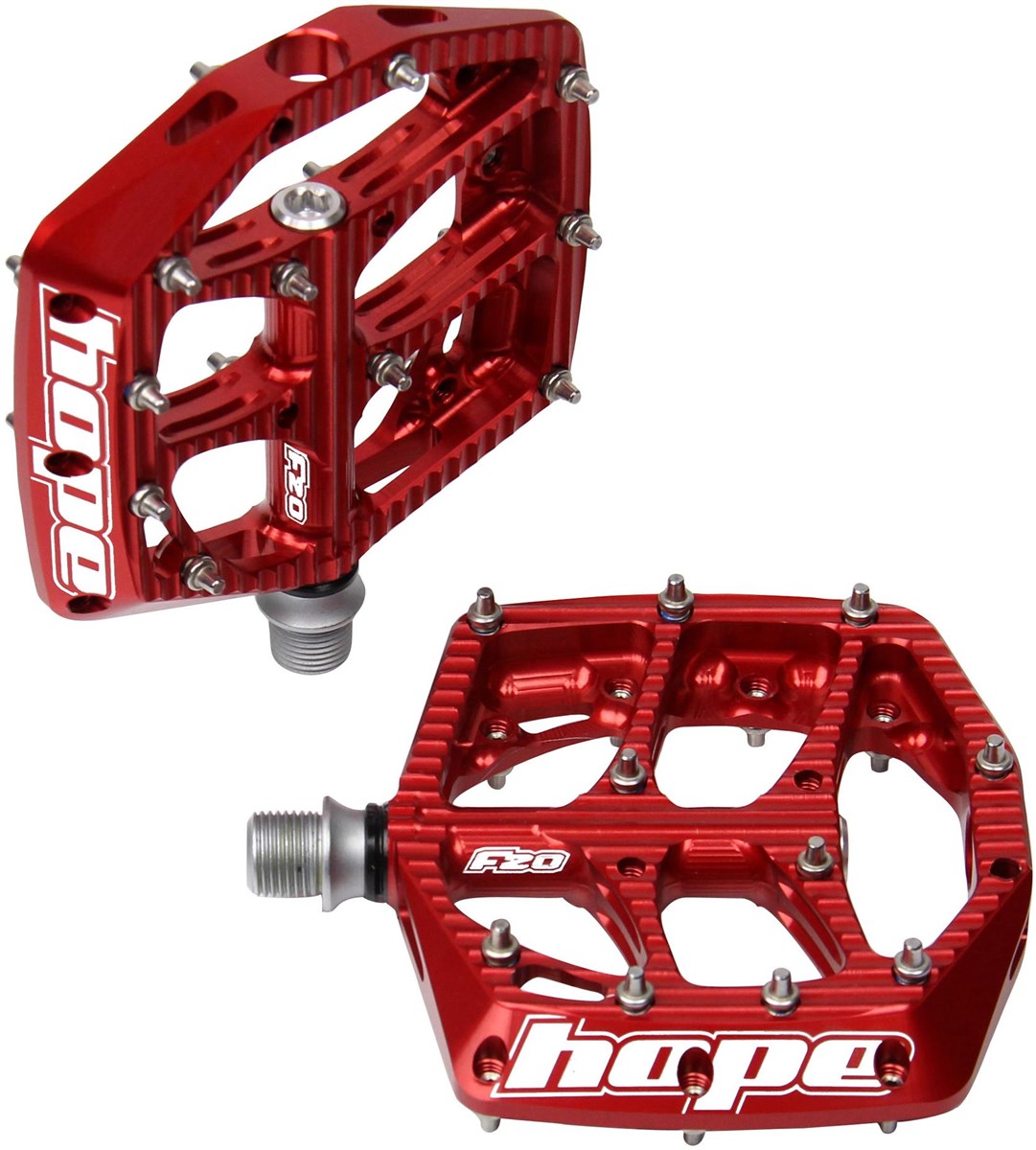 Bearings Sealed cartridge bearings and Norglide bushes
---
Pins 20 replaceable
---
Colours Black, Silver, Red, Blue, Purple, Orange
---
Weight 390g/pair
---
Review
The Hope F20s might not have the showmanship and audacity of the DMR Vaults, but their quality is just undeniable. Besides, there's still a more than adequate choice of six colours. The sloping edging shape shows Hope's years of off-road expertise – they tend to rebound from rocks rather than catching and jarring, plus they're tough enough to withstand impacts.
As ever with Hope, seal quality and quantity is above and beyond, so these enduring pedals will give years of hard riding, making the higher cost much more viable.
This beautifully finished, knurled Hope F20 platform is Hope's first flat pedal and has proven tough and durable in wet UK riding conditions. - MBR
Nukeproof Horizon Pro Ti Sam Hill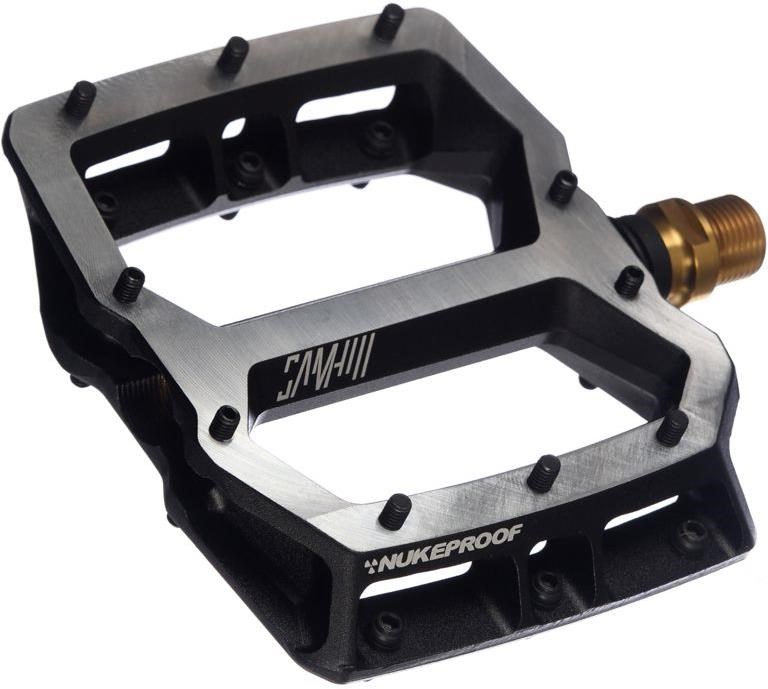 Bearings Sealed cartridge bearings and DU bushings
---
Pins 20 replaceable
---
Colours Black/Raw alloy
---
Weight 362g/pair
---
Review
At the opposite end of the spectrum to the Neutrons featured above, these Sam Hill signature Nukeproof Horizon pedals are some of the best that money can buy. Making the very best of a conventional pedal design, the Horizon's feature a slim concave platform with pins placed exactly where you nee them to keep your foot securely in place.
The platform is the same as you will find on the regular Nukeproof Horizon pedals, but with a titanium axle these Sam Hill model are significantly lighter. Tried and tested at the very highest level, the Nukeproof Horizon's are the only flat pedal to win an EWS overall title.
With input from one of the most well known flat pedal racers these were going to be a sure fire contender from the start. Plenty of options and excellent spares back up add to the appeal of this well sorted pedal design. You can't go wrong with these flats. Dirt.