Flat pedals offer a supportive platform for your foot, while still giving you the ability to take your foot on and off easily. Pins protrude from the pedal body to grip your shoe when riding over rough terrain. Combined with the sticky rubber soles of flat pedal specific shoes the best flat pedals will grip your foot securely even in the wettest and muddiest conditions.
While racers prefer clipping into their SPD pedals flats are very popular with freeriders and recreational mountain bikers. This is because flats give you more freedom to take your foot on and off the pedals easily. Flat pedals are also good for developing proper technique when jumping, so every mountain biker will benefit from riding flats at least some of the time.
With a wide platform and pins to grip your shoes, the best flat pedals give you great support while you ride. The platform is either made from metal alloy or plastic. The most affordable option is plastic, these are lightweight and reasonably tough and offer good grip levels when combined with metal pins. Alloy pedals are tougher than plastic, so they'll stand up to the inevitable rock strikes you get when riding rough terrain.
The size and shape of the platform matters too. A wide concave shape will hold your feet more securely. Some pedals are available in different sizes to suit riders of every shoe size. Higher-end pedals often feature machined surfaces for a more stable platform. Thinner platforms make it less likely that you will hit the pedal on a rock as you ride.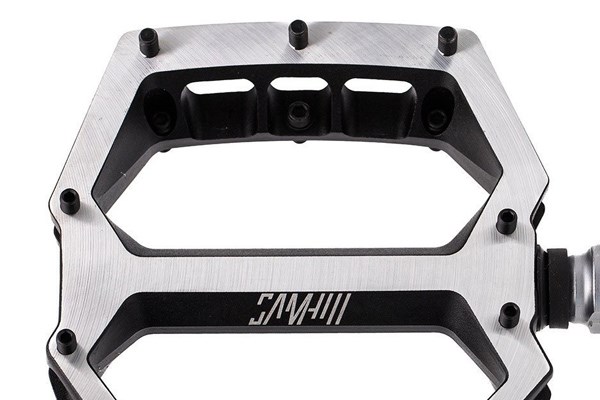 The pins that stick out from the platform are there to grip the sole of your foot and stop it sliding off the pedal. Replaceable pins offer better grip than fixed pins and you can usually swap them out for longer ones if you want even more grip. As you move up the price points you will find adjustable pins, so you don't need to buy new ones to get the right amount of grip.
Axles are usually made from stainless cromoly steel, but the very best pedals have titanium axles to reduce weight. Look out for sealed bearings and DU bushings to keep the pedals spinning freely.