Cycling to work is healthy, environmentally friendly and very cheap. However, the hassle of gearing up, pounding the pedals and getting to work flushed, sweaty and damp is not some people's idea of an enjoyable commute.
This is where the electric bike comes into its own. Powerful 250 Watt motors and batteries propel you up to 15.5mph to cruise past traffic. Flatten hills and get to work feeling refreshed and ready for the day. We think e bikes are the future of commuting and we want to show you why.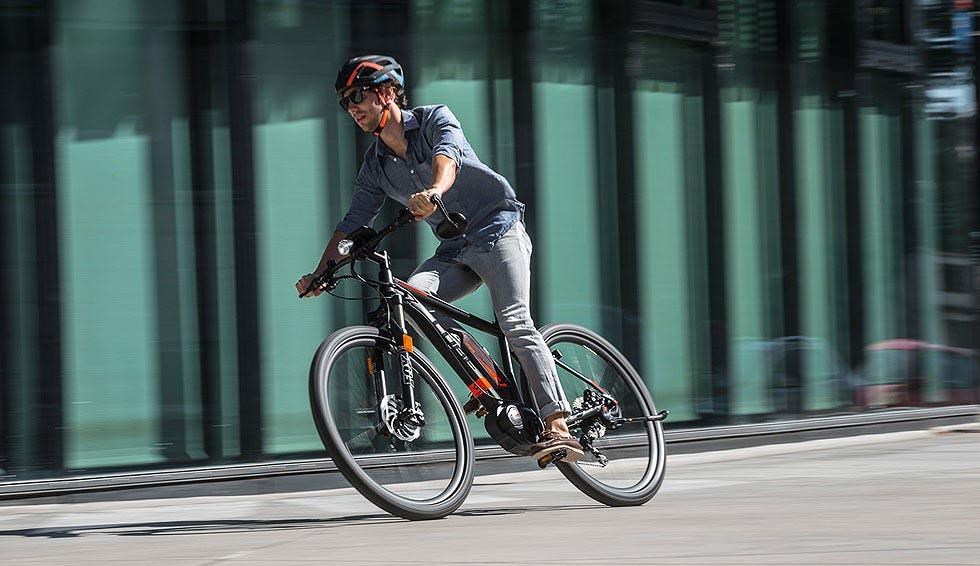 Why use an electric bike for commuting?
Don't sweat it
One of the biggest barriers to cycling to work is the problem of sweat. The thought of having to sit at your desk in damp, smelly clothes is enough to put anyone off. One solution is to have showers and changing facilities at the office, but not all companies can provide this for their employees.
An alternative is using an electric bike to cycle to work. The powerful motor on an e bike gives you a boost, so while you're still pedalling, it isn't strenuous. Electric bikes flatten hills, make longer distances feel shorter and aren't affected by strong headwinds. Get to work feeling refreshed and ready to take on the day.
Save time
We're not talking about the commute itself but before and after. With an E Bike you don't need to gear up in your lycra, change and shower and at work. You can stay in bed for a little longer. Simply lock your bike up at work and head to your desk.
If you are cycling to work in your work gear just make sure you've got mudguards to protect from dirt and spray.
No jams
The great thing about e bikes is that they are still bikes. That means you can take advantage of cycle lanes and the Cycle Super Highway in London. You can skip busy roads altogether. While they're stuck in traffic, you can power along at 15.5mph - faster than the average speed of vehicles in cities at rush hour.
Sail past buses and car stick in traffic jams as you can still filter through traffic just as a normal cyclist does.
Room to breathe
Who wants to start their day sardined, cramped and squashed on public transport? Electric bikes make 10 mile commutes fast and hassle free. You also don't have to suffer delays, missed connections or 'signalling problems' either.
Make a quick getaway
Traffic lights, traffic jams and zebra crossings mean you'll be stopping and starting regularly. An E Bike lets you accelerate off the mark quicker than a car or bus can (over a few metres) so you can position yourself in front of traffic quickly and make yourself visible. Also, the constant stop/start motion of commuting won't leave you gasping for breath as you try to get up to speed.
The future of urban transport
An electric bike is a very real alternative to a car, especially in congested UK cities. Slicing through traffic on your way to work and picking up essentials from the shop are easy on an e bike and you don't need to keep circling round the block looking for a parking space. You'll arrive at your destination feeling fresh and you still get all the environmental and health benefits of cycling.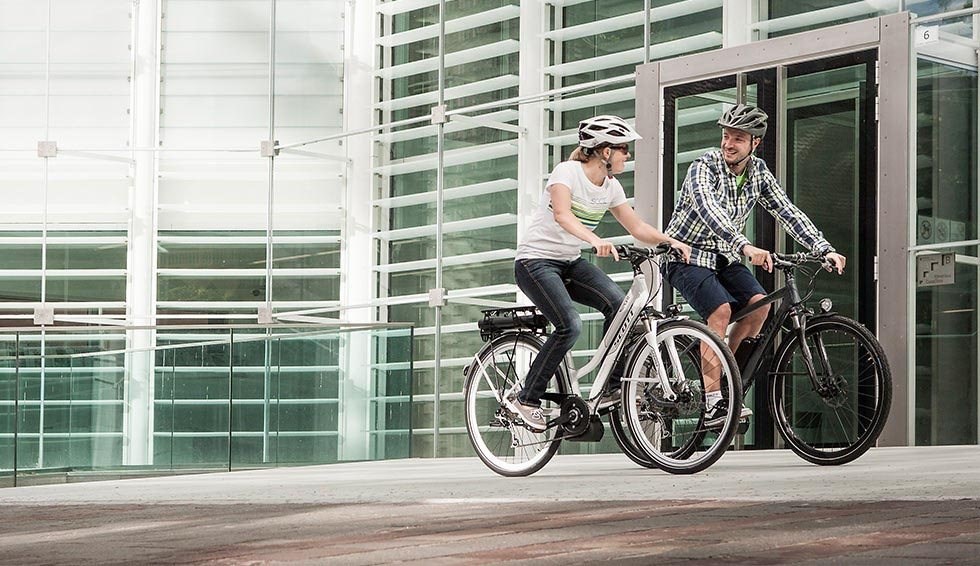 Commuting with an electric bike will save you money
Driving to work isn't cheap. You've got petrol and parking charges, congestion charges (in London), tax, insurance and MOT costs. Likewise, public transport isn't cheap and you may need to hop between services. Many people also drive to a park & ride area before using public transport.
Contrast those costs with an E Bike. You have the initial cost of the bike which can start from around £1,000 and the pence it costs to charge the battery. That's it. You no on-going tax, insurance, congestion or parking costs.
If you live in London you can easily spend over £1,500 on commuting via public transport. You can offset this cost in less than a year with an E Bike. Choose a 0% APR finance option and you can spread the cost in small manageable chunks.
What's it like to ride an electric bike?
The E Bikes we sell are also known as pedelecs. When you start pedalling the motor kicks in to give you a boost. The harder you pedal, the more boost you get. The motor will keep adding power until 15.5mph (limited by UK law). 15.5mph is a fast average pace for a fit cyclist. You can ride faster than this but the motor won't assist you.
For more information on the types of E Bikes available, head over to our handy E Bike buyers guide.
What are the best electric bikes for commuting?
All E Bikes up to 15.5mph are essentially equal. The weight of the bike is offset by the power of the motor. You could ride on a full suspension mountain bike, classic hybrid or one of the new road style E Bikes and you won't put in any more, or less effort to accelerate up to 15.5mph.
If you want to ride faster than that, then a lighter frame with narrower fast rolling tyres is better. A lighter frame will also improve the range of the battery. If the battery runs flat (because you forget to charge it) then an e-MTB will be noticeably heavier and harder to ride than a hybrid. If you need to store your E Bike upstairs then a lighter frame is a good idea.
More expensive E Bikes will come with lighter aluminium or carbon composite frames, improved components and efficient batteries offering greater range.
Commuter friendly features
Mudguards – keep your clothes free of dirt
Rear bike rack – store work gear and luggage in a pannier bag
Chainguard – stops your trousers getting snagged or greased
Disc brakes – offer improved braking power over rim brakes and work well in all weather conditions
Upright riding position - is visible and safe in traffic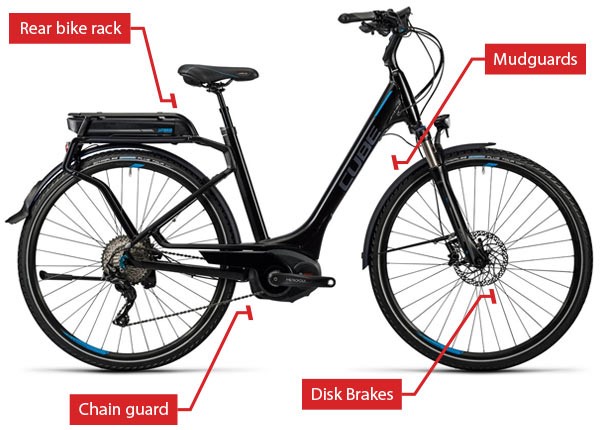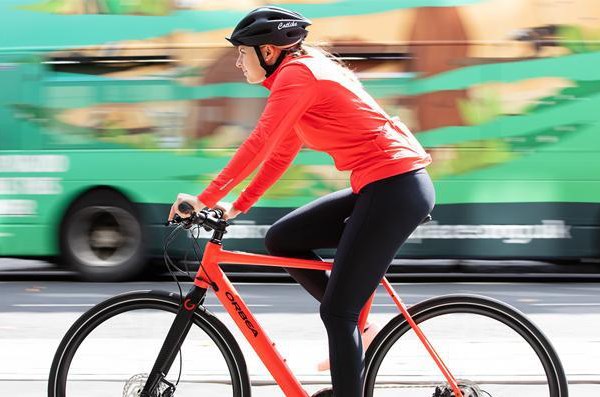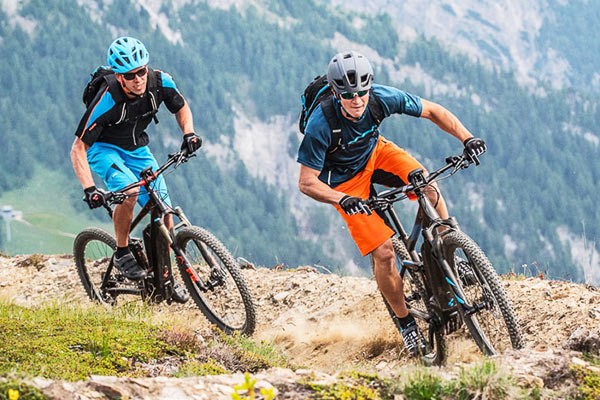 I thought electric bikes were just for lazy people?
This is actually a myth. Electric bikes are built for a range of needs. You have pro enduro riders using e-MTB's to effortlessly climb so they can get more training runs on the descents to nail their skills – you wouldn't call them unfit. They're also ideal for those with mobility problems and impaired fitness.
Electric bikes do make the daily commute less intense for those wanting to get to work feeling fresher. However, you do still put effort in to turn the cranks, more so than sat in the car or on the bus.
You can always turn the motor off if you feel like upping your fitness – although the bike will be a bit heavier than a standard bike. For information read our E Bike FAQ.
Summary
The best commuter bikes are E Bikes because they are so convenient. You don't have to worry about sweat or showering at the office. You can blitz past traffic, save money in the long run and not have to deal with the congested crush of public transport.
Suggested Guides