With so many bikes to choose from we've put together this helpful guide to help you narrow down your search. By the end of this guide you'll be able to search and find a bike that will serve you well.
Where are you going to be riding?
Walk into any cycle shop, ask for help and the first question will be 'where are you going to ride?'. Nailing down where you're going to be riding can help you choose the best bike for you. Use our chart to help you define the type of terrain you'll mostly be riding.
Tarmac - We're talking smooth road surfaces such as tarmac and pavement in ubran areas as well as the countryside.

City Streets - City streets can be rough and smooth with plenty of stop start traffic and obstacles to navigate around such as parked cars, potholes and pedestrians.
Parks & Lakes - A little more adventurous, you can be riding smooth cycle paths and loose dirt tracks in the same ride.
Rough Gravel - Rough gravel riding includes all conditions from park paths, loose gravel tracks to light off-road trails.
Singletrack Trails - Singletrack trails can be smooth, rough, wet and dusty in the same ride. You'll need to navigate around rocks and roots.
| | | | |
| --- | --- | --- | --- |
| | Road Bike | Hybrid Bike | Mountain Bike |
| Tarmac | Yes | Yes | |
| City Streets | Yes | Yes | |
| Parks & Lakes | | Yes | Yes |
| Rough Gravel | | Yes | Yes |
| Singletrack Trails | | | Yes |
The 3 key bike styles
Road bike
Road bikes are built for speed on smooth surfaces. They are lightweight and stiff so you can pedal very fast.
You can spot a road bike by the swooped down handlebars (called drop bars) that let you bend forwards for a more aerodynamic position to help you slip through the wind. Road bikes come with fast rolling wheels with slim tyres to help you go faster.
See our road bike guide for more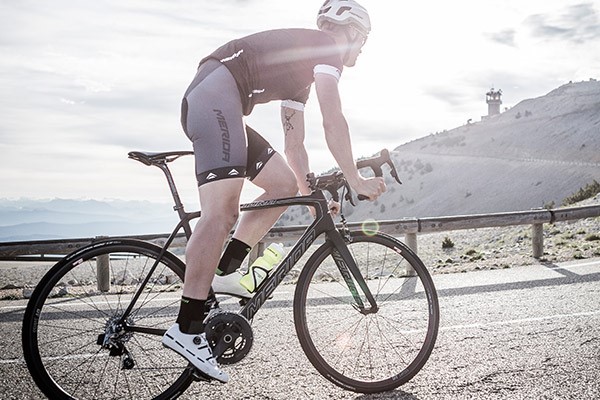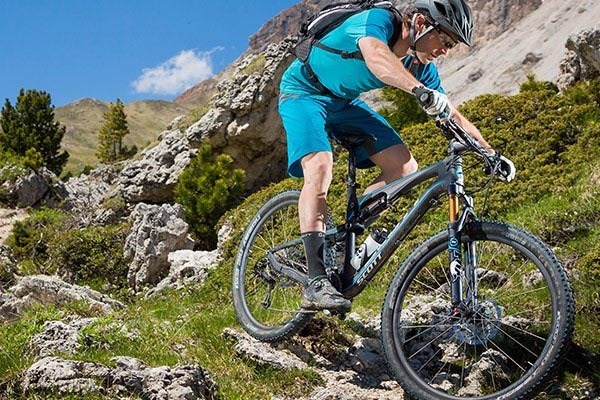 Mountain bike
Mountain bikes are designed for off-roading. They are strong, stable and easy to maneouvre.
You'll find suspension on these bikes to soak up vibrations when cycling on rough terrain for a more comfortable experience. This suspension also helps to keep the wheels in contact with the ground for improved control and speed.
See our mountain bike guide for more
Hybrid bike
Hybrid bikes combine fast rolling road bike wheels with easy pedalling from MTB gears, an upright riding position and flat handlebars. These versatile bikes can be used on the road and on rougher terrain.
You get a lightweight frame with fast rolling road bike wheels for speed and mountain bike gearing to help you get up hills.
See our hybrid bike guide for more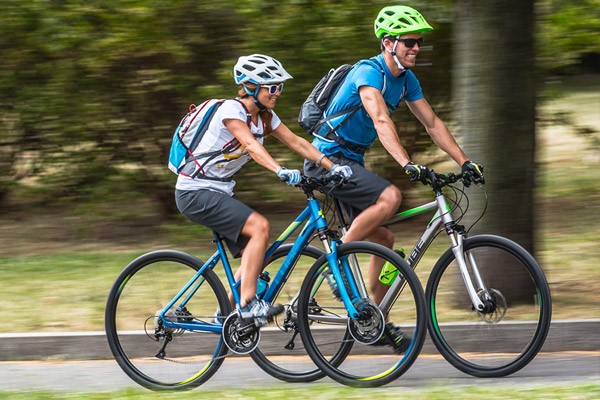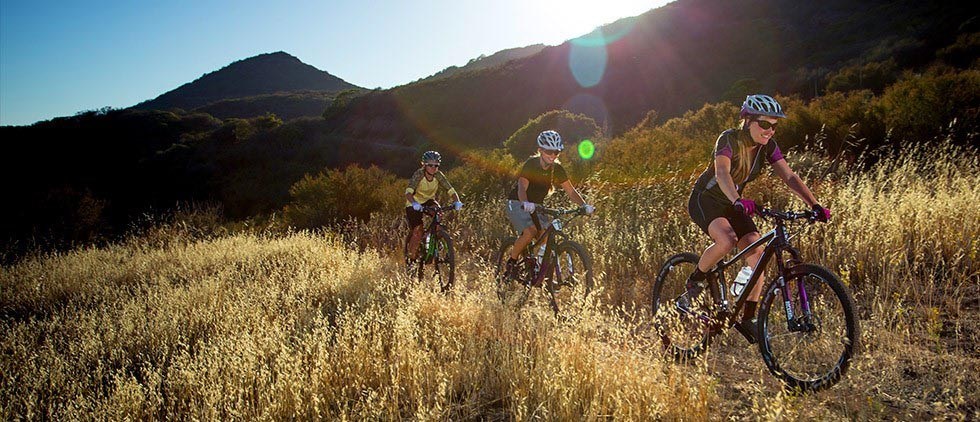 How often are you going to be riding?
If you're planning on riding everyday or every few days you'll want a bike that will perform every time – so choose the best quality bike your budget allows for. Generally the more you pay for a bike the lighter it will be, making it easier to pedal and handle. It will also come with better quality components that will last longer and perform better. The more you pay at the outset, the less you may need to pay in maintenance and servicing fees.
Use our bike size calculator to get the best fit
For a more in-depth look at bike sizing, including how to measure yourself and what to do if you're between sizes, check out our bike sizing page.
Don't judge a bike by its colour
Many first time buyers fall into the trap of choosing a bike by how it looks. While there are definitely good quality, stylish bikes, you should choose a bike which is right for the style of riding you want to do.
By opting for style over function you may get lumbered with a heavy bike which is hard to handle, uncomfortable over long distances or on rough terrain. This will reduce your enjoyment and make it less likely you'll keep up your new found hobby.
Choose your budget carefully
When choosing a bike the more you spend often means better frame materials such as aluminium and carbon composite and improved construction techniques (for lighter weight and smoother performance) and components to help you get more out of your ride.
What to look for in a good bike under £500
Road Bike
Lightweight aluminium frame for speed and nimble handling




Entry level Shimano gearing to help on the flats and hills



Mountain Bike
Mountain bikes with front suspension (hardtail) to take the sting out of riding




Strong aluminium frame to take the abuse of off-roading




Powerful disc brakes for confidence in wet and muddy conditions




Entry level Shimano gearing with a wide range to tackle hills



Hybrid bike
Strong and nimble aluminium frame




Mudguard and rack mounts




Entry level Shimano gearing offers a wide range for variable terrain



A bike worth £500 - £750
Road Bike
Lightweight aluminium frame for speed and nimble handling




Carbon bladed fork to soak up road vibrations for a more comfortable ride




Shimano gearing offering a wide range for all conditions
Mountain Bike
Smooth 100-120mm forks from brand leaders like RockShox




Fork lockout lets you fix suspension in place to make climbing easier




Strong aluminium frame to take the abuse of off-roading




Capable Shimano / SRAM gearing for tackling all terrain. 2x drivetrains are more reliable and easier to use than 3x (found on cheaper mountain bikes)




Hydraulic disc brakes offer improved braking over cheaper mechanical versions and require less maintenance



Hybrid bike
Lightweight 'butted' aluminium frame to reduce weight whilst keeping it strong and stiff

Mudguard and rack mounts

Capable Shimano drivetrain

Hydraulic disc brakes for powerful braking in all conditions

60mm – 80mm front suspension on some models for off-road capabilities
A bike worth £750 - £1,000
Road Bike
Specialist aluminium frames designed for racing or endurance riding




Advanced frame features such as aero tubes to reduce drag, butted tube walls to reduce weight or tapered head tubes to keep steering precise




Carbon bladed forks




Performance Shimano gearing with a wide range of gears




Lightweight and fast rolling branded wheels



Powerful disc brakes are becoming ever more popular thanks to improved performance in wet conditions

Mountain Bike
Full suspension bikes (front and rear suspension) appear at this price point for rugged trail riding




Quality Rock Shox / Fox forks with up to 120mm plush suspension




Strong aluminium frame to take the abuse of off-roading.




Advanced frame features such as butting reduce weight for easier climbing




Remote lockout on fork is common




Performance level 2x Shimano XT drivetrains for slick shifting across a wide range



Hybrid bike
Advanced aluminium frames for the best stiffness to weight ratio making pedalling efficient




Hydraulic disc brakes on many models




Internal cables create a clean looking frame and require less maintenance, great for daily riding




High quality Shimano drivetrains offer quick shifting




Fast rolling branded rims clad in puncture proof tyres



More gears aren't always better
The amount of gears you have on your bike is determined by how many sprockets you have on the rear cassette multiplied by how many chainrings you have at the front.
A triple chainring with an 8-speed rear cassette will have 24 speeds. Whereas, a more expensive bike with a single ring up front and 11 speed cassette will only have 11 speeds. When choosing a bike more gears aren't always better as the gear ratios tend to be doubled up with multiple chainrings. A 24 speed bike may only have around 12 usable gear ratios while on an 11 speed bike (with a single ring up front) all the gears are usable.
Road bikes
Fast road cycling demands a wide range of gearing to tackle steep climbs, fast descents and powerful flats. While most road bike in a range tend to have the same range of gears, higher end bikes will have smaller gaps between gears so you can better match your pedalling speed to your speed on the road.
Fitter road cyclists on performance frames will use a closer spread of gears as they are more powerful so can harness the speed that higher gears offer, without the needs for such low gears to get up the hills. Instead of a wide range, they want close ratios between gears to focus on pedalling efficiency.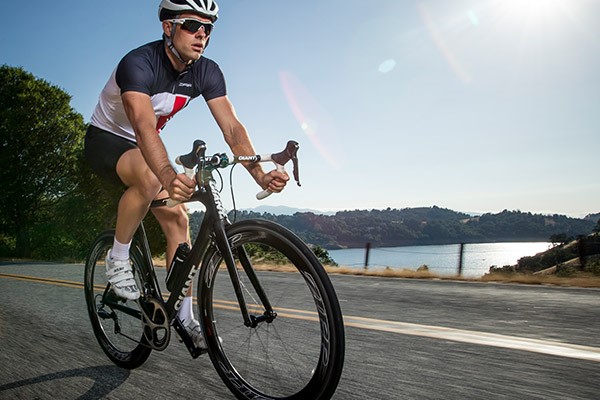 Mountain bikes
Off-roading on rugged terrain can make flipping between chainrings difficult, often resulting in a dropped chain. Mountain bikes have a greater range of gears so they can reduce the number of chainrings at the front.
You still get the same easy pedalling low gears as double and triple chainring bike, but may have less of the high gears that you don't need when off-roading. Having just one ring on the front also means that the teeth on the ring can be designed to hold the chain more securely.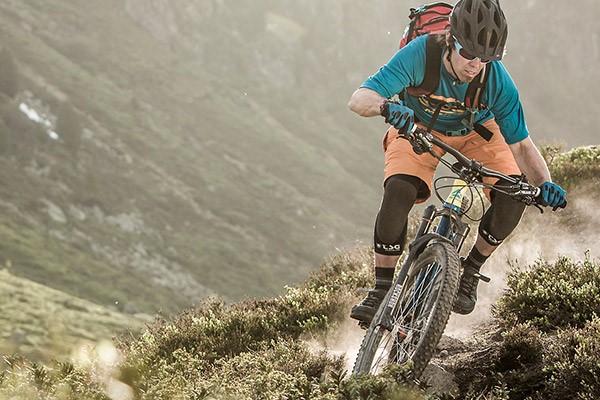 Hybrid Bikes
While hybrid gears are much the same as those on MTBs there is less worry about dropping chains and more desire for higher gears for rapid tarmac riding. For this reason, you will be more likely to find double and triple chainrings on hybrid bikes and if a single ring is fitted it will have a larger front chainring for higher speeds on the smooth surfaces.
Consider a women's specific frame
Many brands offer women's specific bikes that come in smaller frame sizes and size specific components such as women's saddles to help give you the best fit (and comfort) possible.
As the growth in women's cycling continues more bike brands are now offering bikes that have been built from the ground up for female riders.
These bikes come with different riding positions to get the most out of the female anatomy. For more information, read our women's specific frame guide.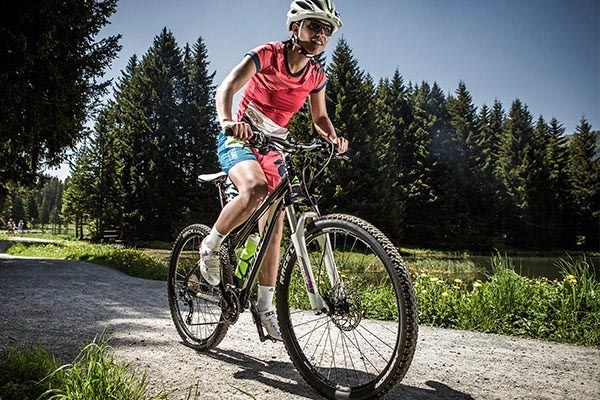 Disc brakes are a great feature
Disc brakes are fairly new in the world of cycling. They initially appeared on mountain bikes, but are now increasingly common in all disciplines, even high-end road bikes.
Key benefits:
You get consistent braking in all weather and terrain conditions




They offer improved 'modulation' (controlled braking from slight speed control to emergency stops)




Disc brakes require less maintenance and are more durable than rim brakes



See our range of disc brake specific bikes
Summary
Choosing the right bike for you can seem daunting at first. However, by understanding where you want ride and how often, as well as defining your budget you can narrow down your search.
Remember not to choose a bike purely on style alone and use our charts to see what features you can expect at each price point. By following the advice in our guide you'll be armed with the knowledge the make the right purchase for you.