Order Before 19th December for Christmas Delivery
What size bike tyre do I need?
Whether you are replacing a worn out tyre or want a performance upgrade, it is essential that you choose a tyre that is compatible with your bicycle as well as your riding style.
To find out which size tyre you will need have a look at the sizing information on your existing tyre. You can find this information on the side wall of the tyres, either in coloured print or embossed in the rubber itself. Both rim diameter and tyre width are shown in the size info.
Road tyre sizing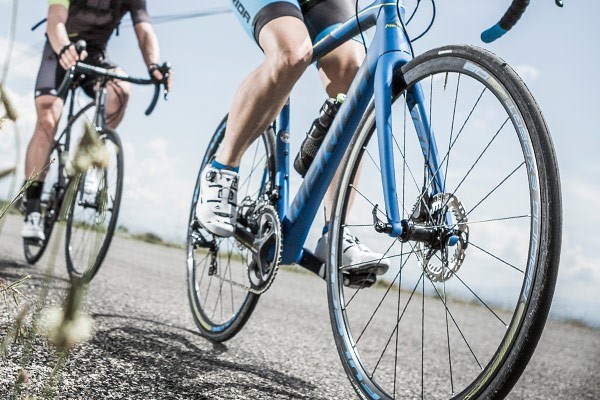 Mountain bike tyre sizing
ETRTO sizing
Sometimes the sizing info is listed in two different ways; the traditional sizing method shown above and ETRTO sizing which lists the tyre width first and the rim diameter second. The rim diameter size is measured differently with ETRTO, for example:
23-622
A standard 700c road bike rim with a 23mm tyre width, which is the same size as 700 x 23c.
We recommend that you use the traditional sizing method wherever possible as most tyres that we stock use this system.
Traditional and ETRTO tyre size tables
If you are unsure which tyre size you need you can use our handy comparison table to find the correct size tyre
Road bike tyre sizes
ETRTO Number
Dimension
700c road bike wheels
18-622
700 x 18C
23-622
700 x 23C
25-622
700 x 25C
28-622
700 x 28C
32-622
700 x 32C
37-622
700 x 35C
47-622
700 x 47C
MTB tyre sizes
ETRTO Number
Dimension
26" mountain bike wheels
50-559
26 x 1.9
54-559
26 x 2.1
55-559
26 x 2.2
58-559
26 x 2.35
27.5" (650b) mountain bike wheels
50-584
27.5 x 1.95
54-584
27.5 x 2.1
57-584
27.5 x 2.25
29" mountain bike wheels
50-622
29 x 2.0
54-622
29 x 2.1
55-622
29 x 2.2
What tyre pressure do I need?
Different tyres will require different tyre pressures. Generally speaking, low volume tyres (road race) require higher pressures than high volume (mountain bike) tyres. Minimum and maximum tyre pressures are also written on the side walls of the tyres.
Within this range higher pressures will roll faster while lower pressures offer more grip and a little more comfort. Lower pressures can lead to a greater risk of punctures however. It is important that you find the right tyre pressure do not exceed the maximum.
Most mountain bike riders tend to run lower pressures (often below the recommended limit) as the additional grip makes a big difference to handling on rough technical tracks, especially in the wet, and offsets the risk of punctures.
What are the different types of bike tyres
While road, mountain and hybrid tyres have their own specific differences there are some features that are common to all tyres.
Clincher tyres - most bike tyres have a bead which hooks onto the rim to keep the tyre in place. Traditionally this bead is made from wire which is tough but heavy. Premium tyres use a folding Kevlar bead which is equally as strong as wire but is much lighter weight.
Tubeless tyres - while regular clincher tyres require an inner tube to keep them inflated tubeless or tubeless ready tyres form an airtight seal with a compatible rim so you don't need an inner tube. These are most commonly found on mountain bikes as they can be run at lower pressures without risking punctures.
Tubular tyres - These are specialist road bike tyres that have the tube built into the tyre and are then glued onto a compatible rim.
See our full range of bike tyres
Frequently Asked Questions
What size tyre do I need for my bike?
Look at the side of your tyre for any printed numbers indicating the size and width. See our Bike Tyre Guide for more info.
How do I know my bike wheel size?
The easiest way is to look at the side of your tyre. The size and width are printed on the tyre.
How do I choose a bike tyre?
Once the compatible size is known, choose an appropriate tread for the conditions you ride in.
Can I fit wider Tyres on my bike?
Look at your fork and frame where the tyre passes through, measure any available clearance to gauge what width tyre will fit.
Is a 28 inch tire the same as 700c?
700c wheels have a diameter of 622mm. While most 28 inch tyres are for a 622mm wheel, some are not. Check the ETRO number on the sidewall to confirm.
How many KM does a bike tyre last?
Depending on the compound and how often your ride, the surface and the conditions, tyres can last 2000km.