10% off In Stock Accessories - Use Code : ACCESSORIES10
Can I ride more trails on an electric mountain bike?
The first thing that you notice when you ride an electric mountain bike is that it takes less time and effort to get to the top of the hill. This means that you will arrive at the trail head sooner and start the descent feeling fresher. Whether it is time or energy level that is limiting the amount you ride, an e bike gives you the freedom to ride more trails.
Climbing is the part of the ride that takes the longest. If you are pushed for time, then you can power up the hills quickly in full power mode. This gives you the potential to ride more trails in your time window.
The hills are also the part of the ride that sap your energy the most. Riding at your normal speed up the hills takes very little energy on an e bike. You'll also find that you can use low power modes when climbing at normal speed. This means that you will have enough energy and battery capacity to ride much further than you normally do.
Is a Hardtail or Full Suspension e MTB best for me?
Hardtail electric mountain bikes feature a suspension fork at the front and a fully rigid frame at the rear. Keeping things simple with just front suspension means these bikes are lighter, more affordable and easier to maintain than equivalent full suspension bikes.
Electric hardtail mountain bikes are best suited to lighter trails. Rides that involve plenty of hard-packed lines at your local trail centre with a dash of gnarly stuff thrown in to get your pulse racing. Of course, the electric assistance means that you'll still be flying as the trail flattens out or rises skyward, so don't be surprised if you find yourself enjoying your local loop twice before you head home for the day.
Hardtail e bikes also make for great utility bikes. Commuters will love them if their route involves some off-road sections, slippery paths or bridleways. Zip to and from and work without breaking a sweat during the week and then go all-out at the weekend.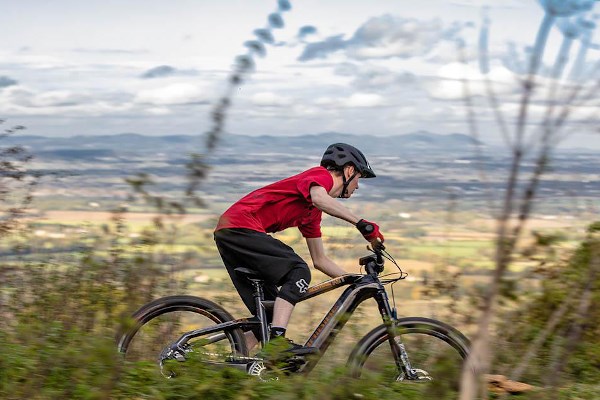 Full suspension electric mountain bikes turn the dial up a notch. Adding a rear shock means both ends of the bike absorb bumps and obstacles more easily. This gives you a much smoother ride and adds more grip when riding rough terrain.
As a result, these bikes come into their own when things get more extreme. The full suspension setup helps as you hit rough, technical sections and the motorised assistance kicks in as you accelerate out of corners or up steep rises.
If you like exploring the edge of grip, tackling the trickiest of lines or bombing down trails and also want to get more out of your riding then a full-suss e-MTB is for you.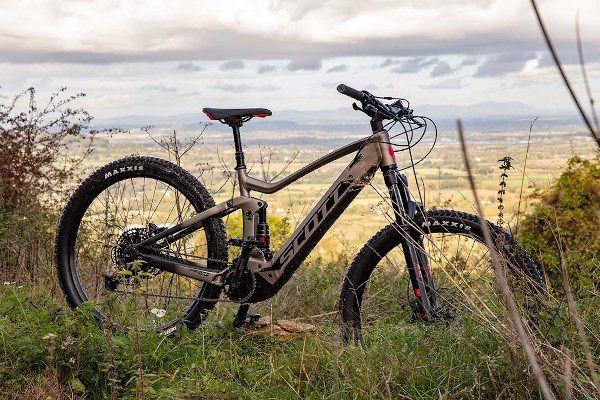 How is an electric mountain bike powered?
The 'electric' part of an electric mountain bike is formed of two things. The motor is placed either at the hub of a wheel or at the cranks, and the battery which is usually located on or in the downtube of the frame. On most eMTBs you'll find the motor positioned at the cranks. Crank drive motors are more powerful and positioning it here helps lower the centre of gravity of the bike (crucial for handling).
Crank drive electric mountain bike motors include sensors which monitor the power you put through the pedals and rations the output accordingly. This gives you the power you need when you need it and helps to conserve your battery levels when you are out for a big day on the bike.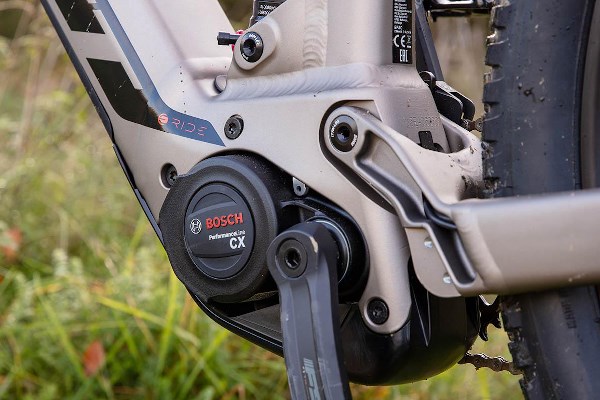 The capacity of the battery on your e-MTB will determine how far you can ride. The size of a given battery is measured in Watt-hours (Wh). Sizes vary from 450Wh up to over 700Wh. Some e bikes allow you to use an additional battery pack as a range extender. Bear in mind that hills, speed and rider weight amongst other factors will affect range performance.
A head-unit or remote switch on the e bike lets you choose from different assist levels, ideal when you need a helping hand up the big climb on your route. Some electric bikes will feature an intuitive head-unit that can display useful numbers such as speed, distance travelled and battery life amongst other figures. Others offer simpler display options but can link to third party computers like a Garmin if you want more detailed ride information. Many electric mountain bikes offer customization and ride control options through smart phone apps.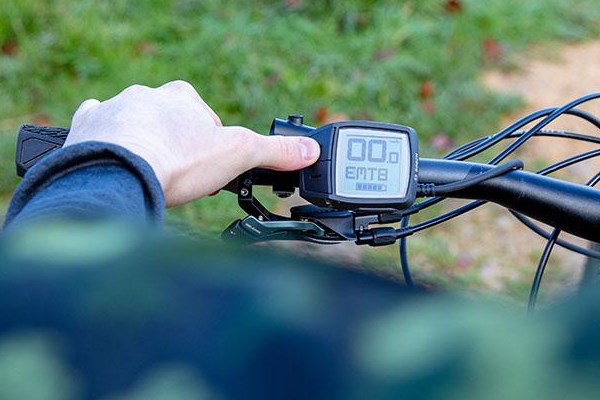 How easy are the climbs on an e MTB?
The climbs are the part of the ride where you will notice the difference on an e bike. The first time you try an electric mountain bike you will be amazed at how easy it is to get up the hills. Climbs that were challenging become easy and you may find yourself looking for more difficult technical climbs to conquer.
As well as being easier climbing is more fun on an e bike. A big revelation for many e bikers is that they find flow on sections that previously were a chore. This is because you will be a little quicker while putting less effort in, so you can enjoy the ride more. Uphill switchbacks are particularly good fun on an e bike.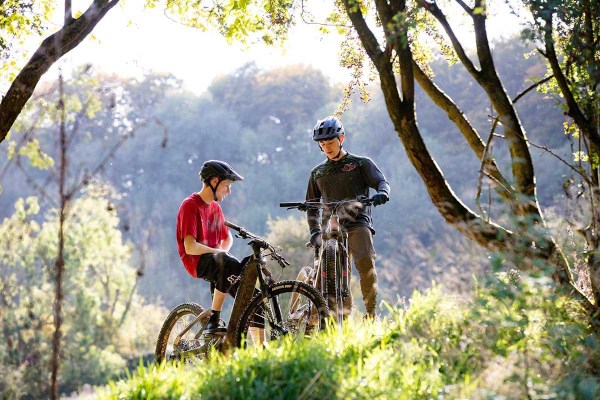 How long does the battery last?
This is the most common e bike question that we are asked. With electric mountain bikes it is also the most difficult to answer. Alongside distance the most important factor is elevation gain. It is the hills that take the most power so it stands to reason that you won't cover as much distance on a hilly ride as will when cycling on flat terrain.
Most mountain bikers will find, with sensible use of the power modes, that the battery capacity is more than enough for their regular rides. If you are riding with friends on regular MTBs you will most likely have plenty of charge remaining at the end of your ride. One of the few times that a single charge won't be enough is if you are racing enduro in the eMTB category. Most electric mountain bike racers have a spare battery which they change at the lunch time pit stop.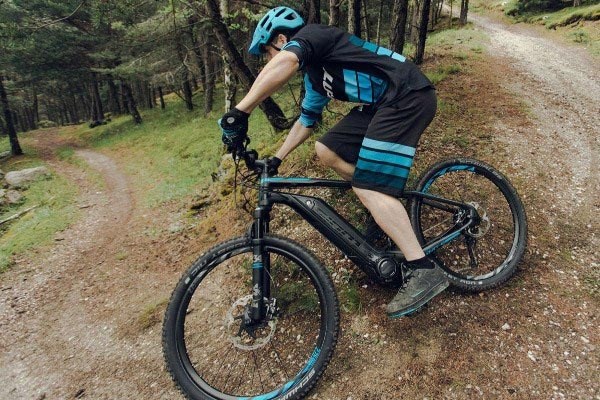 All our electric mountain bikes use Lithium Ion battery packs. While the batteries are made by different manufacturers the basic technology is the same. The capacity of the batteries ranges from 400Wh on entry level e MTBs up to 700Wh on some Specialized Turbo bikes. Offering enough range for most riders 500Wh is the most common size.
For more information on e bike battery range see our How Far Can I Ride An Electric Bike? guide.
Are the motors different?
Each electric mountain bike in our range is fitted with a motor from one of five different brands. Each motor is powerful enough to give you the benefits mentioned above but they also have differences which sets them apart.


Bosch Performance Line CX
The Bosch CX is the motor that sets the benchmark for eMTB performance. Well known for its reliability the Bosch CX isn't the most powerful motor on paper, but it delivers the power well at a wide range of pedalling speeds. The four support levels offer assistance that ranges from 50 – 300% of your natural pedalling power. A neat feature is the eMTB mode that varies the support levels depending on the amount of pressure that you put through the pedals.
The Bosch CX is probably the most popular drive unit and is found on Cube, Scott, Lapierre, Haibike, Cannondale and Orbea e bikes.
| | |
| --- | --- |
| Torque | 75Nm |
| Battery capacity | 300 – 500Wh |
| Support levels | 4 |
| App controlled | No |
| Walk Assist | Yes |
| | |
| --- | --- |
| Strengths | Weaknesses |
| | |
| | |
| Well defined support levels | Noticeable drag over 25km/h |
Brose
Brose are a Germany company that manufacture that power the Specialized Turbo bikes. With an internal belt drive these motors are particularly quiet. With a 90Nm maximum torque these are drive units are more powerful than most. The Brose works well at a wide range of pedalling speed which is good news if you have a high cadence style.
Brose drive units are found on Specialized Turbo e bikes. The motors are continuingly being refined but the core performance characteristics of natural ride feel and quiet running remain consistent.
| | |
| --- | --- |
| Torque | 90Nm |
| Battery capacity | 400 – 770Wh |
| Support levels | 4 |
| App controlled | Yes |
| Walk Assist | Yes |
| | |
| --- | --- |
| Strengths | Weaknesses |
| | |
| | Only on Specialized e bikes |
| | |
Specialized Turbo SL
Specialized use this motor for their lightweight e bikes like the Turbo Creo and Turbo Levo SL. This is the smallest and lightest crank drive e bike motor on the market but still packs a pretty good punch. Offering about half the power of a full-sized electric bike motor the Turbo SL motor will still double you natural pedalling power. Plenty to get you up those tricky climbs. The battery is smaller but the reduced power and lightweight means that you don't need so much capacity to do a full ride.
A great feature of this motor is that it is specifcally designed to be used with a range extender. This sits in the bottle cage and gives you 50% extra capacity. Designed from the ground up for all condition cycling this motor offers a more authentic cycling experience than most other e bike power units.
| | |
| --- | --- |
| Torque | 35Nm |
| Battery capacity | 350Wh + range extender |
| Support levels | 4 |
| App controlled | Yes |
| Walk Assist | Yes |
| | |
| --- | --- |
| Strengths | Weaknesses |
| Natural pedaling and ride feel | |
| Lightweight motor for a lightweigh e bike | Only on Specialized Turbo SL e bikes |
| | |
Shimano Steps E8000
Shimano is a relatively new player in the e MTB motor market but with the Steps E8000 they have hit the ground running. The power delivery is probably the most intuitive to use and it seems to match the amount of power you put through the pedals perfectly. This is also one of the smallest and lightest drive units which makes Shimano equipped e MTBs behave more like regular mountain bikes than most.
Shimano Steps E8000 drive units are found on Merida, Orbea, Orange, Mondraker and Scott e bikes
| | |
| --- | --- |
| Torque | 70Nm |
| Battery capacity | 504Wh |
| Support levels | 3 |
| App controlled | Yes |
| Walk Assist | Yes |
Yamaha PW-X
The Yamaha PW-X is another powerful drive unit that offers high torque, especially at low pedalling speeds (cadence). This is especially useful when starting off on steep gradients as the motor kicks in with full power straight away. The PW-X is less impressive at high cadences. While not as small as the Shimano it is narrower than most other motors. This means that the crank width (Q factor) is the same as on a regular mountain bike.
The Yamaha PW-X motor is used on some Haibike models as well as all Giant eMTBs. When fitted to Giant bikes the custom tuned Yamaha PW-X is branded as SyncDrive.
| | |
| --- | --- |
| Torque | 80Nm |
| Battery capacity | 400 - 500Wh |
| Support levels | 5 |
| App controlled | No |
| Walk Assist | Yes |
| | |
| --- | --- |
| Strengths | Weaknesses |
| | |
| | Power loss at high cadence |
| | |
Dyname Powerplay
Exclusive to Rocky Mountain the Dyname drive unit takes a different approach to all the other e bike motors. Instead of driving the cranks directly through the bottom bracket, the power boost is supplied from a secondary chain that connects to the crank. As well as allowing the cranks to spin on a regular, replaceable bottom bracket this system gives designers more freedom to put the motor in the ideal position within the bike frame.
Rocky Mountain Powerplay e bikes are the only e bikes that have exactly the same geometry as their mountain bike equivalents. This is because this motor can be positioned further forward so the bikes don't have to have extended chainstays.
| | |
| --- | --- |
| Torque | 127Nm |
| Battery capacity | 500 - 632Wh |
| Support levels | 3 |
| App controlled | Yes |
| Walk Assist | Yes |
Do electric mountain bikes have different geometries to regular MTBs?
While they are designed for riding similar terrain, most electric mountain bikes have different geometries to regular mountain bikes. The main difference is that the chainstays are longer. This is because the crank drive motors are bulkier than regular bottom brackets to the rear wheel needs to sit slightly further back. Smaller motors require less room, so bikes that use these don't need quite such long chainstays.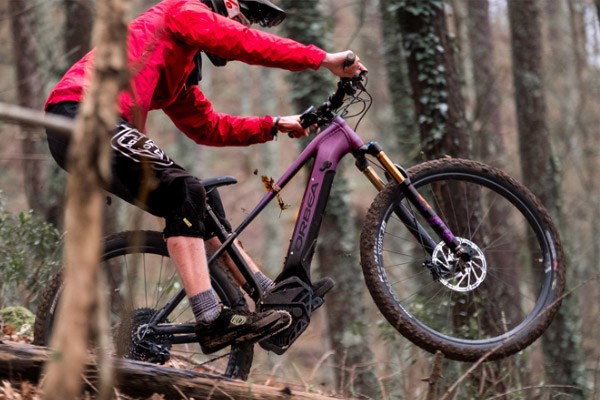 There are both advantages and disadvantages to having longer chainstays. When it comes to climbing longer chainstays are better as they keep the bike feeling more planted on steep terrain. The disadvantage is that the bikes will be less nimble especially in tight turns and the front wheel harder to get off the ground.
Specialized Turbo Levo SL and Rocky Mountain Powerplay bikes are an exception to this rule and these bikes have almost exactly the same geometry as their non electric equivalents. Thanks to the Dyname drive units Rocky Mountain's designers have been able to position the motor further forward in the frame so the bikes don't need extended chainstays. Specialized achieve this by having a much smaller motor in their Turbo SL bikes.
Popular Electric Mountain Bikes