Considered essential for road riding and events. Offering better support for improved efficiency, clipless road pedals feature a larger SPD-SL style cleat that is attached to your shoe.
Three bolt cleats have a much larger surface area than two-bolt MTB clipless pedals, which means there is better power transfer for performance and speed on the road. Power is transferred on the up-stroke as well as the down-stroke.
By aligning the cleat correctly your foot will be in the right place on the pedal. This optimises power from the leg thus maximising output from each pedal stroke. Injury can be prevented by locating the foot straight and avoiding any twisting or poor foot placement.
Increased efficiency
More comfort
Prevents injury
Specific shoes are essential
Shoes difficult to walk in
Mud/soil badly affects cleats and pedals
Cleats and Float
Cleats come with pedals though there are options and preferences involved. A cleat will have a certain amount of float. This is the amount of rotation the foot has before becoming unclipped. Novice or newcomers to clipless riding will prefer more float.
Shimano make this easy by having colour coding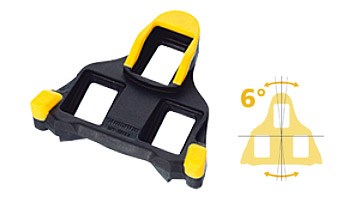 Yellow
Yellow cleats give 6° of float. Best for novice clipless riders, you foot is free to twist a little before unclipping.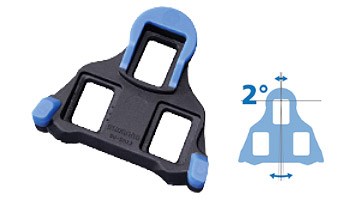 Blue
Blue cleats allow 2° of float. For intermediate riders who are comfortable with being clipped in, a greater knowledge of cleat placement needs less float.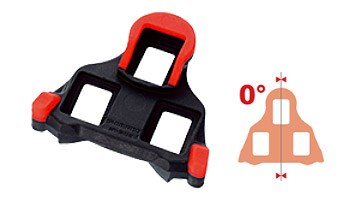 Red
Red cleats are fixed and give no float. For racers and those who want the most power transfer.
Three-bolt cleat/pedal compatibility table
There are several brands of three-bolt road pedals available, and each pedal will need the the right type of cleat when fitted to your shoe. All road dedicated shoes have the ability to mount and three-bolt cleat, but there are some compatibility issues that need to be checked before purchase. See the table below for full pedal compatibility.
Pedal →
Cleat ↓
RSP
Ritchey
Look Keo
BBB
One23
Genetic
Mavic
Time
Campagnolo Pro-Fit
Shimano SPDSL
Speedplay
RSP
✓
✓
✓
✓
✓
✓
Ritchey
✓
✓
✓
✓
✓
✓
Look Keo
✓
✓
✓
✓
✓
✓
BBB
✓
✓
✓
✓
✓
✓
One23
✓
✓
✓
✓
✓
✓
Genetic
✓
✓
✓
✓
✓
✓
Mavic
✓
✓
Time
✓
✓
Campagnolo Pro-Fit
✓
SPD-SL
✓
Speedplay
✓
Popular Clipless Road Pedals