Offering a powerful boost to your natural pedalling power electric bikes make cycling easy. You can cycle to work without getting into a sweat or ride more mountain bike trails with less effort. An e bike will power your ambition to ride further and have more fun.
Will I need to shower when I get to work?
One of the best things about e bikes is that you can ride a good distance at a fair pace without getting all sweaty. This means that you don't need to shower and change your clothes when you get to work. This is also an advantage when leisure cycling. You can cycle across town and arrive feeling fresh when you meet your friends for a coffee.
Can I ride an e bike in the rain?
E bikes are designed to be ridden in all weather conditions. The motors, batteries and control units are all sealed from the elements to keep water out of the sensitive electronics. Even when it is pouring with rain your electric bike will work perfectly. In some ways e bikes are better than regular bikes in the rain. This is because you don't get as hot and sweaty when riding an e bike, so you will be more comfortable cycling in full waterproofs.
Can I ride up steep hills easily?
It's on the climbs where you will notice the benefits of an electric bike most. Every time we test a new electric bike, we are amazed at how easy the climbs are. With a crank drive motor, you will be able to fly up climbs that are steep enough to test pro athletes. Even hub drive e bikes make climbing most hills a breeze.
How much money can I save riding an e bike?
As well as being convenient and fun e bikes can save you money. According to a recent survey, by switching from car, bus, tube or train the average commuter could save nearly £8,000 over five years. While electric bikes are more expensive than regular bikes they are cheap to run, so you will quickly make savings on fuel and train tickets. As well as this you will arrive at work feeling fresh and still get a moderate amount of exercise in to help improve your health and fitness.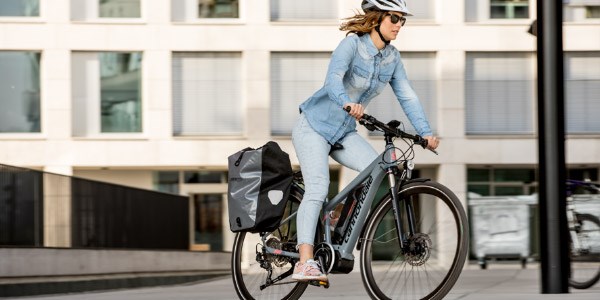 Can I ride more trails in the same time?
With a electric boost to help you up the hills you will have more time and energy to enjoy the descents. Electric mountain bikes get you up the hills faster and will leave you feeling fresh when you get to the top. You won't need to stop and catch your breath before you drop in to the descent, so you can easily get in another lap before you need to head home.
Are e bikes for lazy people?
Rather than making people lazy electric bikes actually encourage cyclists to ride more. This is according to research carried out by the Smart e-bikes research project, that most people ride more when they have an e bike. While your not going to get the same exercise intensity on an ebike mile for mile, the longer distance travelled will have a positive effect on health and well-being.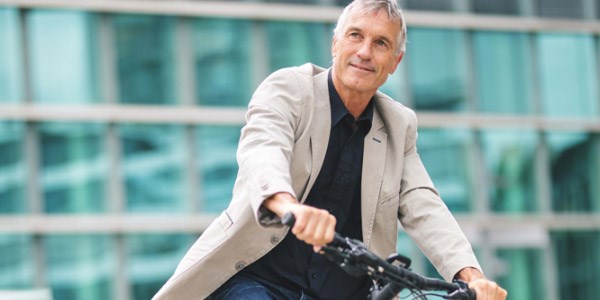 Where do you want to ride?
Power your ride
What is an e bike?
An electric bike is simply a normal bike with a pedal assist electric motor and battery pack. As you turn the pedals the motor adds a boost to your natural pedalling power making it much easier to cycle. You can adjust the amount of assistance by choosing different power modes. E bikes are great for riding further with less effort.
How far can I ride on one charge?
There are many variables that effect the range of an e bike including power mode, battery capacity, bike type, weather and terrain. In a recent test we cycled 72 road kilometres over mixed terrain on a Bosch crank drive equipped urban e bike with a 300Wh battery pack. We did this using mostly Eco and Tour mode with an occasional boost to Turbo for the steep hills.
How do you charge the battery?
Electric bike batteries are easy to charge in as little as three hours, depending on capacity and charger type. Most ebike batteries can be charged either on or off the bike. This gives you the option of charging where you park your bike or take the battery to a more convenient charging location.
Are there differences between the motors?
There are two basic types of e bike motor; hub drive and crank drive. Positioned in the wheel, hub drive motors allow for a more conventional frame design. Rear wheel hub drives tend to offer more assistance than those in the front wheel. Crank drive motors are positioned in the bottom bracket area of the frame and offer a more powerful boost to your natural pedalling power.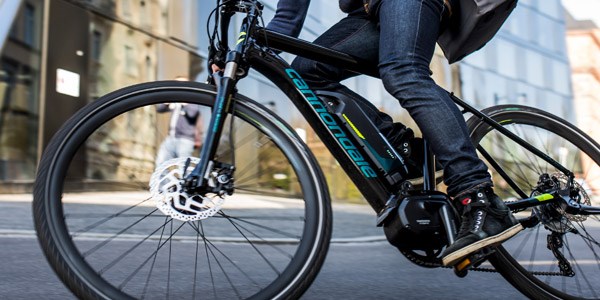 For an in-depth look at our top selling electric bikes take a look at our e bike reviews section. Our reviews include practical urban e bikes for cycling to work, high powered electric mountain bikes for riding more trails, and efficient electric road bikes that flatten the hills. We have the largest selection of e bikes in the UK.